Stadnik Searches For Eighth European Crown
Wednesday, May 2, 2018 - 22:30 By
KASPIYSK, Russia (May 2) – Mariya STADNIK (AZE) stormed into her eighth European gold-medal bout after defeating her first three opponents by technical superiority. Even more impressive, she did so without surrendering an offensive point. 
She'll wrestle 2017 world silver medalist, Emilia VUC (ROU) in the 50kg finals on Thursday night. Vuc was 2-0 on the day and handled U23 world champion Evin DEMIRHAN (TUR), 13-3. 
This 50kg final is a rematch from the 2018 Klippan Lady Open where Stadnik defeated Vuc, 10-0.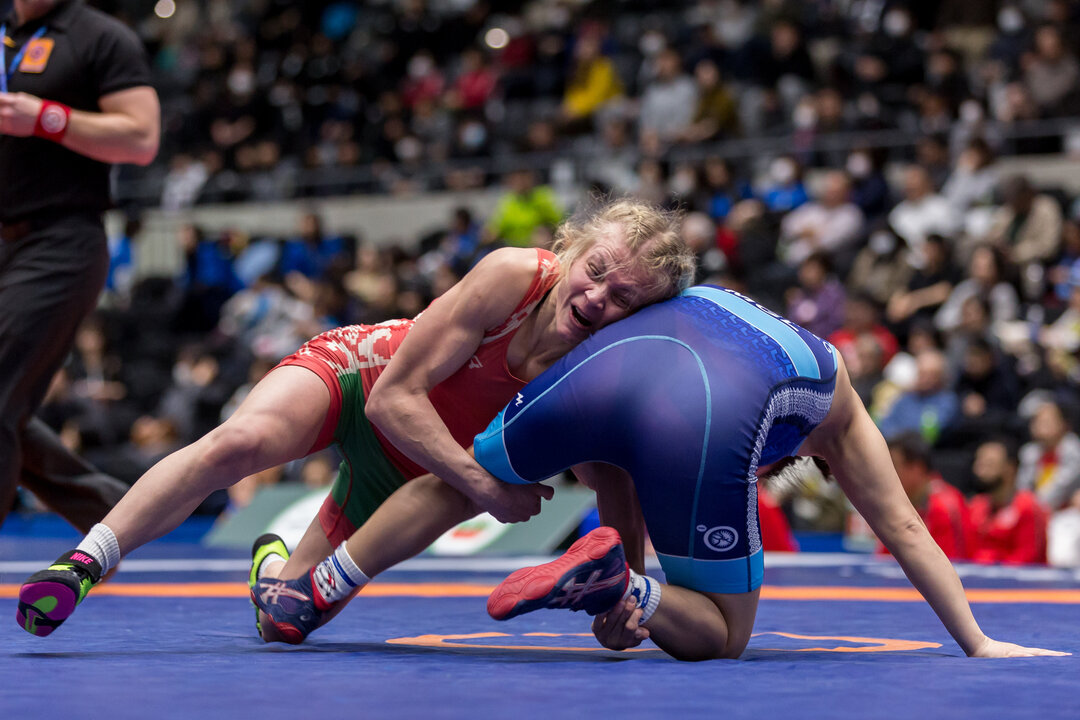 2018 European finalist, Iryna KURACHKINA (BLR). 
The 55kg gold-medal bout features the pair of 2017 world bronze medalists in Iryna KURACHKINA (BLR) and Roksana Marta ZASINA (POL). 
Both of these wrestlers are no stranger to the European finals, as they've each wrestled for the gold medal at least once. Zasina, the 2013 European champion is wrestling in the gold medal bout for the third time, while Kurachkina still seeking her first continental title.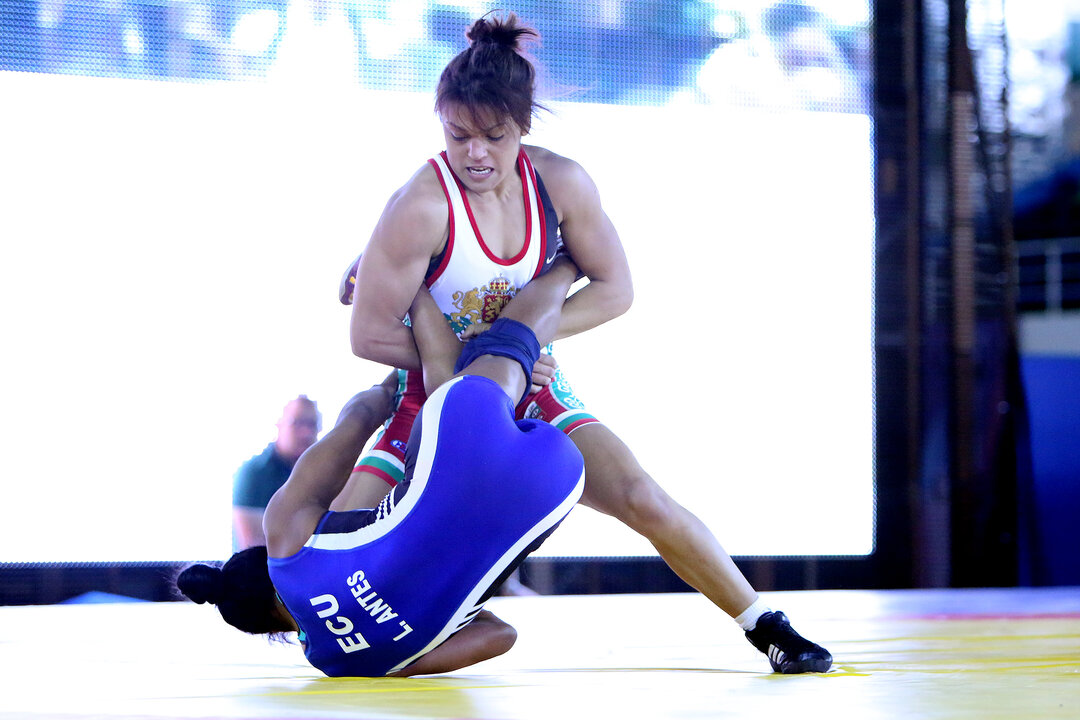 2016 Olympian, Mimi HRISTOVA (BUL).
Mimi HRISTOVA (BUL) and Elif YESILIRMAK (TUR) will clash in a match-up of 2016 Olympians for the 59kg crown. 
A bloody and bruised Hristova made her way to the finals by beating Belarus' Katsiaryna YANUSHKEVICH in the semifinals. The 2016 European bronze medalist trailed by three points with seconds remaining when she scored a takedown and immediately went into a gut wrench, picking up the 7-6 victory. 

Yesilirmak who commanded the other 59kg semifinal used two takedowns and a passivity point to beat Svetlana LIPATOVA (RUS), 5-3. 
At 68kg, Koumba Selene Fanta LARROQUE (FRA), 2017 world bronze medalist advanced to the finals along with Anastasia BRATCHIKOVA (RUS).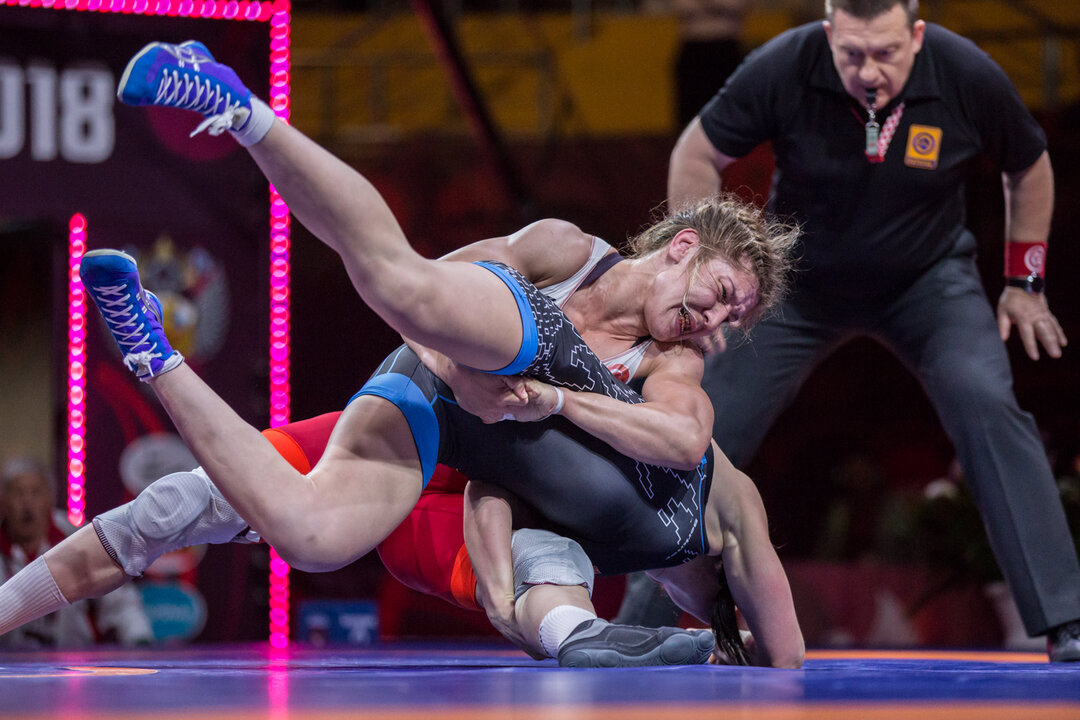 Yasemin ADAR's (TUR) crotch lift to defeat Vasilisa MARZALIUK (BLR), 3-2. (Photo Max Rose-Fyne) 
Superstars Yasemin ADAR (TUR) and Olympic bronze medalist, Ekaterina BUKINA (RUS) will battle for the gold medal at 76kg. 
Adar, the 2017 world champion clearly had the much tougher route to the finals. The Turk opened up the tournament by routing 2015 world bronze medalist, Epp MAE (EST), 10-0. She followed that win up by winning a rematch of the 2017 world finals with Vasilisa MARZALIUK (BLR), 3-2. 
Adar trailed the entire semifinal match when she took a desperation shot with under 30 seconds left. Marzaliuk tried to reattack when Adar locked in her crotch and tossed the Belarusian, scoring two exposure points. The match was tied when the final whistle blew, but Adar held the trump card and ultimatly won on criteria. 
RESULTS
50kg
GOLD - Emilia Alina VUC (ROU) vs. Mariya STADNIK (AZE) 
Semifinal - Mariya STADNIK (AZE) df. Kseniya STANKEVICH (BLR), 10-0 
Semifinal - Emilia Alina VUC (ROU) df. Evin DEMIRHAN (TUR), 13-3 
55kg 
GOLD - Roksana Marta ZASINA (POL) vs. Iryna KURACHKINA (BLR)
Semifinal - Roksana ZASINA (POL) df. Bediha GUN (TUR), 2-1
Semifinal - Iryna KURACHKINA (BLR) df. Evelina NIKOLOVA (BUL), 6-0
59kg 
GOLD - Elif Jale YESILIRMAK (TUR) vs. Mimi Nikolova HRISTOVA (BUL)
Semifinal- Mimi Nikolova HRISTOVA (BUL) df. Katsiaryna YANUSHKEVICH (BLR), 7-6
Semifinal - Elif YESILIRMAK (TUR) df. Svetlana LIPATOVA (RUS), 5-3
68kg
GOLD - Koumba Selene Fanta LARROQUE (FRA) vs. Anastasia BRATCHIKOVA (RUS)
Semifinal - Anastasia BRATCHIKOVA (RUS) df. Martina KUENZ (AUT), 8 - 1
Semifinal - Koumba Selene Fanta LARROQUE (FRA) df. Buse TOSUN (TUR), 4-3
76kg
GOLD - Yasemin ADAR (TUR) vs. Ekaterina BUKINA (RUS)
Semifinal - Yasemin ADAR (TUR) df. Vasilisa MARZALIUK (BLR), 3-2 
Semifinal - Ekaterina BUKINA (RUS) df. Sabira ALIYEVA (AZE), 11-0