Sidakov Tops Kentchadze at European Games, Two World No.1's Lose
Tuesday, June 25, 2019 - 11:37 By United World Wrestling Press
MINSK, Belarus (June 25) - The opening session of the freestyle wrestling competition at the 2019 European Games in Minsk, Belarus, saw a gold-medal finals rematch from last year's World Championships, as well as two world No.1-ranked wrestlers fall. 
Zaurbek SIDAKOV (RUS), a returning world champion, defeated world silver medalist Avtandil KENTCHADZE (GEO) 5-3 in the quarterfinals at 74kg. Only one point was scored in the opening period as Sidakov led 1-0 at the break. Both wrestlers found scoring opportunities in the second period and the Russian world champion held on for the two-point victory. His semifinals opponent will be Azamat NURYKAU (BLR), who won by injury default over Magomedmurad GADZHIEV (POL) in the quarterfinals.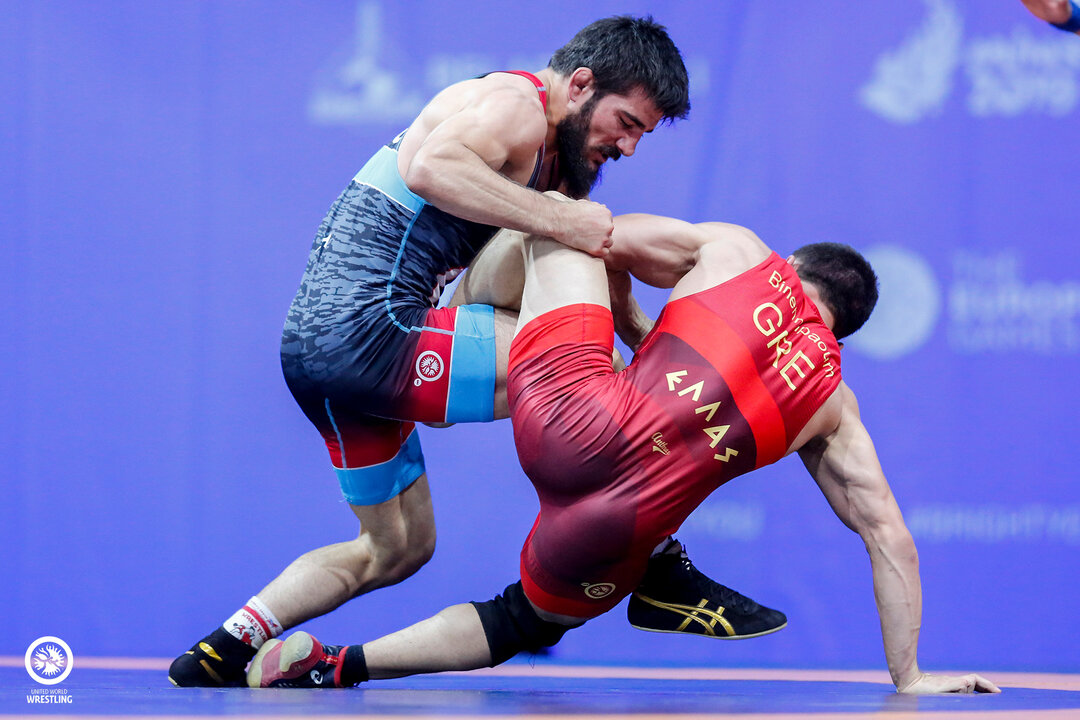 Also at 74kg, Olympic and world medalist Soner DEMIRTAS (TUR) was pushed in his opening match against junior world champion Khadzhimurad GADZHIYEV (AZE) but prevailed 4-3. He then earned a spot in the semifinals with a 15-4 technical superiority over Kyrillos BINENMPAOUM (GRE). Demirtas now faces Vasyl MYKHAILOV (UKR) in the semifinals.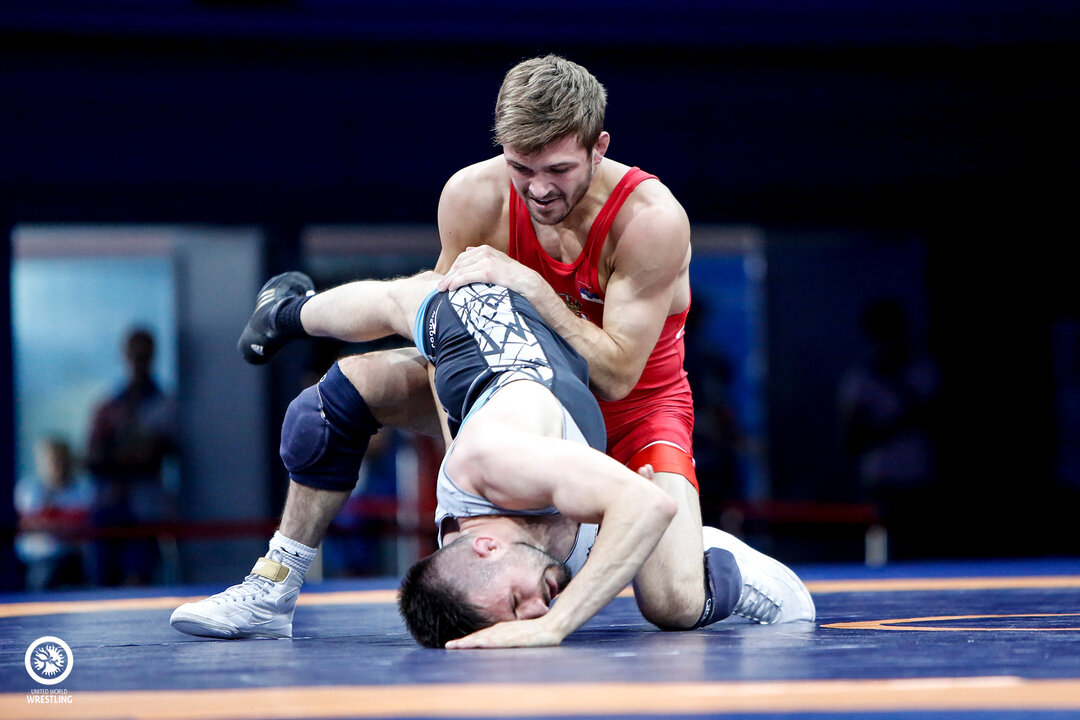 At 57kg, Stevan MICIC (SRB) used a big second period to stun world No.1 Suleyman ATLI (TUR) 6-5 and earn a spot in the semifinals. Atli, a European champion and returning world bronze medalist, grabbed a 2-0 lead at the break. But Micic, a past junior world bronze medalist, scored all six of his points in the final period -- overcoming a four-point deficit -- to take the victory. He now faces U23 world bronze medalist Taras MARKOVYCH (UKR) in the semifinals.
Markovych earned a 7-3 win in the quarterfinals over Uladzislau ANDREYEU (BLR). The match was 3-3 at the break before Markovych pulled away in the final period. 
Returning world champion Zavur UGUEV (RUS), ranked No.2 in the world, was dominant in the quarterfinals at 57kg, earning a 10-0 technical superiority over Garik BARSEGHYAN (ARM). He will face 2015 junior world champion Mahir AMIRASLANOV (AZE) in the semifinals.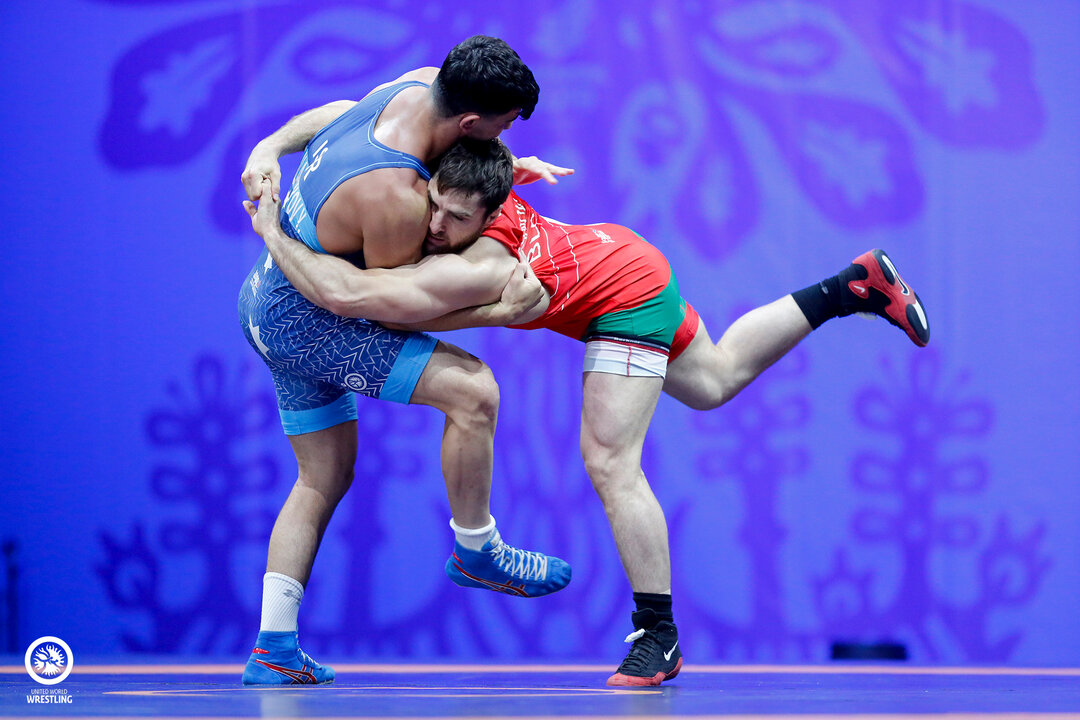 At 86kg, four-time world medalist Ali SHABANAU (BLR), ranked No.8 in the world, edged world No.1 Fatih ERDIN (TUR) 4-3. Erdin led 1-0 at the break, but Shabanu battled back to win. Shabanau will now meet Ahmed DUDAROV (GER) in the semifinals. 
On the bottom side of the bracket at 86kg, Alexander GOSTIYEV (AZE) and Dauren KURUGLIEV (RUS) claimed spots in the semifinals. Gostiyev, a 2018 European silver medalist, topped Sandro AMINASHVILI (GEO) 6-2 in the quarterfinals. Kurugliev, a two-time Yarygin champion, edged Zbigniew BARANOWSKI (POL) 4-3.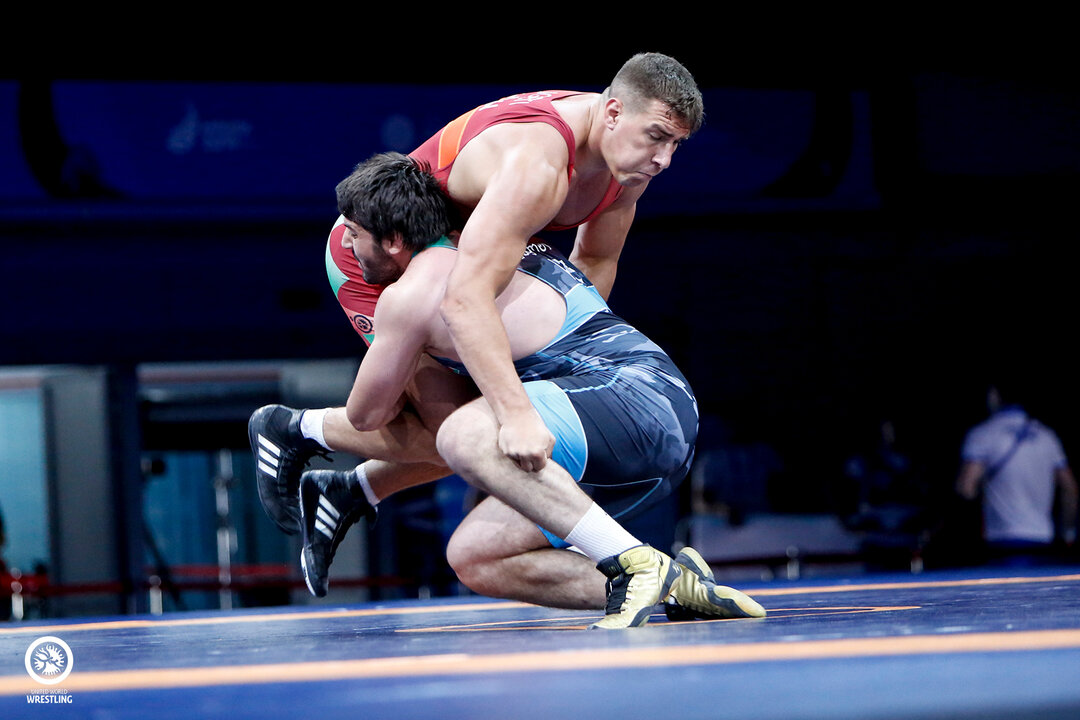 U23 world champion Givi MATCHARASHVILI (GEO) was dominant en route to reaching the semifinals at 125kg. He won his first two matches by technical superiority. He will face 30-year-old two-time world medalist Jammaladdin MAGOMEDOV (AZE) in the semifinals. Magomedov held on to defeat Daniel LIGETI (HUN) 6-5 in the quarterfinals. 
Two-time world fifth-place finisher Anzor KHIZRIEV (RUS) moved into the semifinals with a 9-4 victory in the quarterfinals over Faith YASARLI (TUR). Khizriev will meet Oleksandr KHOTSIANIVSKYI (UKR), a European bronze medalist. 
The Day 1 semifinals for the first four freestyle weight classes are scheduled to begin at 18:00 local time.
SEMIFINAL MATCHUPS
57kg
SEMIFINAL Taras MARKOVYCH (UKR) vs. Stevan MICIC (SRB)
SEMIFINAL - Mahir AMIRASLANOV (AZE) vs. Zavur UGUEV (RUS)
74kg
SEMIFINAL - Zaurbek SIDAKOV (RUS) vs. Azamat NURYKAU (BLR)
SEMIFINAL - Soner DEMIRTAS (TUR) vs. Vasyl MYKHAILOV (UKR)
86kg
SEMIFINAL - Ali SHABANAU (BLR) vs. Ahmed DUDAROV (GER)
SEMIFINAL - Alexander GOSTIYEV (AZE) vs. Dauren KURUGLIEV (RUS)
125kg
SEMIFINAL - Givi MATCHARASHVILI (GEO) vs. Jammaladdin MAGOMEDOV (AZE)
SEMIFINAL - Anzor KHIZRIEV (RUS) vs. Oleksandr KHOTSIANIVSKYI (UKR)