Sidakov Completes Dream Run to 2nd Straight 74kg Title; Petriashvili 3-peats at 125kg
Saturday, September 21, 2019 - 19:16 By Ken Marantz
NUR-SULTAN, Kazakhstan (Sept. 21) --- There will be no need for Zaurbek SIDAKOV (RUS) to pinch himself. This world title is as a real as last year's, even with its haunting similarities. 
Sidakov successfully defended his world title in the freestyle 74kg class by defeating Frank CHAMIZO (ITA) 5-2 in the final, one of two titles won by Russia on Day 8 of the World Championships in Nur-Sultan.
"I can't say it's the same because last year was my first title," Sidakov said. "After I became a world champion [last year in Budapest], I went to sleep and suddenly woke up at 4 a.m. Is it true that I became a world champion? I started looking for the belt."
When a Russian journalist suggested now he will need to look for two belts, Sidakov laughed and replied, "Yes, but I have already forgot about this result because I have to prepare for the next competition."
It will be hard to forget how Sidakov defeated both Chamizo and Jordan BURROUGHS (USA), who between them have accumulated six world titles and two Olympic medals, en route to the gold medal for the second straight year.
"Yesterday, my thoughts were there's only one match left, I have to be ready for it," Sidakov said, referring to his last-second win over Burroughs in Friday's semifinals at Barys Arena. "[Chamizo] is a very strong athlete and I respect him. The score [between us] is now 3-1."
In the final, the 23-year-old Sidakov gained a point with Chamizo on the activity clock for the only score of the first period. Early in the second, Chamizo went ahead with a single-leg takedown.
"I never worried at any time during this match," Sidakov said. "I just kept working."
Sidakov scored with a single-leg takedown of his own to go ahead, then added a second in the final seconds to put the match away. 
"I didn't have a strategy for this final," Sidakov said. "Actually, I don't prepare a plan for any match. I just go in and do what I can do. I don't pay attention to my breathing. I just switch on my brain and try to win."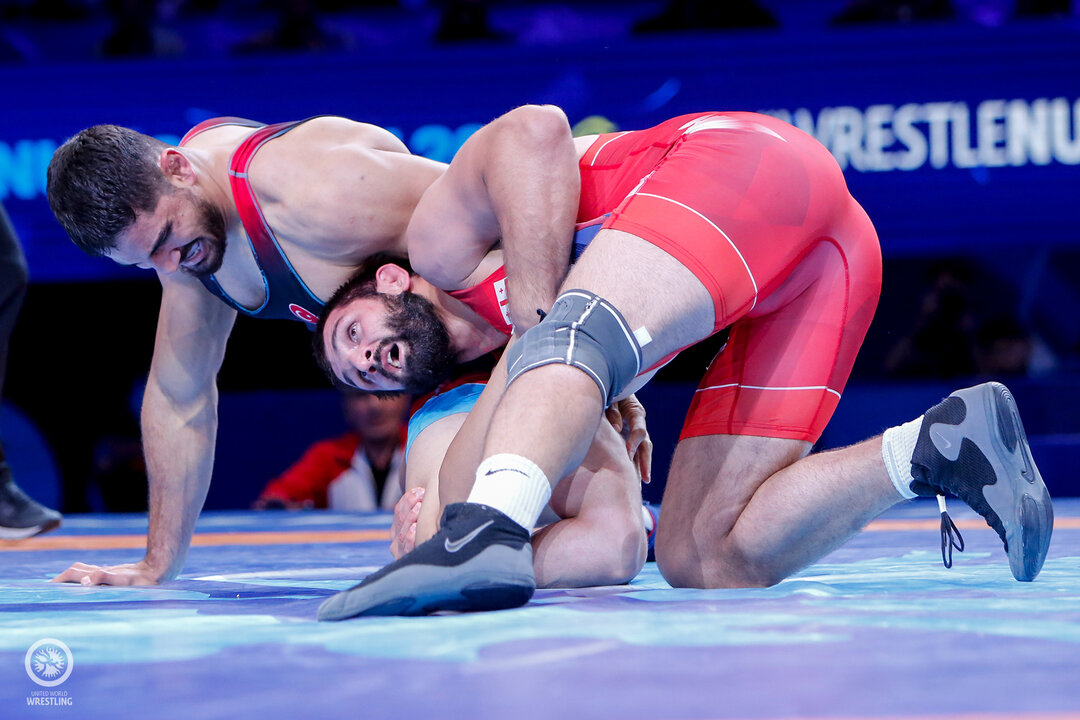 Geno PETRIASHVILI (GEO) won his third consecutive world title with a 6-6 win over rival Taha AKGAL (TUR). (Photo: Gabor Martin)
In the latest clash of the titans at 125kg, Geno PETRIASHVILI (GEO) completed a three-peat of world titles when he scored a single-leg takedown with :08 left to edge nemesis Taha AKGAL (TUR) 6-6 on last-point criteria.
Akgal, who won every world and Olympic titles from 2014 to 2016, scored the only points in the first period with a takedown, then doubled the lead with a takedown early in the second.
Midway through the period, Petriashvili got on the scoreboard with a takedown. The two then found themselves with mutual leg holds, then levered each other over in succession, Petriashvili momentarily holding the lead before quickly surrendering it with :39 left. 
With the clock ticking down, the Georgian gave it one last shot and came up golden with the winning takedown.  
"I didn't plan anything," said Petriashvili, who avenged a 7-0 loss to Akgal from the final at the European Championships in April. "The only thing I know is I have to wrestle until the last second."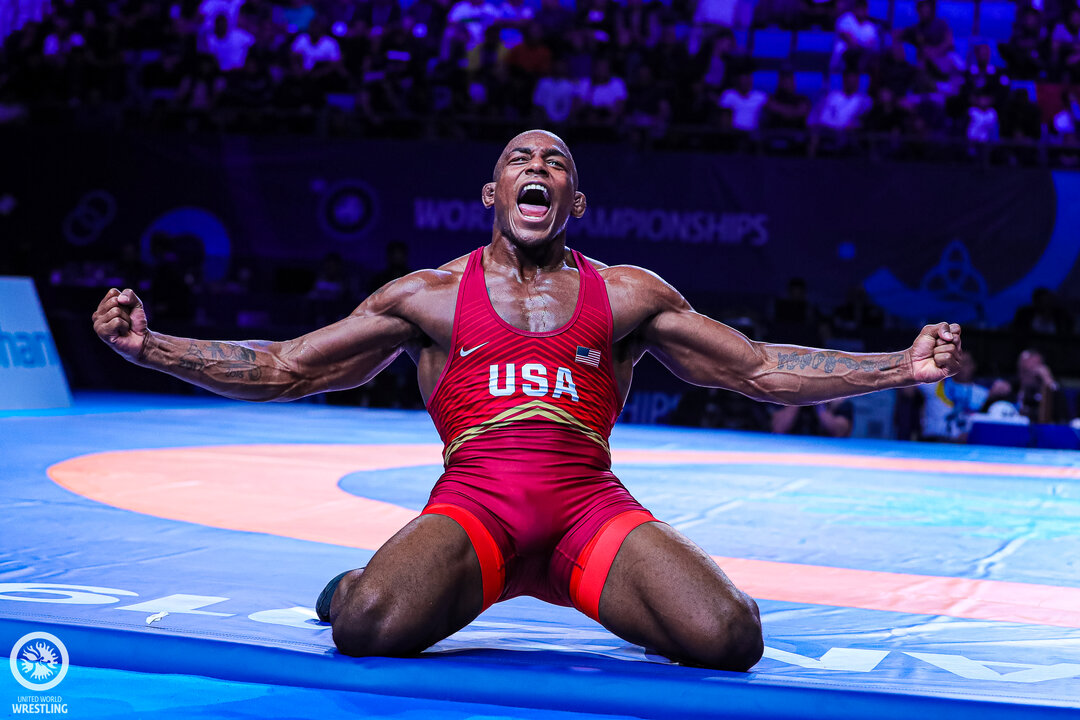 J'den COX (USA) defeated Alireza KARAMIMACHIANI (IRI), 4-0, and won his second consecutive world title. (Photo: Kadir Caliskan)
J'den COX (USA) repeated as 92kg champion when he scored two takedowns in the first period, then put up a wall of defense that Alireza KARAMIMACHIANI (IRI) had no means of penetrating for a 4-0 victory.
"I don't know why, but it feels better," Cox said of winning a second gold. "It's a rare thing when people get to go back-to-back. I knew that coming into this, so to be able to do it, I knew the hard work I put in, the sacrifices I made. 
"I wanted to do it better. I came here and didn't get scored on. Great."
Cox indicated that he would have liked Karamimachiani, this year's Asian champion who won a world bronze last year, to have been more aggressive and put up more of a challenge.
"No disrespect to Karami, but the whole match, he didn't want to come get it," said Cox, a Rio 2016 bronze medalist at 86kg. "He wanted to keep it close and wanted to play the game. 
"I think that's a testament to both my offense and my defense, and a testament of my abilities that some of the best in the world aren't willing to try to do their best out on the mat against me, as far as their techniques and stuff. I'm excited and I'm ready to move forward."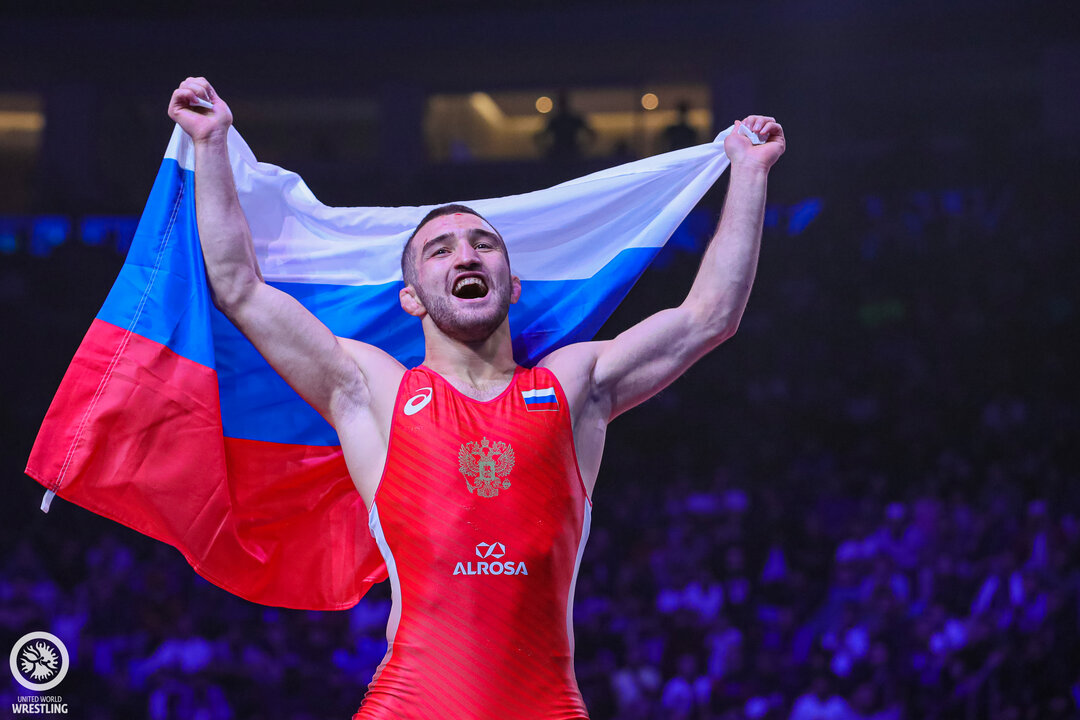 David BAEV (RUS) blew through Nurkozha KAIPANOV (KAZ), 13-2 in the 70kg finals.  (Photo: Kadir Caliskan)
At 70kg, David BAEV (RUS), two years removed from winning a world junior gold, picked up a senior gold in dominating fashion, overwhelming Nurkozha KAIPANOV (KAZ) by 14-2 technical fall in 3:46. 
Baev was also a world cadet champion in 2014. Only a loss in the 2018 world U23 final to Taimuraz SALKAZANOV (SVK) has prevented him from completing the Grand Slam of age-group titles. At 21, he is still eligible to add that gold to his collection.
In the bronze-medal matches, Burroughs assured he would end a World Championships on a winning note for the seventh time when he outclassed unheralded Mao OKUI (JPN) by 10-0 technical fall at 3:30.
The victory gave Burroughs, the London 2012 gold medalist, his third career bronze to go with his four golds in seven appearances at the worlds. 
Host Kazakhstan had two chances for medals but was denied in close matches for both. Daniyar KAISANOV (KAZ) fell to Zelimkhan KHADJIEV (FRA) 4-3 in the other third-place match at 74kg, while Irakli MTSITURI (GEO) beat Nurgali NURGAIPULY (KAZ) 2-1 at 92kg.
Two wrestlers born elsewhere came up short in their bids to give their new homelands---Britain and Syria---their first-ever world medals.
Romanian-born Nicolae COJOCARU (GBR) lost by fall to Yones EMAMICHOGHAEI (IRI) at 70kg, and Oleksandr KHOTSIANIVSKYI (UKR) was a 5-1 winner over Russian-born Badzha KHUTABA (SYR) at 125kg.
Magomedmurad GADZHIEV (POL) edged Zurabi IAKOBISHVILI (GEO) at 70kg in a reversal of the 65kg final in Paris in 2017.
The other bronze medalists were Alikhan ZHABRAILOV (RUS) at 92kg and Khasanboy RAKHIMOV (UZB), who denied 2018 silver medalist DENG Zhiwei (CHN) a second straight medal.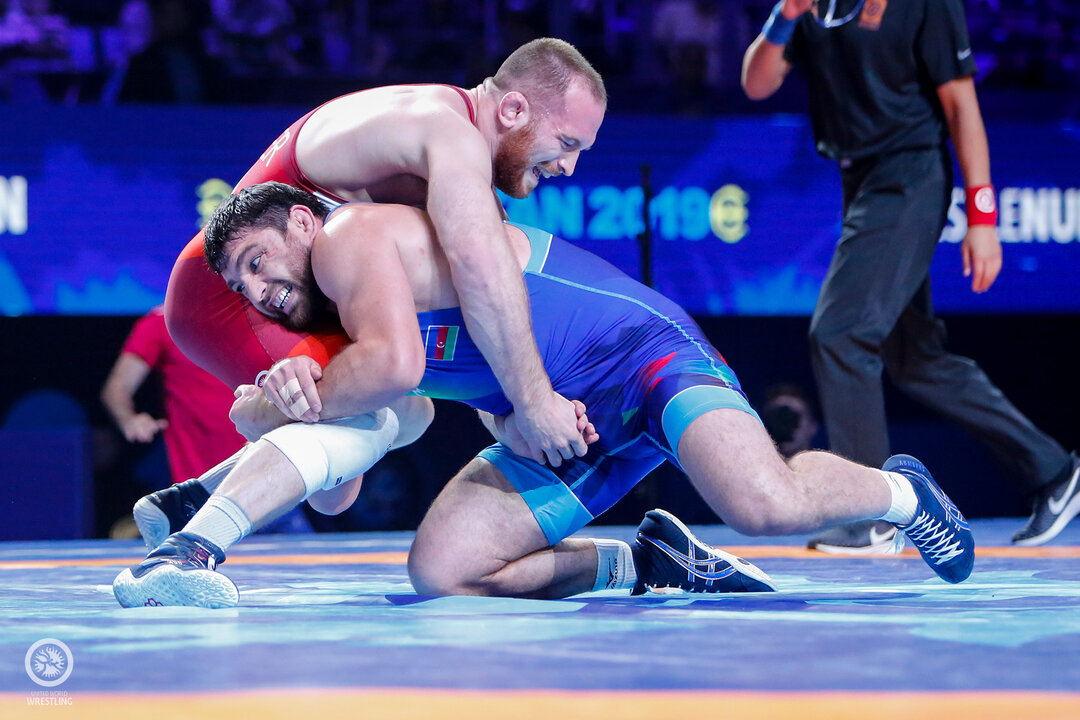 Sharif SHARIFOV (AZE) won the battle of Olympic champions -- taking down Kyle SNYDER (USA), 5-3, in the semifinals. (Photo: Gabor Martin)
Sharifov spoils Sadulaev-Snyder party, beats American in 97kg semis
In the semifinals in four weight classes that started earlier in the day, Sharif SHARIFOV (AZE) played the role of spoiler at 97kg, knocking off former world champion Kyle SNYDER (USA) to prevent a highly anticipated rematch between the American and Abdulrashid SADULAEV (RUS).
Sharifov, a two-time Olympic medalist in his own right who moved up from 92kg to the Olympic weight, scored with a single-leg takedown and a counter exposure in the second period to forge out a 5-2 victory. 
In the final, he will face champion Sadulaev, who, like Snyder, was a gold medalist at the Rio 2016 Olympics. The Russian advanced to the final with an 8-1 win over Alisher YERGALI (KAZ).
Snyder had won the world and Olympic golds at 97kg from 2015 to 2017 before yielding the world crown to Sadulaev in last year's final in Budapest. Sadulaev had previously won the 2015 world and 2o16 Olympic golds at 86kg.
"Of course, they are the leaders in the weight category," Sharifov said of the hype of a Sadulaev-Snyder clash leading up to the tournament. "The last years they have kept the top spot. I prepared myself to meet either of them."
Sharifov said he studied Snyder's matches to devise a winning plan. "My strategy was to protect myself against his leg attack and against his counter-attacks. I stuck to this plan."
Ironically, Sharifov said he had planned to stay at 92kg, "but at the last training camp, the wrestler at 97kg got injured, so the coach said I will wrestle at 97kg."
Sadulaev and Sharifov have met twice recently in major competitions, with the Russian winning both---8-1 in the semifinals at the Rio 2016 Olympics and 2-1 in the 92kg final at the 2018 European Championships.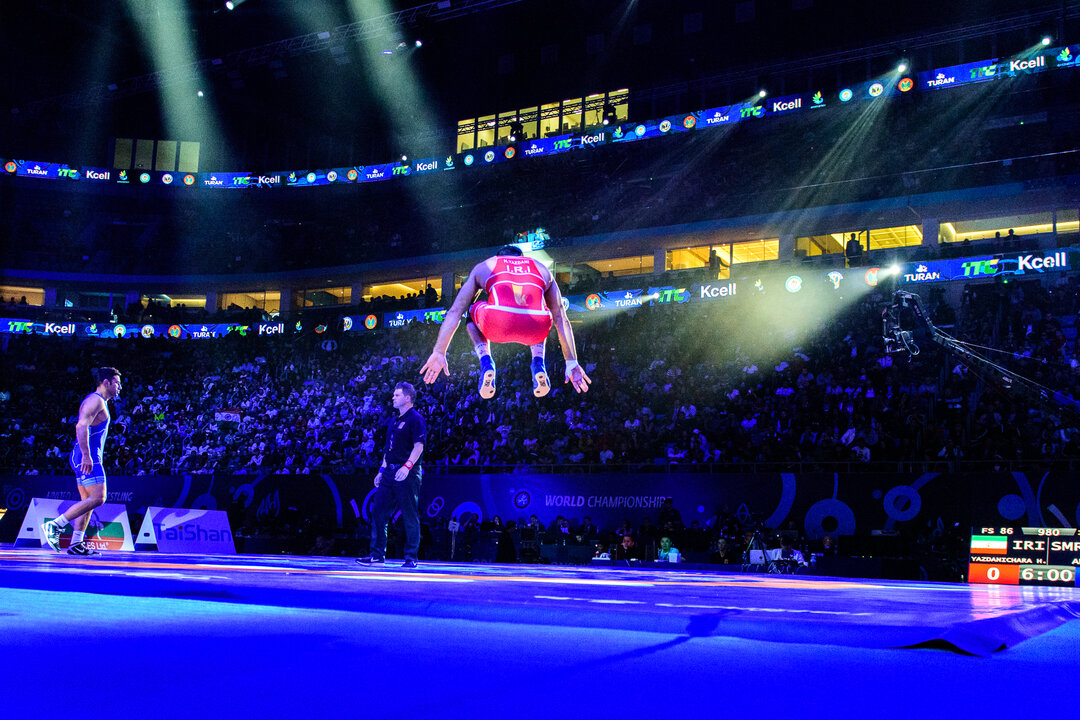 Hassan YAZDANI (IRI) will look to win his second world title when he wrestles Deepak PUNIA (IND) on Sunday night. (Photo: Tony Rotundo)
At 86kg, Rio 2016 champion Hassan YAZDANI (IRI), looking to regain the world title he last won in 2017, won within the distance for the fourth straight match, putting away Myles AMINE (SMR) by technical fall in 1:55.
Yazdani will face Deepak PUNIA (IND), an 8-2 winner in the other semifinal over Stefan REICHMUTH (SUI), who still has a chance to become Switzerland's first-ever freestyle medalist.
A month after winning the world junior title, Punia headed off any hope of a comeback from Reichmuth by scoring a takedown and tilt in the last minute.
Punia got a taste of the strength of Iran at the Asian Championships in April, when he lost by technical fall in the semifinals to eventual champion Kamran GHASENPOUR (IRI) as Yazdani sat out the tournament.
In the non-Olympic weight of 79kg, Kyle DAKE (USA) and Jabrayil HASANOV (AZE) set up a rematch of their final in Budapest, which was won by Dake. Dake scored all of his points in the first period and rolled to a 6-1 win over Rashid KURBANOV (UZB), while Hasanov edged Salkazanov 4-3.
 Russia will get a chance to add another gold to its bulging tally in the 61kg final, a clash between Magomedrasul IDRISOV (RUS) and 2016 silver medalist Beka LOMTADZE (GEO).
The tournament will conclude Sunday with the repechage and medal matches at 61kg, 79kg, 86kg and 97kg. 
Day 8 Results
Freestyle
61kg (25 entries)
Semifinal – Magomedrasul IDRISOV (RUS) df. Behnam EHSANPOOR (IRI), 2-2 
Semifinal – Beka LOMTADZE (GEO) df. Rahul AWARE (IND), 10-6
70kg (30 entries)
Gold – David BAEV (RUS) df. Nurkozha KAIPANOV (KAZ) by TF, 14-2, 3;46 
Bronze – Magomedmurad GADZHIEV (POL) df. Zurabi IAKOBISHVILI (GEO), 3-2
Bronze – Yones EMAMICHOGHAEI (IRI) df. Nicolae COJOCARU (GBR) by Fall, 1:12 (8-0) 
74kg (39 entries)
Gold – Zaurbek SIDAKOV (RUS) df. Frank CHAMIZO (ITA), 5-2 
Bronze – Zelimkhan KHADJIEV (FRA) df. Daniyar KAISANOV (KAZ), 4-3 
Bronze – Jordan BURROUGHS (USA) df. Mao OKUI (JPN) by TF, 10-0, 3:30
79kg (23 entries)
Semifinal – Kyle DAKE (USA) df. Rashid KURBANOV (UZB), 6-1 
Semifinal – Jabrayil HASANOV (AZE) df. Taimuraz SALKAZANOV (SVK), 4-3
86kg (43 entries)
Semifinal – Deepak PUNIA (IND) df. Stefan REICHMUTH (SUI), 8-2 
Semifinal – Hassan YAZDANI (IRI) df. Myles AMINE (SMR) by TF, 11-0, 1:55
92kg (18 entries)
Gold – J'den COX (USA) df. Alireza KARAMIMACHIANI (IRI), 4-0  
Bronze – Irakli MTSITURI (GEO) df. Nurgali NURGAIPULY (KAZ), 2-1 
Bronze – Alikhan ZHABRAILOV (RUS) df. Georgii RUBAEV (MDA), 3-2
97kg (26 entries)
Semifinal – Sharif SHARIFOV (AZE) df. Kyle SNYDER (USA), 5-2
Semifinal – Abdulrashid SADULAEV (RUS) df. Alisher YERGALI (KAZ), 8-1
125kg (28 entries)
Gold – Geno PETRIASHVILI (GEO) df. Taha AKGAL (TUR), 6-6  
Bronze – Oleksandr KHOTSIANIVSKYI (UKR) df. Badzha KHUTABA (SYR), 5-1 
Bronze – Khasanboy RAKHIMOV (UZB) df. DENG Zhiwei (CHN), 6-1