Showdown at Women's 50kg Looms at Japan's Meiji Cup
Wednesday, June 13, 2018 - 17:55 By Ken Marantz
TOKYO, Japan (June 13) - The level nor the stakes can't get much higher when an Olympic champion, a world champion and a wrestler who pipped them both clash in a battle for supremacy of the same weight class at the upcoming All-Japan Invitational Championships, also referred to as the Meiji Cup.
The last time Rio 2016 Olympic gold medalist Eri TOSAKA and Paris 2017 world champion Yui SUSAKI were supposed to finally have their highly anticipated showdown in the women's 50kg class, it was Yuki IRIE who came away with the gold medal.
That was at the All-Japan Championships (known as the Emperor's Cup) back in December. Tosaka, coming back from a foot injury that had kept her out of action since Rio, defaulted her semifinal match, while Irie knocked off Susaki in the other semifinal before edging world U-23 champion Miho IGARASHI 6-5 in the final.
Which one will walk away with the title will be one of the featured stories of the four-day tournament starting Thursday at Komazawa Gym in western Tokyo.
The Meiji Cup, with its select field in each division, is also serving as the final qualifier for Japan's team to this year's world championships in Budapest. Victories in both the Emperor's and Meiji Cups will mean automatic berths; in weight classes in which the champions are different, playoffs will be held on July 7.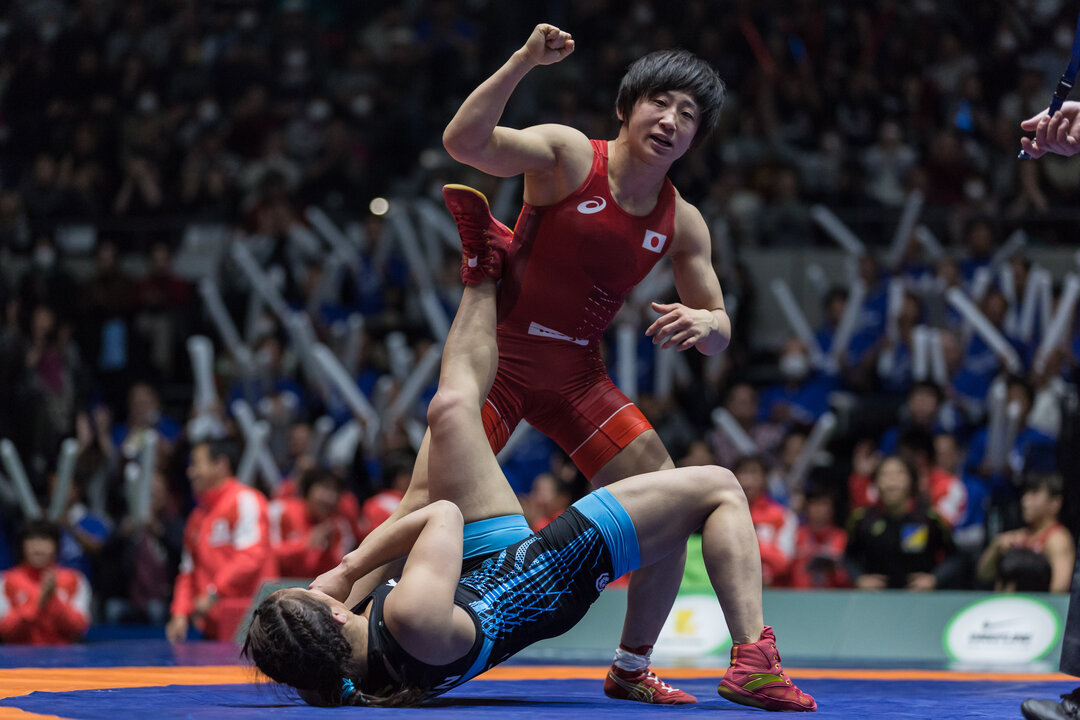 Yuki IRIE (JPN) celebrates her 10-0 victory over Olympic bronze medalist, Yanan SUN (CHN). (Photo by Max Rose-Fyne) 
Irie won the Ivan Yarygin Grand Prix in Russia in January, finished third at the Asian Championships in Bishkek in March, then won all three of her matches at the Women's World Cup in Takasaki, including a victory over Rio 2016 bronze medalist SUN Yanan (CHN).
Susaki picked up the title at the Klippan Lady Open in February with a victory over Rio 2016 silver medalist Mariya STADNIK (AZE) in the final, while Tosaka will be seeing her first action since the Emperor's Cup.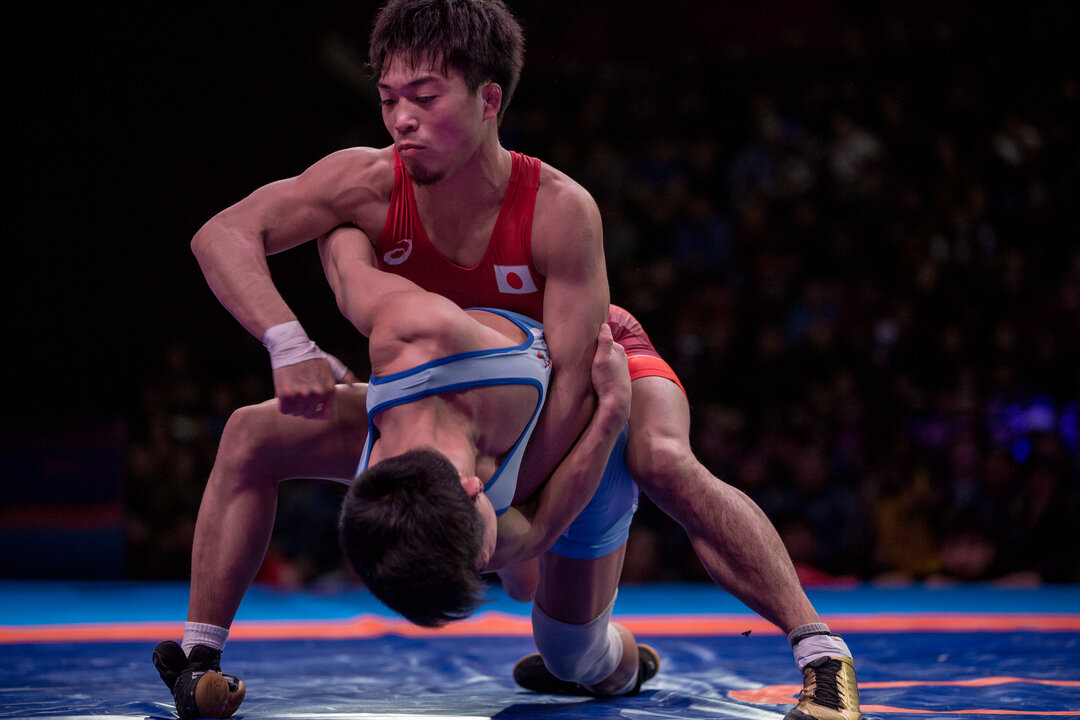 2018 Asian Champion, Shinobu OTA (JPN). (Photo by Max Rose-Fyne)
While there may be a rivalry in the making in that division, one of Japan's most fiercest duels in recent years will not be happening.
Paris 2017 world champion Kenichiro FUMITA has withdrawn with a knee injury, meaning there will be no new chapter in his long-running Greco 60kg feud with Rio 2016 silver medalist Shinobu OTA.
Ota won their last clash, a slim 5-4 decision at the Emperor's Cup, then went on to capture the Asian gold in Bishkek. Even with Fumita sidelined, Ota could face a challenge from Masuto KAWANA, the 2017 world U-23 champion at 59kg who missed the Emperor's Cup due to injury.
In other weight classes of note, Paris 2017 world champion Yuki TAKAHASHI will aim to secure his ticket to Budapest by following up on his Emperor's Cup victory at freestyle 57kg with a second straight Meiji title and fourth overall.
Takahashi is coming off a successful stint at the World Cup in April, where he won all four of his matches, including a rematch of the Paris final over Thomas GILMAN (USA).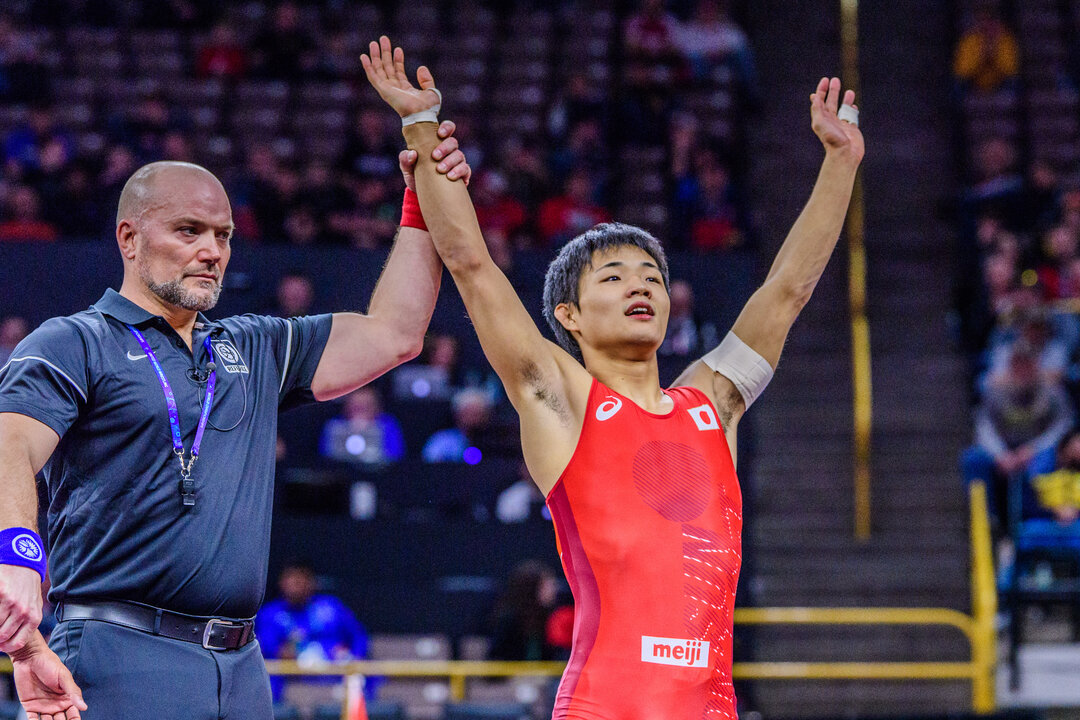 Daichi TAKATANI gets his hand raised after a win at the 2018 World Cup. (Photo by Tony Rotundo) 
At 65kg, Daichi TAKATANI, the Bishkek 2018 silver medalist and a first-time Emperor's Cup champion in December, will shoot for his first Meiji Cup crown in five years to clinch a ticket to Budapest.
Looking to gain a place in the playoff and return to the world stage is Rei HIGUCHI, the Rio 2016 silver medalist at 57kg who has since struggled as he tries to handle moving up two weight classes.
Also in the mix will be Rinya NAKAMURA, the 2017 world U-23 champion and last year's Meiji Cup winner at 61kg; Masakazu KAMOI, a 2017 Asian bronze medalist and last year's winner at 65kg; and collegian Kei YONEZAWA, the runner-up to Takatani at the Emperor's Cup.
The 92kg class will see the return to freestyle of Atsushi MATSUMOTO, who had switched to Greco-Roman in 2017 after failing to make the Rio Olympics. According to the Japan Wrestling Federation website, Matsumoto found himself not quite suited to the new rules in Greco.
Matsumoto, whose older brother Ryutaro won a Greco bronze medal at the London 2012 Olympics, captured four straight Meiji Cup titles in freestyle at 84-86kg from 2013-16. Looking to spoil his return will be Emperor's Cup champion Takashi ISHIGURO.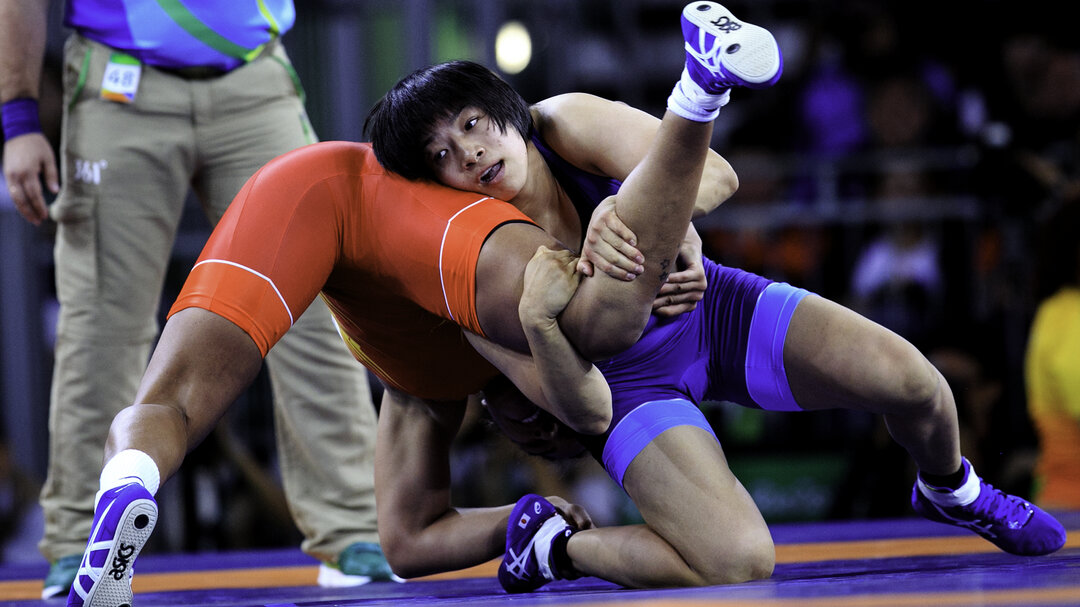 Rio WATARI will make her emotional return after being diagnosed with malignant lymphoma. (Photo by Martin Gabor)
The women's competition will see the emotional return of Rio WATARI, who is entered in the 68kg class, which is missing injured world and Olympic champion Sara DOSHO.
Watari made headlines in Japan when, in her intense desire to appear in the Olympics, she went up two weight classes to 75kg and still managed to beat out bigger opponents to make the Japanese team.
But the joy was short-lived. Soon after the Olympics, she was diagnosed with malignant lymphoma and left the sport to treat the disease. When she takes the mat on the third day Saturday, it will be her first action since Rio.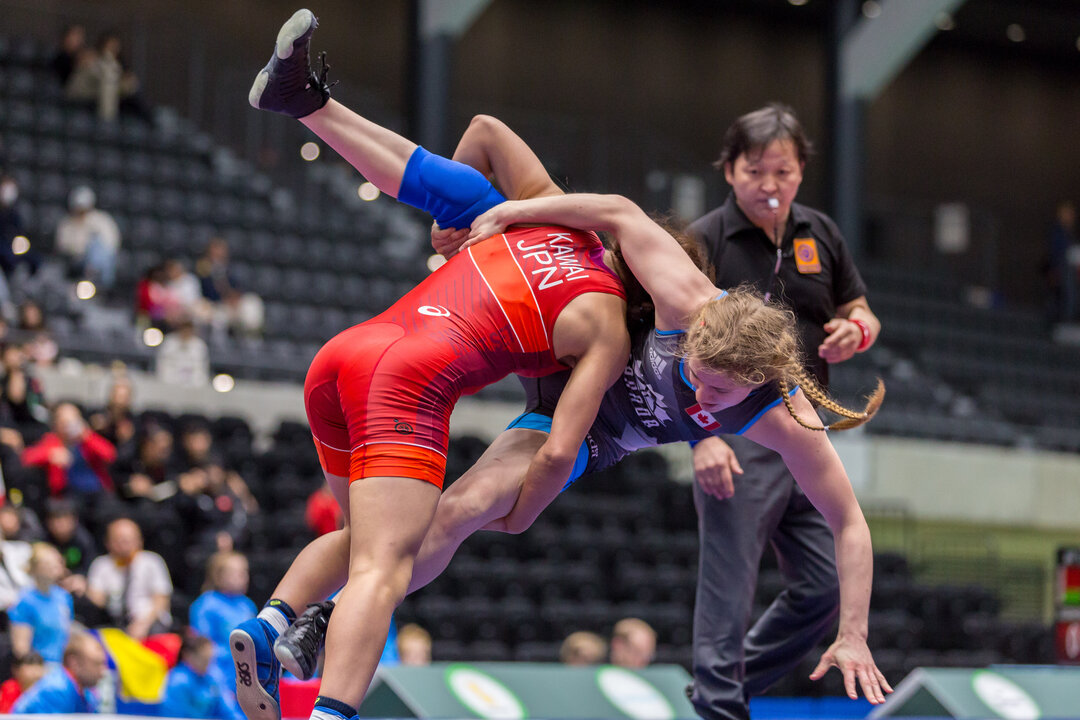 2016 Olympic champion, Risako KAQAI (JPN). (Photo by Max Rose-Fyne) 
In an interesting twist, sisters Risako and Yukako KAWAI have switched weight classes from the ones in which they won at the Emperor's Cup.
Risako, the Rio 2017 champion at 63kg and Paris 2017 winner at 60kg, is entered at 59kg, while Yukako has moved up to 62kg. Their victories at the other's weight in December made them the first sisters to win national titles together since Chiharu and Kaori ICHO in 2007.
Speaking of switching weights, Haruna OKUNO, the Paris 2017 champion at 55kg, will continue her surge toward returning to the world championships at 53kg, in which she won the Emperor's Cup.
Conversely, Mayu MUKAIDA, who suffered a last-second loss in the final at 53kg in Paris, has moved up to 55kg---the weight class in which she captured a world gold in 2016.
She can expect stiff competition from Saki IGARASHI, the runner-up to Mukaida at the Emperor's Cup and a gold medalist at Bishkek 2018.