In season opener, Pino puts on a show
Monday, February 6, 2023 - 10:08 By Vinay Siwach
When Oscar PINO (CUB) got to know that he will miss the Belgrade World Championships last year, he was heartbroken. Just four days before the tournament, he fell ill with dengue and lost an opportunity to win a world medal, his first since 2019.
Putting that disappointment aside, he decided to begin 2023 with the Zagreb Open Ranking Series event. He flew to Croatia a month before the competition for training around Europe. On Sunday, he put all the training to test and came out successfully.
Winning the gold medal at 130kg was one thing for Pino but doing it effortlessly gave him the confidence to go all the way at the World Championships in September in Belgrade.
"My wrestling today was good. I trained in Norway and Croatia for a month and this was the result of the good training," he said. "I think I had an amazing competition today. This is my way to get the gold medal at the World Championships."
Pino wrestled four bouts and gave up only one point, in the final for passivity. His four wins included three technical superiorities and a one-sided final against Oskar MARVIK (NOR).
He got par terre against Marvik and then got a full roll for four points. A gut wrench gave him two more as he led 7-0. Marvik got a point in the second period but failed to make the most of it.
"Many wrestlers are in good condition but I am ready," he said. "I go back home and train more because this weight class has good wrestlers so I cannot stop training."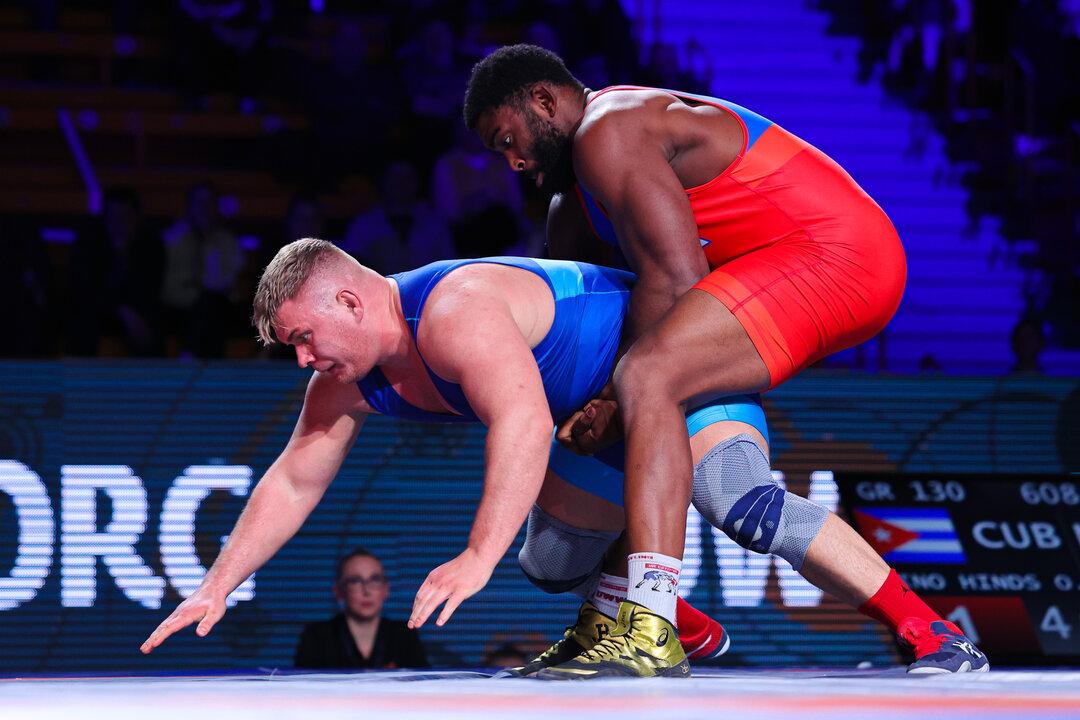 Oscar PINO HINDS (CUB) defeated Oskar MARVIK (NOR) 7-1 in the 130kg final. (Photo: UWW / Kostadin Andonov)
Overall, he began with an 8-0 win against Temurbek NASIMOV (UZB), maintained the same scoreline in the quarterfinal against Matti KUOSMANEN (FIN) and then did the same to Amir GHASEMIMONJEZI (IRI) in the semifinal.
Pino was also happy that he was able to finish all his bouts before time barring one and would like to continue the momentum throughout the season.
"I wrestle at the Granma y Cerro Pelado tournament in Cuba and then the Pan-Am," he said. "Then the staff decides if we compete at Bishkek or Budapest Ranking Series events and if possible to stay and train there."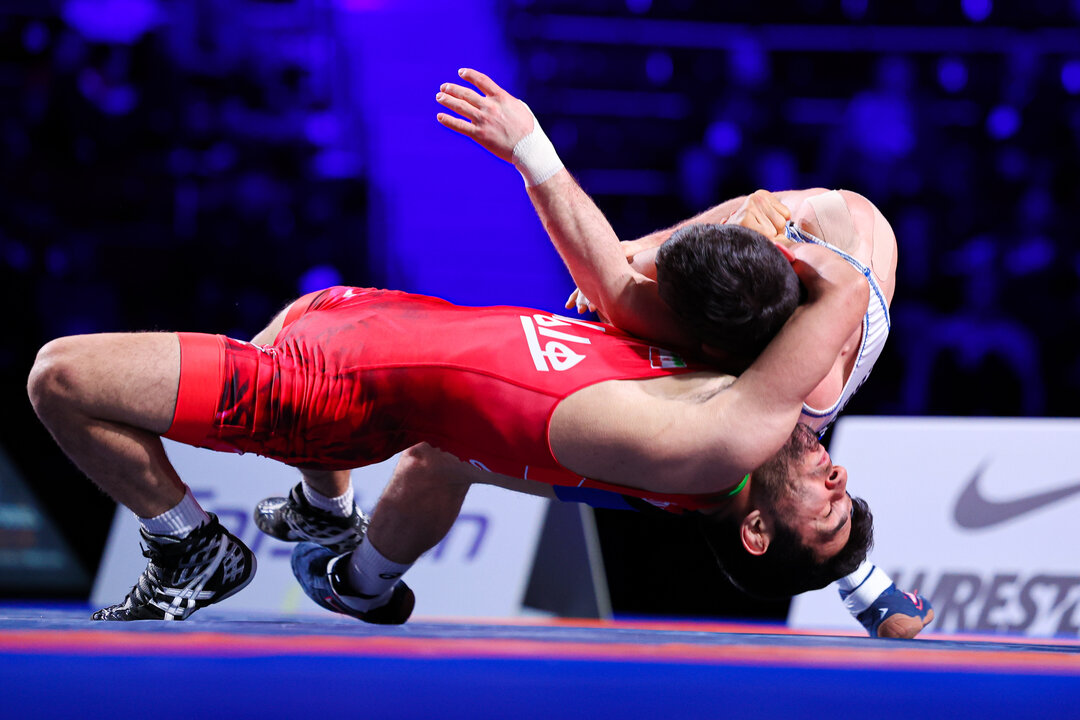 Poya DAD MARZ (IRI) managed to beat Ikhtiyor BOTIROV (UZB) 5-3 in the 55kg final. (Photo: UWW / Kostadin Andonov)
Iran dominates
Though it would have liked to have a better result at 130kg, Iran would be satisfied with the performance of other Greco-Roman wrestlers as it won three out of six gold medals on Sunday.
Pino, Selcuk CAN (TUR) and Kiril MILOV (BUL) were the only wrestlers to end Iran's domination in the Croatian capital.
At 55kg, U23 world champion Poya DAD MARZ (IRI) held his nerves in a close encounter against Ikhtiyor BOTIROV (UZB), winning the gold medal 5-3.
After getting a takedown, Dad Marz tried to gut wrench Botirov and in one such turn, he got stuck and Botirov put him in danger. But a strong bridge position and defense from Dad Marz saw him throw. He also defended the par terre position in the second period.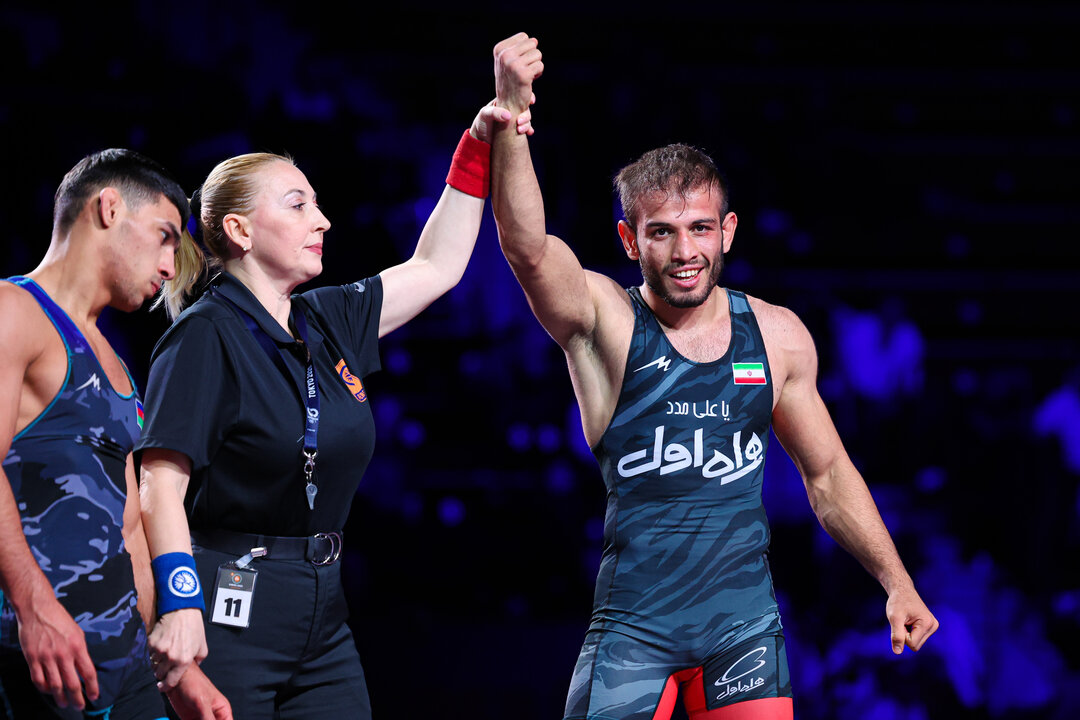 Mehdi MOHSEN NEJAD (IRI) dominated his way through to the gold medal at 60kg. (Photo: UWW / Kostadin Andonov)
Mehdi MOHSEN NEJAD (IRI) was far more dominant at 60kg as he defeated Nihat MAMMADLI (AZE) 8-0 in the final after a successful day in which he faced little to no challenge from his opponents.
The Asian Championships silver medalist did go through two strong Japanese wrestlers. In the pre-quarterfinals, he wrestled Kaito INABA (JPN) and faced Maito KAWANA (JPN) in the semifinals. After the bouts, he was surprised by the strength of the young wrestlers.
At 82kg, Alireza MOHMADIPIANI (IRI) denied the host country a gold medal as he defeated Filip SACIC (CRO), 3-1, in the final.
In the 72kg final, Can wrestled Sajjad IMENTALABFOUMANI (IRI) and used the par terre position to score an all-important turn and secure the gold medal with a 3-1 win.
He began the 2023 season as he did in 2022, winning a Ranking Series gold medal. But with the World Championships doubling up as the qualifying for the Paris Olympics, Can will have to move down to 67kg to win a spot to Paris.
European champion and World Championships silver medalist Kiril MILOV (BUL) was also at his best, running through a packed field to win the 97kg gold medal.
He began with a 10-1 win against Murat LOKIAYEV (AZE), followed by a blanking of Vinko PRODANOVIC (CRO) before beating Arif NIFTULLAYEV (AZE) 5-1 in the quarterfinals.
After a walkover in the semifinals, Milov faced an unexpected opponent in Tamas LEVAI (HUN) who had moved up from 77kg in 2021 to 97kg in 15 months.
While he did well to reach the final, Levai was of no competition against Milov who completed a 10-2 win over the Hungarian.
Levai got a challenge wrong to open Milov's account before being called passive. From par terre, Milov used a strong grip to roll him twice. He then got an arm throw four. Levai got Milov in danger in the same sequence but the difference was already eight points, enough for technical superiority.
RESULTS
55kg
GOLD: Poya DAD MARZ (IRI) df. Ikhtiyor BOTIROV (UZB), 5-3
BRONZE: Mohammad JAVAHERI FARID (IRI) df. Denis MIHAI (ROU), 5-0
60kg
GOLD: Mehdi MOHSEN NEJAD (IRI) df. Nihat MAMMADLI (AZE), 8-0
BRONZE: Maito KAWANA (JPN) df. Kaito INABA (JPN), 4-1
BRONZE: Razvan ARNAUT (ROU) df. Krisztian KECSKEMETI (HUN), 7-0
72kg
GOLD: Selcuk CAN (TUR) df. Sajjad IMENTALABFOUMANI (IRI), 3-1 
BRONZE: Jamol JUMABAEV (UZB) df. Robert FRITSCH (HUN), 8-0
BRONZE: Ibrahim GHANEM (FRA) df. Jian TAN (CHN), 6-2
82kg
GOLD: Alireza MOHMADIPIANI (IRI) df. Filip SACIC (CRO), 3-1
BRONZE: Pejman POSHTAM (IRI) df. Marcel HEIN (DEN), 8-0
BRONZE: Peter DOEMOEK (HUN) df. Spencer WOODS (USA), 7-2
97kg
GOLD: Kiril MILOV (BUL) df. Tamas LEVAI (HUN), 10-2
BRONZE: Tyrone STERKENBURG (NED) df. Felix BALDAUF (NOR), 5-4
BRONZE: Murat LOKIAYEV (AZE) df. Mihail KAJAIA (SRB), via inj. def.
130kg
GOLD: Oscar PINO (CUB) df. Oskar MARVIK (NOR), 7-1
BRONZE: Lingzhe MENG (CHN) df. Alin ALEXUC CIURARIU (ROU), 3-1
BRONZE: Amir GHASEMI (IRI) df. Matti KUOSMANEN (FIN), 1-1