Sadulaev Exacts Revenge on Snyder; Russia, Japan Sweep Gold Medals
Tuesday, October 23, 2018 - 18:57 By Andrew Hipps
BUDAPEST, Hungary (October 23) -- The Russian Tank is back on top.
Olympic champion Abdulrashid SADULAEV (RUS) earned a first-period fall over returning world and Olympic champion Kyle SNYDER (USA) in the 97kg gold-medal match at the World Championships on Tuesday, exacting revenge from last year's gold-medal match in Paris. 
The highly-anticipated showdown, which was billed as Snyderlaev II, lasted just over a minute. Sadulaev fired off a single leg thirty-five seconds into the match. Snyder fought the position and quickly found himself in danger. Sadulaev kept Snyder on his back and secured the fall. 
"Everybody knows Sadulaev is a very talented wrestler," Snyder said after the match. "He hit me in a good move and it worked out well for him tonight."
Sadulaev has now won three senior world titles to go along with an Olympic gold medal in Rio. He has suffered just one international loss since 2013. That loss came against Snyder at last year's World Championships.
Russia won the freestyle team title and crowned both freestyle gold medalists on Tuesday. The United States finished second in the team standings, while Georgia finished third.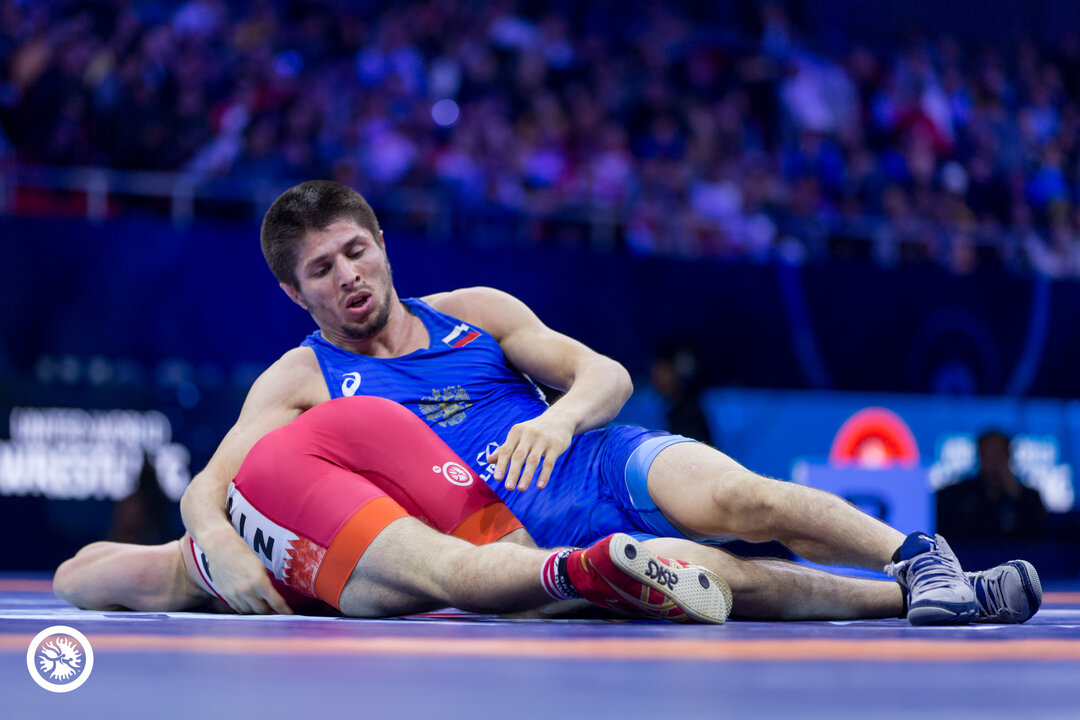 Magomedrasul GAZIMAGOMEDOV (RUS) claimed Russia's other freestyle gold medal on Tuesday with a 7-6 come-from-behind victory over Adam BATIROV (BRN) in the gold-medal match 70kg. It is Gazimagomedov's second world title and first since 2015.  
The 33-year-old Batirov, formerly of Russia, controlled the early part of the match, jumping out to a 6-0 lead at the break after scoring a takedown and turning Gazimagomedov twice with a leg lace. 
Gazimagomedov came out strong in the final period. First, he scored a takedown to cut the deficit to four, then two step outs in a span of 10 seconds made the score 6-4 in favor of Batirov with just over a minute remaining. Gazimagomedov continued to force the action against a tired Batirov, and with three seconds left scored a takedown on the edge of the mat to take the victory.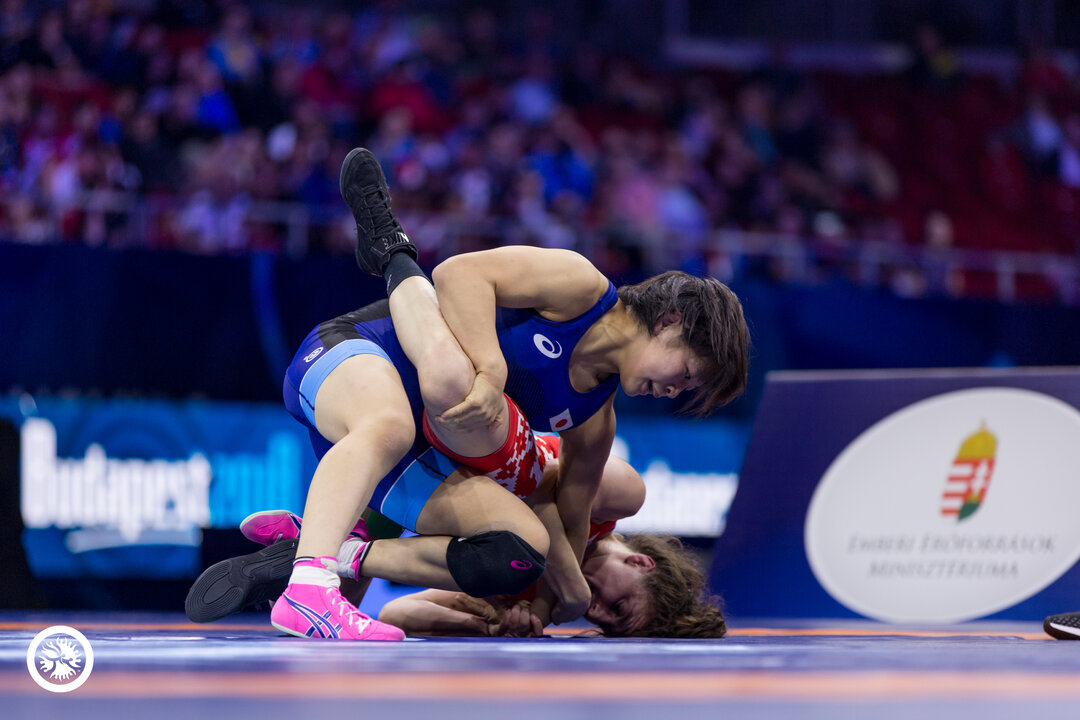 While Russia swept the freestyle gold medals on Tuesday, Japan won both gold medals in women's wrestling. 
At 55kg, Mayu MUKAIDA (JPN) cruised to a 12-2 technical fall over Zalina SIDAKOVA (BLR) to win her second world title. After surrendering the first two points of the match off a crotch lift, Mukaida dominated. A couple takedowns and a gut wrench turn made the score 6-2 at the break. Twenty seconds into the second period Mukaida picked up another takedown before locking up a gut wrench and turning Sidakova twice for the technical fall.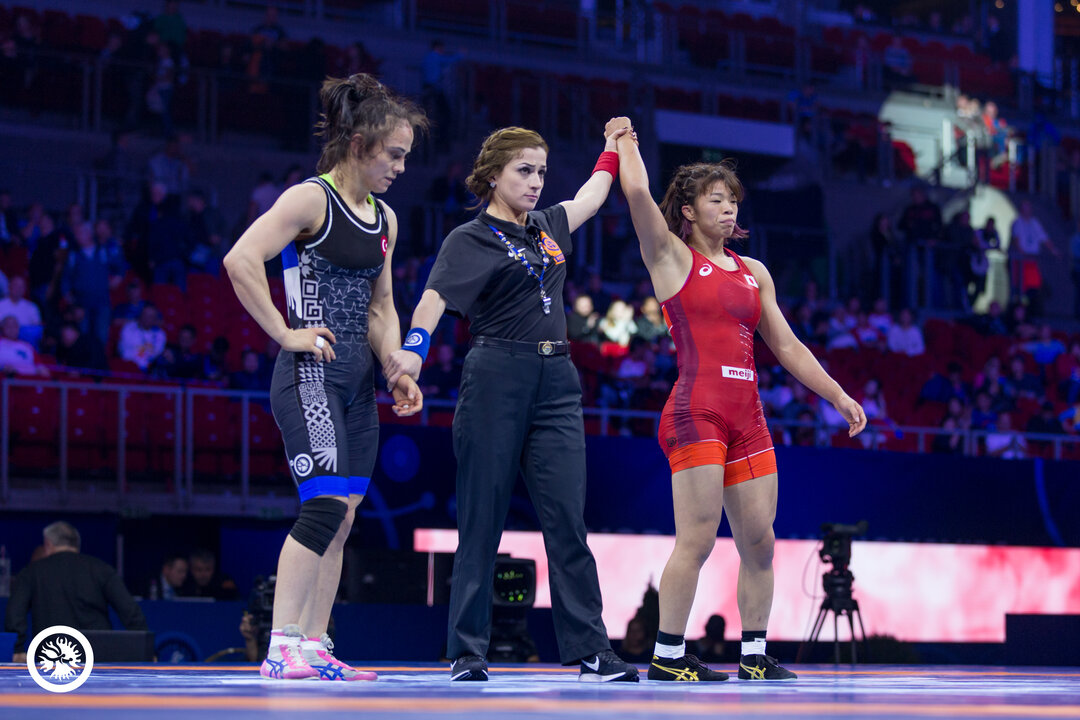 Risako KAWAI (JPN) captured her third world-level title in three years with an 8-0 victory over Elif YESILIRMAK (TUR) in the gold-medal match at 59kg. Kawaii led 2-0 at the break before breaking the match wide open in the second period. Five seconds into the period she scored a takedown to go up 4-0. Then with just over a minute remaining she took a shot and dumped Yesilirmak to her back for four points to extend her lead to 8-0, which is how the match would end. 
In the bronze-medal bouts at 70kg, 2017 world champion Zurabi IAKOBISHVILI (GEO) picked up a 10-0 technical fall victory over Byambadorj BAT ERDENE (MGL). The other bronze medal at 70kg was won by Franklin MAREN CASTILLO (CUB), who defeated Andriy KVYATKOVSKYY (UKR) 11-1. 
Elizbar ODIKADZE (GEO) won his first world medal after placing fifth at the World Championships three times and fifth at the Olympic Games in 2016. He won by fall in his bronze-medal match over Magomed IBRAGIMOV (UZB). 
In women's wrestling, Myong Suk JONG (PRK) won her third world bronze medal, beating Qi ZHANG (CHN) 2-1 at 55kg. Lianna MONTERO HERRERA (CUB) won the other bronze medal at 55kg, beating Jacarra WINCHESTER (USA) 5-4. 
2016 world champion Xingru PEI (CHN) earned a bronze medal at 59kg with a 7-1 win over Svetlana LIPATOVA (RUS). Mongolia picked up a bronze in women's wrestling as Shoovdor BAATARJAV topped Alejandra ROMERO BONILLA (MEX) at 59kg. 
Freestyle
70kg
GOLD: Magomedrasul GAZIMAGOMEDOV (RUS) df. Adam BATIROV (BRN) by VPO1, 7-6
BRONZE: Zurabi IAKOBISHVILI (GEO) df. Byambadorj BAT ERDENE (MGL) by VSU, 10-0
BRONZE: Franklin MAREN CASTILLO (CUB) df. Andriy KVYATKOVSKYY (UKR) by VSU1, 11-1
97kg
GOLD: Abdulrashid SADULAEV (RUS) df. Kyle SNYDER (USA) by VFA, 2-0
BRONZE: Elizbar ODIKADZE (GEO) df. Magomed IBRAGIMOV (UZB) by VFA, 5-2
BRONZE: Abraham CONYEDO RUANO (ITA) df. Pavlo OLIINYK (HUN) by VPO1, 2-2
Women's Wrestling
55kg
GOLD: Mayu MUKAIDA (JPN) df. Zalina SIDAKOVA (BLR) by VSU1, 12-2
BRONZE: Myong Suk JONG (PRK) df. Qi ZHANG (CHN) by VPO1, 2-1
BRONZE: Lianna MONTERO HERRERA (CUB) df. Jacarra WINCHESTER (USA) by VPO1, 5-4 
59kg
GOLD: Risako KAWAI (JPN) df. Elif YESILIRMAK (TUR) by VPO, 8-0
BRONZE: Shoovdor BAATARJAV (MGL) df. Alejandra ROMERO BONILLA (MEX) by VPO1, 4-2
BRONZE: Xingru PEI (CHN) df. Svetlana LIPATOVA (RUS) by VPO1, 7-1