Sadulaev and Snyder Win Second Yarygin Titles
Sunday, January 28, 2018 - 14:39 By
KRASNOYARSK, Russia (January 28) -- Russian wrestlers capped off the third day of action at the 29th Annual Ivan Yarygin Grand Prix with three additional gold medals, bringing their tournament total to eight. The only two non-Russian wrestlers to capture gold medals were David TAYLOR (USA) and Kyle SNYDER (USA).
In this evenings first men's freestyle bout, Khetik TSABOLOV (RUS) took the 1-0 lead after Zaurbek SIDAKOV (RUS) failed to score while on the shot clock. Tsabolov's extended his lead to 3-0 with timely takedown that came off a single-leg in the second period, ultimately giving him the 74kg gold medal.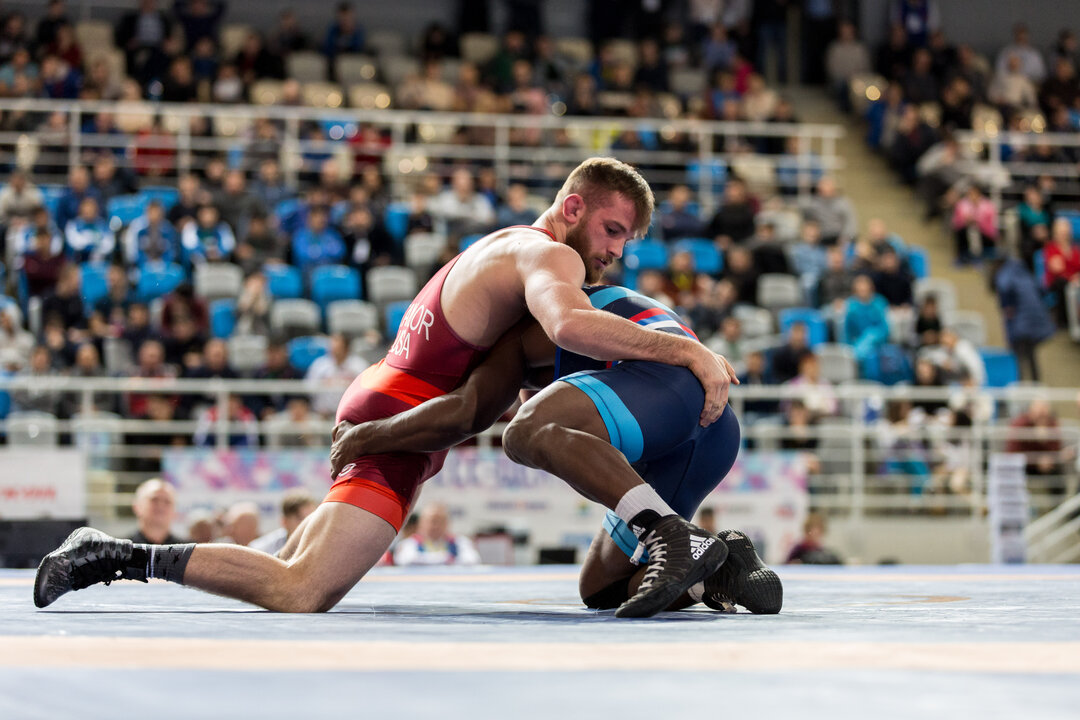 At 86kg, David TAYLOR (USA), 2017 Grand Prix of Paris champion wrapped up his day with back-to-back falls, winning his first Ivan Yarygin title.
Taylor evened the score up after Fatih ERDIN's (TUR) two-point head- pinch. Taylor picked up his second takedown, taking the 4-2 lead half way through the first period. Taylor then caught Erdin on his back and secured the first period fall.
When asked about winning the Yarygin, Taylor said "Just to hear the national anthem almost brought tears to my eyes because I've envisioned hearing that so many times."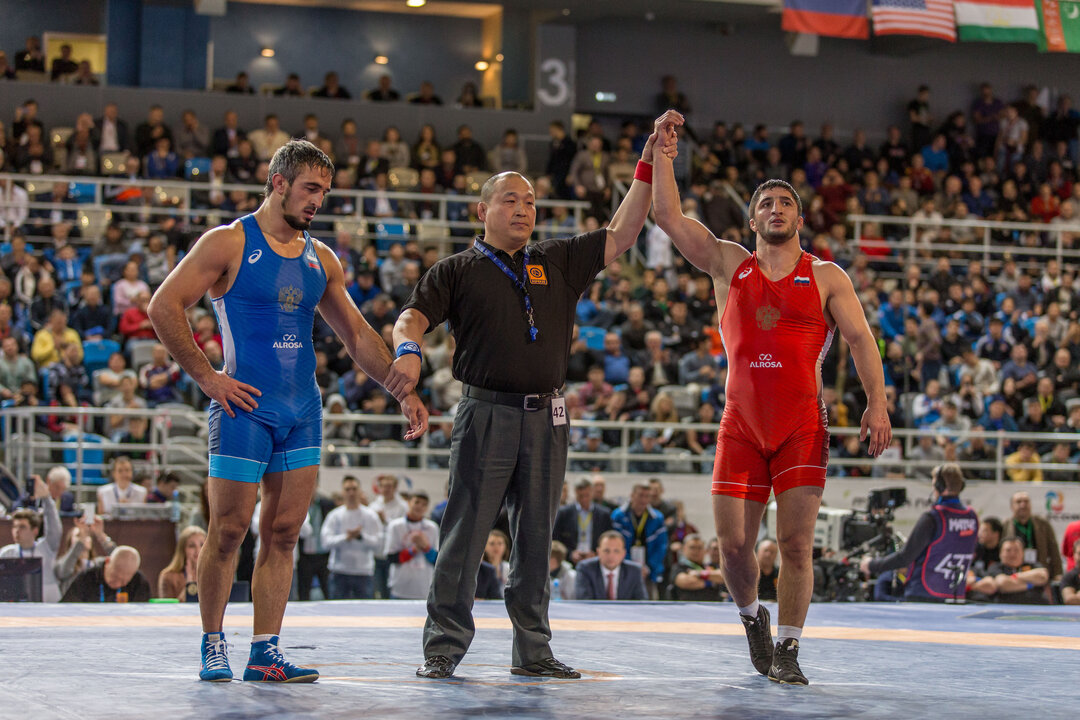 In the 92kg gold medal bout, Abdulrashid SADULAEV (RUS) used three takedowns to defeat Anzor URISHEV (RUS), 6-0. Sadulaev finished the day outscoring his opponents 26-0.This was Sadulaev's first tournament win since dropping the gold medal bout at the 2017 World Championships. 
At 97kg, Kyle SNYDER (USA) added back-to-back Yargin titles to his resume, becoming the first American to ever do so. 
Snyder, the two-time world champion trailed in the first after being put on the shot clock. He went on to score four answered points, defeating Rasul MAGOMEDOV (RUS), 4-1.
In women's wrestling, China capped off their impressive tournament by going five for seven in gold medal bouts, including going 2-0 on the third and final day.
Their sixth finalist, Juan WANG (CHN) used a four-point bodylock to defeat Masako FURUICHI (JPN) 4-1 in the 72kg final. WANG 's victory gave China their fourth gold medal of the tournament. China's fifth gold medal came when Qian ZHOU (CHN) was handed the 76kg  gold medal after Ekaterina BUKINA (RUS) injury defaulted.
FINALS RESULTS
74kg
GOLD - Khetik TSABOLOV (RUS) df. Zaurbek SIDAKOV (RUS), 4-1
BRONZE – Dovletmyrat ORAZGYLYJOV (TKM) df. Mandakhnaran GANZORIG (MGL), 9-0
BRONZE - Kakhaber KHUBEZHTY (RUS) df. Muhammet DEMIR (TUR), 10-0
86kg
GOLD -  David TAYLOR III (USA) df. Fatih ERDIN (TUR), 6-2
BRONZE –  Vladislav VALIEV (RUS) df. Zaur BERADZE (GEO),2-0
BRONZE - Artur NAIFONOV (RUS) df. Yurieski TORREBLANCA QUERALTA (CUB),2-1
92kg
GOLD -  Abdulrashid SADULAEV (RUS) df. Anzor URISHEV (RUS), 6-0
BRONZE –  Yury BELONOVSKIY (RUS) df. Serda BOKE (TUR), 9-3
BRONZE -  Turtogtokh LUVSANDORJ (MGL) df. Nicholas HEFLIN (USA), 4-2
97kg
GOLD - Kyle SNYDER (USA) df. Rasul MAGOMEDOV (RUS), 4-1
BRONZE –  Vladislav BAITCAEV (RUS) df. Yunus DEDE (TUR), 11-0
BRONZE - Magomed IBRAGIMOV (UZB) df. Batzul ULZIISAIKHAN (MGL), 10-0
Women's wrestling
72kg
GOLD -  Juan WANG (CHN) df. Masako FURUICHI (JPN), 4-1
BRONZE – Nasanburmaa OCHIRBAT (MGL) df. Tatiana KOLESNIKOVA MOROZOVA (RUS), 9-0
BRONZE - Zhamila BAKBERGENOVA (KAZ) df. Alena PEREPELKINA (RUS), 8-5
76kg
GOLD - Qian ZHOU (CHN) df. Ekaterina BUKINA (RUS),Inj def
BRONZE – Paliha PALIHA (CHN) df. Viktoriia FROLOVA (RUS), 10-0
BRONZE - Epp MAE (EST) df. Anzhela KATAEVA (RUS), 4-0