Russian Women Win Team Title on Back of Four Individual Gold Medalists
Friday, February 14, 2020 - 21:09 By Eric Olanowski
ROME, Italy (February 13) --- Natalia VOROBEVA (RUS) stuck Maria SELMAIER (GER) in the short-lived 72kg finals and closed out the Russian Federation's run to the team title with a fourth women's wrestling gold medal. 
Vorobeva, the reigning world champion at 72kg, joined fellow Russians Olga KHOROSHAVTSEVA (RUS), Khanum VELIEVA (RUS) and Ekaterina BUKINA (RUS) atop the continental podium after her win via fall on Friday night.  
Russia (190 points) won the women's wrestling team title 35 points ahead of the defending champions, Ukraine (155 points). Belarus rounded out the top-three in the women's race with 97 points.
Vorobeva, Russia's women's captain, said being cool and confident helped them win the team title. "The team was so successful because our girls are really cool. They started to believe in themselves. In general, our team is very cool, friendly, strong and ready to win."
Vorobeva sealed up Russia's fourth gold of the tournament with a fall in 85 seconds of the opening period against Selmaier and won her third European title. After securing the fall, the two-time world champion said, "Yesterday, I couldn't pin my rival, so today I was a bit unsure that I could keep her pinned. The position was a bit uncomfortable, but when I caught her head, I was sure it was gonna work." 
She'll now move up to the Olympic weight of 76kg for a run at a potential third Olympic medal. She won gold in London and silver in Rio.
Vorobeva's move leaves the Russian coaching staff with a tough decision to make before the European Qualifier. Do they stick with Bukina who just won the 76kg title, or do they go with Vorobeva, who'll be moving up from the non-Olympic weight of 72kg? 
On Thursday, Bukina was asked about where her European title win at 76kg puts her in the race to represent Russia at the Olympic Games. She said, "It depends on who will be in better shape. Right now, she is wrestling in the other weight category, but we will decide later when it's closer to the Olympics. It's too early to talk about it."
When Vorobeva was asked about the log jam between herself and Bukina at 76kg, she said, "I gave Bukina this place and it's good for her that she used her chance. But if there is a need for me to wrestle at 76kg, we'll both go on the mat, wrestle and see who is the best."
Vanesa KALADZINSKAYA (BLR) won her second European title with a win over Jessica BLASZKA (NED)  (Photo: Gabor Martin)
World Champions Kazldzinskaya and Tkach Ostaphuk Win European Golds on Friday Night
World champions Vanesa KALADZINSKAYA (BLR) and Yuliia TKACH OSTAPCHUK (UKR) added European titles to their resumes with wins on Friday night in Rome. 
Kaladzinskaya, a two-time world champion, denied Jessica BLASZKA (NED) the opportunity to become the Netherlands' first-ever women's wrestling European champion and now owns as many European titles as world golds. "I think that when something happens once, it might not happen again. If something happens twice, it means that it would happen for the third time as well," Kaladzinskaya said about evening her world and continental gold medal count.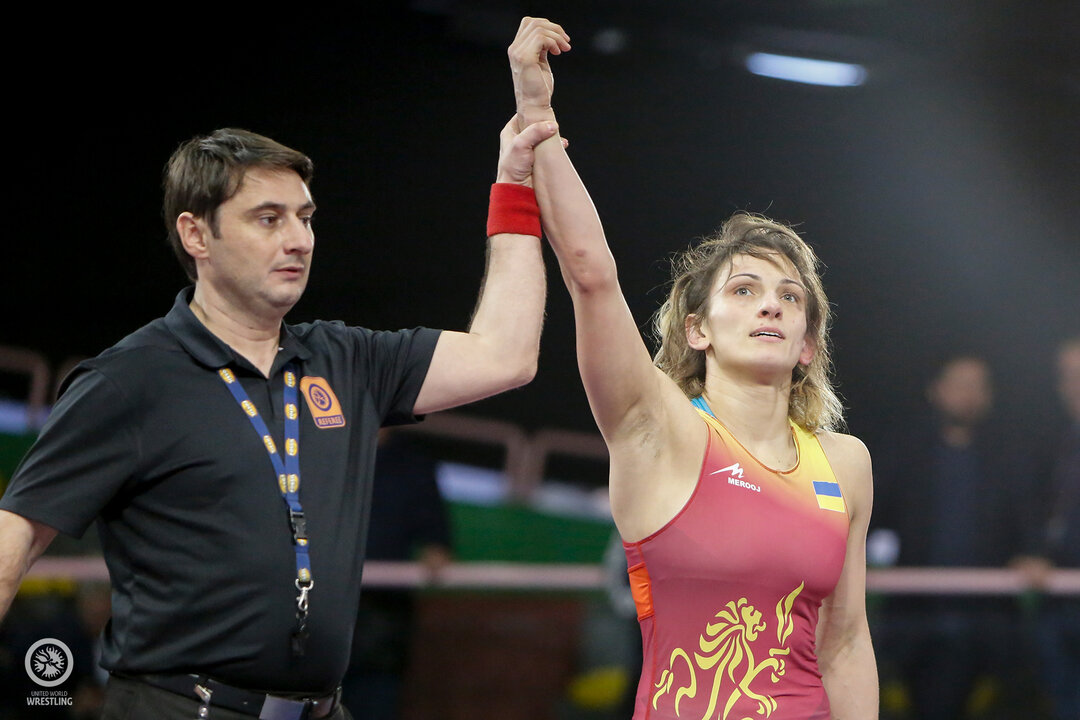 Yuliia TKACH OSTAPCHUK (UKR) edged fellow world champion Inna TRAZHUKOVA (RUS) in the 62kg finals and won her fourth European gold medal. (Photo: Gabor Martin)
Tkach Ostaphuk won the low-scoring battle against fellow world champion Inna TRAZHUKOVA (RUS) and claimed her fourth European title. "It was the final match for the gold medal and any mistake could have been fatal. I had to wrestle well to achieve success," said Tkach Ostaphuk. 
In the 62kg finals, she trailed 1-0, but after a pair of second-period inactivity points, Tkach Ostaphuk handed Ukraine their lone women's wrestling title of the tournament.
"I knew it would be difficult. It's not the first year we've been wrestling together. We know each other very well and it's difficult to wrestle when you have known your rival for a long time," said Tkach Ostaphuk.  "I think the luckiest one has won tonight. Well, actually, the one who was stronger won tonight."
After stepping off the podium, Tkach Ostaphuk was asked what it feels like to hold her fourth European gold medal. She said, "I am so happy because it's my 30'th birthday this year, and it feels like I have already been an athlete for a century. It's a pleasure to win and to prove that I am the best in this weight category."
Tkach Ostaphuk will travel back to Ukraine to train before heading to Budapest, Hungary, to try to qualify for the Tokyo Olympic Games. In order to earn a berth to the Olympic Games, Tkach Ostaphuk said she needs to enjoy the moment. "I just need to step on the mat, wrestle and enjoy it. I hope I will be able to qualify for the Olympics, those will be my 4th Olympic Games, I would finally like to win a medal so that my sporting career will have a nice ending."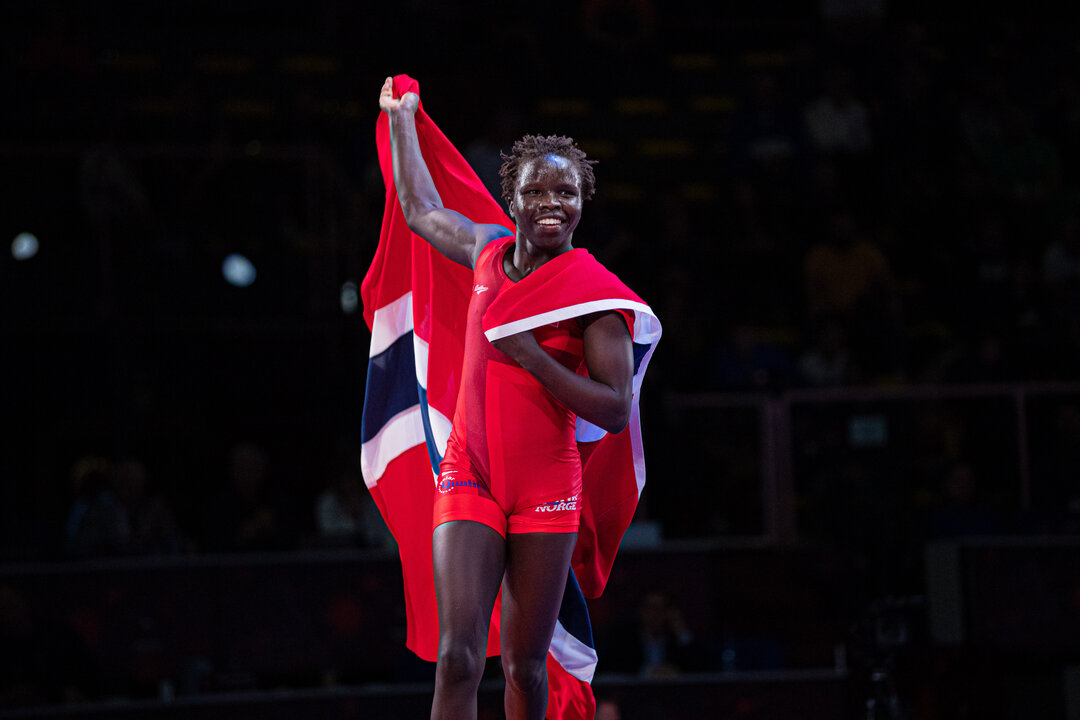 Grace BULLEN (NOR) is the first women's wrestler from Norway to win two European titles. (Photo: Kadir Caliskan)
Bullen First Norwegian Woman to win Two European Titles 
Grace BULLEN (NOR) became the first Norwegian woman to win two European titles after bulldozing Alina AKOBIIA (UKR) in the 57kg finals. "It's awesome. I like that I can make history and make the path for younger generation wrestlers in Norway," Bullen said about her history-making performance.  
Bullen stopped five Ukrainian shots in the opening period and capitalized on the fifth defensive stop with a counter-offensive takedown. She transitioned into a gut wrench, and after trailing 1-0 for nearly the entire first period, she ended up leading by three points.
The second period was a somewhat dull one. Bullen stopped Akobiia's high crotch attempt and tossed her to her back with a whip over. She held her Ukrainian opponent on her back for the final two minutes of the period and claimed the gold medal with the 6-1 victory.
Bullen knew it was risky to try to adjust her grip, so she stayed put and watched the clock expire. "I was thinking about controlling (the fall). My grip could easily fall out and we'd probably have to go (on our feet) again." And she didn't want that, She'd rather play it safe. "Just knowing you can count down to a win is a good thing, and it's safe that way. I'd rather be safe than sorry." 
Bullen plans to wrestle at the European qualifier in March then hopefully to the Tokyo Olympic Games later this year. And to do that, Bullen said it needs to be herself. "First of all, I have to get to the Olympics. To do that, I have to be myself. I want to impress people with my wrestling and make it interesting for people to watch. If I do that, I'll win matches, and I'll get there."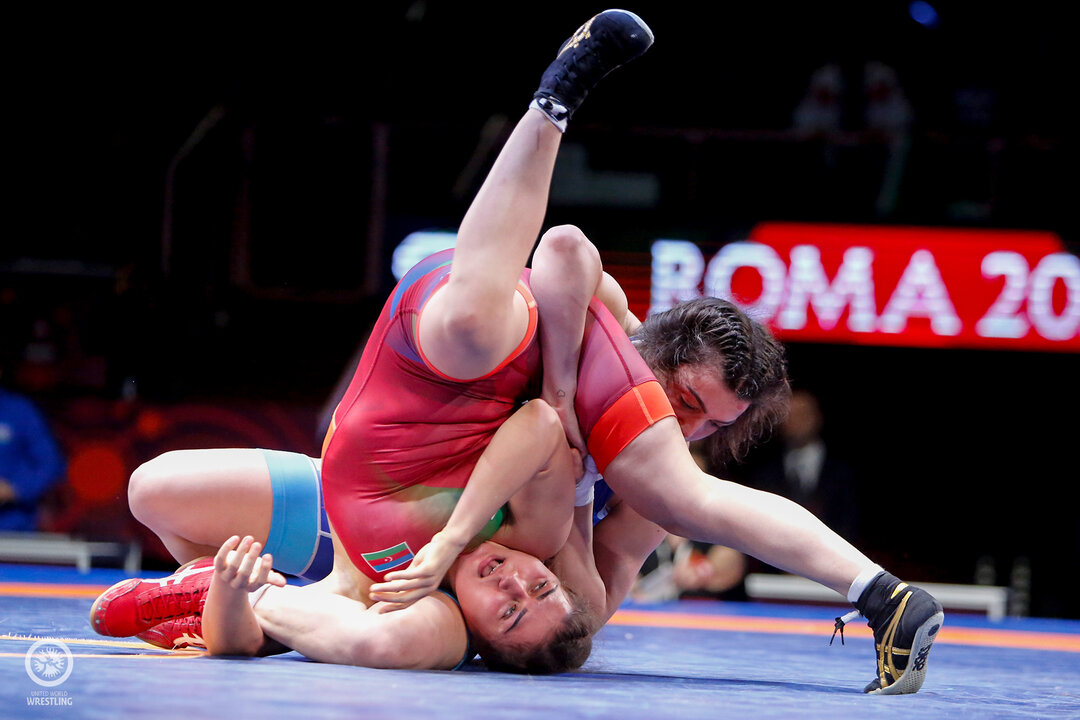 Mimi HRISTOVA (BUL) stopped Elis MANOLOVA (AZE) from repeating as European champion. (Photo: Gabor Martin)
Hristova Stops Manolova from Repeating as European Champion
Defending European champions had a difficult night on Thursday, going 0-3 in gold-medal matches. On Friday, their luck was eerily similar, as Mimi HRISTOVA (BUL) stopped Elis MANOLOVA (AZE) from defending her European crown from 2019. 
Hristova and Manolva combined to score three points in the first five and a half minutes of the bout, but a late scramble that ended in an awkward flurry lit the score up with six additional points. Hristova went from leading 2-1 to ending the match with Manolva on her back while controlling the 6-3 advantage. 
The European Championships resume tomorrow at 11:30 (local time) and can be followed live on www.unitedworldwrestling.org. 
RESULTS 
53kg 
GOLD - Vanesa KALADZINSKAYA (BLR) df. Jessica BLASZKA (NED), 3-1 
BRONZE - Annika WENDLE (GER) df. Suzanna Georgiana SEICARIU (ROU), via fall 
BRONZE - Stalvira ORSHUSH (RUS) df. Katarzyna KRAWCZYK (POL), 6-0 
57kg
GOLD - Grace Jacob BULLEN (NOR) vs. Alina AKOBIIA (UKR), 6-1
BRONZE - Sara Johanna LINDBORG (SWE) df. Marina SIMONYAN (RUS), 7 - 4
BRONZE - Iryna KURACHKINA (BLR) df. Alyona KOLESNIK (AZE), 4-1 
62kg 
GOLD - Yuliia TKACH OSTAPCHUK (UKR) df. Inna TRAZHUKOVA (RUS), 2-1 
BRONZE - Taybe Mustafa YUSEIN (BUL) df. Mariana CHERDIVARA ESANU (MDA), 12 - 0
BRONZE - Tetiana OMELCHENKO (AZE) df. Veranika IVANOVA (BLR), 4-0
65kg 
GOLD - Mimi Nikolova HRISTOVA (BUL) df. Elis MANOLOVA (AZE), 6-3 
BRONZE - Iryna KOLIADENKO (UKR) df. Kriszta Tunde INCZE (ROU), 8-0 
BRONZE - Mariia KUZNETSOVA (RUS) df. Petra Maarit OLLI (FIN), 8-4
72kg 
GOLD - Natalia VOROBEVA (RUS) df. Maria SELMAIER (GER), via fall 
BRONZE - Catalina AXENTE (ROU) df. Enrica RINALDI (ITA), 5-1 
BRONZE - Alina BEREZHNA STADNIK MAKHYNIA (UKR) df. Merve PUL (TUR), via fall