Russian Cadets Close out Euro Freestyle C'Ships with Three Golds
Wednesday, May 16, 2018 - 19:00 By Eric Olanowski
SKOPJE, Macedonia (May 16) - Azerbaijan and Russia were poised to meet each other in three of the five final bouts to close out freestyle wrestling at the 2018 Cadet European Championships. Russia finished the third day of competition with three gold medals, including two over Azerbaijani opponents. 
Turan BAYRAMOV (AZE) shutout Magomed ABDULKADYROV (RUS), 9-0 in the 65kg finals, which was the first meeting between Azerbaijan and Russia. 
Bayrramov, the 2017 Cadet World Championship silver medalist scored five points in the first period with two takedowns and a failed Russian challenge.
In the second period, Bayramov threw the Russian wrestler for four points and earned the top spot with a 9-0 shutout.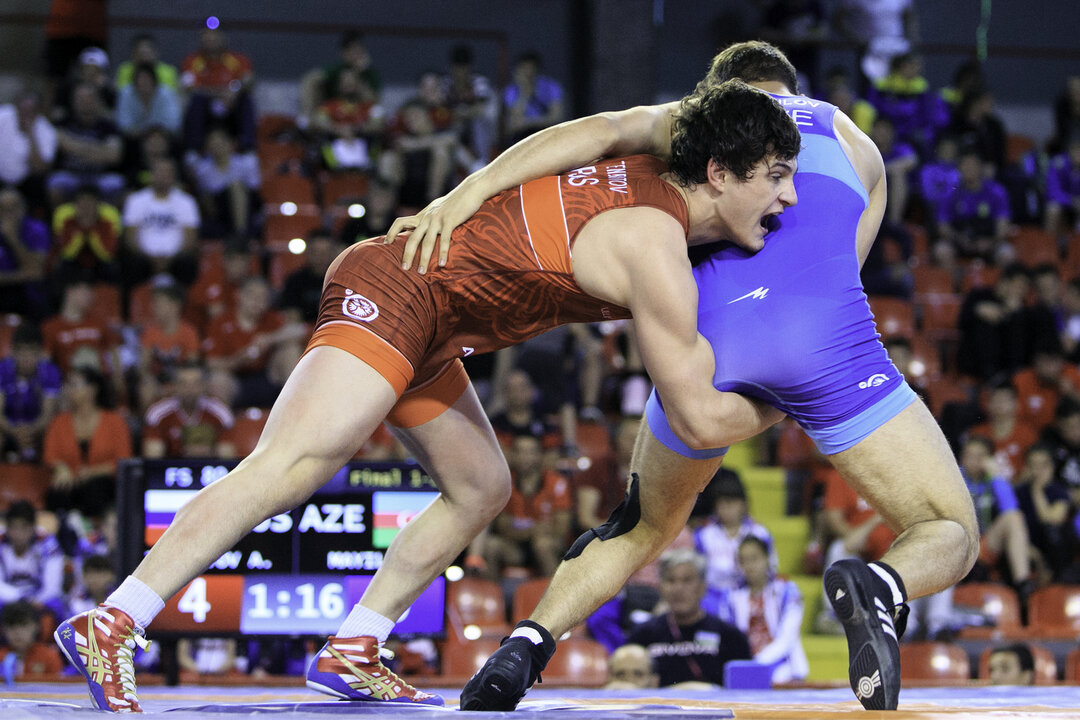 Akhmedkhan TEMBOTOV (RUS), 2018 Cadet European champion. (Photo by Gabor Martin)
At 80kg, Akhmedkhan TEMBOTOV (RUS) evened the score at one win apiece after controlling Fuad MAYILOV (AZE), 6-0 in the one-sided finals match-up. 
The third and final Azerbaijan and Russia matchup came at 110kg where Sergei KOZYREV (RUS) gave Russia the 2-1 advantage with a 10-0 technical superiority victory over Islam ABUEV (AZE). 
Tembotov scored two takedowns and a gut wrench, taking the 6-0 lead into the final period. He picked up another takedown to a gut with 25 seconds left in the match and scored the 10-0 technical superiority victory.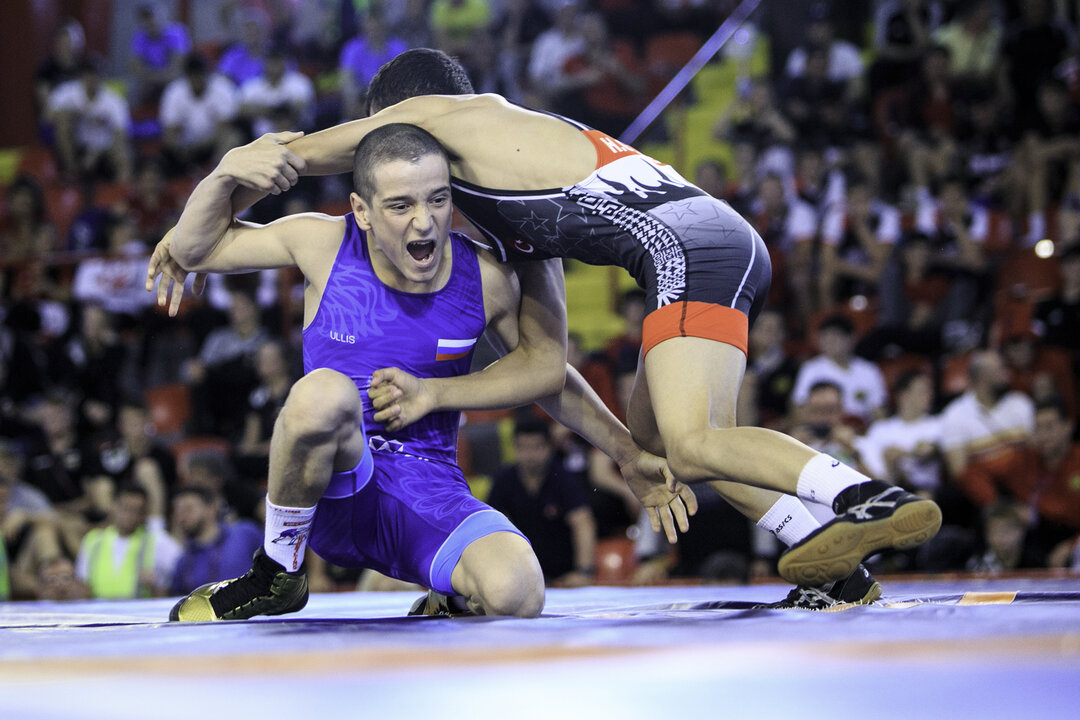 Daniel ZOPUNIAN (RUS) used two duck unders to win the 48kg gold medal.  (Photo by Gabor Martin)
Though he did not have an Azerbaijani opponent, Russia's Daniel ZOPUNIAN (RUS) matched his medal with his shoes, giving Russia their third championship of the night with a win over Halil GOKDENIZ (TUR) in the 48kg finals. 
Zopunian scored four points on two outside elbow control duck unders, heading into the closing minute with a 4-0 lead. 
The Turkish wrestler stole the 4-4 lead on criteria with an arm drag to a gut wrench in the final 30 seconds, but Zopunian closed out the match with a pushout with 17 seconds left to take the 5-4 win. 
Vladyslav OSTAPENKO (UKR), 2018 Cadet European champion at 55kg. (Photo by Gabor Martin) 
Vladyslav OSTAPENKO (UKR), 2017 Cadet World bronze medalist seized his first European gold medal with a dominating performance over Daviti ABDALADZE (GEO) in the 55kg gold-medal bout. 
The Ukrainian wrestler added six points to his 1-0 lead with three takedowns in the closing period, wrapping up the first place match, 7-0.
Results
TEAM SCORES
GOLD - Russia  (188 points)
SILVER - Georiga  (140 points)
BRONZE - Turkey (135 points)
Fourth - Azerbaijan (123 points) 
Fifth - Ukraine (89 points)
48kg
GOLD - Daniel ZOPUNIAN (RUS) df. Halil GOKDENIZ (TUR), 5-4
BRONZE - Giorgi GEGELASHVILI (GEO) df. Ilya RAHOZAU (BLR), 8-4
BRONZE -  Alihasan AMIRLI (AZE) df. Moritz Jonathan LANGER (GER), 10-0 
55kg
GOLD - Vladyslav OSTAPENKO (UKR) df. Daviti ABDALADZE (GEO) , 7-0
BRONZE - Ruhan Hyusnyu RASIM (BUL) df. Abulfaz NASIROV (AZE), 6-3
BRONZE -  Fedor BALTUEV (RUS) df. Adrian BARNOWSKI (GER), 6-2
65kg 
GOLD - Turan BAYRAMOV (AZE) df. Magomed ABDULKADYROV (RUS), 9-0 
BRONZE - Tolga AKYUZ (TUR) df. Veniamin BORZIN (MDA), 10-0 
BRONZE -  Narek HARUTYUNYAN (ARM) df. Luka MARIAMIDZE (GEO), 15-4 
80kg
GOLD - Akhmedkhan TEMBOTOV (RUS) df. Fuad MAYILOV (AZE), 6-0 
BRONZE -  Giorgi NEBUNISHVILI (GEO) df. Suleyman DUR (TUR), 7-0 
BRONZE - Denys SAHALIUK (UKR) df. Grigore TELEMAN (MDA), 4-3 
110kg 
GOLD - Sergei KOZYREV (RUS) df. Islam Aslangereyvic ABUEV (AZE), 10-0 
BRONZE - Solomon MANASHVILI (GEO) df. Vasyl SOVA (UKR), 4-0 
BRONZE - Stoyan Iliev YORDANOV (BUL) df. Uladzislau KHAMITSKI (BLR), 5-0