Russia Wins Freestyle Team Title at European Championships
Wednesday, April 10, 2019 - 20:17 By Eric Olanowski
BUCHAREST, Romania (April 10) – The Russian Federation trailed Azerbaijan by five points heading into the final day of wrestling at the European championships but closed out the freestyle competition with a Day 3 gold medal and two bronze medals to win the team title six points ahead of second place Turkey. 
Russia's lone Day 3 champion came at 86kg, where Vladislav VALIEV (RUS) pitched his fourth shutout of the tournament, defeating Moldova's Piotr IANULOV (MDA), 4-0. Valiev, the 2017 world bronze medalist, combined to outscore his five continental opponents, 30-1 en route to his first European title. 
Russia's Timur BIZHOEV (RUS) and Anzor KHIZRIEV (RUS) won the 74kg and 125kg bronze medal respectively and helped the Russian Federation jump into the tournament's top spot. 
Turkey finished in second place with 156 points. 
At 125kg, Turkey's Olympic champion Taha AKGUL won his third consecutive European title and seventh overall continental championship with a staggering 7-0 win over a vulnerable Geno PETRIASHVILI (GEO). The Georgian wrestle had his left knee heavily taped and limited in what he could do in the gold-medal bout. 
Akgul, the 2016 Olympic champion dominated the 125kg finals match with a pair of takedowns, a leg lace, and a brutality point, and cruised past his biggest rival for the second consecutive time in the European finals. 
Turkey also had a pair of bronze medalists in Recep TOPAL and Fatih ERDIN. Topal was the bronze-medal winner at 61kg, and Erdin finished in third place at 86kg.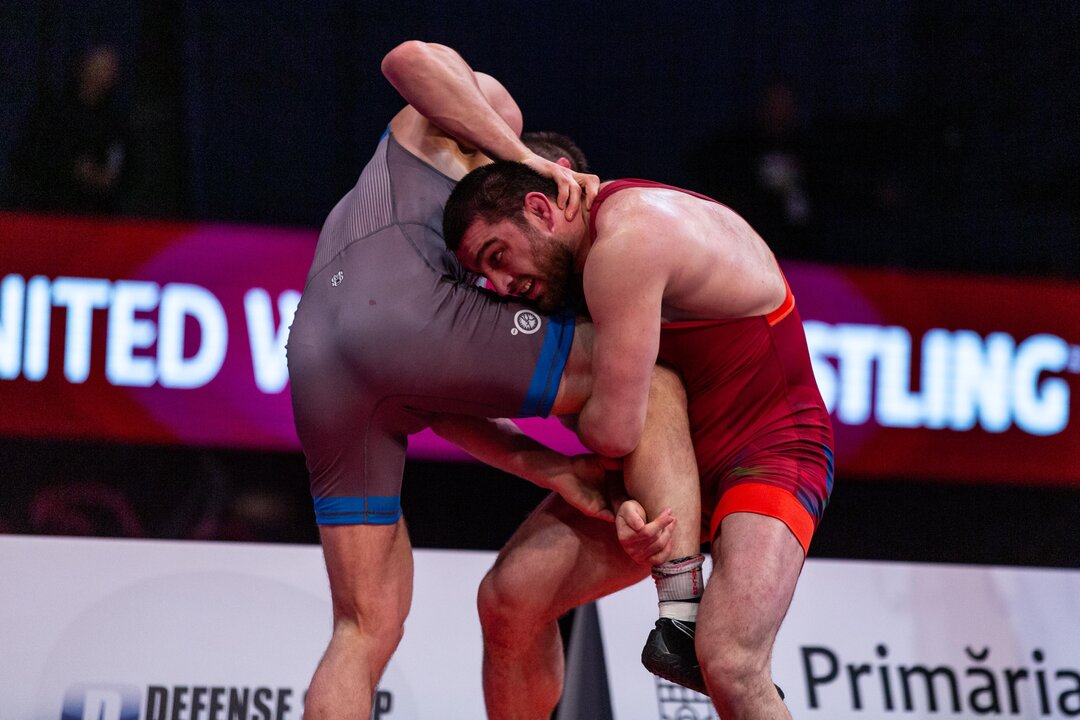 Sharif SHARIFOV (AZE) won the 92kg gold medal with a 3-0 win over Poland's Zbigniew BARANOWSKI (POL). (Photo: Max Rose-Fyne)
Azerbaijan finished in third place with 145 points.
In the 92kg finals, London Olympic Sharif SHARIFOV (AZE) blew open the match against Zbigniew BARANOWSKI (POL) after only leading 3-0 after the first period. In the second period, Sharifov scored three takedowns and won his first continental title with a 9-1 victory.  
Meanwhile, the final two freestyle Day 3 gold medals went to Arsen HARUTYUNYAN (ARM) and Frank CHAMIZO (ITA). 
The Armenian youngster, Arsen Harutyunyan, was down 8-0 after the first 90 seconds of the 61kg gold-medal bout but stormed back to outscore returning European runner-up Beka LOMTADZE (GEO), 17-3 in the final four minutes to win his first senior-level European title. 
Harutyunyan already had a cadet and junior European title on his resume, and added a senior European title with his come-from-behind win on Wednesday night. 
At 74kg, Frank Chamizo picked up his third European title at his third different weight class with an 8-0 throttling of France's Zelimkhan KHADJIEV (FRA), improving on his bronze-medal finish from last year's Kaspiisk European Championships. 
Chamizo scored three takedowns in the first period and a takedown in the second period, and shutout Moldova's Piotr IANULOV (MDA), 8-0. 
Freestyle Team Scores
GOLD - Russia  (162 points)
SILVER - Turkey (156 points) 
BRONZE -  Azerbaijan  (145 points) 
Fourth - Georgia  (104 points) 
Fifth - Ukraine (80 points) 
61kg
GOLD - Arsen HARUTYUNYAN (ARM) df. Beka LOMTADZE (GEO), 17-11
BRONZE - Recep TOPAL (TUR) df. Nikolai OKHLOPKOV (ROU), via fall 
BRONZE - Randy VOCK (SUI) df. Elmedin SEJFULAU (MKD), 6-5 
74kg
GOLD - Frank CHAMIZO MARQUEZ (ITA) df. Zelimkhan KHADJIEV (FRA), 8-0 
BRONZE - Avtandil KENTCHADZE (GEO) df. Vasyl MYKHAILOV (UKR), 12-1 
BRONZE - Timur BIZHOEV (RUS) df. Khadzhimurad GADZHIYEV (AZE), 6-4 
86kg
GOLD - Vladislav VALIEV (RUS) df. Piotr IANULOV (MDA), 4-0 
BRONZE - Ali SHABANAU (BLR) df. Murad SULEYMANOV (AZE), 11-2
BRONZE - Fatih ERDIN (TUR) df. Mihai PALAGHIA (ROU), 8-2 
92kg
GOLD - Sharif SHARIFOV (AZE) df. Zbigniew BARANOWSKI (POL), 9-1 
BRONZE - Istvan VEREB (HUN) df. Ibrahim BOLUKBASI (TUR), 4-2
BRONZE - Irakli MTSITURI (GEO), df. Magomed KURBANOV (RUS), 3-2
125kg 
GOLD - Taha AKGUL (TUR) df. Geno PETRIASHVILI (GEO), 7-0 
BRONZE - Oleksandr KHOTSIANIVSKYI (UKR) df. Robert BARAN (POL), 3-2 
BRONZE - Anzor KHIZRIEV (RUS) df. Rares CHINTOAN (ROU), 11-0