Russia Squeaks past Azerbaijan, Wins Freestyle Euro Team Title
Sunday, August 5, 2018 - 19:04 By Eric Olanowski
ROME, Italy (August 5) - Thanks to impeccable performances by Akhmed SHOKUMOV (RUS) and Azamat ZAKUEV (RUS), Russia added two additional European Championship gold medals and brought their overall tournament total to thirteen gold medals. In addition to the thirteen individual gold medals, Russia also obtained team titles in freestyle, Greco-Roman and women's wrestling. 
Shokumov and Zakuev, Russia's third and fourth freestyle champions each cruised to victories in their gold-medal matches, ending their bouts early by fall and technical superiority, helping Russia (141 points) squeak past second place Azerbaijan (136 points) and third place Armenia (135 points).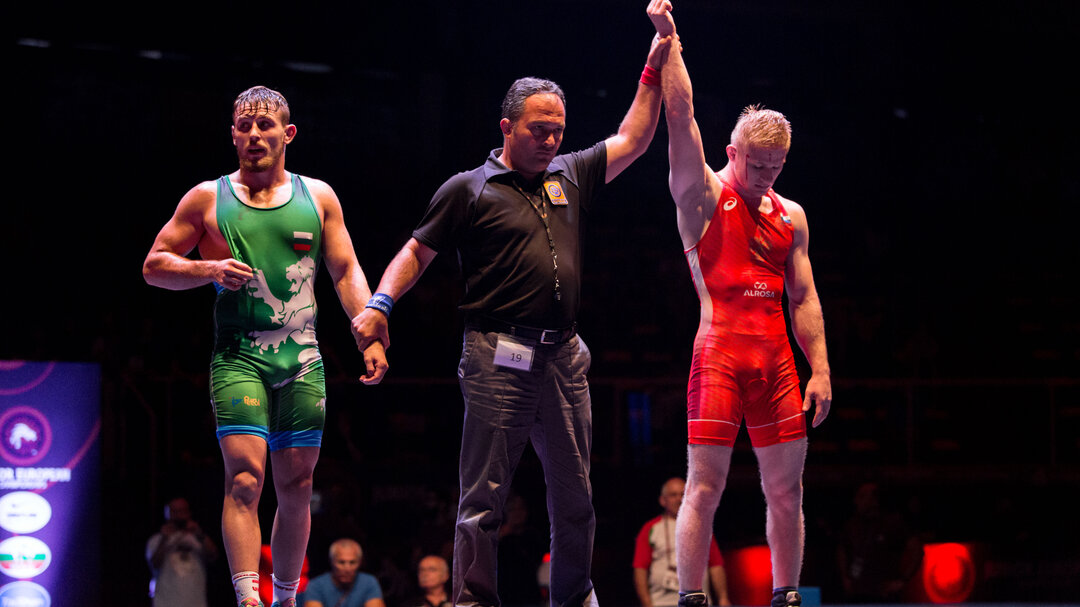 Akhmed SHOKUMOV (RUS) won one of Russia's two gold medals on the final day of wreslting at the Junior European Championships. (Photo by Max Rose-Fyne)
Akhmed Shokumov was manhandling Dzhemal Rushen ALI (BUL) in the 74kg title match before picking up the second-period fall. 
Shokumov grabbed a pair of opening period takedowns, shutting out Ali while controlling the 4-0 lead after the first three minutes. 
In the second period, a deflated Ali got to his offense and spun behind Shokumov, but was unable to get the Russian's knee to touch, and the wrestlers were brought back up to their feet. 
Shortly after, the frustrated Ali looked for a homerun throw, but Shokumov pancaked him to his back and scored the fall, picking up Russia's third freestyle title and their twelfth overall Junior European Championship gold medal.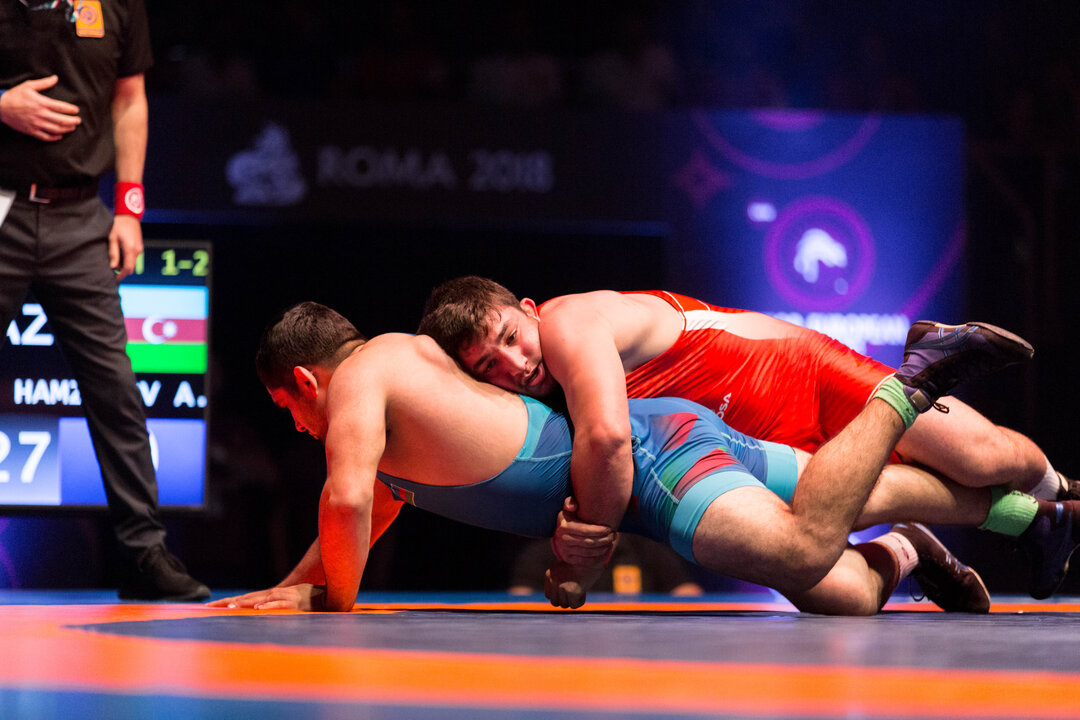 Azamat ZAKUEV (RUS) crused to a 10-0 win in the 92kg gold-medal bout. (Photo by Max Rose-Fyne) 
Returning European champion, Azamat Zakuev crushed Askhab HAMZATOV (AZE), 10-0 in the 92kg gold medal bout. 
Zakuev blazed out to an eight-point lead in the opening period, transitioning to a pair of gut wrenches from two separate takedowns. 
The Russian capped off his title run with a second period cross-ankle-pick, giving him the ten-point advantage and back-to-back junior continental championships.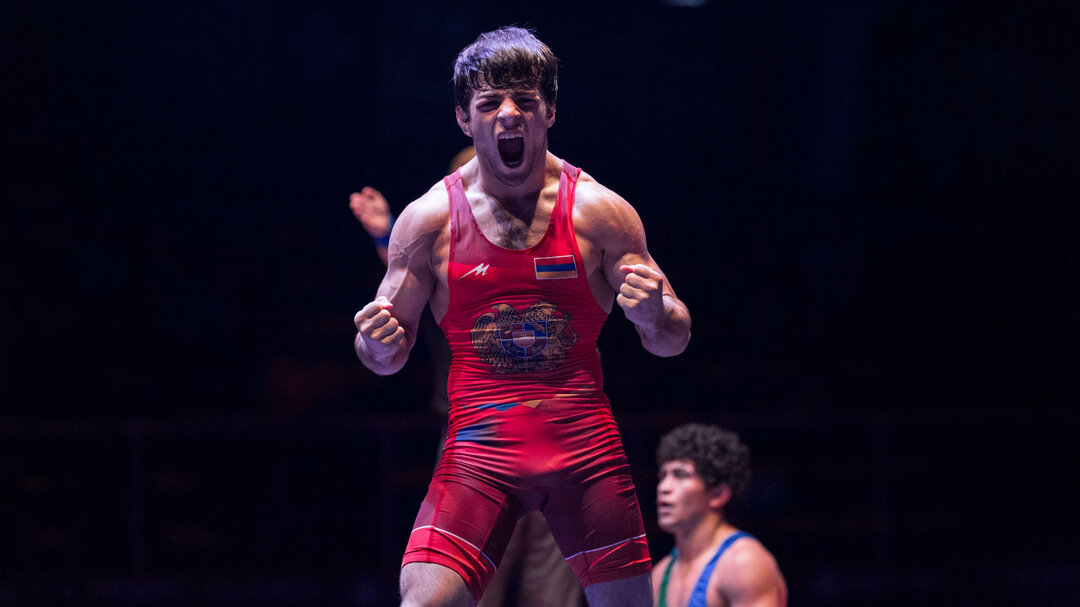 Vazgen TEVANYAN (ARM) flexes after winning his first European title since 2016. (Photo by Max-Rose Fyne) 
Russia wasn't the only nation busy winning a pair of gold medals on the seventh and final day competition , as Armenia's Vazgen TEVANYAN (ARM) and Hovhannes MAGHAKYAN (ARM) were also crowned European champions. 
Vazgen Tevanyan, last year's Cadet European Championship runner-up defeated Intigam VALIZADA (AZE), 5-2 in the extremely slow 61kg gold-medal bout. 
The opening period was filled with underhooks and fake shots, but Tevanyan was able to score the periods only point with a step-out that gave him the 1-0 lead into the break. 
Tevanyan added another step-out to open the second period but fell behind 2-2 on criteria after forfeiting a deep two-point double leg. 
The Armenian wrestler regained the lead with 90 seconds left, scoring his third step-out point of the match. He closed out the bout by stopping Valizada's throw attempt, scoring his first offensive points of the bout and winning his first European title since claiming the gold back in 2016.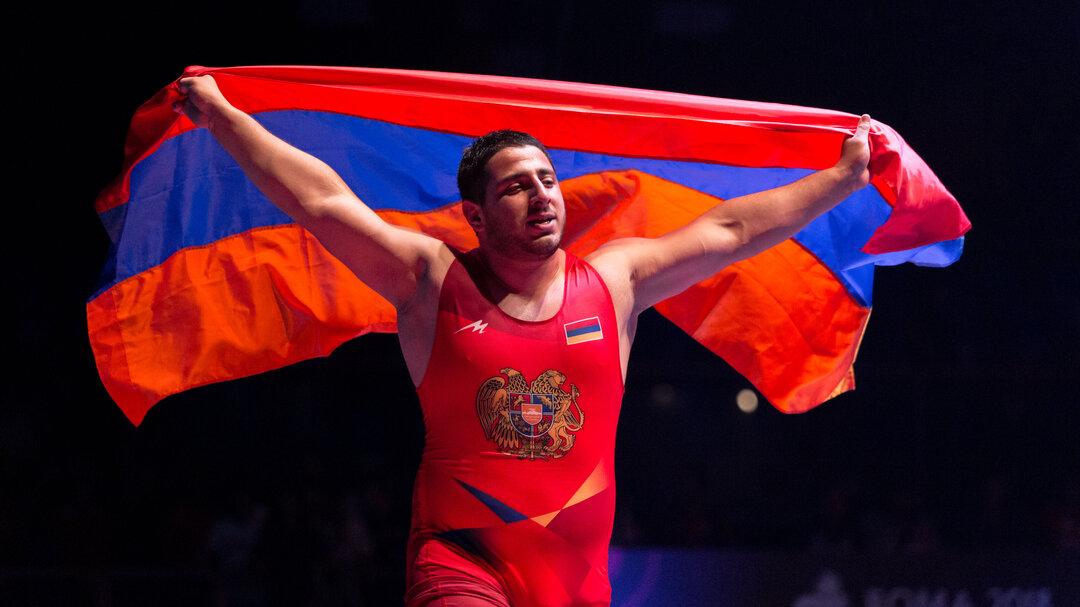 Hovhannes MAGHAKYAN (ARM) gave Armenia their second gold medal of the day after winning the 125kg weight class. (Photo by Max Rose-Fyne) 
In the 125kg gold medal bout, Hovhannes used a left-side underhook to slow down Yurii IDZINSKYI (UKR) and won the bout, 4-2. 
Maghaky gave up an early takedown and trailed 2-0 right out of the gate. The two-time age-level runner-up rebounded before the period ended and threw the Ukranian wrestler with a monstrous four-point throw, taking the 4-2 lead into the final three minutes. 
After a scoreless second period, the match ended 4-2 and Armenia, who finished one point behind Azerbaijan walked away with the third place team trophy. 
RESULTS 
TEAM SCORES 
GOLD – Russia (141 points)
SILVER –Azerbaijan (136 points)
BRONZE - Armenia (135 points)
Fourth –Turkey (126 points)
Fifth – Ukraine (109 points)
61kg 
GOLD - Vazgen TEVANYAN (ARM) df. Intigam VALIZADA (AZE), 5-2
BRONZE - Ramaz TURMANIDZE (GEO) df. Leomid COLESNIC (MDA), 10-0 
BRONZE - Ihor NYKYFORUK (UKR) df. Arman ELOYAN (FRA), via fall 
74kg 
GOLD - Akhmed SHOKUMOV (RUS) vs. Dzhemal Rushen ALI (BUL), via fall 
BRONZE -  Ismail ABDULLAEV (AZE) df. Hrayr ALIKHANYAN (ARM), 10-5 
BRONZE -  Piotr CARASENI (MDA) df. Kevin LUCHT (GER), 10-6 
86kg
GOLD - Arif OZEN (TUR) df. Patrik SZUROVSZKI (HUN), 4-2 
BRONZE - Uri KALASHNIKOV (ISR) df. Ivan NEDEALCO (MDA), 6-3 
BRONZE - Demur MEGENEISHVILI (GEO) df. Mher MARKOSYAN (ARM), 8-4 
92kg 
GOLD - Azamat ZAKUEV (RUS) df. Askhab HAMZATOV (AZE), 10-0 
BRONZE - Ertugrul AGCA (GER) df. Beka NADASHVILI (GEO), 8-7 
BRONZE - Erhan YAYLACI (TUR) df. Gheorghe ERHAN (MDA), 14-4 
125kg
GOLD - Hovhannes MAGHAKYAN (ARM) vs. Yurii IDZINSKYI (UKR), 4-2 
BRONZE - Oktay GUNGOR (TUR) df. Samhan JABRAILOV (MDA), 4-4 
BRONZE - Rahid HAMIDLI (AZE) df. Jakub BRYLEWSKI (POL), 7-4