Russia Goes 3-for-3 in Quarterfinals, Aleksanyan Rallies to Reach Semifinals
Saturday, October 27, 2018 - 13:35 By Andrew Hipps
BUDAPEST, Hungary (October 27) -- Russia went 3-for-3 in the Greco-Roman quarterfinals on Saturday, advancing Aleksandr CHEKHIRKIN (77kg), Musa EVLOEV (97kg) and Sergey SEMENOV (130kg) to the semifinals at the World Championships in Budapest, Hungary. 
After winning his first match, the 32-year-old Chekhirkin faced a tough round to the semifinals at 77kg. In his second match he battled returning world champion Viktor NEMES (SRB) and prevailed 2-1. He then blanked two-time world bronze medalist Elvin MURSALIYEV (AZE) 3-0 in the quarterfinals at 77kg. 
Evloev, a returning world silver medalist, picked up victories over Kyrgyzstan and Iran to reach the 97kg quarterfinals against Luillys PEREZ MORA (VEN). The Russian captilized on a first-period passivity and locked up a throw for two points to give him a 3-0 lead. The score would remain that way the rest of the match, giving Evloev a spot in the semifinals.
The Olympic bronze medalist Semenov threw Oscar PINO HINDS (CUB) in his quarterfinal match to earn a second-period fall. 
Artur ALEKSANYAN (ARM) remains on track in his quest for his fourth world title to go along with an Olympic gold in 2016, but it didn't come without a scare. After opening with a 5-1 win over Nikoloz KAKHELASHVILI (ITA), Aleksanyan faced Felix BALDAUF (NOR) in his next match. 
Baldauf dominated Aleksanyan in the early part of the match and took a 6-0 lead into the break. But the Armenian star came back late, using a pinch headlock to score four points and cut the deficit to 6-4. He then scored with three consecutive gut wrenches to build a four-point lead and grab a 10-6 win. In the quarterfinals, Aleksanyan trailed Revazi NADAREISHVILI (GEO) 1-0 at the break but came back to win 4-3. 
Aleksanyan will face Evloev in the semifinals at 97kg. The other semifinal at 97kg will pit Kiril MILOV (BUL) against Mihail KAJALA (SRB).
Milov was impressive in the quarterfinals, using two throws in the first minute to roll to a 9-0 technical fall over Laokratis KESIDIS (GRE). Milov first threw Kesidis for five points before using a headlock to close out the technical fall. Kajala controlled Ondrej DADAK (CZE) 5-1 in the quarterfinals.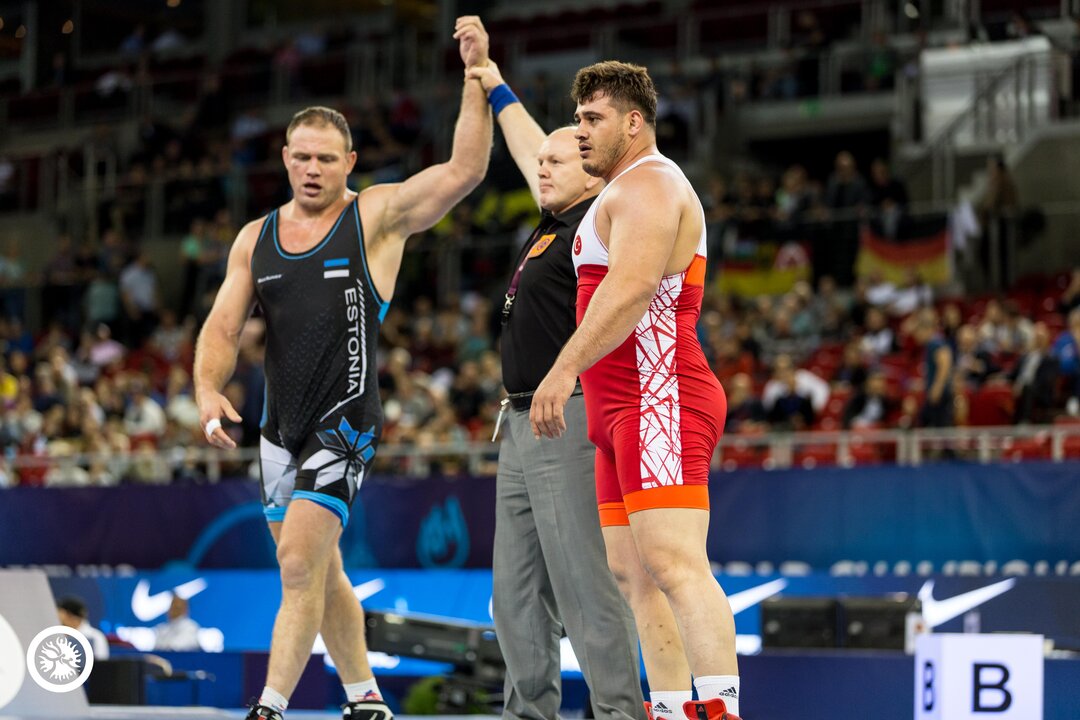 At 130kg, two-time world champion Heiki NABI (EST) made a strong run to the semifinals, beating three-time world champion Riza KAYAALP (TUR) 2-1 in his first match before punching his ticket to the semifinals with a 2-1 win over Yasmani ACOSTA FERNANDEZ (CHI) in the quarterfinals to set up a semifinal match against Semenov.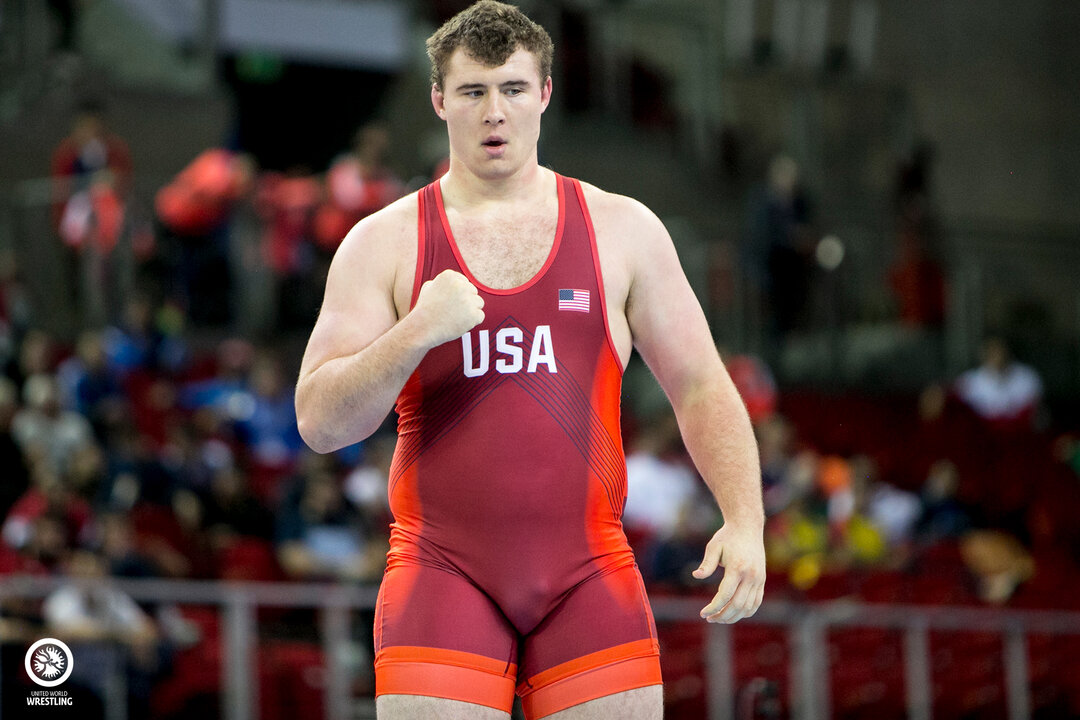 Adam COON (USA), a past junior world bronze medalist, advanced to the semifinals at 130kg with three falls. In the quarterfinals, Coon came back to earn a fall over Eduard POPP (GER). Popp led 3-1 late in the opening period before Coon used a body lock to throw Popp to his back for a fall. The American now meet Minseok KIM (KOR) in the semifinals. Kim scored a takedown with a little over a minute left in the match help him edge Alin CIURARIU (ROU) 3-2.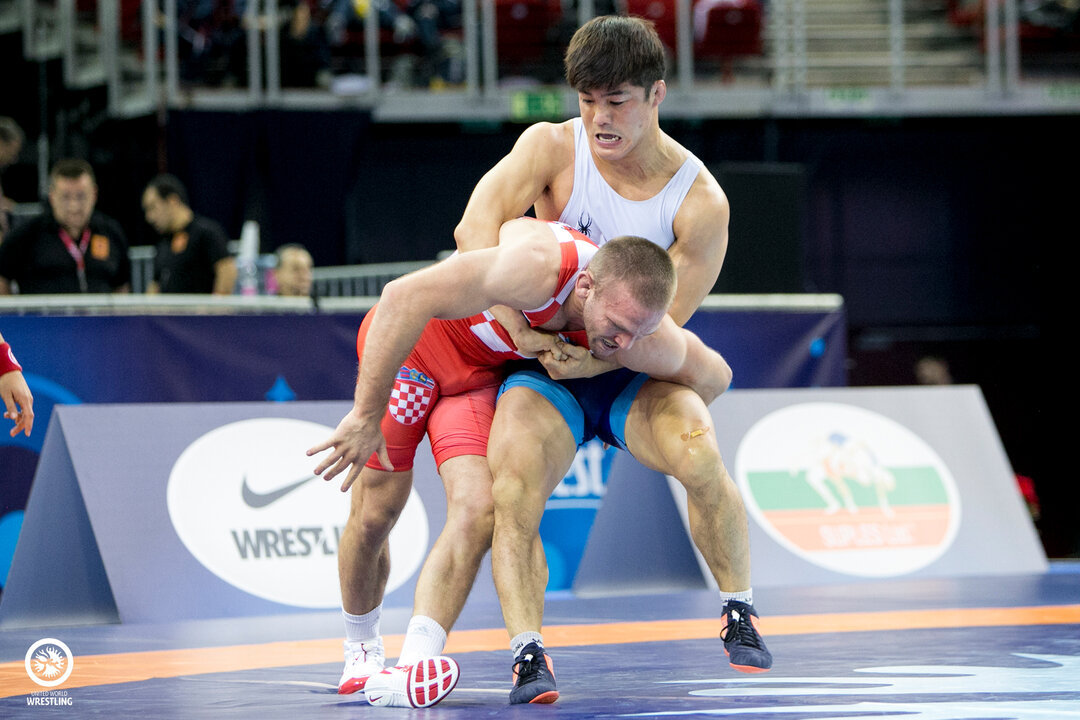 At 77kg, 2012 Olympic champion Hyeonwoo KIM (KOR) used a four-point body lock on his way to an 8-0 technical fall over returning world bronze medalist Fatih CENGIZ (TUR) in the quarterfinals. His opponent in the semifinals will be Tamas LORINCZ (HUN), a 2012 Olympic silver medalist and two-time world bronze medalist. The Hungarian blanked Bilan NALGIEV (UZB) 3-0 in the quarterfinals, scoring all three of his points off passivity.
Alex KESSIDIS (SWE) edged Igor BESLEAGA (MDA) 4-4 on criteria in a quarterfinal match at 77kg. Kessidis trailed 1-0 at the break but came out with a four-point throw early in the second period to take a 4-1 lead. The Moldovan mounted a late comeback but Kessidis held on for the win.
Semifinal Matchups
Greco-Roman
77kg
Hyeonwoo KIM (KOR) vs. Tamas LORINCZ (HUN) 
Alex KESSIDIS (SWE) vs. Aleksandr CHEKHIRKIN (RUS) 
97kg
Kiril Milenov MILOV (BUL) vs. Mihail KAJALA (SRB)
Musa EVLOEV (RUS) vs. Artur ALEKSANYAN (ARM)
130kg
Heiki NABI (EST) vs. Sergey SEMENOV (RUS)
Adam COON (USA) vs. Minseok KIM (KOR)