Russia Dominates Greco-Roman, Aliyev Tops Labazanov
Monday, May 21, 2018 - 12:37 By Ali Feizasa
MOSCOW (May 21) -- Just as in men's Freestyle, Russia finished 2018 Greco-Roman world military championships with the top spot.
Complete with world and European medal winners, Russians sent a strong team to the event and collected six gold medals. The host country collected 209 points (6 gold,2 silver, 1 bronze) to win team title, Iran was runner up with 132 points(1 gold, 1 silver, 3 bronze) and Azerbaijan came third with 119 points (1 gold, 2 silver, 2 bronze).
55kg was the lone weight that the host country failed to win medal and Rudik MKRTCHYAN (ARM) grabbed gold by 7-6 victory over Amangali BEKBOLATOV (KAZ).
2016 European bronze medal winner Gambolat LOKIAEV scored two points against Murad MAMMADOV (AZE) in 60kg finale to repeat his title in 2016 world military championships.
Mohamad NOURBAKHSH who placed second in recent Iran team trials, beat Russian Sanal SEMENOV  4-3 in 63kg final match.
In 67kg, Alexey KIYANKIN (RUS) achieved his third medal in world military championships, downing Aslan POGHOSYAN (ARM) by tech fall, 9-0 in 67 kg finales.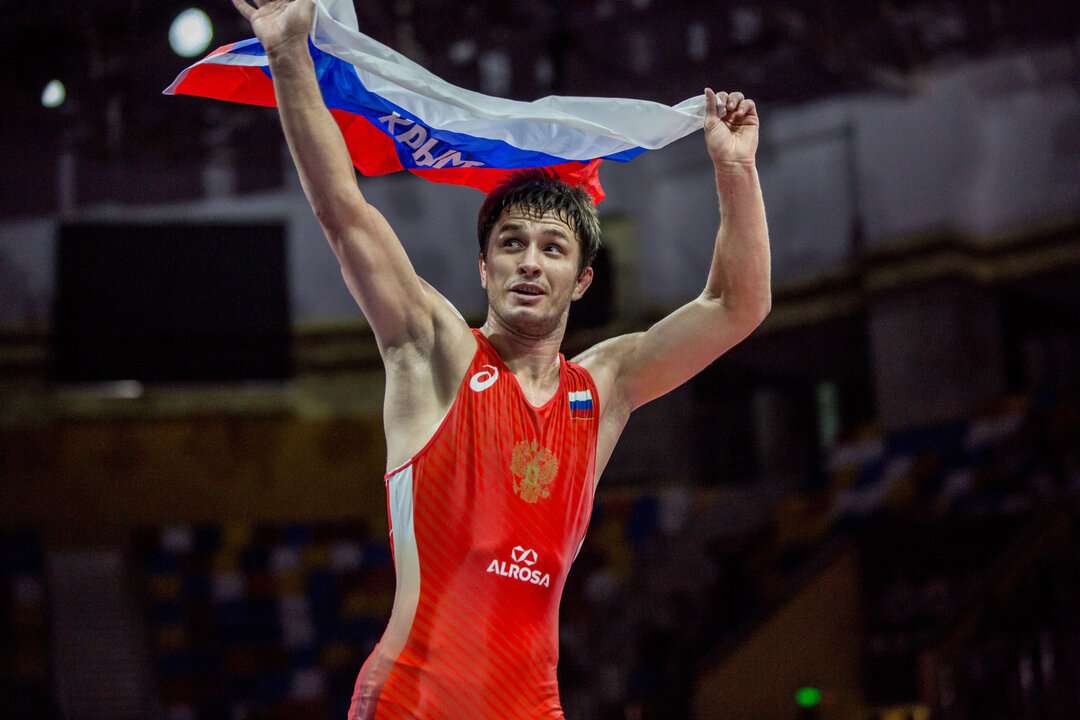 Two weeks after winning European title, Adam KURAK (RUS) repeated title in world military championships.
KURAK earned 3-0 victory over Ulvu GANIZADE (AZE) in 72kg final bout to repeat his last year's gold medal in the event.
77kg final match was the battle of former world champions as 2011 world champion Hasan ALIYEV (AZE) downed 2014 world champion Chingiz LABAZANOV (RUS), 6-2.
The fourth title of the host country was achieved by Imil SHARAFETDINOV as the Russian wrestler beat 2018 Asian champion Askhat DILMUKHAMEDOV (KAZ), 7-3 in 82kgfinale.
Sosruko KODZOKOV (RUS) collected fifth gold for Russia with a technical fall 13-4 victory over Iranian Arman ALIZADEH ABDVALI in 87kg.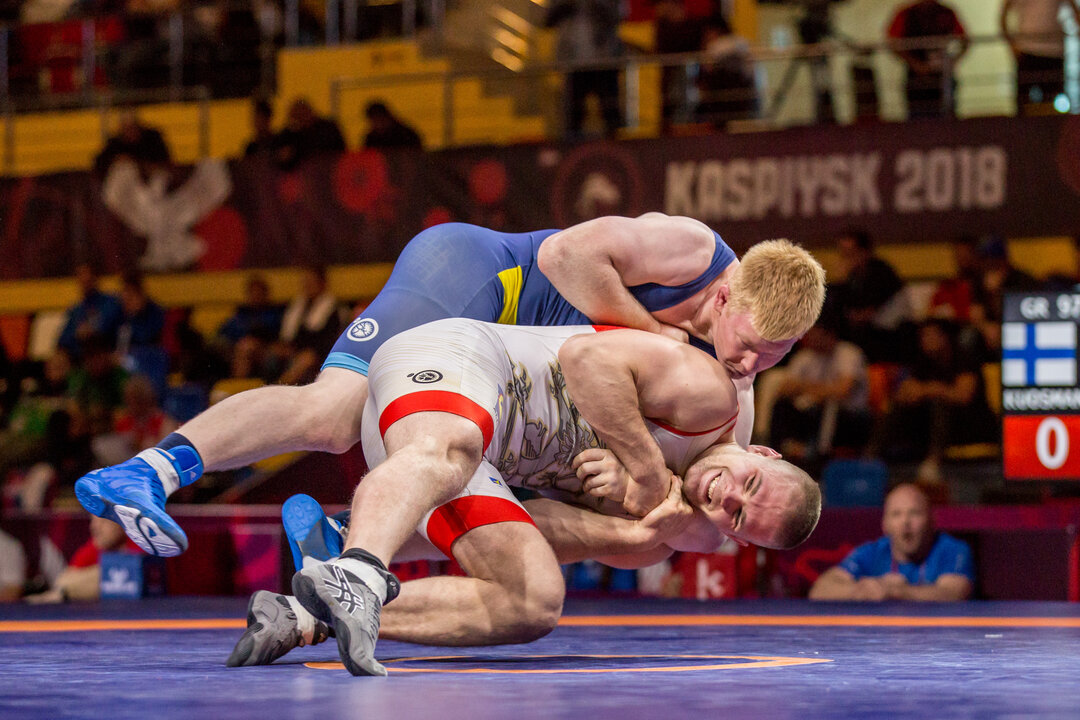 In 97kg, 23 years old Elias KUOSMANEN (FIN) continued his progress and defeated Damian VONEUW (SUI) by 10-0 technical fall victory.
KUOSMANEN, a 2018 European bronze medal winner, spoiled Nikita MELNIKOV's title defending in world military championships and the Finnish wrestler downed Russian 2013 world champion, 4-1 in semi final.
Vitalii SHCHUR (RUS) closed out the Greco-Roman competition with a 7-2 shutout over Balint LAM (HUN), 7-2 in hevy weight final match
2018 Greco-Roman World Military Wrestling
Team standings:
1- Russia 209 pts (6 gold,2 silver, 1 bronze)
2- Iran 132 pts (1 gold, 1 silver, 3 bronze)
3- Azerbaijan 119 pts (1 gold, 2 silver, 2 bronze)
4- Armenia 119 pts (1 gold, 1 silver, 3 bronze)
5- Kazakhstan 98 pts (2 silver, 2 bronze)
Results:
55kg
GOLD- Rudik MKRTCHYAN (ARM) df. Amangali BEKBOLATOV (KAZ), 7-6
BRONZE- Un Nam KWON (PRK) df. Moslem NADERI KHADEM (IRI) by FALL
BRONZE- A. NERGYIBATOR (MGL) df. JHON F. TIGREROS URBANO (COL) by forfeit
60kg
GOLD- Gambolat LOKIAEV (RUS) df. Murad MAMMADOV (AZE), 2-0
BRONZE- Ararat MANUCHARYAN (ARM) df. Bence KOVACS (HUN) by TF, 8-0
BRONZE- Shirzad BEHESHTI TALA (IRI) df. Abdennour LAOUNI (ALG), 3-1
63kg
GOLD- Mohamad NOURBAKHSH (IRI) df. Sanal SEMENOV (RUS), 4-3
BRONZE- Erik TORBA (HUN) df. Ammar ALNAJE (SYR) by TF, 8-0
BRONZE- Mirambek AINAGULOV (KAZ) df. Ismail ALIYEU (BLR) by TF, 9-0
67kg
GOLD- Alexey KIYANKIN (RUS) df. Aslan POGHOSYAN (ARM) by TF, 9-0
BRONZE- Yahor VLADYKA (BLR) df. Mate KRASZNAI (HIN) by TF, 9-0
BRONZE- Mamadassa SYLLA (FRA) df. Amin SURI (IRI), 5-5
72kg
GOLD- Adam JURAK (RUS) df. Ulvu GANIZADE (AZE), 3-0
BRONZE-Petros MANOUILIDIS (GRE) df. Siarhei BARADZIULIA (BLR), 11-5
BRONZE- Armen HAKOBYAN (ARM) df. Ibragim MAGOMADOV (KAZ), 5-5
77kg
GOLD- Hasan ALIYEV (AZE) df. Chingiz LABAZANOV (RUS), 6-2
BRONZE- Maxat YEREZHEPOV (KAZ) df. Tsimur BERDYIEU (BLR), 6-3
BRONZE- Tero HALMESMAKT (FIN) df. Shayan AFIFI (IRI), 2-0
82kg
GOLD- Imil SHARAFETDINOV (RUS) df. Askhat DILMUKHAMEDOV (KAZ), 7-3
BRONZE- Eduard SARGSYAN (ARM) df. Mehdi MOHAMADZADEH (IRI) by TF, 11-0
BRONZE- Rafig HUSEYNOV (AZE) df. Roland SCHWARZ (GER), 5-2
87kg
GOLD- Sosruko KODZOKOV (RUS) df. Arman ALIZADEH ABDVALI (IRI) by TF, 13-4
BRONZE- Adem BOUDJEMLINE (ALG) df, Ihar YARASHEVICH (BLR), 7-3
BRONZE- Islam ABBASOV (AZE) df. Maximilian REMENSPERGER (GER), 8-1
97kg
GOLD- Elias KUOSMANEN (FIN) df. Damian VONEUW (SUI) by TF, 10-0
BRONZE- Ali Akbar HEIDARI (IRI) df. Olzhas SYRLYBAY (KAZ), 4-0
BRONZE- Nikita MELNIKOV (RUS) df. Turman EYUBOV (AZE) by TF, 8-0
130kg
GOLD- Vitalii SHCHUR (RUS) df. Balint LAM (HUN), 7-2
BRONZE- Toannis KARGIOTAKIS (GRE) df. Nurdaulet OMIRBEKOV (KAZ) by forfeit
BRONZE-Behnam MEHDIZADEH (IRI) df. Eduard POPP (GER) by FALL