Russia Closes Out Dominant Performance in Belgrade with 4 More FS Gold Medals
Friday, December 18, 2020 - 20:48 By United World Wrestling Press
Links:
Finals Highlights
Day 7 Photos
Interview with Vazgen TEVANYAN (ARM)

BELGRADE, Serbia (December 18) -- Russia made a triumphant return to the international wrestling stage with a dominant performance at the 2020 Individual World Cup in Belgrade, Serbia. 
A day after winning four freestyle gold medals, Russia bagged four more freestyle gold medals on Friday to finish with eight of the ten freestyle gold medals. The eight gold medals put Russia firmly atop the freestyle team standings. Turkey finished in second place, 106 points behind Russia. 
Russia concluded the Individual World Cup with 24 medals overall, including 17 gold medals.  
Abasgadzhi MAGOMEDOV (61kg), Akhmed USMANOV (79kg), Dauren KURUGLIEV (86kg) and Abdulrashid SADULAEV (97kg) added to Russia's gold medal tally on the event's final day. 
Magomedov, a 2018 junior world champion, was the first Russian to compete for gold on Friday. He picked up a 5-1 over 2016 world bronze medalist Akhmednabi GVARZATILOV (AZE) in the 61kg final. Magomedov scored a takedown in each of the two periods, while holding the Azerbaijani wrestler to a single point off a reversal.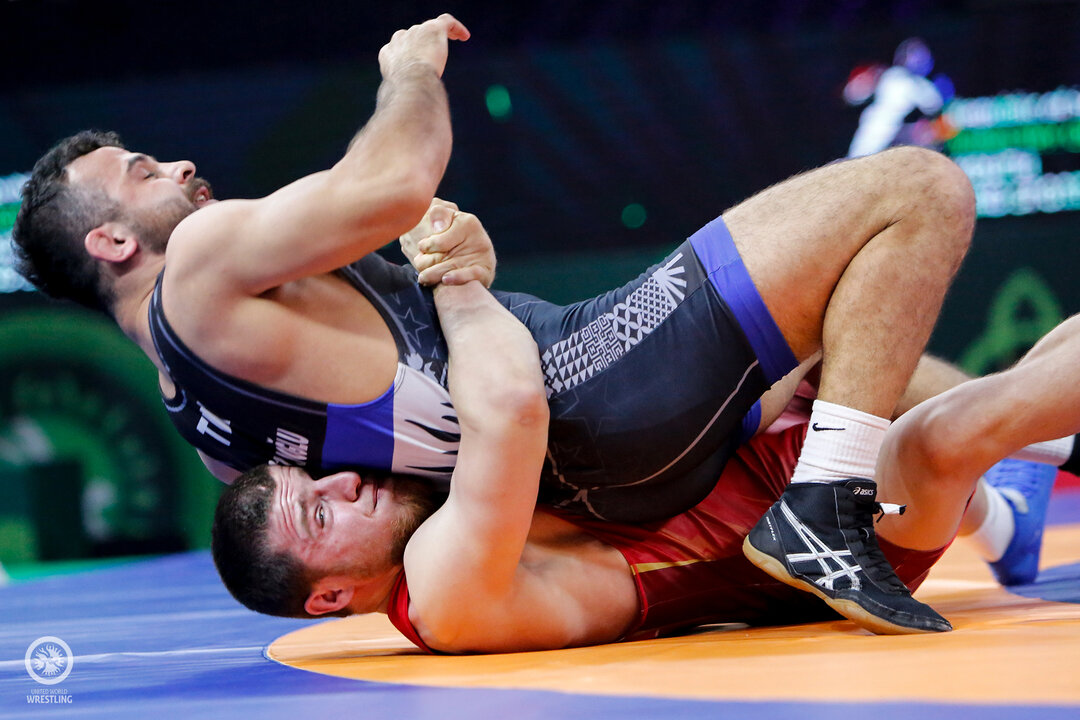 Akhmed USMANOV (RUS) gets a turn in the 79kg final (Photo: Gabor MARTIN, UWW)

Usmanov, a 2016 junior world silver medalist, cruised to an 11-0 technical superiority over Muhammet KOTANOGLU (TUR) in the 79kg final. The Russian scored an early takedown off a single leg before turning Kotanoglu twice to go up 6-0. Kotanoglu attempted a throw early in the second period, which Usmanov countered, scoring two points before turning the Turkish wrestler to close out the technical superiority.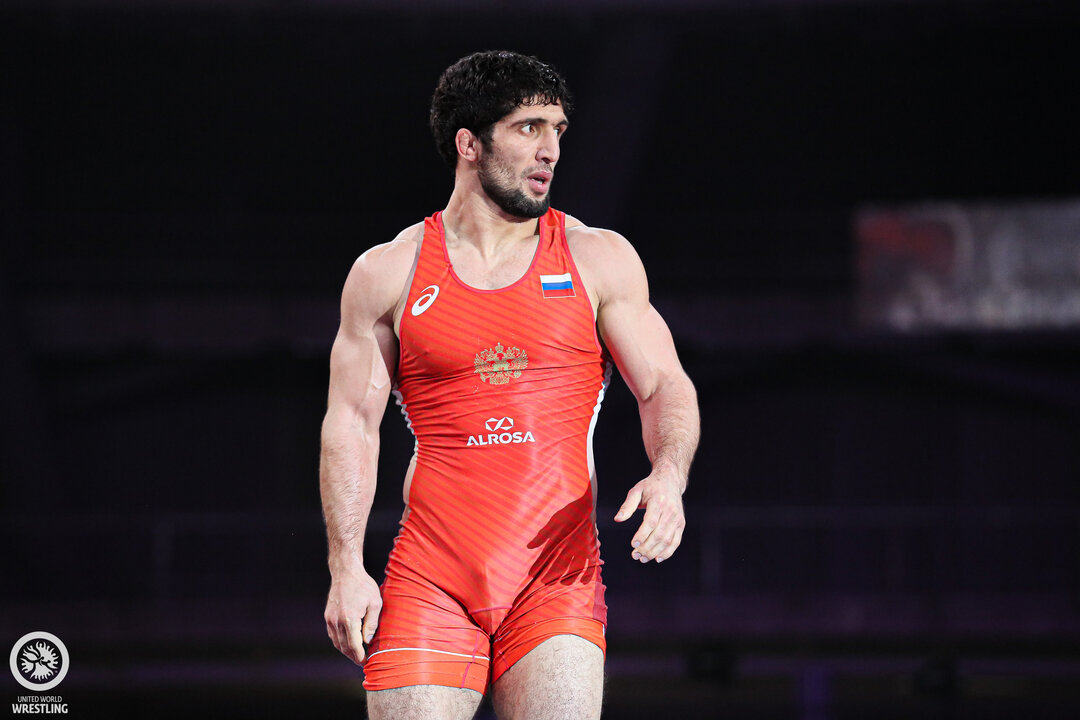 Dauren KURUGLIEV (RUS) won the gold at 86kg (Photo: Kadir CALISKAN, UWW)

The 2017 European champion Kurugliev controlled Zbigniew BARANOWSKI (POL) 5-1 in the 86kg final. Kurugliev fired off a double leg in the first 10 seconds of the match and secured a takedown to go up 2-0. He extended his lead to 3-0 early in the second period after getting a step out. A short time later, Kurugliev was hit with a caution, giving Baranowski his first point. The score stayed 3-1 in favor of the Russian until the final 30 seconds when Baranowski attempted a shot, which Kurugliev countered for a takedown.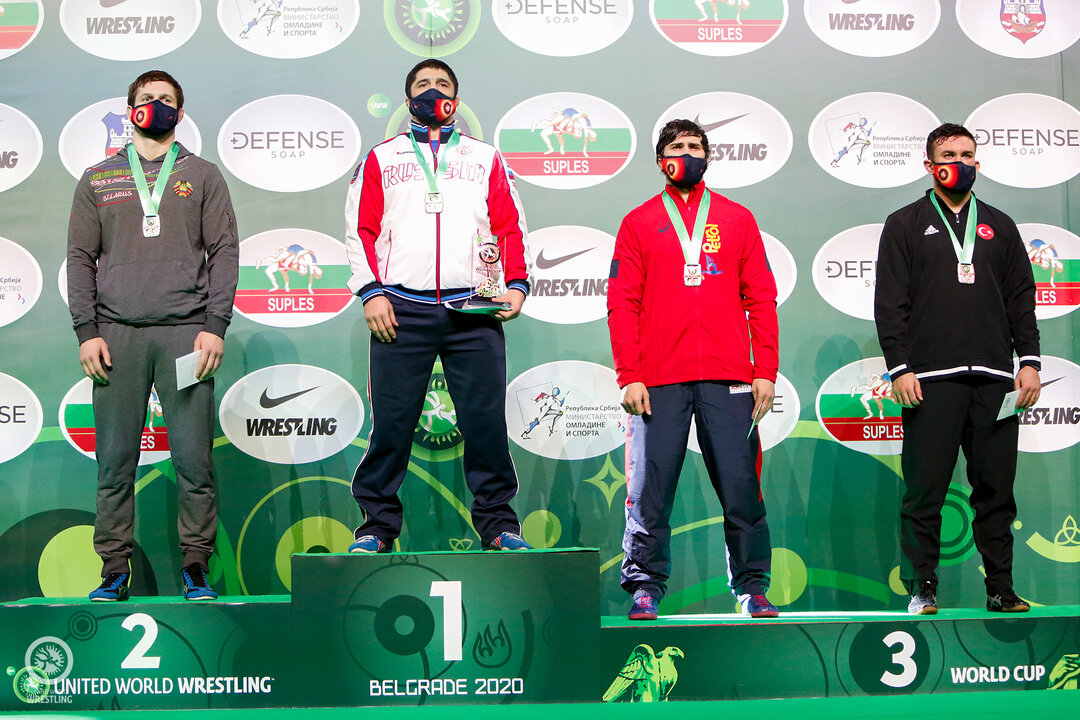 Olympic champ Abdulrashid SADULAEV (RUS) finished on top at 97kg (Photo: Gabor MARTIN, UWW)

Sadulaev, a Rio Olympic champion and four-time world champion, won by injury default as Aliaksandr HUSHTYN (BLR) was unable to compete in the 97kg final. The Russian Tank outscored his opponents 32-3 in Belgrade.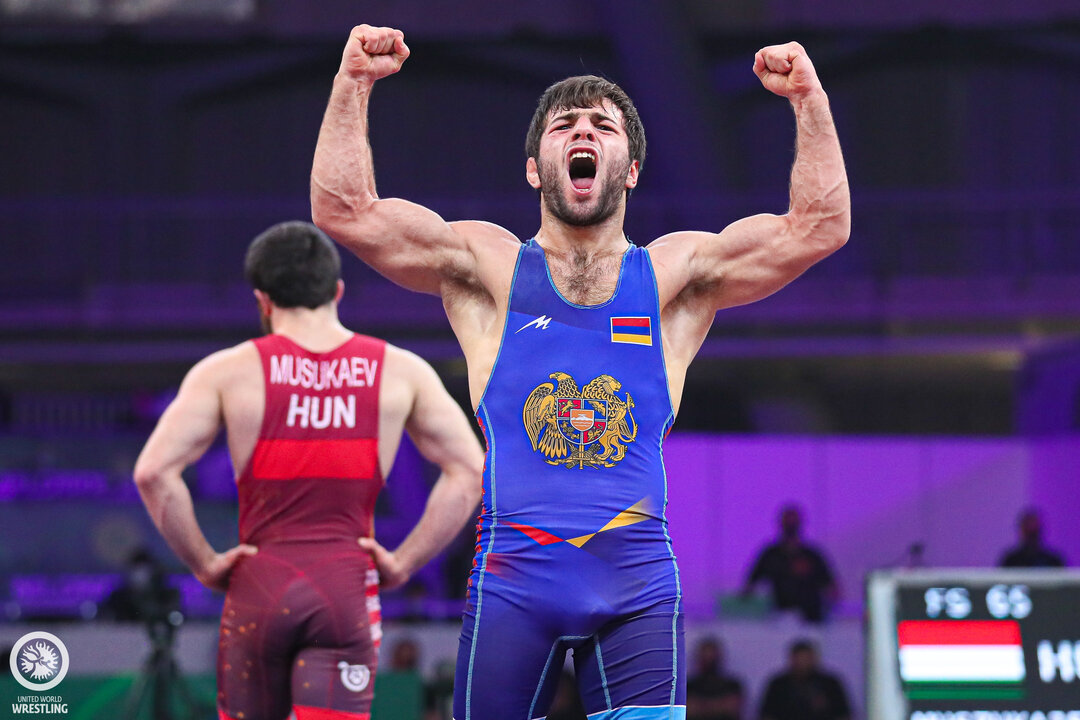 Vazgen TEVANYAN (ARM) celebrates after winning the gold medal at 65kg (Photo: Kadir CALISKAN, UWW)

Vazgen TEVANYAN (ARM), a 2019 U23 European champion, captured gold at 65kg with a 9-1 win over 2019 world bronze medalist Iszmail MUSZUKAJEV (HUN). The Armenian used a late surge to help him earn the victory. The two wrestlers traded passivity points, with Muszukajev scoring the second one in the final period to take the lead on criteria. With under a minute remaining, Tevanyan fired off a shot to Muszukajev's left leg and secured a takedown to go up 3-1. He then locked up a gut wrench and turned Muszukajev three times to earn a decisive victory.
The bronze medals at 61kg went to Agustin DESTRIBATS (ARG) and Georgi VANGELOV (BUL). The 23-year-old Destribats, who already qualified for the Tokyo Olympics at 65kg, looked impressive in earning a 5-2 win over Razmik PAPIKYAN (ARM). Vangelov, a 2020 Yasar Dogu gold medalist at 57kg, scored late to edge Muhamad IKROMOV (TJK), 9-8.
Three-time world champion Haji ALIYEV (AZE) rebounded from a semifinal loss to Muszukajev to earn a bronze at 65kg with a 10-4 victory over Ilman MUKHTAROV (FRA). Hor OHANNESIAN (UKR) won the other bronze at 65kg with a comfortable 7-1 win over Nicolai GRAHMEZ (MDA).
Mahamedkhabib KADZIMAHAMEDAU (BLR) made quick work of Baliyan GOURAV (IND) in the first bronze-medal match at 79kg, earning a 14-1 technical superiority in the first period. After going up 10-1, Kadzimahamedau finished the match with a four-point move. Vasyl MYKHAILOV (UKR) held on to beat Akhsarbek GULAEV (SVK) 4-3 in the other bronze-medal match at 79kg.
Piotr IANULOV (MDA) topped world No.2 Deepak PUNIA (IND) 4-1 to earn a bronze at 86kg. The other bronze medal at 86kg went to Osman GOCEN (TUR), who defeated Taimuraz FRIEV NASKIDAEVA (ESP) 11-8.
Ahmed BATAEV (BUL) gave Bulgaria its second freestyle medalist by defeating Shamil ZUBAIROV (AZE) 8-1 in the first 97kg bronze-medal match. Suleyman KARADENIZ (TUR) edged Valerii ANDRIITSEV (UKR) 2-1 to win the other bronze at 97kg.
Freestyle Medal Match Results
61kg
GOLD: Abasgadzhi MAGOMEDOV (RUS) df. Akhmednabi GVARZATILOV (AZE) by VPO1, 5-1
BRONZE: Georgi VANGELOV (BUL) df. Muhamad IKROMOV (TJK) by VPO1, 9-8
BRONZE: Agustin DESTRIBATS (ARG) df. Razmik PAPIKYAN (ARM) by VPO1, 5-2
65kg
GOLD: Vazgen TEVANYAN (ARM) df. Iszmail MUSZUKAJEV (HUN) by VPO1, 9-1
BRONZE: Hor OHANNESIAN (UKR) df. Nicolai GRAHMEZ (MDA) by VPO1, 7-1
BRONZE: Haji ALIYEV (AZE) df. Ilman MUKHTAROV (FRA) by VPO1, 10-4
79kg
GOLD: Akhmed USMANOV (RUS) df. Muhammet Nuri KOTANOGLU (TUR) by VSU, 11-0
BRONZE: Vasyl MYKHAILOV (UKR) df. Akhsarbek GULAEV (SVK) by VPO1, 3-2
BRONZE: Mahamedkhabib KADZIMAHAMEDAU (BLR) df. Baliyan GOURAV (IND) by VSU1, 14-1
86kg
GOLD: Dauren KURUGLIEV (RUS) df. Zbigniew Mateusz BARANOWSKI (POL) by VPO1, 5-1
BRONZE: Osman GOCEN (TUR) df. Taimuraz FRIEV NASKIDAEVA (ESP) by VPO1, 11-8
BRONZE: Piotr IANULOV (MDA) df. Deepak PUNIA (IND) by VPO1, 4-1
97kg
GOLD: Abdulrashid SADULAEV (RUS) df. Aliaksandr HUSHTYN (BLR) by VIN, 0-0
BRONZE: Suleyman KARADENIZ (TUR) df. Valerii ANDRIITSEV (UKR) by VPO1, 2-1
BRONZE: Ahmed BATAEV (BUL) df. Shamil ZUBAIROV (AZE) by VPO1, 8-1