Russia Claims U23 Euro C'ship Team Title on the Back of Six Freestyle Golds
Sunday, June 10, 2018 - 16:21 By Eric Olanowski
ISTANBUL, Turkey (June 10) - Russia closed out the 2018 U23 European Championships by winning three additional gold medals, bringing their tournament total to six overall freestyle gold medals. 
Magomedrasul IDRISOV (RUS) added to Russia's then three freestyle gold medals with an 11-1 technical superiority victory over Vitalie BUNICI (MDA) in the 61kg finals. 
Idrisov controlled a 5-0 lead before picking up a takedown and a four-point throw, ending the match with a ten-point lead. 
Zaurbek SIDAKOV (RUS) helped Russia claim one of their six U23 European Championship gold medals. (Photo by Martin Gabor)
At 74kg, the 2018 World Military Championship gold medalist Zaurbek SIDAKOV (RUS) gave Russia back-to-back championships with a three-point second period against Akhsarbek GULAEV (SVK). 
Last year's U23 European runner-up trailed Gulaev, the 2017 U23 world runner-up 1-0 after the first period before picking up an outside single leg takedown along with a step out, locking up the 3-1 win. 
Arsen-Ali MUSALALIEV (RUS) collected Russia's third gold medal of the day and sixth overall after defeating Turkey's Arif OZEN (TUR) in the championship bout at 86kg 
Musalaliev, the 2016 junior world champion scored nine points from three takedowns, two step-outs, and an activity clock point before giving up a last-second takedown, ultimately winning, 9-2.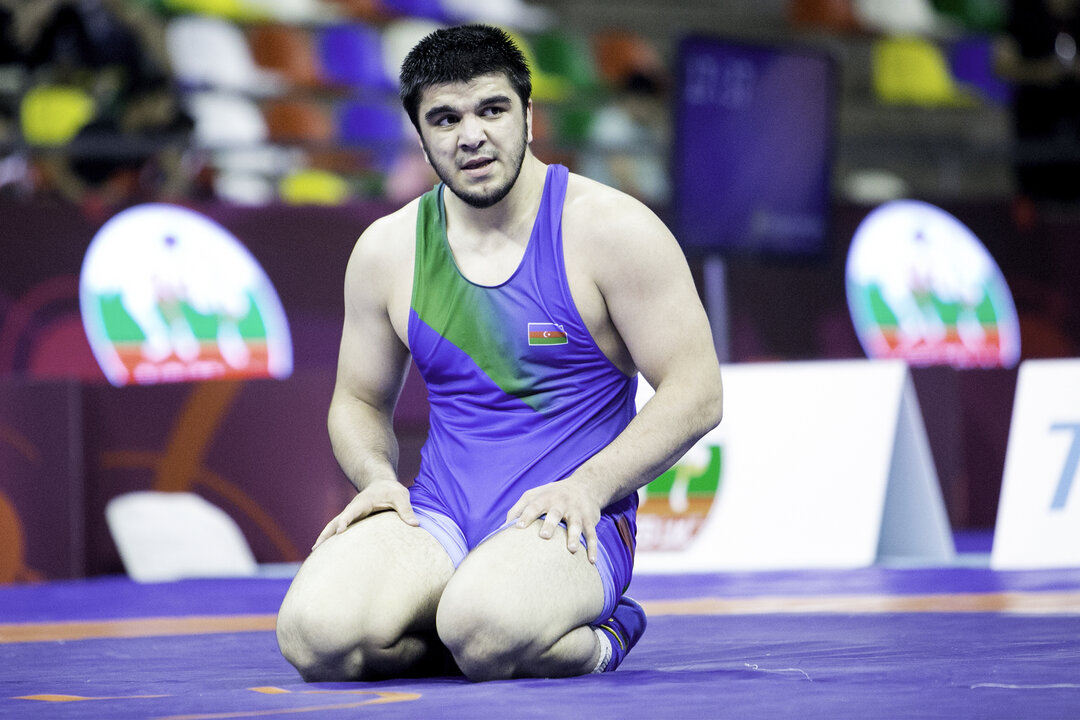 Shamil ZUBAIROV (AZE), 2018 92kg U23 European champion. (Photo by Martin Gabor) 
Azerbaijan and Poland closed out the 2018 U23 European Championships winning the remaining two gold medals. 
Shamil ZUBAIROV (AZE) claimed the first non-Russian gold medal of the day with a 9-1 thumping of 2017 U23 world bronze medalist Irakli MTSITURI (GEO) in the 92kg gold medal match. 
Zubairov stopped Mitsituri's throw attempt in the opening period and took the 2-1 lead into the break. 
Azerbaijan's Zubairov exploded for a seven-point second period and helped his nation claim one of the four non-Russian freestyle gold medals. 
Poland's Kamil Tomasz KOSCIOLEK (POL) led a noticeably hurt Khasan KHUBAEV (RUS) in a 28-point battle before picking up a fall to claim the 125kg championship. 
TEAM SCORES 
GOLD – Russia (215 points)
SILVER – Turkey (125 points)
BRONZE – Georgia (119 points)
Fourth – Ukraine (109 points)
Fifth – Azerbaijan (102 points)
RESULTS
61kg 
GOLD - Magomedrasul IDRISOV (RUS) df. Vitalie BUNICI (MDA), 12-1
BRONZE - Teimuraz VANISHVILI (GEO) df. Petro BILEICHUK (UKR), 7-2
BRONZE - Ertugrul KAHVECI (TUR) df. Elchin VALIYEV (AZE), 7-6
74kg
GOLD - Zaurbek SIDAKOV (RUS) df. Akhsarbek GULAEV (SVK), 3-1

BRONZE - Alberts JURCENKO (LAT) df. Ion PLOP (ROU), 7-0
BRONZE - Avtandil KENTCHADZE (GEO) df. Johann STEINFORTH (GER), 12-1
86kg
GOLD - Arsen-Ali MUSALALIEV (RUS) df. Arif OZEN (TUR), 9-2

BRONZE - Hovhannes MKHITARYAN (ARM) df. Mihai Nicolae PALAGHIA (ROU),10-0
BRONZE - Raman CHYTADZE (BLR) df. Illia ARCHAIA (UKR), 4-0
92kg
GOLD - Shamil ZUBAIROV (AZE) df. Irakli MTSITURI (GEO), 8-1

BRONZE - Semih YAZICI (TUR) df. Samuel SCHERRER (SUI), 5-1
BRONZE - Batyrbek TCAKULOV (RUS) df. Sargis HOVSEPYAN (ARM), 7-1
125kg
GOLD - Kamil KOSCIOLEK (POL) df Khasan KHUBAEV (RUS), via fall.

BRONZE - Huseyin Mehmet CIVELEK (TUR) df. Vitali PIASNIAK (BLR), 3-3
BRONZE - Jere Tapani HEINO (FIN) df. Rolandi ANDRIADZE (GEO), 6-0