Russia Bags Sixth Gold; Mensah Repeats
Saturday, January 27, 2018 - 13:48 By Eric Olanowski
KRASNOYARSK, Russia (January 27) – Russia once again swept that finals of the 2018 Ivan Yarygin Grand Prix, winning all three weights on the second day of competition. Through the first six weight classes Russian wrestlers have captured 11 of the 12 finals berths.

Ilyas BEKBULATOV kicked off Russia's gold rush at 65kg besting countrymen and 2017 world bronze medalist Akmed CHAKAEV via criteria, 3-3. Bekbulatov also defeated 2016 world champion, Logan Stieber in the quarterfinals.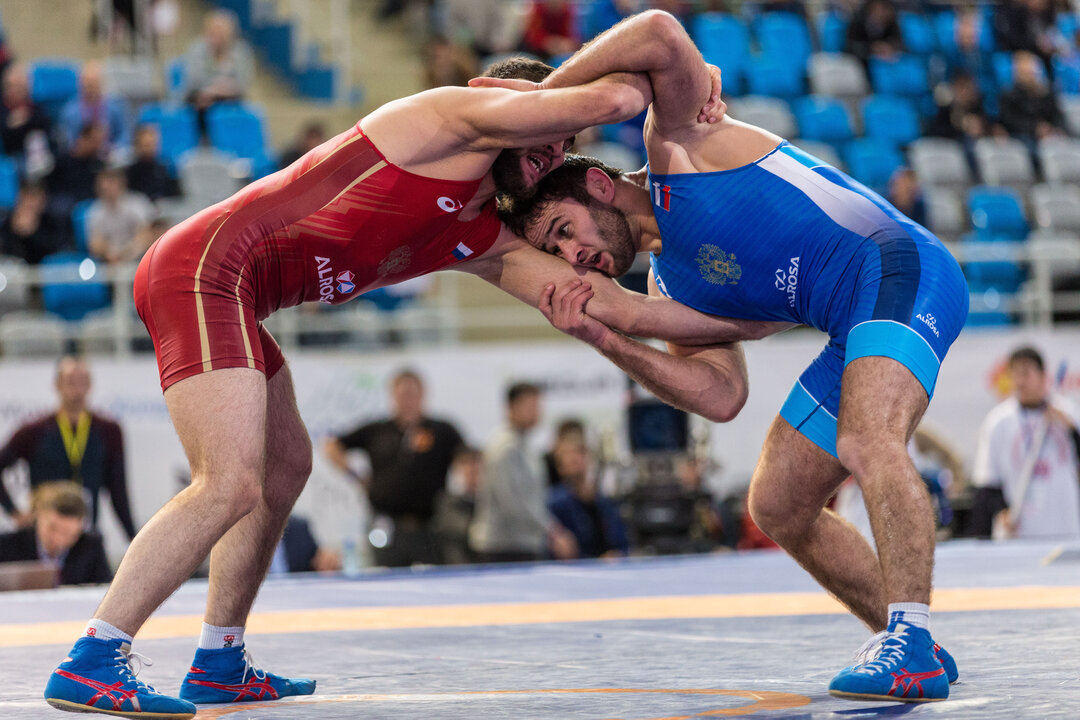 Akhmed GADZHIMAGOMEDOV (RUS) took the 79kg title with a commanding victory over Kyle DAKE (USA), 8-2. Dake was the only non-Russian to make the finals in the first day of competition.

At 125kg Muradin KUSHKHOV (RUS) took out Anzor Ruslanovitch KHIZRIEV (RUS) in a 1-1 grind match.

China, Japan and Mongolia each entered day two of women's wrestling finals with a pair of wrestlers vying for gold.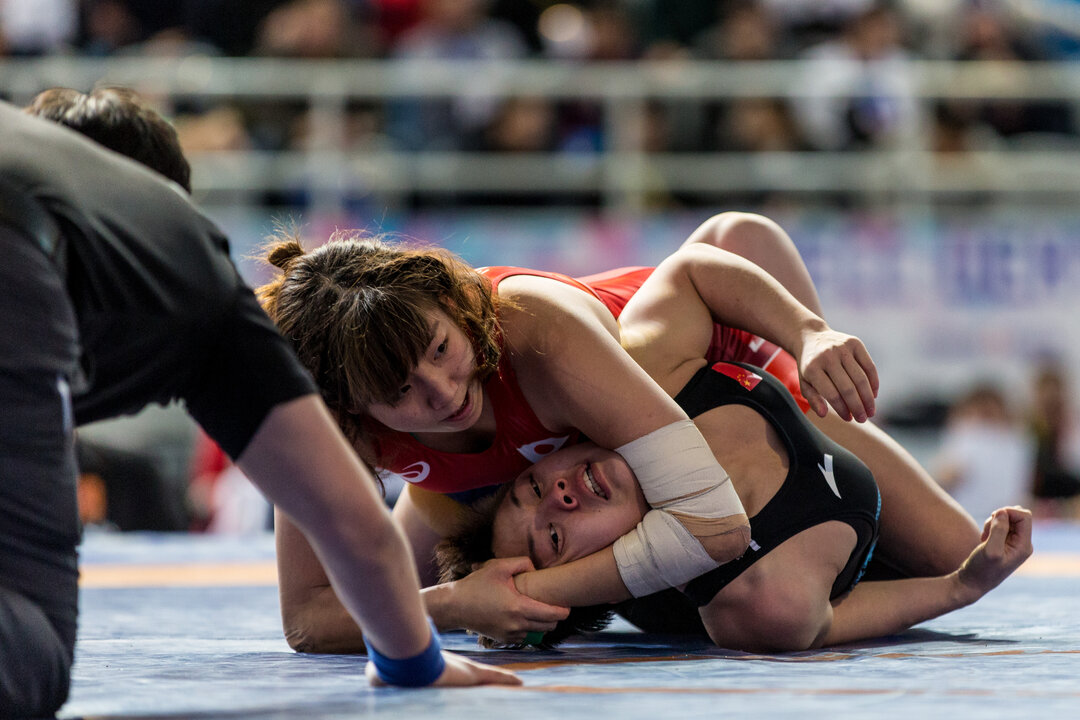 Yu MIYAHARA (JPN) picked up two takedowns in the second period of the 53kg final terase Stalvira ORSHUSH's (RUS) 4-0 lead and earn her first Yarygin title via criteria, 4-4.

After the medal ceremony Miyahara said, "My goal coming into the tournament was to come in and show my strength, show that I've trained a lot, and show that I have the power to wrestle with the best."

Qi ZHANG (CHN) entered the 57kg finals looking to give China's their third gold of the weekend and put a stamp on one of their most impressive team performances in years. Zhang faced a 4-0 deficit against ENKHBAT Gantuya (MGL) who had outscored her opponents 18-2 in her first three matches. Zhang trailed early, but used a late surge from a takedown and two gut wrenches to take the 6-4 victory.

Defending world champions PUREVDORJ Orkhon (MGL) rolled over Kiwa SAKAE (JPN) in the 62kg category, 10-0. Purevdorj's victory prevented Japan from winning their fourth gold medal of the weekend.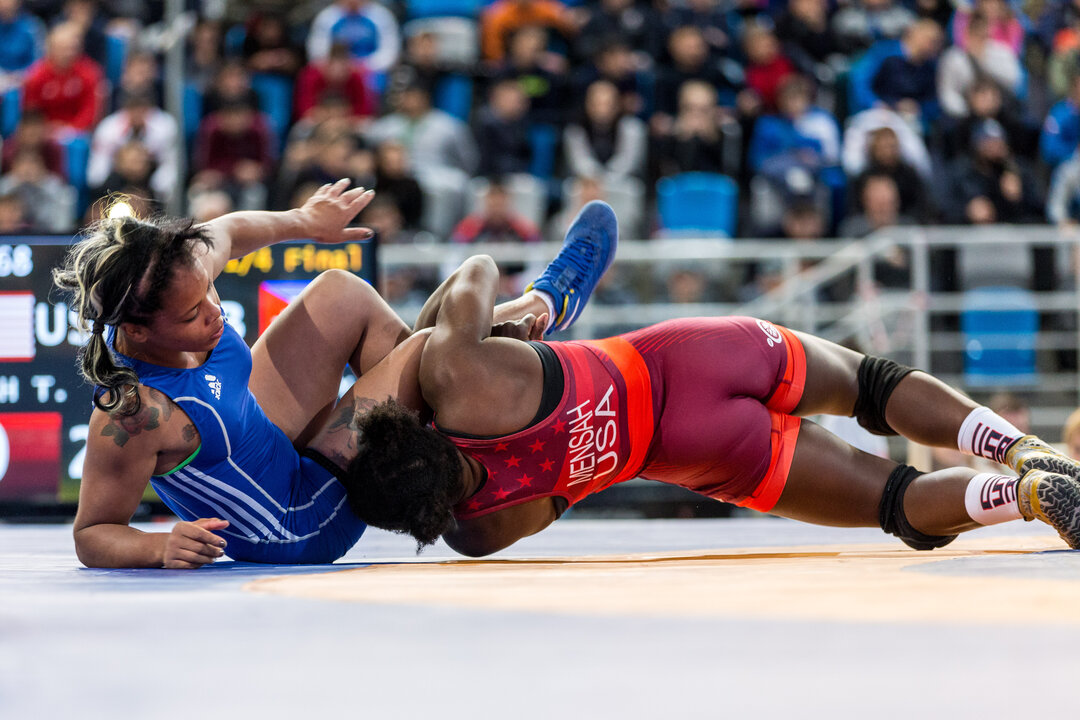 At 68kg Tamyra MENSAH's (USA) bested Yue HAN (CHN), 3-3 earning her the distinction as the first American to win back-to-back Yarygin titles.

When asked about becoming the first ever American to win two Yarygin titles, Stock "This wasn't just given to me. I earned every single point that I got out there, so it's pretty darn sweet."

FINAL RESULTS
65kg
GOLD - Ilias BEKBULATOV (RUS) df. Akhmed CHAKAEV (RUS), 3-3

BRONZE - Nachyn Sergeevitch KUULAR (RUS) df. Batmagnai BATCHULUUN (MGL), 12-2
BRONZE - Selahattin KILICSALLAYAN (TUR) df. Tsogtbaatar DAMDINBAZAR (MGL), 8-1

79kg
GOLD - Akhmed Shiabdinovitch GADZHIMAGOMEDOV (RUS) df. Kyle DAKE (USA), 8-2
BRONZE - Radik VALIEV (RUS) df. Muhammet KUTANOGLU (TUR), 10-0
BRONZE - Alan ZASEEV (RUS) df. Rashid KURBANOV (UZB), 9-0

125kg
GOLD - Muradin KUSHKHOV (RUS) df. Anzor Ruslanovitch KHIZRIEV (RUS)

BRONZE - Zolboo NATSAGSUREN (MGL) df. Zachery William REY (USA)
BRONZE - Nicholas GWIAZDOWSKI (USA) df. Lkhagvagerel MUNKHTUR (MGL)

Women's wrestling
53kg
GOLD - Yu MIYAHARA (JPN) df. Stalvira ORSHUSH (RUS), 4-4

BRONZE -  Ekaterina POLESHCHUK (RUS) df. Yujiao LIU (CHN), 4-4
BRONZE -  Natalia MALYSHEVA (RUS) df. Otgonjargal GANBAATAR (MGL), 7-3

57kg
GOLD - Qi ZHANG (CHN) df. Gantuya ENKHBAT (MGL), 6-4

BRONZE -  Lianna de la caridad MONTERO HERRERA (CUB) df. Battsetseg ALTANTSETSEG (MGL), 8-4
BRONZE - Alexandra ANDREEVA (RUS) df. Olga KHOROSHAVTSEVA (RUS), 6-6

62kg
GOLD - Orkhon PUREVDORJ (MGL) df. Kiwa SAKAE (JPN), 10-0
BRONZE - Yaquelin ESTORNELL ELIZASTIGUE (CUB) df. Ayaulym KASSYMOVA (KAZ), 7-3
BRONZE -  J Inna TRAZHUKOVA (RUS) df. Juan KANG (CHN), 10-0

68kg
GOLD -  Tamyra mariama MENSAH (USA) df. Yue HAN (CHN), 3-3

BRONZE - Yudari SANCHEZ RODRIGUEZ (CUB) df. Iuliia MAKSIMOVA BARTNOVSKAIA (RUS), 3-0
BRONZE -  Rui XU (CHN) df. Galina BULATOVA (RUS)