Russia Advances Pair to Finals, Stefanek Dominant
Friday, October 26, 2018 - 16:02 By Andrew Hipps
BUDAPEST, Hungary (October 26) -- Sergey EMELIN and Artem SURKOV won their semifinal matches on Friday at the World Championships in Budapest to give Russia a pair of Greco-Roman finalists on Saturday. 
Emelin scored a first-period technical fall over surprise semifinalist Aidos SULTANGALI (KAZ) to reach the gold-medal match at 60kg. After scoring a point off a passivity, the 23-year-old Russian locked up a gut wrench and turned Sultangali four times for a 9-0 technical fall. 
He will meet Victor CIOBANU (MDA) in Saturday's gold-medal match at 60kg.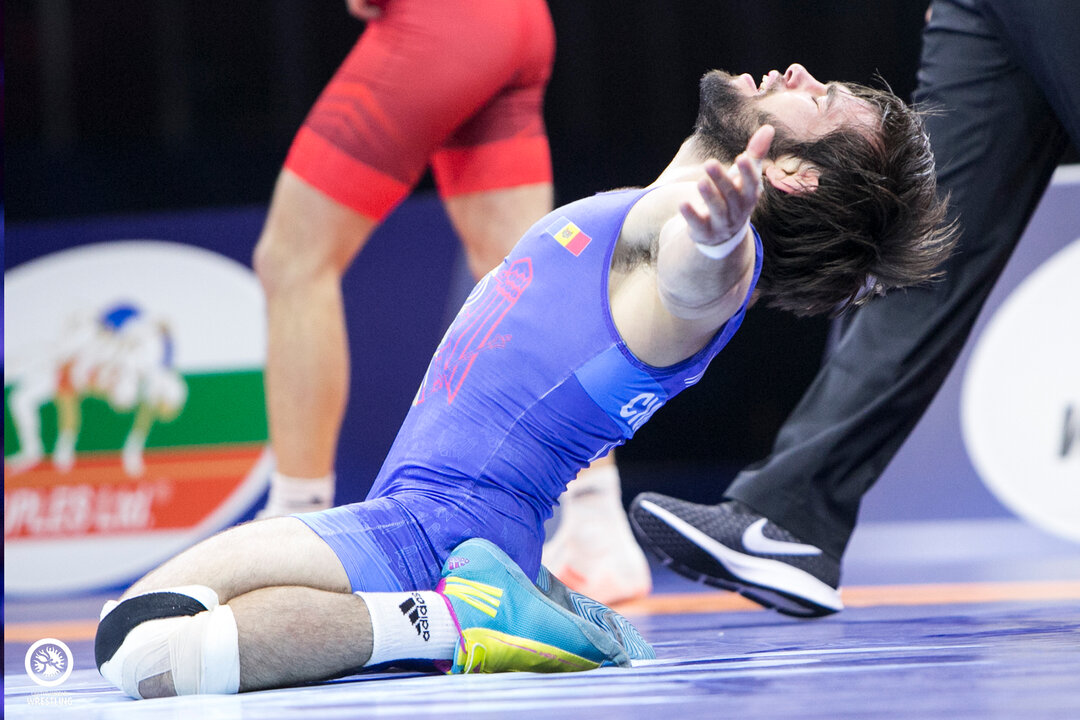 Ciobanu secured his first senior world medal by defeating Kristian FRIS (SRB) in the semifinals at 60kg. Fris jumped out to a 3-0 lead, but Ciobanu turned the tables from the bottom position and put Fris in trouble, nearly getting fall. Trailing by two in the second period, Ciobanu used a body lock and drove Fris to his back for four points, which proved to be the difference in the match. 
Surkov, a returning world bronze medalist, will upgrade his world medal after stopping the run of Meiirzhan SHERMAKHANBET (KAZ) at 67kg. Surkov won 3-1 in the semifinals, scoring all of his points came in the first period, earning a point off a passivity and then getting a turn using a high gut wrench. Awaiting him in the gold-medal match at 67kg is Olympic champion Davor STEFANEK (SRB).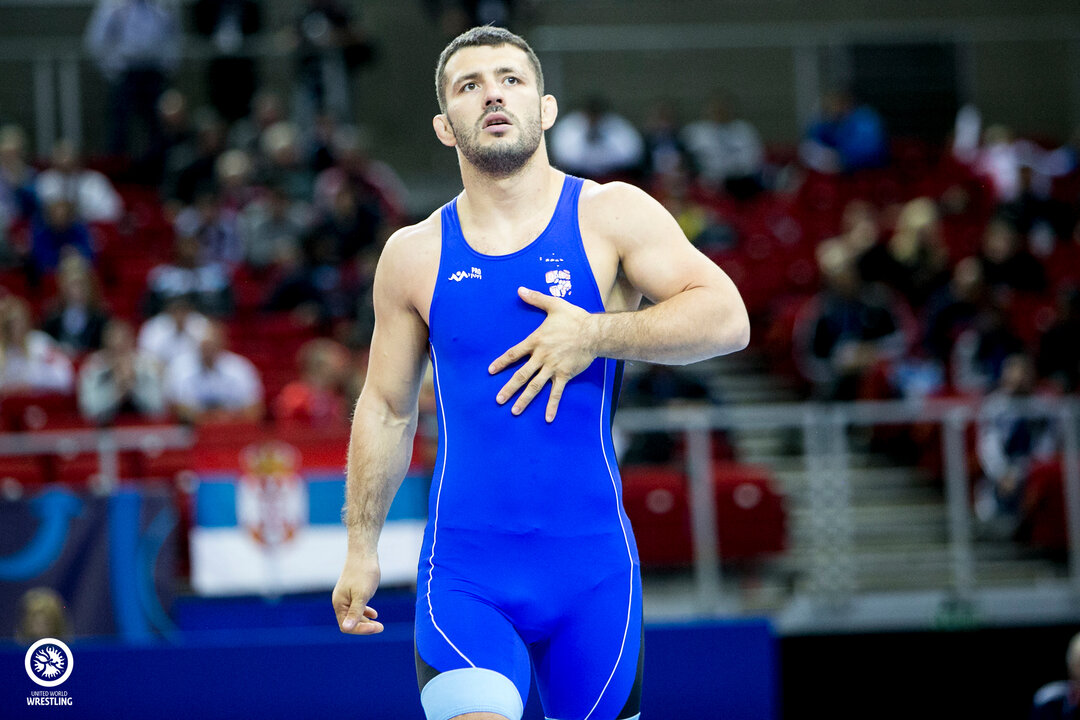 Stefanek used a big throw in the second period to close out a technical fall over Gevorg SAHAKYAN (POL) at 67kg. Stefanek led 4-0 at the break and used a turn to go up 3-0. An uncessful challenge gave Stefanek a 4-0 lead at the break. He then a locked up a throw thirty seconds into the period and put the match away.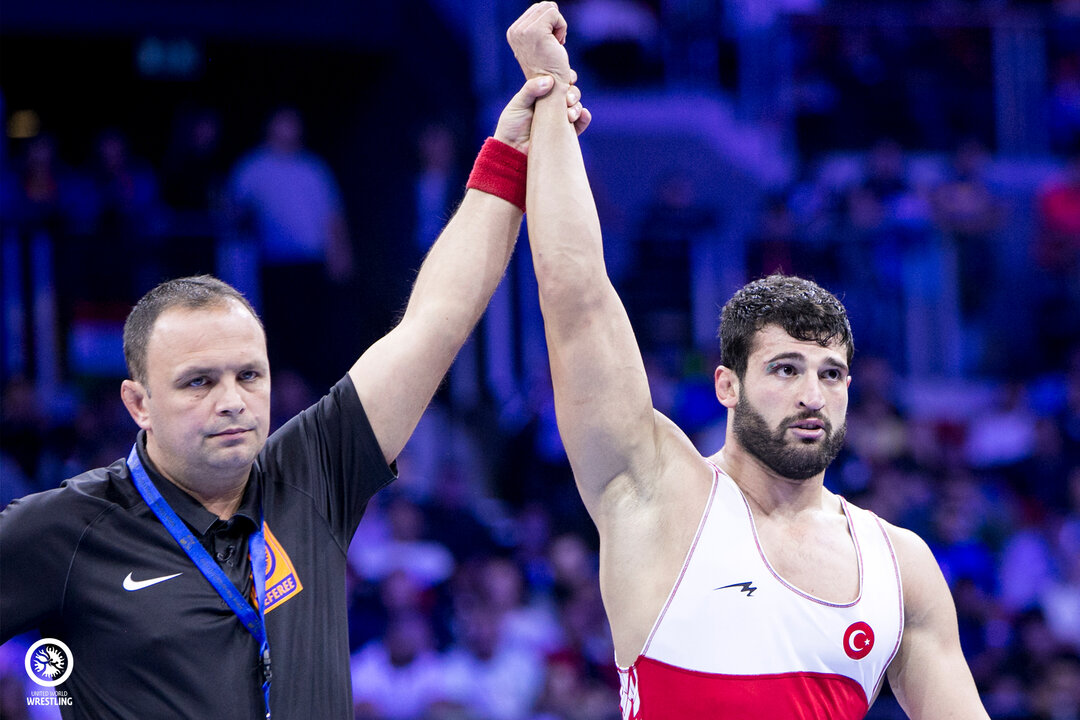 Metehan BASAR (TUR) stands one match away from winning a second straight world title after defeating Bekkhan OZDOEV (RUS) 2-1 in the semifinals at 87kg. Ozdeoev led 1-0 at the break, but surrendered his lead early in the second, giving Basar two points after a caution, which closed out the scoring in the match. 
In the other semifinal match at 87kg, Olympic silver medalist Zhan BELENIUK (UKR) defeated Islam ABBASOV (AZE) 5-1. Beleniuk took a 3-0 lead into the break after scoring a passivity point, which he followed up with a gut wrench. He added a late two off a caution to win by four. 
60kg
Victor CIOBANU (MDA) df. Kristian FRIS (SRB) by VPO1, 6-3
Sergey EMELIN (RUS) df. Aidos SULTANGALI (KAZ) by VSU, 9-0
67kg
Artem SURKOV (RUS) df. Meiirzhan SHERMAKHANBET (KAZ) by VPO1, 3-1
Davor STEFANEK (SRB) df. Gevorg SAHAKYAN (POL) by VSU, 8-0
87kg
Zhan BELENIUK (UKR) df. Islam ABBASOV (AZE) by VPO1, 5-1
Metehan BASAR (TUR) df. Bekkhan OZDOEV (RUS) by VPO1, 2-1