Russia Advances 3 to European Games Finals, World Champ Uguev Falls
Tuesday, June 25, 2019 - 17:14 By United World Wrestling Press
MINSK, Belarus (June 25) - Russia advanced three freestyle wrestlers to the gold-medal finals on the opening day of the European Games in Minsk, Belarus. 
Russian wrestlers Zaurbek SIDAKOV (74kg), Dauren KURUGLIEV (86kg) and Anzor KHIZRIEV (125kg) claimed victories in Tuesday's semifinals.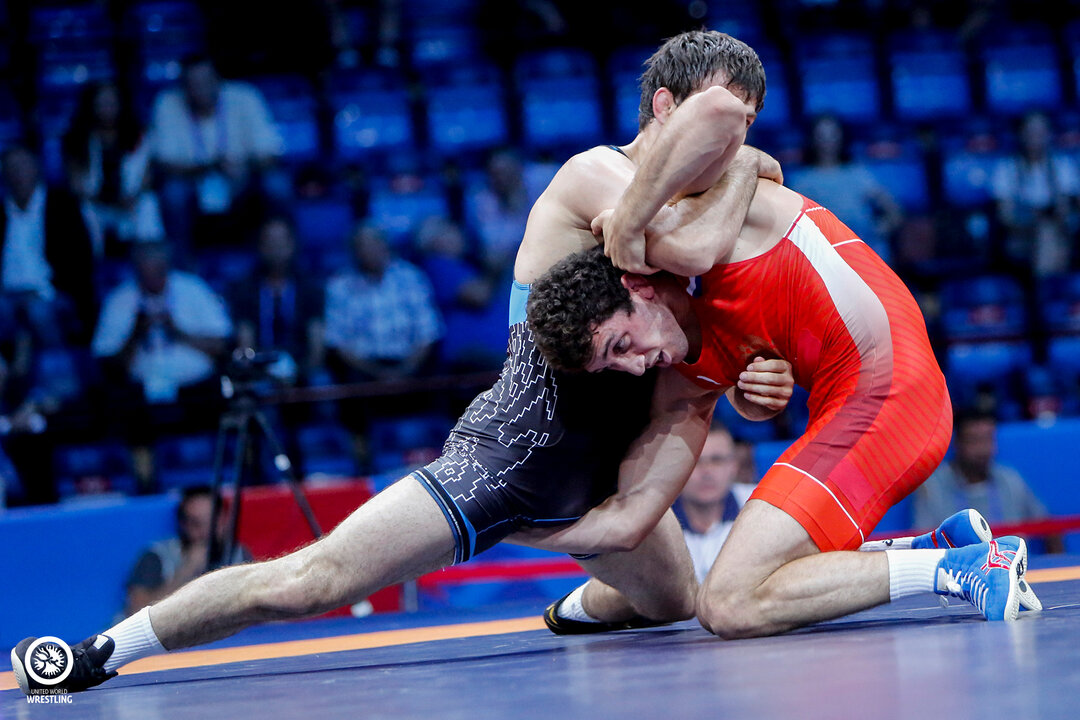 Sidakov, a returning world champion, trailed late in his semifinal match, but came back to beat Azamat NURYKAU (BLR) 6-4.
In the first period, Nurykau countered an attack from Sidakov and picked up two points off an exposure. He took a 2-0 lead into the break. The score remained that way until the final minute of the match. With under a minute remaining, Sidakov scored off a passivity to cut the deficit to 2-1. He then secured a late takedown, which led to a flurry and resulted in Nurykau taking a 4-4 lead on criteria. Sidakov challenged the call, which was overturned, giving the Russian world champion an additional two points with six seconds remaining. He held on for the 6-4 win to reach the gold-medal match.
Sidakov will face Olympic bronze medalist Soner DEMIRTAS (TUR) in the the finals. Demirtas earned his finals spot by winning a hard-fought match over Vasyl MYKHAILOV (UKR), 5-2.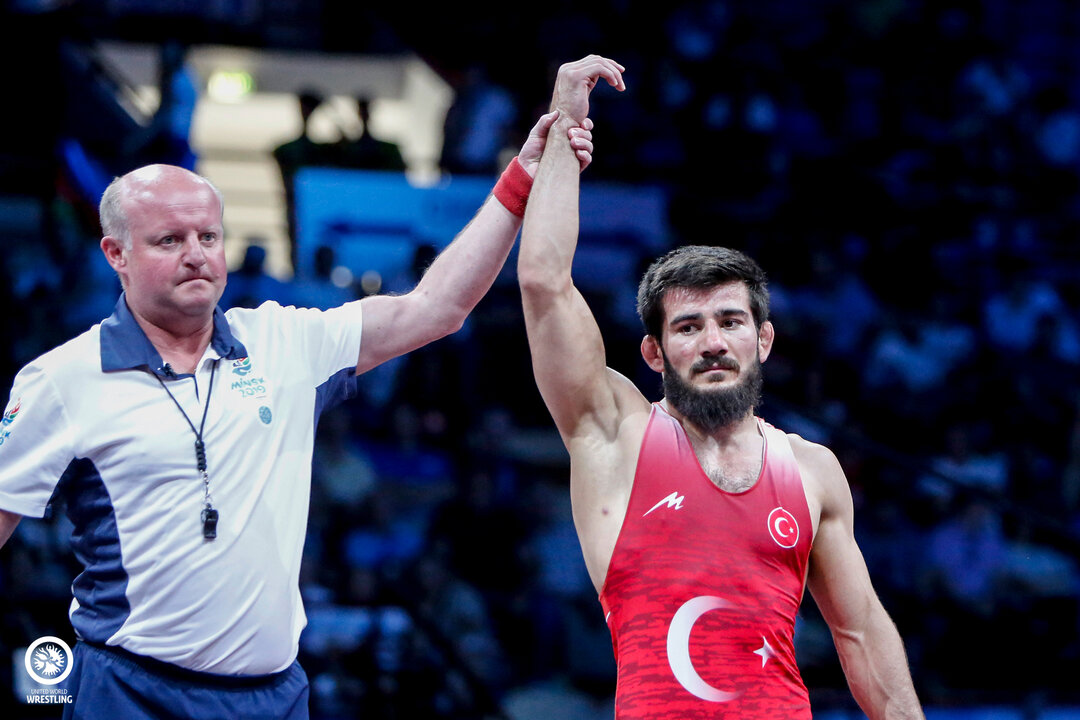 Demirtas scored off a passivity and step out in the first period to grab a 2-0 lead at the break. He extended his lead to 3-0 in the second period after another passivity point. Mykhailov picked up a takedown with 45 seconds remaining to cut the deficit to 3-2. The Ukranian was in on a shot late in the match, but Demirtas was able to fend it and score a point off a step out. The call was challenged and upheld, giving Demirtas a three-point lead and ultimately the victory.
Kurugliev, a two-time Yarygin champion, used a strong first period to pace him to a 6-3 victory over Alexander GOSTIYEV (AZE) in the 86kg semifinals. The 26-year-old Russia scored a takedown and then used a gut wrench to go up 4-0. He added another first-period takedown to take a 6-0 lead into the break. Gostiyev scored early in the second period off a step out and added a late takedown, but Kurugliev held on to win by three.
Opposing Kurugliev in the 86kg finals will be four-time world medalist Ali SHABANAU (BLR), who shut out Ahmed DUDAROV (GER) 3-0 in the semifinals.  Shabanau used a step out in the first period to go up 1-0. He would add to his lead in the second period, scoring off a passivity and another step out with 22 seconds remaining in the match.
Russia's third finalist, Khizriev, defeated Oleksandr KHOTSIANIVSKYI (UKR) 7-1 in the semifinals at 125kg. Both wrestlers won bronze medals at this year's European Championships. The Russian heavyweight went up 1-0 off a passivity point in the first period. He then scored three takedowns in the final period to pull away.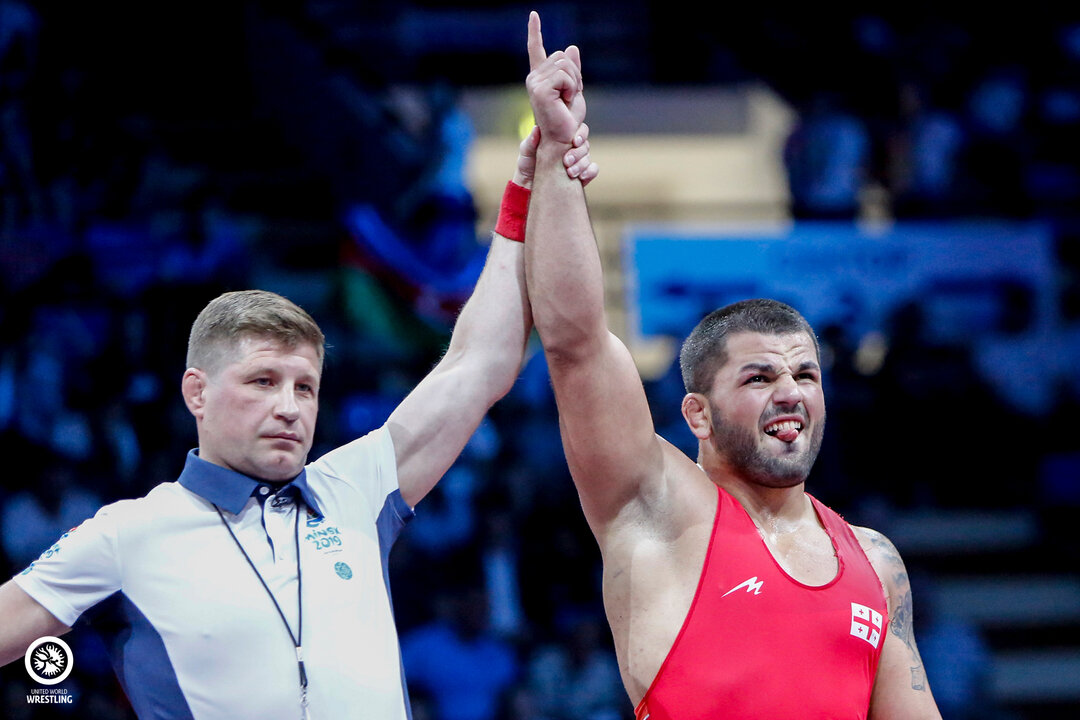 He will face U23 world champion Givi MATCHARASHVILI (GEO), who scored a late takedown to defeat two-time world bronze medalist Jammaladdin MAGOMEDOV (AZE) 4-2 in the semifinals. Matcharashvili led 2-0 at the break. Maomedov battled back to take the 2-2 criteria lead in the final minute of the match. With 30 seconds remaining, Matcharashvili fired off a shot and converted it to a takedown for the go-ahead points.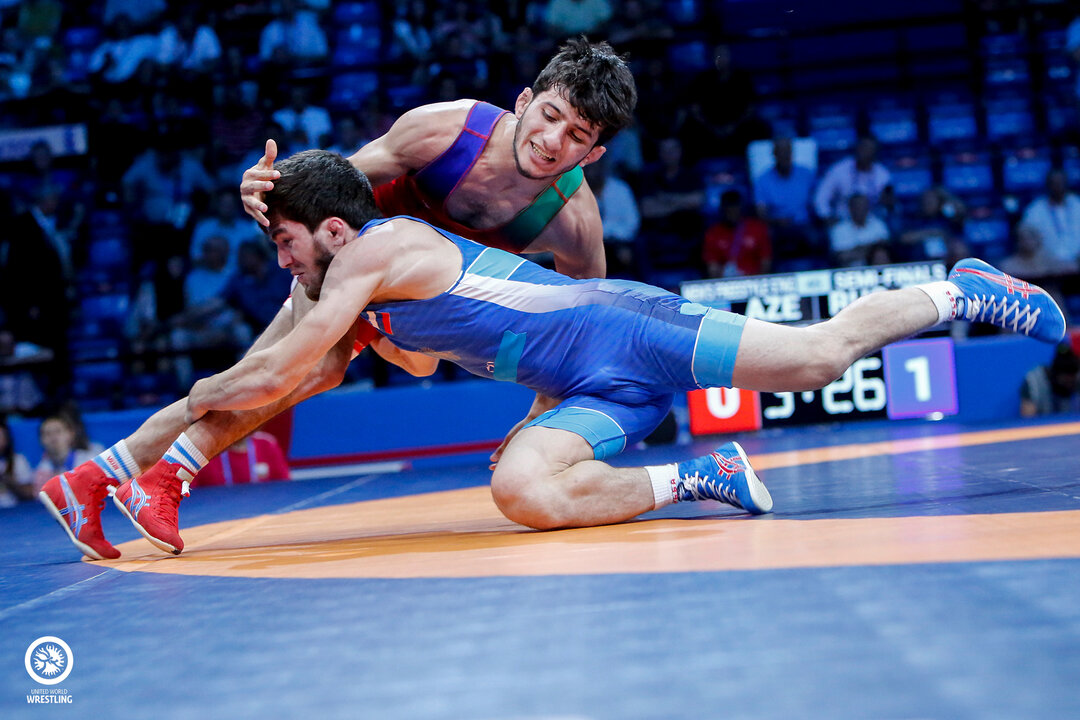 At 57kg, Mahir AMIRASLANOV (AZE), a European bronze medalist, knocked off returning world champion Zavur UGUEV (RUS) 3-2 to reach the gold-medal finals. Uguev led 1-0 after the first period, but Amiraslanov came back to win.
The other semifinal winner at 57kg was Stevan MICIC (SRB). He defeated U23 world bronze medalist Taras MARKOVYCH (UKR). Earlier in the day, Micic stunned world No.1 Suleyman ATLI (TUR). 
Wrestling at the European Games is scheduled to resume on Wednesday at 11:00 local time with repechage matches at 57kg, 74kg, 86kg and 125kg, which will be followed by the final two freestyle weight classes (65kg and 97kg), as well as two women's wrestling weight classes (53kg and 68kg). 
Results
57kg
GOLD - Stevan MICIC (SRB) vs. Mahir AMIRASLANOV (AZE)
SEMIFINAL - Stevan MICIC (SRB) df. Taras MARKOVYCH (UKR), 7-4
SEMIFINAL - Mahir AMIRASLANOV (AZE) df. Zavur UGUEV (RUS), 3-2
74kg
GOLD - Zaurbek SIDAKOV (RUS) vs. Soner DEMIRTAS (TUR)
SEMIFINAL - Zaurbek SIDAKOV (RUS) df. Azamat NURYKAU (BLR), 6-4
SEMIFINAL - Soner DEMIRTAS (TUR) df. Vasyl MYKHAILOV (UKR), 5-2
86kg
GOLD - Ali SHABANAU (BLR) vs. Dauren KURUGLIEV (RUS)
SEMIFINAL - Ali SHABANAU (BLR) df. Ahmed DUDAROV (GER), 3-0
SEMIFINAL - Dauren KURUGLIEV (RUS) df. Alexander GOSTIYEV (AZE), 6-3
125kg
GOLD - Givi MATCHARASHVILI (GEO) vs. Anzor KHIZRIEV (RUS)
SEMIFINAL - Givi MATCHARASHVILI (GEO) df. Jammaladdin MAGOMEDOV (AZE), 4-2
SEMIFINAL - Anzor KHIZRIEV (RUS) df. Oleksandr KHOTSIANIVSKYI (UKR), 7-1