Rio Silver Medalists Ota, Higuchi Take Drastic Measures in Quest to Make Tokyo 2020
Monday, December 2, 2019 - 13:13 By Ken Marantz
TOKYO (Dec. 2) --- A pair of Japanese silver medalists from the Rio 2016 Olympics, denied during their preferred routes to Tokyo 2020, will be trying desperate measures in last-ditch efforts to make Games in their host country---which presents a weighty problem for both.
Shinobu OTA, the Rio 2016 silver medalist at Greco-Roman 60kg, has moved up to two divisions to 67kg for the upcoming All Japan Championships, which will serve as the final qualifier for either filling an Olympic berth that Japan has already secured, or earning the chance to win a spot at the Asian Olympic qualifying tournament in March.
Conversely, Rei HIGUCHI, who failed to gain an Olympic ticket at freestyle 65kg, has gone the other way, dropping two weight classes down to 57kg, the division in which he won the silver in Rio, according to the list of entries recently released by the Japan federation for the tournament to be held Dec. 19-22 in Tokyo.
At the World Championships in Nur-Sultan in September, Japan clinched eight Olympic berths in the 18 weight classes --- two in freestyle, one in Greco-Roman and five in women's wrestling. As incentive, the Japan federation decreed that any wrestler who won a medal in the Kazakh capital would automatically fill the Olympic spot themselves.
That resulted in five wrestlers clinching Olympic spots: Mayu MUKAIDA (53kg), Risako KAWAI (57kg), Yukako KAWAI (62kg) and Hiroe MINAGAWA (76kg) among the women, and Kenichiro FUMITA (60kg) in Greco-Roman. None of the five are entered in the All Japan tournament.
When Fumita won the gold to regain the world title he had won in 2017, it also closed the door on Ota in that weight class. Having been beaten by Fumita for the 60kg place on the team to Nur-Sultan, Ota moved up to 63kg --- and won his first world title. But that being a non-Olympic weight class, he knew he had to take drastic measures to get to Tokyo 2020.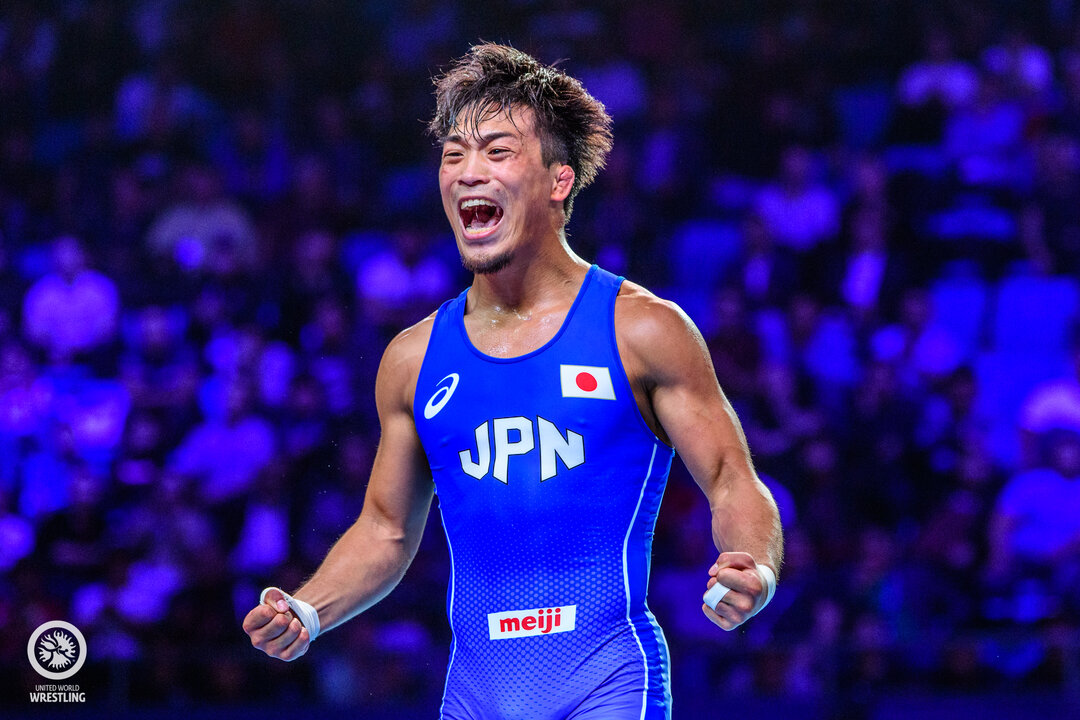 Shinobu OTA, the reigning 63kg world champion, will be moving up to 67kg with hopes of improving his silver medal from the 2016 Rio Olympic Games. (Photo: Tony Rotundo)
So he has moved up further to 67kg, where he will challenge defending national champion Shogo TAKAHASHI. Takahashi was eliminated in the third round in Nur-Sultan, leaving Japan without an Olympic spot at this point.  Others who Ota might have to deal with are Katsuaki ENDO, the 2018 world U-23 champion at 63kg, and Tsuchika SHIMOYAMADA, a former world team member who was second to Takahashi last year.
Ota, who won two international tournaments in Hungary and Belarus this year at 63kg, had planned to get a test run at 67kg at the World Cup in Iran, but the tournament was postponed due to unrest in that country.
After winning a silver in Rio, Higuchi moved up to 61kg, where he won the 2016 All Japan title and a bronze medal at the Asian Championships. But with eyes on Tokyo 2020, in late 2017 he made the jump up to 65kg, but, at just 1.62 meters, found the size difference difficult to overcome.
Still, he won the world U-23 gold in 2018, then pulled off a surprising victory over world champion Takuto OTOGURO at the All Japan Invitational Championships, the second of the two qualifiers for the world team. That set up a playoff between the two, but Otoguro, having recovered from a recent knee injury, totally dominated the encounter.
Assuming he can successfully get down to 57kg, Higuchi will challenge former world champion Yuki TAKAHASHI, who has had a domestic stranglehold on the lightest division for the past three years. Takahashi kept the door open to the Olympics when he fell in the fourth round in Nur-Sultan. Also in the mix will be a pair of world junior champions, Toshiya ABE and Kaiki YAMAGUCHI, the latter dropping from 61kg.
Otoguro still has some unfinished business himself. He secured the 65kg berth for Japan in Nur-Sultan, but by losing in the bronze-medal match, left himself needing a win at the All Japan (also referred to as the Emperor's Cup) to seal the deal. His biggest concern looks to make sure he is healthy for the competition.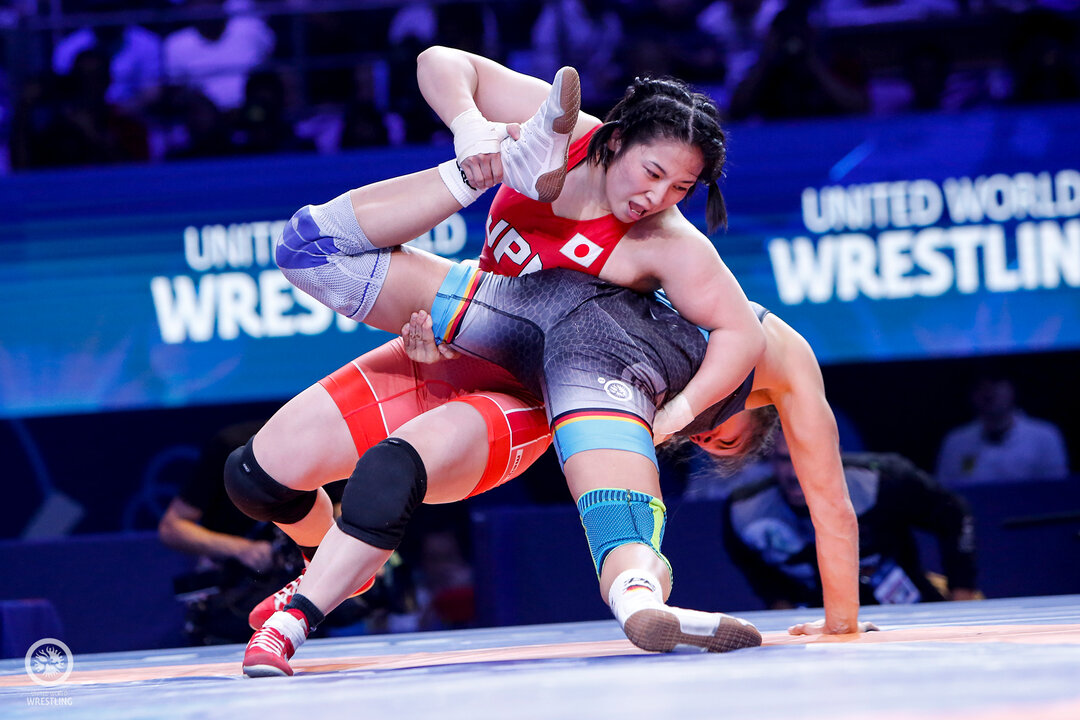 Rio Olympic champion Sara DOSHO will be challenged by U23 world champions Masako FURUICHI and Yuka KAGAMI at 68kg. (Photo: Gabor Martin)
Rio Olympic champion Sara DOSHO is in the same boat at Otoguro. Her fifth-place finish at 68kg left her short of the Olympics and raised doubts about whether she had fully recovered from the shoulder surgery she underwent earlier in the year. She will have some tough company in her bid to secure the Tokyo ticket.
World U-23 champion Masako FURUICHI gave Dosho a run for her money in the final at the All Japan Invitational last June, losing 4-3 on a last-second takedown. After that loss, Furuichi moved up to 72kg for the senior World Championships, where she took home a bronze medal.
Another notable entry at 68kg is high schooler Yuka KAGAMI, who this year added world junior and U-23 titles to the two cadet golds she had previously won. While she mostly competed at 72kg, the weight in which she won the junior title, she also moved up to 76kg to challenge Minagawa for the world team spot, but was unsuccessful (her U-23 title came in that division). Dropping to 68kg will mark her first competition under 72kg since she won the Klippan Lady cadet at 65kg in February 2018.
The Olympic spot at freestyle 74kg that was secured by Mao OKUI's fifth-place in Nur-Sultan will also be up for grabs, and there is no shortage of scavengers looking to come away with the spoils.  Yuhi FUJINAMI, a 2017 world bronze medalist at 70kg who was not at 100 percent when he lost a world team playoff to Okui, will be looking for revenge, and will be joined in the hunt by world junior silver medalist Jintaro MOTOYAMA and Asian silver medalist Kojiro SHIGA, who placed seventh at 70kg in Nur-Sultan.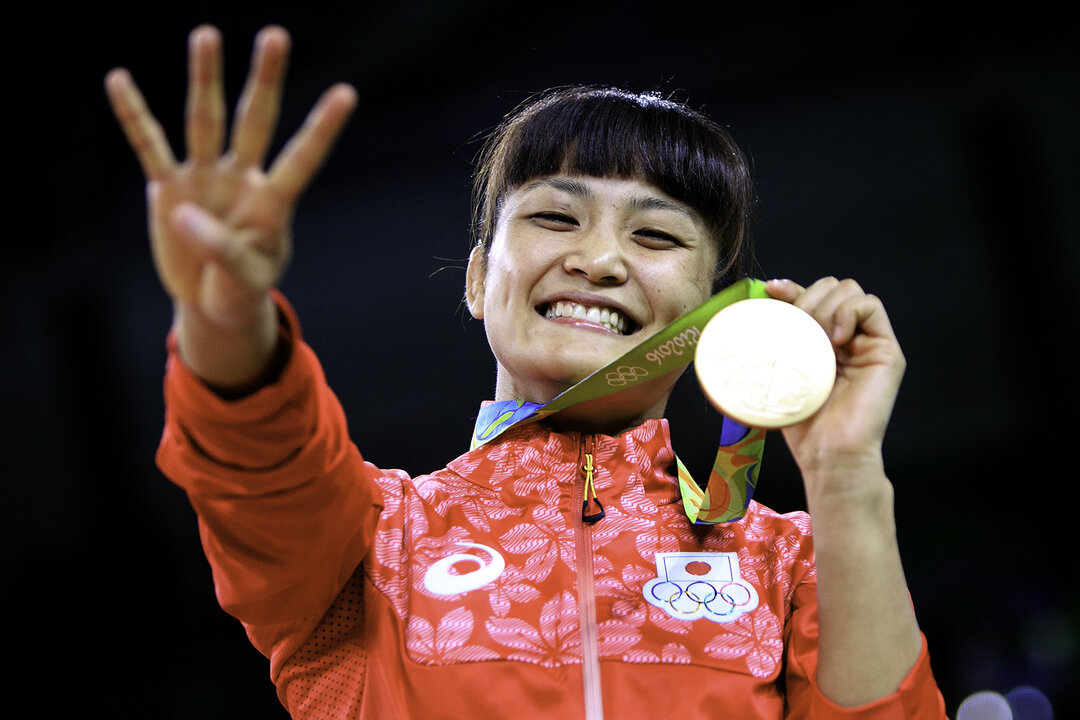 Kaori ICHO did not enter the All Japan Championships, which ends her quest for a fifth consecutive Olympic gold medal. (Photo: Tony Rotundo)
End of the road for Icho
Meanwhile, living legend Kaori ICHO officially ended her quest for an unprecedented fifth straight Olympic gold when she decided not to enter the tournament.
Icho had lost out for the women's 57kg spot to fellow Rio Olympic champion Risako Kawai, who punched her ticket to Tokyo 2020 with a gold in Nur-Sultan. When Mukaida and Yukako Kawai also secured their spots at the weight classes immediately above and below, the only avenues left were at 50kg and 68kg --- and Icho didn't see much hope in either choice.
It was at women's 50kg that Japan suffered one of its bigger shocks in Nur-Sultan, as Yuki IRIE suffered a heartbreaking 13-12 quarterfinal loss to SUN Yanan (CHN) and failed to clinch an Olympic berth.
That opened the door for two-time world champion Yui SUSAKI, who had lost a world team playoff to Irie. Those two will be joined at the Emperor's Cup by Rio 2016 champion Eri TOSAKA in the latest round of the trio's battle royale.
There was speculation that former world champion Haruna OKUNO, who lost out to Mukaida for the 53kg spot, might drop down to 50kg in a bid to keep her Olympic dream alive. But that ended when she was entered at 53kg.
That could result in an intriguing rematch with Nanami IRIE, Yuki's younger sister. When Okuno failed to knock off Mukaida, she entered the world team playoff at 55kg, only to lose to Irie, who went on to win the silver medal in Nur-Sultan.