Rashidov Adds to Japanese Misery, Advances to Semifinals of Stacked 65kg; Punia Also Through
Thursday, September 19, 2019 - 11:07 By Ken Marantz
NUR-SULTAN, Kazakhstan (Sept. 19)---Gadzhimurad RASHIDOV (RUS) moved up a weight class in a bid to get to the Tokyo 2020 Olympics. He knocked off the defending champion from Japan en route to securing a berth for Russia.
Rashidov, a two-time world silver medalist at 61kg, made the semifinals of a stacked freestyle 65kg weight class by knocking off 2018 gold medalist Takuto OTOGURO (JPN) 8-1, then defeated Haji ALI (BRN) 9-0 on Day 6 of the World Championships.
The other semifinal, to be held later in the day at the Barys Arena, will pit Bajrang PUNIA (IND), the silver medalist a year ago in Budapest and this year's Asian champion, against Daulet NIYAZBEKOV (KAZ)
The fireworks got started early in the division, when Rashidov clashed with three-time world champion and Olympic bronze medalist Haji ALIYEV (AZE) in the first round and came out with a 4-2 win on a last-second score that left the Azeri livid.
In a rematch of the 2017 world final at 61kg won by Aliyev, Rashidov gained an activity-clock for the lone point of the first period. Aliyev went ahead in the second period when he broke away from a tackle attempt and got behind, but another wild flurry resulted in Rashidov taking the lead with a takedown with :44 left. 
The best, however, was yet to come. With the seconds ticking down, Aliyev latched onto an ankle then got behind. Rashidov stood up, and it was just a matter if Aliyev could get his opponent's knee down for the winning point. 
But as the two moved toward the edge, Rashidov whipped Aliyev down, gaining a 1-point stepout, which was upheld in an unsuccessful challenge.
The stunned Aliyev refused to accept the decision, and it took security members to get him to leave the mat and exit the arena.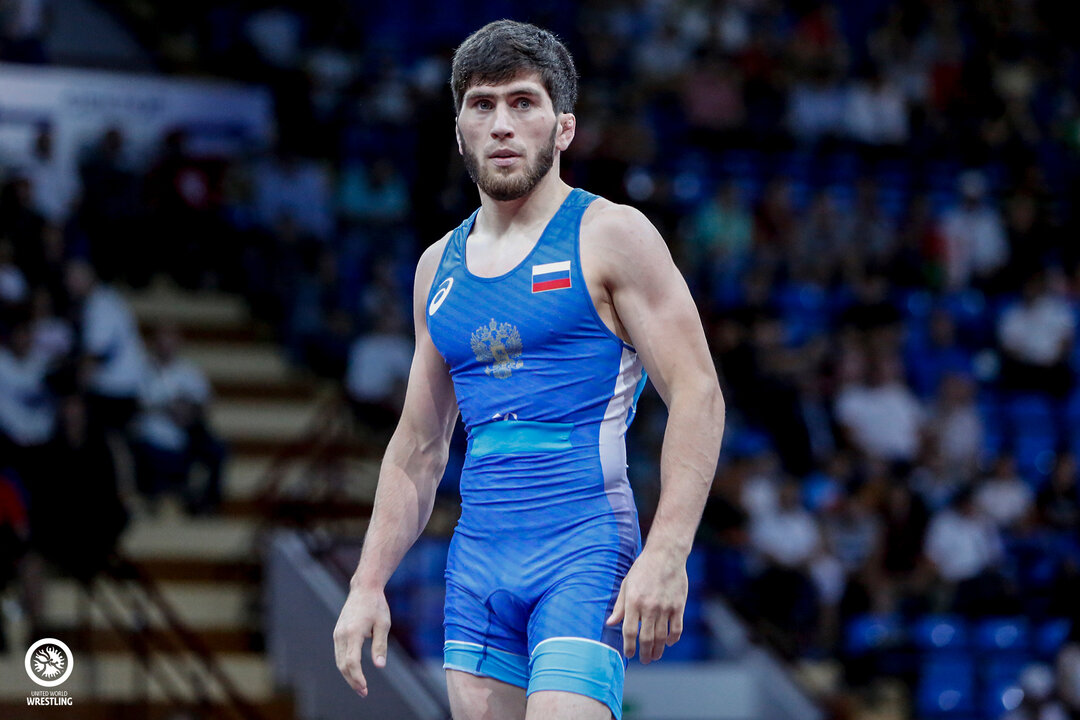 Zavur UGUEV (RUS) and Kumar RAVI (IND) will wrestle for a spot in the 57kg finals. (Photo: Gabor Martin)
At 57kg, the two finalists from a year ago, Zavur UGUEV (RUS) and Nurislam SANAYEV (KAZ) remained a collision course by advancing to separate semifinals.
Uguev will face Kumar RAVI (IND), who knocked off 2017 world champion Yuki TAKAHASHI (JPN), while Sanayev's path the final is blocked by European champion and 2018 bronze medalist Suleyman ATLI (TUR).
Japan capped a disastrous day when Rio 2016 Olympic champion Sara DOSHO (JPN) was unceremoniously ousted in the 68kg quarterfinals by 2018 bronze medalist Tamyra MENSAH STOCK (USA), who rolled up a 10-1 victory.
Mensah Stock will face Anna SCHELL (GER), while defending champion Alla CHERKASOVA (UKR) will take on Jenny FRANSSON (SWE), who scored a buzzer-beating 2 points to stun Battsetseg SORONZOBOLD (MGL) 6-5.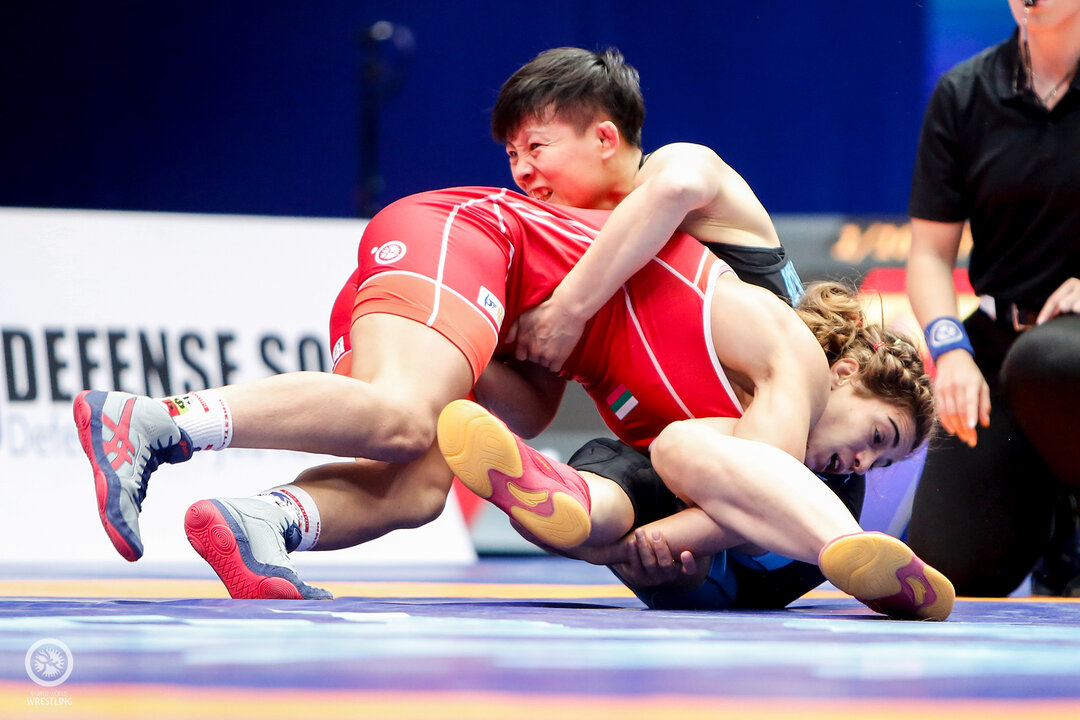 Taybe YUSEIN (BUL) will take on Marianna SASTIN (HUN) in the 62kg semifinals. (Photo: GaborMartin)
At 62kg, Taybe YUSEIN (BUL), the 2018 world champion at 62kg, advanced to a match-up with Marianna SASTIN (HUN), while Asian champion Aisuluu TYNYBEKOVA (KGZ) will face KIM Jong Sim (PRK)
Earlier, 2018 silver medalist Yukako KAWAI (JPN), whose older sister Risako clinched a Tokyo 2020 spot the previous day by making the 57kg final, lost by fall in the second round to Tynybekova---a repeat of the final at the Asian Championships in April in Xi'an, China.
Meanwhile, history of a sorts was made when the tiny enclave of San Marino got not only got its first-ever win at a senior World Championships, but got two from Malik AMINE (SMR) at 67kg.
Amine, who grew up in the USA state of Michigan but has dual citizenship, opened with a wild 14-11 victory over Mbunde CUMBA MBALI (GBS), which he followed by topping Branden DIAZ (MEX) 12-6. His run was ended by Muszukajev. 
Amine is one of five U.S.-born wrestlers competing at the worlds for other countries who are part of a training program at the University of Michigan. The program is headed by legendary Russian great Sergey BELAGLAZOV.
Belaglazov, serving as the San Marino coach, said historic victories were only part of the objective. "That's not the point," he said. "The point is to get them to qualify for the Olympic Games. That is the goal."
For what it's worth, Amine beat brother Myles into the San Marino sports history book. Myles is entered at freestyle 86kg, which starts on Saturday.
Day 6 Pairings

Freestyle
57kg (34 entries)
Semifinal – Suleyman ATLI (TUR) vs Nurislam SANAYEV (KAZ) 
Semifinal – Kumar RAVI (IND) vs Zavur UGUEV (RUS)
65kg (44 entries)
Semifinal – Bajrang PUNIA (IND) vs Daulet NIYAZBEKOV (KAZ) 
Semifinal – Iszmail MUSZUKAJEV (HUN) vs Gadzhimurad RASHIDOV (RUS) 
Women's Wrestling 
57kg (31 entries)
Gold – RONG Ningning (CHN) vs Risako KAWAI (JPN) 
Bronze – Iryna KURACHKINA (BLR) vs Jowita WRZESIEN (POL)
Bronze – Anastasia NICHITA (MDA) vs Odunayo ADEKUOROYE (NGR)
59kg (18 entries)
Gold – Luibov OVCHAROVA (RUS) vs Linda MORAIS (CAN) 
Bronze – PEI Xingru (CHN) vs Pooja DHANDA (IND)
Bronze – Anhelina LYSAK (URK) vs Shoovdor BAATARJAV (MGL)
62kg (34 entries)
Semifinal – Taybe YUSEIN (BUL) vs Marianna SASTIN (HUN) 
Semifinal – Aisuluu TYNYBEKOVA (KGZ) vs KIM Jong Sim (PRK) 
 65kg (17 entries)
Gold – Iryna KOLIADENKO (UKR) vs Inna TRAZHUKOVA (RUS)  
Bronze – WANG Xiaoqian (CHN) vs Forrest MOLINARI (USA)
Bronze – Yuliana YANEVA (BUL) vs Elis MANOLOVA (AZE)
68kg (32 entries)
Semifinal – Alla CHERKASOVA (UKR) vs Jenny FRANSSON (SWE) 
Semifinal – Anna SCHELL (GER) vs Tamyra MENSAH STOCK (USA) 
76kg (31 entries)
Gold – Hiroe MINAGAWA (JPN) vs Adeline GRAY (USA) 
Bronze – ZHOU Qian (CHN) vs Epp MAEE (EST)
Bronze – Elmira SYZDYKOVA (KAZ) vs Aline ROTTER FOCKEN (GER)