Pan-American Championship Entries
Monday, March 2, 2020 - 11:42 By Eric Olanowski
OTTAWA, Canada (March 2) --- The Pan-American Championships kick off March 6-9 in Ottawa, Canada, and will feature 192 athletes from 19 different nations wrestling -- including 16 returning gold medalists (listed in bold). 
Olympic champion Ismael BORRERO MOLINA (CUB) leads a list of eight returning Greco-Roman champions into Ottawa.
America's pair of reigning world champions Tamyra MENSAH (USA) and Adeline GRAY (USA) are two of the five 2019 gold medalists that highlight the women's wrestling part of the competition.
In freestyle, Anthony James ASHNAULT (USA), Jordan BURROUGHS (USA) and Kyle Frederick SNYDER (USA) return to the Pan-American championships looking to retain the titles they claimed a year ago.
Freestyle
57kg
Bryan Lucas DE OLIVEIRA PEREIRA (BRA)
Ligrit SADIKU (CAN)
Oscar Eduardo TIGREROS URBANO (COL)
Reineri ANDREU ORTEGA (CUB)
Juan Rubelin RAMIREZ BELTRE (DOM)
Edwin Alexi SEGURA GUERRA (GUA)
Jesus Alejandro GARFIAS INFANTE (MEX)
Darian Toi CRUZ (USA)
Pedro Jesus MEJIAS RODRIGUEZ (VEN)

61kg
Scott Anthony Josef SCHILLER (CAN)
Tyler Lee GRAFF (USA)

65kg
Agustin Alejandro DESTRIBATS (ARG)
David Washington DOS SANTOS MOREIRA (BRA)
Vincent DE MARINIS (CAN)
Wber Euclides CUERO MUNOZ (COL)
Alejandro Enrique VALDES TOBIER (CUB)
Albaro RUDESINDO CAMACHO (DOM)
Mauricio Javier SANCHEZ SALTOS (ECU)
Sixto Miguel AUCCAPINA PEDRAGAS (PER)
Jose Javier RODRIGUEZ COLON (PUR)
John Michael DIAKOMIHALIS (USA)
Wilfredo Aogusto RODRIGUEZ BOCANEY (VEN)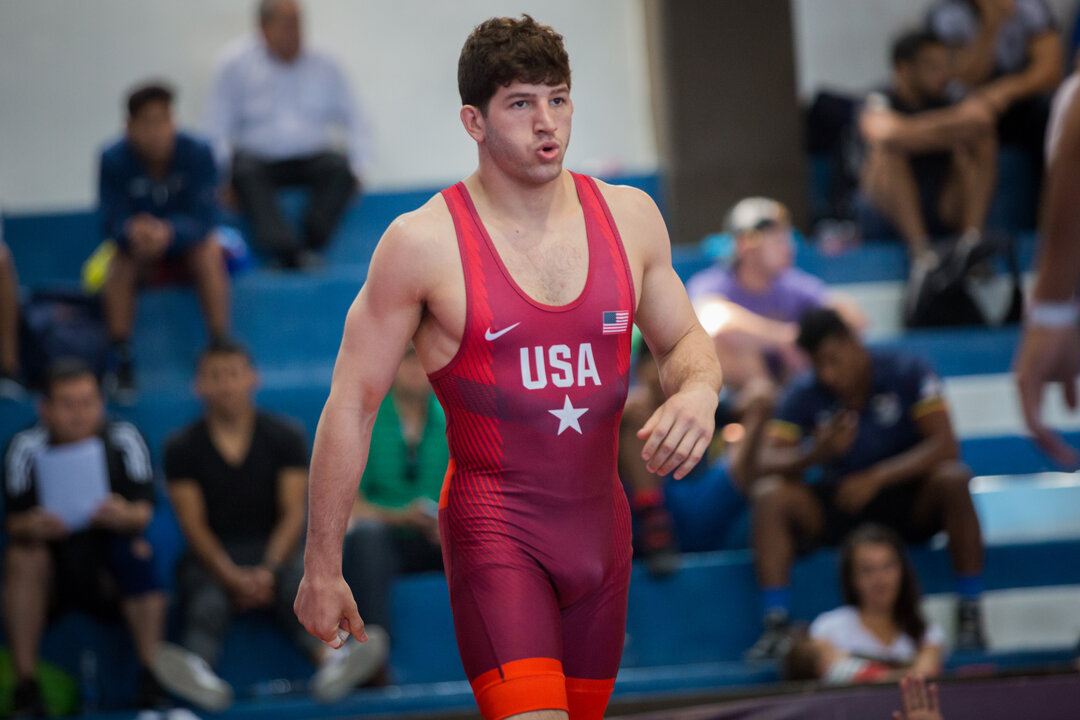 Anthony James ASHNAULT (USA) is one of three returning freestyle Pan-American champions. (Photo: Lu Cruz)
70kg
Ranico  Ikkesh HOWARD (BAR)
Hugo Leonardo DE LIMA VIANA DE SOUZA (BRA)
Cruiz Saint Luc MANNING (CAN)
Brandon Disair DIAZ RAMIREZ (MEX)
Anthony James ASHNAULT (USA)

74kg
Jorge Ivan LLANO (ARG)
Jasmit Singh PHULKA (CAN)
Leon Juan Carlos PERALTA LANAS (CHI)
Nestor Joaquin TAFUR BARRIOS (COL)
Jeandry GARZON CABALLERO (CUB)
Julio Rafael RODRIGUEZ ROMERO (DOM)
Enrique Josue PEREZ CASTELLANOS (GUA)
Franklin GOMEZ MATOS (PUR)
Jordan Ernest BURROUGHS (USA)
Anthony Jose MONTERO CHIRINOS (VEN)

79kg
Guseyn RUSLANZADA (CAN)
Victor Eduardo HERNANDEZ LUNA (MEX)
Jesus Augusto LANDA CESPEDES (PER)
Jason Michael NOLF (USA)

86kg
Ricardo Adrian BAEZ (ARG)
Reuben Leroy WILTSHIRE (BAR)
Clayton Steven PYE (CAN)
Carlos Arturo IZQUIERDO MENDEZ (COL)
Yurieski TORREBLANCA QUERALTA (CUB)
Gino Tanislado AVILA DILBERT (HON)
Angus Patrick ARTHUR (JAM)
Noel Alfonso TORRES CHACON (MEX)
Pool Edinson AMBROCIO GREIFO (PER)
Ethan Adrian RAMOS (PUR)
Alexander David DIERINGER (USA)
James Patrick DOWNEY III (USA)
Pedro Francisco CEBALLOS FUENTES (VEN)

92kg
Maxwell Lemar LACEY GARITA (CRC)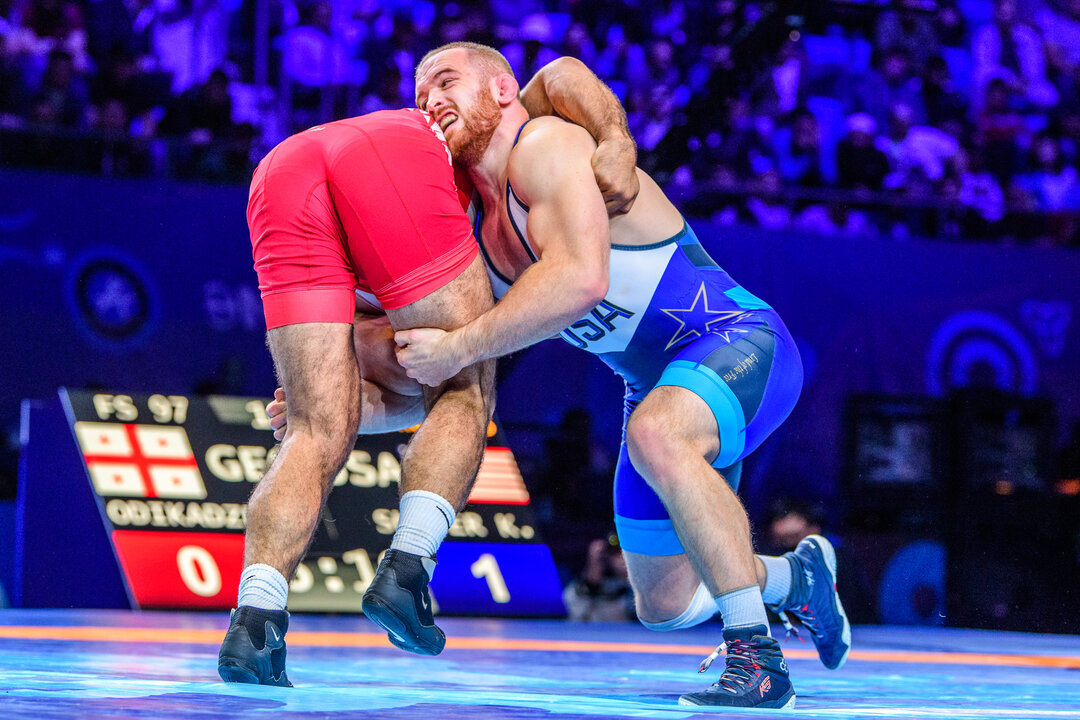 Kyle Frederick SNYDER (USA) is on a quest to win his fourth Pan-American title. (Photo: Tony Rotundo)
97kg
Nishan Preet Singh RANDHAWA (CAN)
Reineris SALAS PEREZ (CUB)
Luis Miguel PEREZ SOSA (DOM)
Esdras Carlos LOPEZ PEREZ (MEX)
Evan Amadour RAMOS (PUR)
Kyle Frederick SNYDER (USA)
Jose Daniel DIAZ ROBERTTI (VEN)

125kg
Amarveer DHESI (CAN)
Oscar PINO HINDS (CUB)
Brandon Eloin ANGUIANO FLORES (MEX)
Charles Zachary MERRILL (PUR)
Anthony Robert NELSON (USA)
Luis Felipe VIVENES URBANEJA (VEN)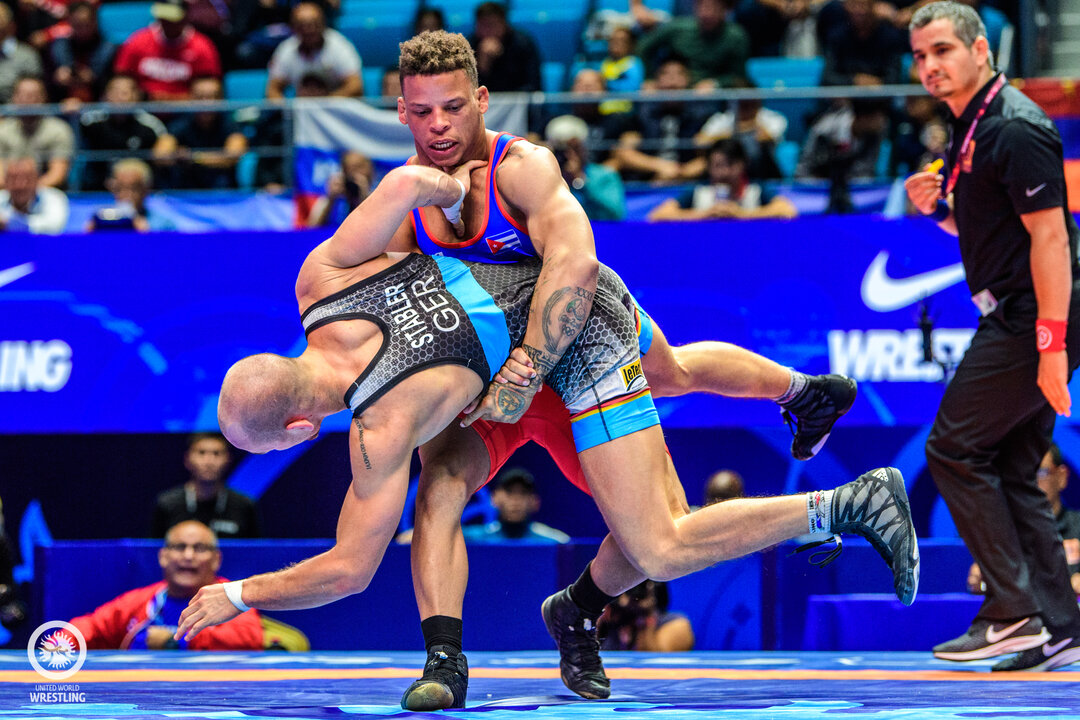 Reigning world champion Ismael BORRERO MOLINA (CUB) headlines the Greco-Roman entries that features eight returning champions. (Photo: Tony Rotundo)
Greco-Roman
55kg
Sargis KHACHATRYAN (BRA)
Kieran Imran AKHTAR (CAN)
Max Emiliano NOWRY (USA)

60kg
Marat GARIPOV (BRA)
Adam Takahashi MACFADYEN (CAN)
Dicther Hans TORO CASTANEDA (COL)
Luis Alberto ORTA SANCHEZ (CUB)
Jancel Miguel PIMENTEL GONZALEZ (DOM)
Emerson Isaias FELIPE ORDONEZ (GUA)
Miguel Angel UGALDE AGUILAR (MEX)
Joshua Xavier MEDINA (PUR)
Leslie Michael FUENFFINGER (USA)
Gustavo Jesus RODRIGUEZ MARTINEZ (VEN)

63kg
Andres Roberto MONTANO ARROYO ( ECU)
Xavier Tramain JOHNSON (USA)

67kg
Joseph DASHOU (CAN)
Cristobal Alonso TORRES NUNEZ (CHI)
Julian Stiven HORTA ACEVEDO (COL)
Ismael BORRERO MOLINA (CUB)
Enyer Manuel FELICIANO (DOM)
Cristhian Alberto RIVAS CASTRO (ECU)
Diego Alberto MARTINEZ DE LEIJA (MEX)
Nilton Gonzalo Marcos SOTO GARCIA (PER)
German Manuel DIAZ MALDONADO (PUR)
Alejandro SANCHO (USA)
Anthony Javier PALENCIA PUENTES (VEN)

72kg
Joilson DE BRITO RAMOS JUNIOR (BRA)
Raymond Anthony BUNKER III (USA)

77kg
Angelo Rafael MARQUES MOREIRA (BRA)
Brayden William AMBO (CAN)
Jair Alexis CUERO MUNOZ (COL)
Yosvanys PENA FLORES (CUB)
Patrick Harrison SMITH (USA)
Wuileixis de Jesus RIVAS ESPINOZA (VEN)

82kg
Jose Andres VARGAS RUEDA (MEX)
Marciano George ALI (PUR)
John Walter STEFANOWICZ JR (USA)


Two-time defending Pan-Ame champion Luis Eduardo AVENDANO ROJAS (VEN) is entered at 87kg. (Photo: Tony Rotundo)
87kg
Ronisson BRANDAO SANTIAGO (BRA)
Ioannis NARLIDIS (CAN)
Carlos Andres MUNOZ JARAMILLO (COL)
Daniel GREGORICH HECHAVARRIA (CUB)
Carlos Alberto ADAMES PALMER (DOM)
Ariel Andres ALFONSO RODRIGUEZ (HON)
Lesyan Osvaldo COUSIN OTOMURO (JAM)
Alfonso Antonio LEYVA YEPEZ (MEX)
Josef Patrick RAU (USA)
Luis Eduardo AVENDANO ROJAS (VEN)

97kg
Guilherme EVANGELISTA DIAS (BRA)
Thomas Rahontsiiosta BARREIRO (CAN)
Gabriel Alejandro ROSILLO KINDELAN (CUB)
Kevin MEJIA CASTILLO (HON)
Edson Everardo ACUNA SALAZAR (MEX)
Tracy Gangelo HANCOCK (USA)
Luillys Jose PEREZ MORA (VEN)

130kg
Luciano DEL RIO (ARG)
Charles Frederick THOMS (CAN)
Yasmani ACOSTA FERNANDEZ (CHI)
Angel Ernesto PACHECO ROMERO (CUB)
Leo Dalis SANTANA HEREDIA (DOM)
Luis Alberto ROMAN BARRIOS (MEX)
Adam Jacob COON (USA)
Moises Salvador PEREZ HELLBURG (VEN)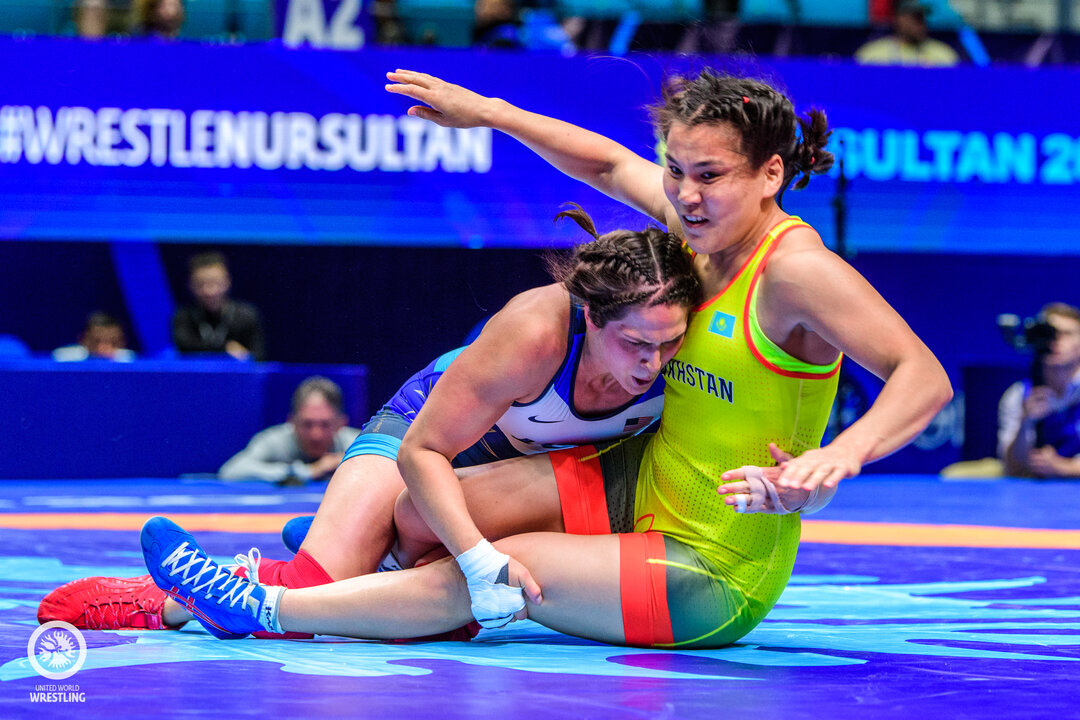 Five-time world champion Adeline Maria GRAY (USA) is looking to win her third Pan-American gold medal. (Photo: Tony Rotundo) 
Women's Wreslting
50kg
Patricia Alejandra BERMUDEZ (ARG)
Kamila BARBOSA VITO DA SILVA (BRA)
Madison Bianca PARKS (CAN)
Carolina CASTILLO HIDALGO (COL)
Yusneylis GUZMAN LOPEZ (CUB)
Jacqueline Del Rocio MOLLOCANA ELENO (ECU)
Mariana DIAZ MUNOZ (MEX)
Thalia Jihann MALLQUI PECHE (PER)
Victoria Lacey ANTHONY (USA)
Genesis Rosmary MILANO OLIVIO (VEN)

53kg
Jade Mariah PARSONS (CAN)
Luisa Elizabeth VALVERDE MELENDRES( ECU)
Zeltzin HERNANDEZ GUERRA (MEX)
Gabriela Nicole RAMOS DIAZ (PUR)
Haley Ruth AUGELLO (USA)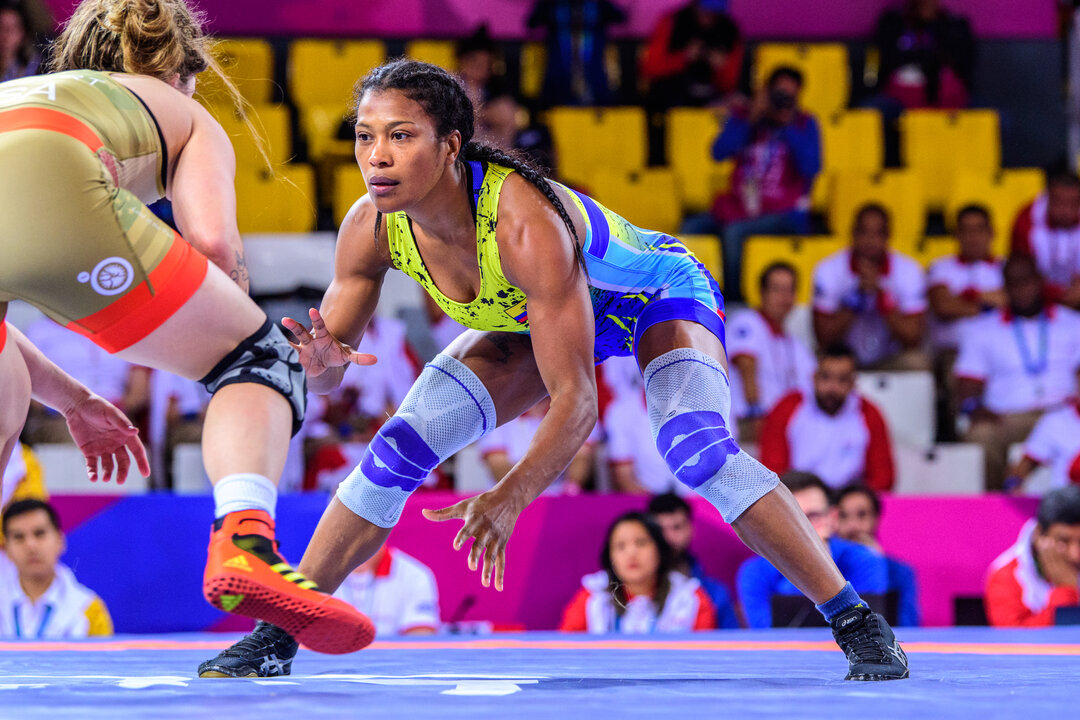 Lissette Alexandra ANTES CASTILLO (ECU) will look to defend her 2019 Pan-Am crown. She'll wrestle at 57kg. (Photo: Tony Rotundo) 
57kg
Giullia RODRIGUES PENALBER DE OLIVEIRA (BRA)
Hannah Fay TAYLOR (CAN)
Lianna de la Caridad MONTERO HERRERA (CUB)
Lissette Alexandra ANTES CASTILLO (ECU)
Brenda Esmeralda Isay FERNANDEZ SALAZAR (MEX)
Nes Marie RODRIGUEZ TIRADO (PUR)
Kelsey Rene CAMPBELL (USA)
Betzabeth Rebeca SARCO COLMENAREZ (VEN)

59kg
Karoline SILVA DE SANTANA (BRA)
Alexandria Rebekkah TOWN (CAN)
Lauren Nora LOUIVE (USA)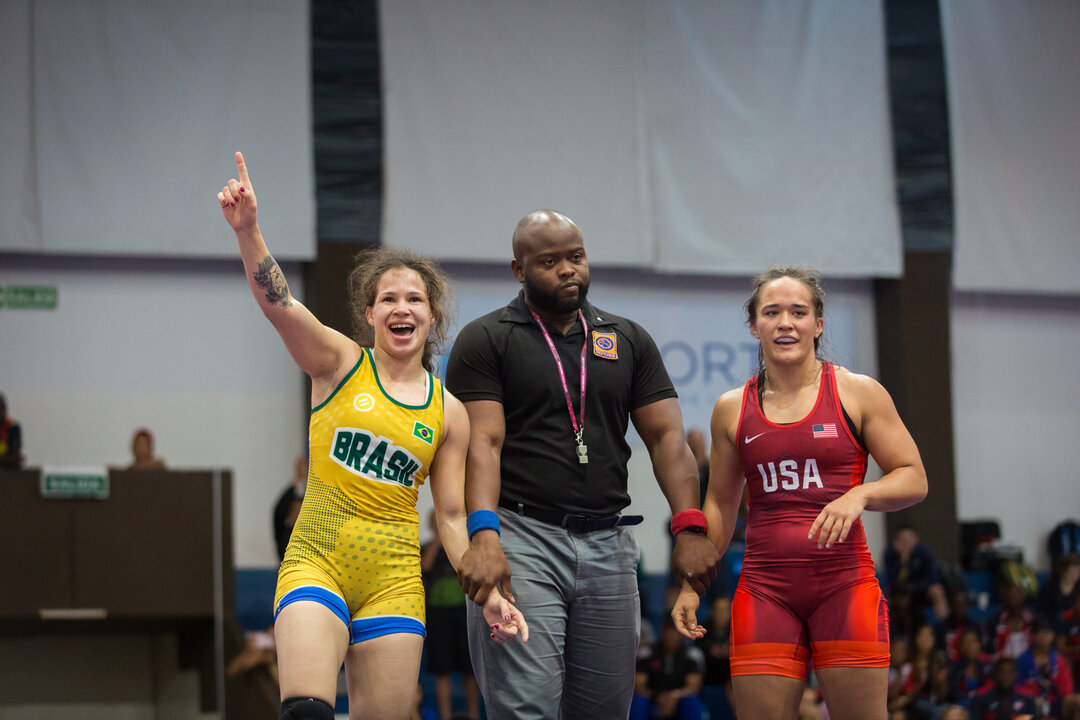 Defending champion Lais NUNES DE OLIVEIRA (BRA) is looking to add a third Pan-American gold medal to her resume. (Photo: Lu Cruz)
62kg
Lais NUNES DE OLIVEIRA (BRA)
Jessica Lise BROUILLETTE (CAN)
Jackeline RENTERIA CASTILLO (COL)
Yessica Coraima OVIEDO PEREZ (DOM)
Alejandra ROMERO BONILLA (MEX)
Mallory Maxine VELTE (USA)
Nathaly Josefina GRIMAN HERRERA (VEN)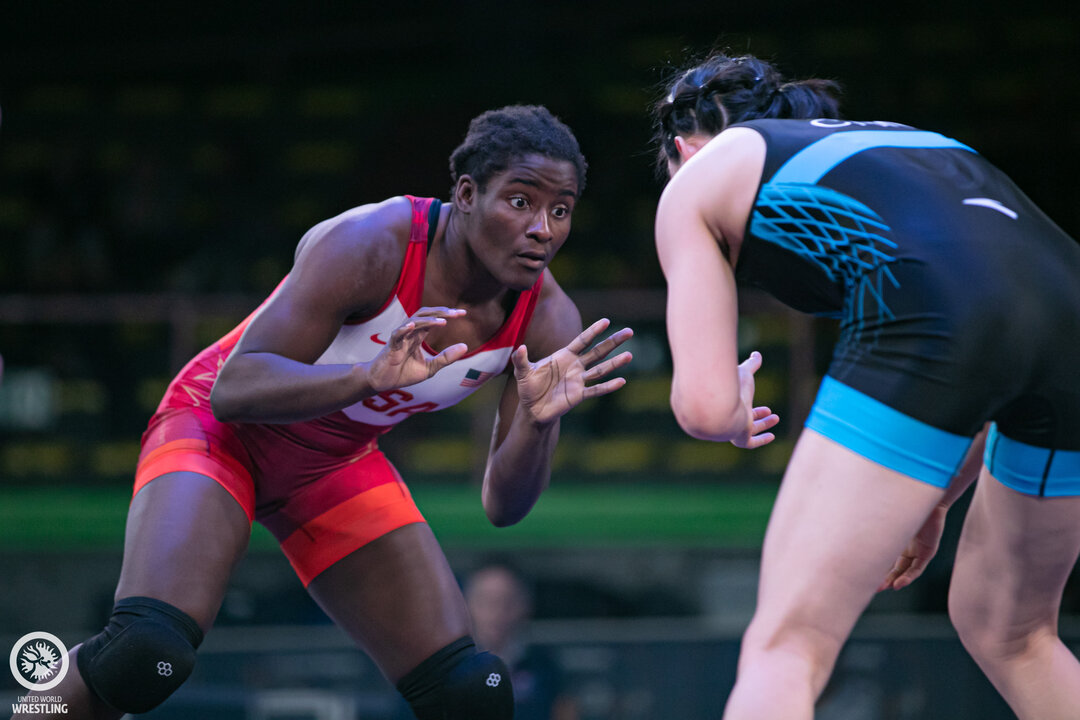 Reigning world champion Tamyra MENSAH (USA) is one of the five returning women's wrestling Pan-American champions. (Photo: Kadir Caliskan)
68kg
Luz Clara VAZQUEZ (ARG)
Dailane GOMES DOS REIS (BRA)
Olivia Grace DI BACCO (CAN)
Tatiana RENTERIA RENTERIA (COL)
Yudari SANCHEZ RODRIGUEZ (CUB)
Leonela Aleyda AYOVI PARRAGA (ECU)
Ambar Michell GARNICA FLORES (MEX)
Yanet Ursula SOVERO NINO (PER)
Tamyra Mariama MENSAH (USA)
Maria Jose ACOSTA ACOSTA (VEN)

72kg
Brenda AGUIAR DOS SANTOS (BRA)
Shauna Ailein KUEBECK (CAN)
Victoria Christine FRANCIS (USA)

76kg
Aline DA SILVA FERREIRA (BRA)
Justina Renay DI STASIO (CAN)
Andrea Carolina OLAYA GUTIERREZ (COL)
Milaimys de la Caridad MARIN POTRILLE (CUB)
Genesis Rosangela REASCO VALDEZ (ECU)
Gabriela Renata CANALES HERRERA (MEX)
Adeline GRAY (USA)
Andrimar Daniela LAZARO DIAZ (VEN)