Ozaki awaits as Kawai among Olympic medalists set to return for Meiji Cup
Tuesday, June 14, 2022 - 00:00 By Ken Marantz
TOKYO, Japan (June 14) -- While the cats who hauled in the medals for Japan at the Tokyo Olympics were away, the mice were not only playing, but showing they could be world-beaters as well.
Most of Japan's Olympic medalists, including three of the five who won golds, will be returning to action for the first time since the Tokyo Games at this week's Meiji Cup All-Japan Invitational Championships, and most will be facing stiff challenges from wrestlers who filled the global gaps in their absences.
The sparks will particularly be flying in the women's competition, in which one weight class could see a showdown between the Olympic and world champions (Yui SUSAKI and Remina YOSHIMOTO at 50kg) and other between the Olympic champion and a world medalist (Yukako KAWAI and Nonoka OZAKI at 62kg).
One potential clash of the titans was put on hold when the Tokyo gold medalist moved up a weight class. Teenaged world champion Akari FUJINAMI will put her 97-match winning streak on the line in a quest to defend her 53kg title, but she won't have to contend with Mayu SHIDOCHI (formerly MUKAIDA).
Shidochi, the Olympic champion and 2021 newlywed, is entered at 55kg, the weight class in which she won world titles in 2016 and 2018. Among her competition, there will be newly crowned Asian champion Umi IMAI.
Fujinami, now a freshman at Nippon Sports Science University, will likely have her toughest competition in two-time former world champion Haruna OKUNO and 2019 world 55kg silver medalist Nanami IRIE, both of whom she has already beaten twice.
The Meiji Cup, to be held June 16-19 at Tokyo's Komazawa Gym, is the second of Japan's two qualifying tournaments for this year's World Championships in Belgrade. Winners at the Emperor's Cup All-Japan Championships held last December who triumph at the Meiji Cup automatically earn tickets to Serbia; if the champion is different, a playoff will be held at the end of that day's action.
None of Japan's Olympic medalists -- and only one of the 12 Olympic team members --competed at the Emperor's Cup, meaning the majority will have to win the Meiji Cup title and the subsequent playoff to go to the World Championships.
The tournament will mark the first time in three years that family members, teammates and spectators will be allowed, as the Japan federation had maintained strict protocols throughout the pandemic. The number of daily infections has been steadily decreasing, and the Japanese government has this month reopened the door to foreign tourists.
The two Tokyo gold medalists who the fans will have to wait to see again are women's 57kg champion Risako KAWAI and freestyle 65kg titlist Takuto OTOGURO, neither of whom are entered.
Kawai, who like Mukaida got married soon after her Tokyo triumph, gave birth to her first child in May, and is eyeing a return at this year's Emperor's Cup in December. An inquiry to Otoguro's Japan Self-Defense Forces team for a reason for his absence went unanswered.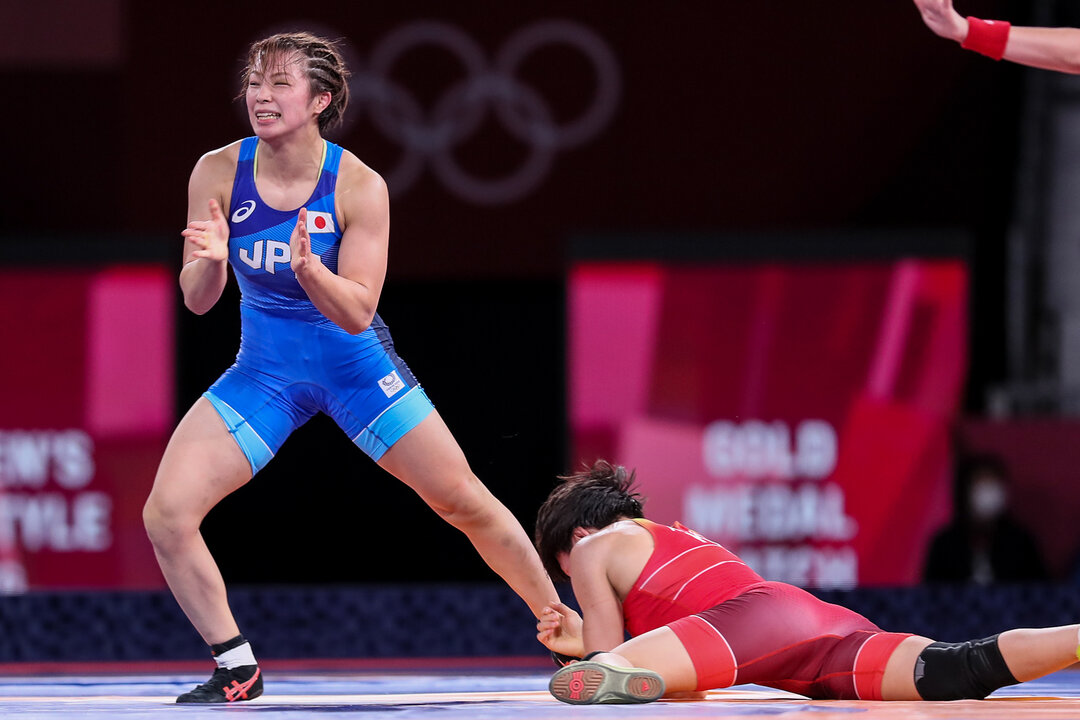 Yukako KAWAI (JPN) is set to return to action for the first time since the Tokyo Olympic Games. (Photo: UWW / Gabor Martin)
The fans, however, will be treated to the return of the other half of the golden Kawai sisters, and Yukako could feature in the match of the tournament if she and 19-year-old defending champion Ozaki clash as expected at 62kg. The two have never faced each other.
Ryo KANEHAMA, Kawai's coach at Suntory Beverage, said that Kawai restarted full-time training about a month after the Olympics and is well prepared for the Meiji Cup. "She has returned to top shape," he said. "About the same level as for the Olympics."
Asked what will be the key point in facing Ozaki, Kanehama replied, "Not allowing her to get her ankles [for a lace lock]. If she gets the ankles, that will lead to big points, so first of all she has to prevent her from using that technique."
On their feet, Kanehama says it's a toss-up between the two. "Until they face each other, we won't know. Ozaki has a really good low single, so the main point will be how well Kawai can keep her from grabbing her leg."
Ozaki, who won consecutive world U17 titles in 2018 and 2019, is coming off a confidence-boosting victory at the Asian Championships in April in Ulaanbaatar, where she beat Olympic silver medalist Aisuluu TYNYBEKOVA (KGZ) in the final to avenge a first-round loss to her at 2021 World Championships.
Last year in Oslo, Ozaki jumped out to a 4-0 lead against Tynybekova, only to see the Kyrgyz star storm back for a 6-4 victory. Ozaki battled back through the repechage to take the bronze in her international senior debut, while Tynybekova won the gold.
Assessing Ozaki's matches with Tynybekova, who has been a longtime nemesis of Kawai, Kanehama observed, "At the World Championships, as I think Ozaki also believes, she made a mistake in strategy. At the recent Asian Championships, I think she reflected on that and used it in her wrestling. She wrestled smart, and I think that shows her progress."
The possible match between Kawai and Ozaki is generating wide interest, and Kanehama is no exception. Asked if he's looking forward to it, he replied, "Sure, they have to eventually face each other somewhere. Heading to the Olympics, it will have to be decided sometime. That day is going to come."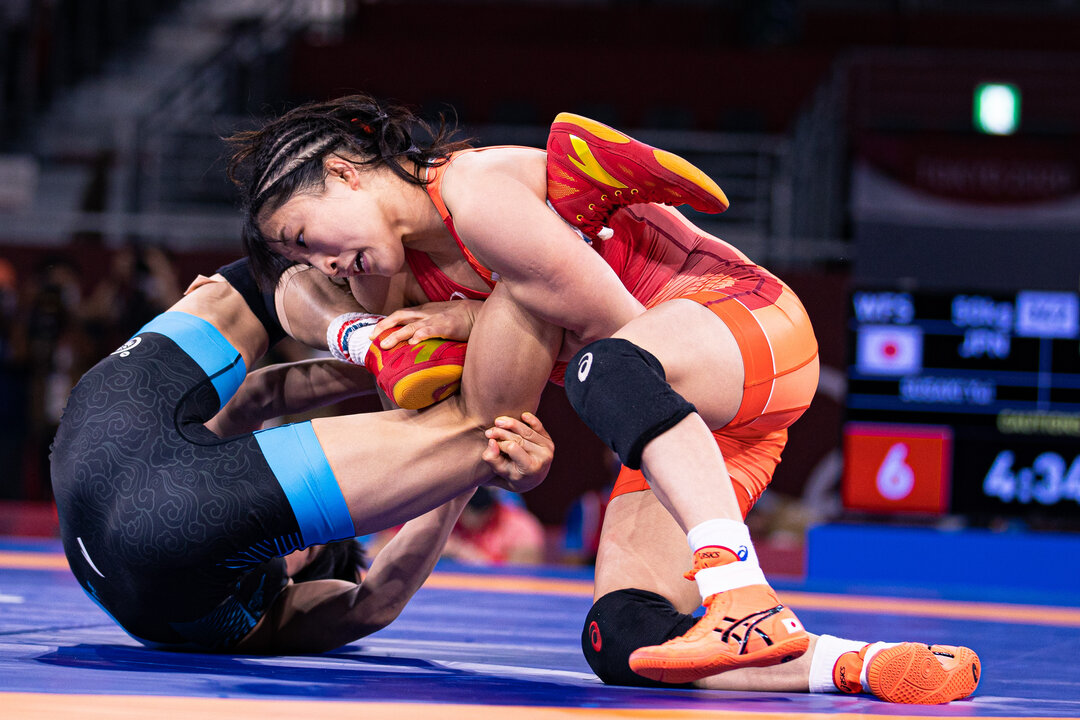 Yui SUSAKI (JPN) will lace her boots up for the first time since outscoring her opponents 41-0 en route to the 50kg Olympic gold medal. (Photo: UWW / Kadir Caliskan)
The other titanic clash could come at 50kg between Susaki and Yoshimoto, although Susaki has to be regarded as the favorite in that one. Susaki, a recent graduate of Waseda University who can now train full-time under corporate sponsorship, defeated Yoshimoto in their two previous encounters, most recently a close 2-1 win at the 2019 Junior Queens Cup.
But Yoshimoto, a senior at Shigakkan University, has made great strides in recent years, as seen in her performance at last year's World Championships, where she reeled off four straight wins by fall or technical fall before beating Olympic bronze medalist Sarah HILDEBRANDT (USA) 5-3 in the final. She was even more dominant at the Asian Championships.
How sharp Susaki will be after her long layoff could determine the outcome.
Meanwhile, Tsugumi SAKURAI has since moved up to 57kg from 55kg, the weight class in which she won the gold in Oslo, as she aims to eventually thwart Risako Kawai's attempt to win a third straight Olympic gold. Sakurai won the Emperor's Cup in December, defeating world bronze medalist Sae NANJO in the final, and a rematch looks likely.
World champion Masako FURUICHI has returned to 72kg after an unsuccessful outing at 68kg at the Emperor's Cup. She could face a showdown with Emperor's Cup champion Sumire NIIKURA, who won a silver medal at the Asian Championships in her first-ever international competition.
Japan's top cat in Greco-Roman, Olympic silver medalist Kenichiro FUMITA, returns as he looks to earn a shot at a third career world title at 60kg. Nicknamed by the Japanese press as the "Cat Wrestler" for his backbone flexibility and love for felines, he will be gunning for his fourth career Meiji Cup title and first since 2019.
Waiting in the wings will be Ayata SUZUKI, who won his second straight Asian bronze medal in April. The two train together at their alma mater Nippon Sports Science University and met in the final of the 2020 Emperor's Cup, with Fumita coming away with a 2-1 victory.
Suzuki won last year's Emperor's Cup, meaning that Fumita will have to beat him in a playoff to earn a ticket to Belgrade. "This time with the Olympics over, Fumita might not be at his sharpest," Suzuki told the Japan federation website. "So I think I have a chance."
At 77kg, Shohei YABIKU will have to perform under the new-found pressure that comes with being an Olympic bronze medalist. As Emperor's Cup champion Kodai SAKURABA is skipping the tournament due to injury, Yabiku can secure a place on the world team outright with a victory.
His main competition will likely come from Nippon Sports Science University's Nao KUSAKA, the Emperor's Cup runner-up and a double collegiate champion.
At 55kg, world champion Ken MATSUI would like nothing better than to have a chance to avenge his humiliating defeat in the Emperor's Cup final to Yu SHIOTANI, who won a second straight Asian gold in Ulaanbaatar.
Shiotani tossed Matsui around like a rag doll, scoring consecutive five-point throws in an 11-0 technical fall in 1:42.
World 63kg bronze medalist Kensuke SHIMIZU, the nephew of a former Olympic speed skating gold medalist, has moved up to 67kg after failing to medal at the Asian Championships. He could clash with Emperor's Cup champion Katsuaki ENDO, who won a bronze medal at 67kg in Ulaanbaatar.
In freestyle, the weight class to watch will be 61kg, which looks to come down to a rematch of the Emperor's Cup final between 2020 Asian bronze medalist Ryuto SAKAKI and Rio Olympic silver medalist Rei HIGUCHI. Sakaki won that encounter 4-0, but much has changed since then.
Higuchi has rebounded well from his calamitous bid to make the Tokyo Games that was scuttled when he failed to make weight at 57kg for the Asian qualifying tournament. When an injury kept Sakaki out of the Asian Championships in Ulaanbaatar, Higuchi stepped in and came away with the 61kg gold, capped by a 46-second win in the final. It was his first major international title since winning the 2018 world U23 gold at 65kg.
Sakaki, the 2017 world 58kg U17 champion, skipped the East Japan college league tournament in April due to injury, so it remains to be seen how effective he will be against the high-flying Higuchi.
Japan's other freestyle Asian champion, the somewhat eccentric Taishi NARIKUNI, will look to make his first senior World Championships by adding the Meiji Cup title at 70kg to his inaugural Emperor's Cup triumph from last December.
Narikuni, whose mother was a two-time world champion and runs the kids club where he started the sport, has been an outlier of sorts in Japan, as he prefers to focus his training mostly in the weight room instead of on the mat. He harbors a bold dream of someday winning world titles in both freestyle and Greco-Roman.
Narikuni won the Asian title when he came back from a 1-3 deficit in the final to defeat world silver medalist Ernazar AKMATALIEV (KGZ) 4-3.
Also worth watching is veteran Sohsuke TAKATANI, who is making his first Meiji Cup outing since 2019. The three-time Olympian was the only member of the Tokyo 2021 squad to compete at the Emperor's Cup, where he moved up from 86kg and won the 92kg crown -- his 11th straight title over four weight classes.
He has entered again at 92kg and will be aiming for his fourth straight Meiji Cup title and sixth in seven years. Takatani was a 2014 world silver medalist at 74kg.
Takatani will be looking to repeat a sibling double with younger brother Daichi, the Emperor's Cup champion at 74kg who won a bronze medal at the Asian Championships.
Among the entries at 86kg is Mao OKUI, who has made a big jump up in weight classes after placing fifth at the 2019 World Championships at 74kg. That earned a place for Japan at the Tokyo Olympics, but Okui failed to fill it himself when he lost to Keisuke OTOGURO, Takuto's older brother, in a playoff for the spot.
At 57kg, Toshihiro HASEGAWA, a 2021 world bronze medalist at 61kg, will be looking to follow up his victory at the Emperor's Cup and return to the World Championships at the Olympic weight. Aiming to stop him will be Yuto TAKESHITA and Rikuto ARAI, Asian bronze medalists in 2021 and 2022, respectively.
This year's Meiji Cup will also be unique in that the federation has taken the rare move of charging a nominal admission fee for general fans. This is likely due to the combination of the Olympic medalists returning to the mat and the fact that this will be the first event fans can see live in such a long time.
A Japan federation official said the last time he can recall tickets being sold for a wrestling tournament was in 2007, when Norifumi "Kid" YAMAMOTO, who had become a popular mixed martial arts competitor, returned to freestyle wrestling at the All-Japan Championships in a bid to make the Beijing Olympics.
The tournament ended for the older brother of multi-world champions Miyu and Seiko YAMAMOTO when he suffered a dislocated elbow 16 seconds into his second-round match at 60kg and lost by fall.
Schedule

June 16 (Thursday)
FS 65kg-79kg; GR 63kg-97kg-130kg; WW 59kg-68kg-76kg
10:00 - 12:30  1st round through quarterfinals
13:00 - 14:00  Semifinals
14:00 - 15:45  Repechage
15:45 - 16:15  3rd-Place Finals
16:15 - 17:35   Finals
June 17 (Friday)
FS 61kg-74kg-125kg; GR 67kg-72kg-87kg; WW 57kg-65kg
10:00 - 12:30  1st round through quarterfinals
12:30 - 13:30  Semifinals
13:30 - 15:15  Repechage
15:15 - 15:45  3rd-Place Finals
15:45 - 17:05   Finals
June 18 (Saturday)
FS 70kg-86kg-92kg-97kg; GR 55kg-82kg; WW 53kg-72kg
10:00 - 12:30  1st round through quarterfinals
12:30 - 13:30  Semifinals
13:30 - 15:15  Repechage
15:15 - 15:45  3rd-Place Finals
15:45 - 17:05   Finals
June 19 (Sunday)
FS 57kg; GR 60kg-77kg; WW 50kg-55kg-62kg
10:00 - 12:30  1st round through quarterfinals
12:30 - 13:15  Semifinals
13:15 - 14:45  Repechage
14:45 - 15:05  3rd-Place Finals
15:05 - 15:30  Ceremony for return of Meiji Cup, etc.
15:30 - 16:50   Finals
*Playoff for World Championships team in weight classes between winners of Emperor's Cup and Meiji Cup will be held approximately one hour after the completion of that day's competition.