Olympic Champ Borrero Survives 'Bracket of Death' to Make 67kg Semis, Secure Tokyo 2020 Spot
Sunday, September 15, 2019 - 10:40 By Ken Marantz
NUR-SULTAN, Kazakhstan (Sept. 15)– Olympic champion Ismael BORRERO (CUB) survived the mine field that was the lower bracket of Greco-Roman 67kg to secure a place for Cuba at the Tokyo 2020 Olympics, although he still has one more barrier to get over if he wants a shot at first world title in four years.
Borrero knocked off in succession three-time world champion Frank STAEBLER (GER) and two-time former world champion RYU Hansu (KOR) to advance to the semifinals of the Greco-Roman 67kg weight class, when he will next face 2018 world U23 champion Mohamed ELSAYED (EGY). 
The other semifinal at 67kg, to be held at the start of the night session at the Barys Arena, will pit reigning champion Artem SURKOV (RUS) against Fredrik BJERREHUUS (DEN).
By advancing to the semifinals, the quartet assured themselves of at worst a top-six finish – which brings with it a berth for their country at Tokyo 2020. Sunday's day session marked the start of competition in three Olympic weight classes in Greco, and Russia was the only country to secure more than one berth.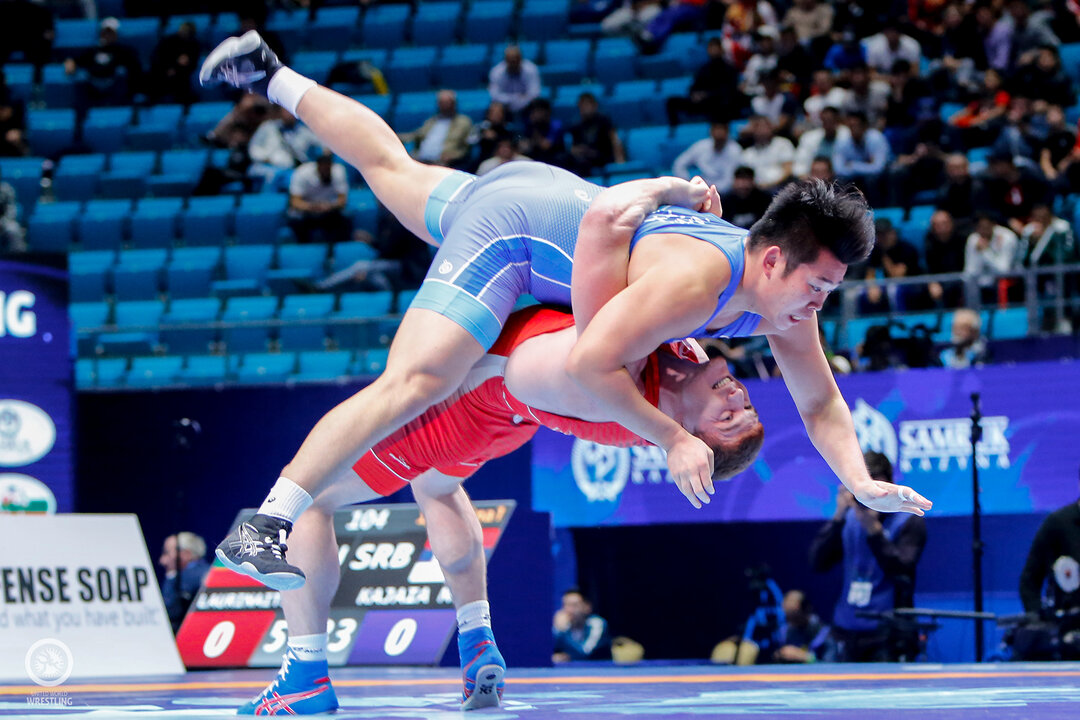 Musa EVLOEV (RUS) moved into the 97kg semifinals with a 9-0 win over Tadeusz MICHAELIK (POL). (Photo: Gabor Martin) 
Musa EVLOEV (RUS), the defending champion at 97kg, had little trouble advancing the semifinal, topping his afternoon with two big throws in storming to a 9-0 technical fall in 2:00 over Tadeusz MICHAELIK (POL). 
Evloev will face 2018 world bronze medalist Mihail KAJAIA (SRB), while the semifinal will be a clash between 2017 world champion Artur ALEKSANYAN (ARM) and Giorgi MELIA (GEO).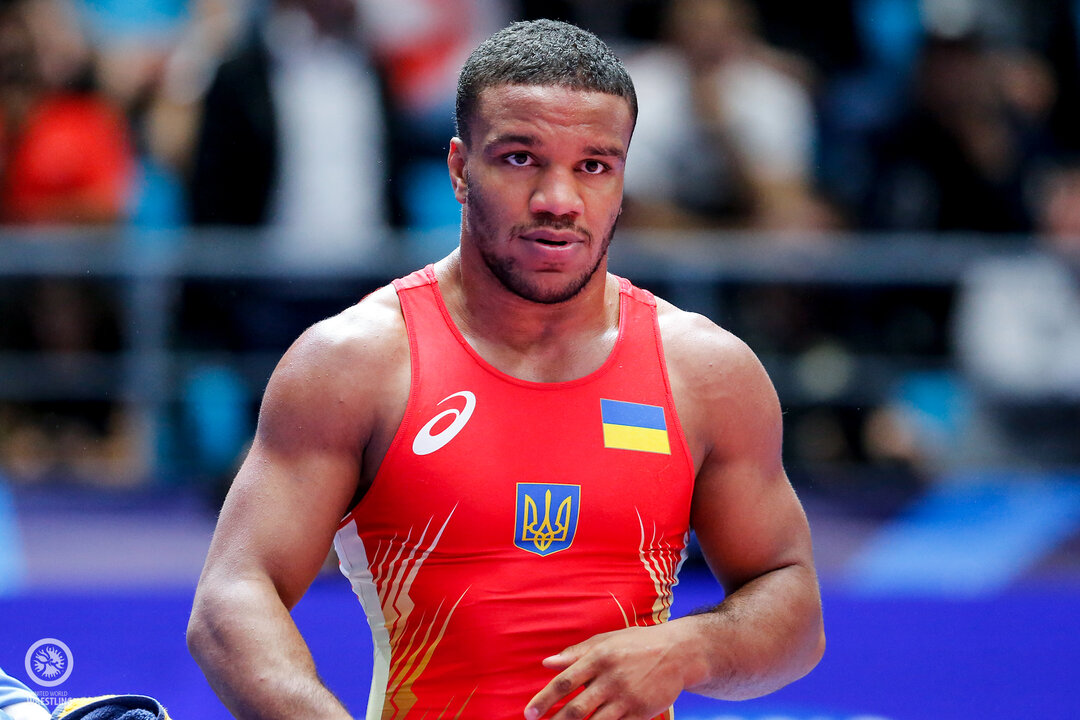 Zhan BELENIUK (UKR) will meet Denis KUDLA (GER) in a semifinal battle of Rio Olympic medalists. Beleniuk was a silver medalist and Kudla finished with a bronze medal. (Photo: Gabor Martin) 
At 87kg, top seed Zhan BELENIUK (UKR), the silver medalist a year ago in Budapest and this year's European champion, put together a string of solid matches to make the semifinals, where he will face European bronze medalist Denis KUDLA (GER). 
In the other semifinal, Viktor LORINCZ (HUN), the 77kg silver medalist in Budapest, set up a final-four match with Asian bronze medalist Rustam ASSAKALOV (UZB), who knocked off defending champion Metehan BASAR (TUR) by fall, then repeated that result against Aleksandr KOMAROV (RUS).  
The highlights of the day came at 67kg, where any number of matches could have been for a gold under different circumstances. 
Ryu, the 2013 and 2017 world champion, had his hands full right off the bat by having to face 2015 gold medalist Rasul CHUNAYEV (AZE), but slipped through with a 2-1 win. A win over European champion Atakan YUKSEL (TUR) put him into the quarterfinals against Borrero.
Borrero, meanwhile, posted a pair of technical fall wins to set up a third-round clash with Staebler, the 72kg world champion who dropped down to the Olympic weight class. On this day, Borrero was totally dominant, building up a 6-0 lead, then ending the proceedings with a flashy 5-point reverse throw. 
Borrero had a far tougher time against Ryu, as neither could score big points and the Cuban held on for the 3-1 win. 
Elsayed was not immune to dodging a few bullets himself. In the third round against European bronze medalist Karen ASLAYAN (ARM), Elsayed was trailing 3-3 on criteria when the Armenian was penalized 2 points with :33 to go. An unsuccessful challenge gave Elsayed a 6-3 win. 
Following the three semifinals, the night session will feature the medal matches in the four non-Olympic weight classes of 55kg, 63kg, 72kg and 82kg. 
Greco-Roman Pairings
55kg (20 entries)
Gold – Khorlan ZHAKANSHA (KAZ) vs Nugzari TSURTSUMIA (GEO)
Bronze – CAO Liguo (CHN) vs Shota OGAWA (JPN) 
Bronze – Max NOWRY (USA) vs Eldaniz AZIZLI (AZE)
63kg (18 entries)
Gold – Stepan MARYANYAN (RUS) vs Shinobu OTA (JPN)
Bronze – Tynar SHARSHENBEKOV (KGZ) vs Almat KEBISPAYEV (KAZ)
Bronze – Meysam DALKHANI (IRI) vs Slavik GALSTYAN (ARM)
67kg (41 entries)
Semifinal – Artem SURKOV (RUS) vs Fredrik BJERREHUUS (DEN)
Semifinal – Mohamed ELSAYED (EGY) vs Ismael BORREO (CUB) 
72kg (25 entries)
Gold – Aram VARDANYAN (UZB) vs Abulazid MANTSIGOV (RUS)
Bronze – LEE Jiyeon (KOR) vs Balint KORPASI (HUN)
Bronze – Michael WIDMAYER (GER) vs Aik MNATSAKANIAN (BUL)
82kg (23 entries)
Gold – Lasha GOBADZE (GEO) vs Rafig HUSEYNOV (AZE)
Bronze – Iurii SCKRUIBA (UKR) vs Saied ABDVALI (IRI)
Bronze – QIAN Haitao (CHN) vs Nurbek KHASHIMBEKOV (UZB)
87kg (39 entries)
Semifinal – Zhan BELENIUK (UKR) vs Denis KUDLA (GER)
Semifinal – Viktor LORINCZ (HUN) vs Rustam ASSAKALOV (UZB)
97kg (37 entries)
Semifinal – Musa EVLOEV (RUS) vs Mihail KAJAIA (SRB)
Semifinal – Giorgi MELIA (GEO) vs Artur ALEKSANYAN (ARM)