Oleg Karavaev Entries
Thursday, July 18, 2019 - 16:45 By Eric Olanowski
MINSK, Belarus (July 19) --- The regular season closes out next week with the final Greco-Roman Ranking Series event, the Oleg Karavaev. The two-day tournament, which will be held in Minsk, Belarus, will feature nearly 175 wrestlers from 19 different nations.
Emrah KUS (TUR), the reigning world runner-up and No. 1-ranked wrestler in the world at 82kg, leads a field littered with 24 wrestlers who are ranked inside the top-20 of the latest Greco-Roman rankings. Kus' weight of 82kg will feature six ranked wrestlers -- which is the most top-20 guys in one bracket.
Two other stacked weight classes to pay attention to are 67kg and 130kg. Both weights house at least four top-20 competitors.
Wrestling at the Palace of Sports begins on July 26 and can be followed live on www.unitedworldwrestling.org.
ENTRIES
55kg
Manjeet MANJEET (IND)
Vijay VIJAY (IND)
Maksym VYSOTSKYI (ISR)
Vladimir ZABEYVOROTA RUS)
Emin Narimanovitch SEFERSHAEV (RUS)
60kg
Ihar DROZD (BLR)
Dzmitry BRYCHAK (BLR)
Marat GARIPOV  (BRA)
Gautam YADAV (IND)
Vijay VIJAY (IND)
Manish MANISH (IND)
Kenichiro FUMITA (JPN)
Khorlan ZHAKANSHA  (KAZ)
Amangali BEKBOLATOV (KAZ)
Zhanserik SARSENBIYEV (KAZ)
Seunghak KIM (KOR)
Artur PETROSIAN (RUS)
Sadyk LALAEV(RUS)
Ahmet UYAR   (TUR)
Andriy MARTYNYUK (UKR)
Ihor KUROCHKIN (UKR)
Javokhir MIRAKHMEDOV (UZB)
Ilkhom BAKHROMOV (UZB)
63kg
Yahor BELIAK  (BLR)
Aliaksandr PECHURENKA (BLR)
Erbatu TUO (CHN)
Sailike WALIHAN (CHN)
Juuso Aleksi LATVALA (FIN)
Sagar SAGAR (IND)
Shinobu OTA (JPN)
Aidos SULTANGALI (KAZ)
Mirambek AINAGULOV (KAZ)
Damir ZARLYKHANOV (KAZ)
Justas PETRAVICIUS (LTU)
Roman Aleksandrovich IVANOV (RUS)
Shamil Salauddinovitch MUALIEV (RUS)
Fadis VALITOV (RUS)
Nasrullakh NASIBOV (UKR)
Elmurat TASMURADOV (UZB)
Islomjon BAKHRAMOV (UZB)
Firuz TUKHTAEV (UZB)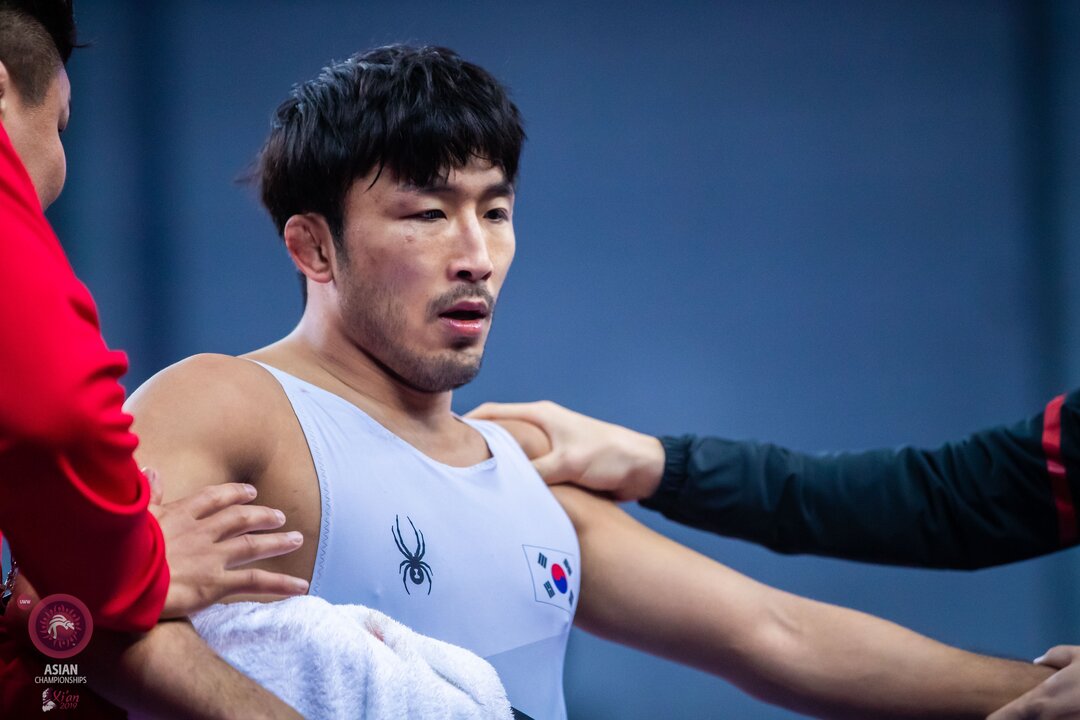 Second-ranked Hansu RYU (KOR) will lock up the No. 2 seed at the World Championships with a win in Minsk. (Photo: Sachiko Hotaka)
67kg 
Soslan DAUROV (BLR)
Maksim NEHODA (BLR)
Mikita BARANAU (BLR)
Fredrik Holmquist BJERREHUUS (DEN)
Mohamed Ibrahim Elsayed Ibrahi ELSAYED (EGY)
Abouhalima Mohamed Elsaid ABOUHALIMA (EGY)
Manish MANISH (IND)
Tsuchika SHIMOYAMADA (JPN)
Shogo TAKAHASHI (JPN)
Daniyar KALENOV (KAZ)
Ruslan ITEMGENOV (KAZ)
Hansu RYU (KOR)
Aleksandrs JURKJANS (LAT)
Edgaras VENCKAITIS (LTU)
Alen MIRZOIAN (RUS)
Miakhdi Abubakarovitch IAKHIAEV (RUS)
Enes BASAR (TUR)
Murat FIRAT (TUR)
Vasyl SYMONENKO (UKR)
Aram VARDANYAN (UZB)
Makhmud BAKHSHILLOEV (UZB)
Mirzobek RAKHMATOV (UZB)
72kg 
Ruslan AHAMALYIEU (BLR)
Anton KORABAU (BLR)
Uladzislau MANKEVICH (BLR)
Gaoquan ZHANG (CHN)
Hassan Hassan Ahmed MOHAMED (EGY)
Miras AKHMETZHANOV (KAZ)
Meiirzhan SHERMAKHANBET (KAZ)
Kristupas SLEIVA (LTU)
Magomed YARBILOV (RUS)
Narek OGANIAN (RUS)
Arslan ZUBAIROV (RUS)
Andrii KULYK (UKR)
77kg 
Pavel LIAKH (BLR)
Tsimur BERDYIEU (BLR)
Anton SAKHNO (BLR)
Ridong ZHANG (CHN)
Hujun ZHANG  (CHN)
Jakub BIELESZ (CZE)
Mohamed Ehab Mohamed Zahab KHALIL (EGY)
Sakke Petteri PUROLAINEN (FIN)
Niko Olavi Oskari ERKKOLA (FIN)
Yogesh YOGESH (IND)
Sajan SAJAN (IND)
Naotsugu SHOJI (JPN)
Shohei YABIKU (JPN)
Ibragim MAGOMADOV (KAZ)
Paulius GALKINAS (LTU)
Rafael IUNUSOV (RUS)
Islam OPIEV (RUS)
Akhmed KAYTSUKOV  (RUS)
Serkan AKKOYUN (TUR)
Ivan KRAICHEV (UKR)
Yasaf ZEINALOV (UKR)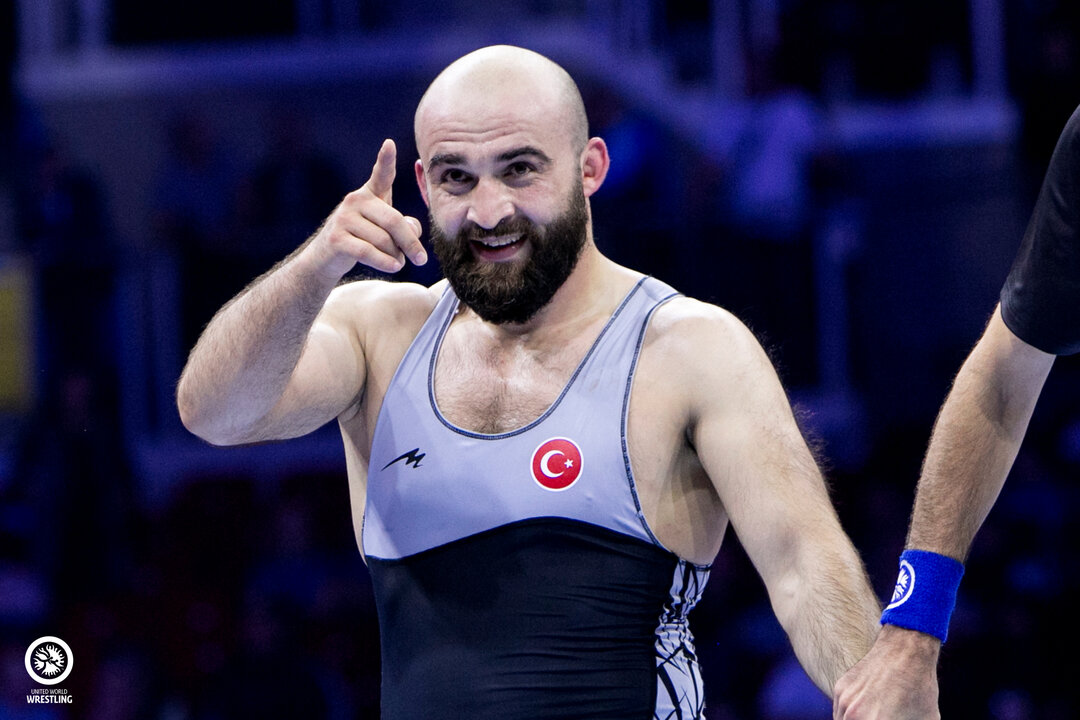 Top-ranked Emrah KUS (TUR) leads an 82kg field that has six ranked wrestler that'll be in action. (Photo: Gabor Martin) 
82kg 
Viktar SASUNOUSKI (BLR)
Stanislau SHAFARENKA (BLR)
Mikita KLIMOVICH (BLR)
Haitao QIAN (CHN)
Bin YANG (CHN)
Oldrich VARGA (CZE)
Rajbek Alvievich BISULTANOV (DEN)
Singh GURPREET (IND)
Singh HARPREET (IND)
Igor PETRISHIN (ISR)
Maxat YEREZHEPOV (KAZ)
Askhat ZHANBIROV (KAZ)
Miras BARSHYLYKOV (KAZ)
Milad Valerikovitch ALIRZAEV (RUS)
Emrah KUS (TUR)
Ruslan KONIEV (UKR)
Jalgasbay BERDIMURATOV (UZB)
Bilan NALGIEV (UZB)
Nurbek KHASHIMBEKOV (UZB)
87kg
Radzik KULIYEU (BLR)
Mikalai STADUB (BLR)
Kiryl MASKEVICH (BLR)
Junjie NA (CHN)
Mohamed Moustafa Ahmed Abdall METWALLY (EGY)
Kumar SUNIL (IND)
Takahiro TSURUDA (JPN)
Masato SUMI  (JPN)
Azamat KUSTUBAYEV (KAZ)
Baurzhan MUSSIN (KAZ)
Laimutis ADOMAITIS (LTU)
Martynas NEMSEVICIUS (LTU)
Julius MATUZEVICIUS (LTU)
Vaag MARGARIAN (RUS)
Gazi KHALILOV (RUS)
Dogan GOKTAS (TUR)
Muhammadali SHAMSIDDINOV (UZB)
Rustam ASSAKALOV (UZB)
97kg
Aliaksandr HRABOVIK (BLR)
Siarhei STARADUB (BLR)
Dzmitry KAMINSKI (BLR)
Yanan CHEN (CHN)
Yan LIU (CHN)
Artur OMAROV (CZE)
Ondrej DADAK (CZE)
Mathias BAK (DEN)
Ravi RAVI (IND)
Yuta NARA (JPN)
Olzhas SYRLYBAY (KAZ)
Yerulan ISKAKOV (KAZ)
Alimkhan SYZDYKOV (KAZ)
Vilius LAURINAITIS (LTU)
Ruslan BEKUZAROV (RUS)
Fatih BASKOY (TUR)
Suleyman DEMIRCI (TUR)
Ibrahim TIGCI (TUR)
Zielimkhan DZIHASOV (UKR)
Oleksandr SHYSHMAN (UKR)
Jahongir TURDIEV (UZB)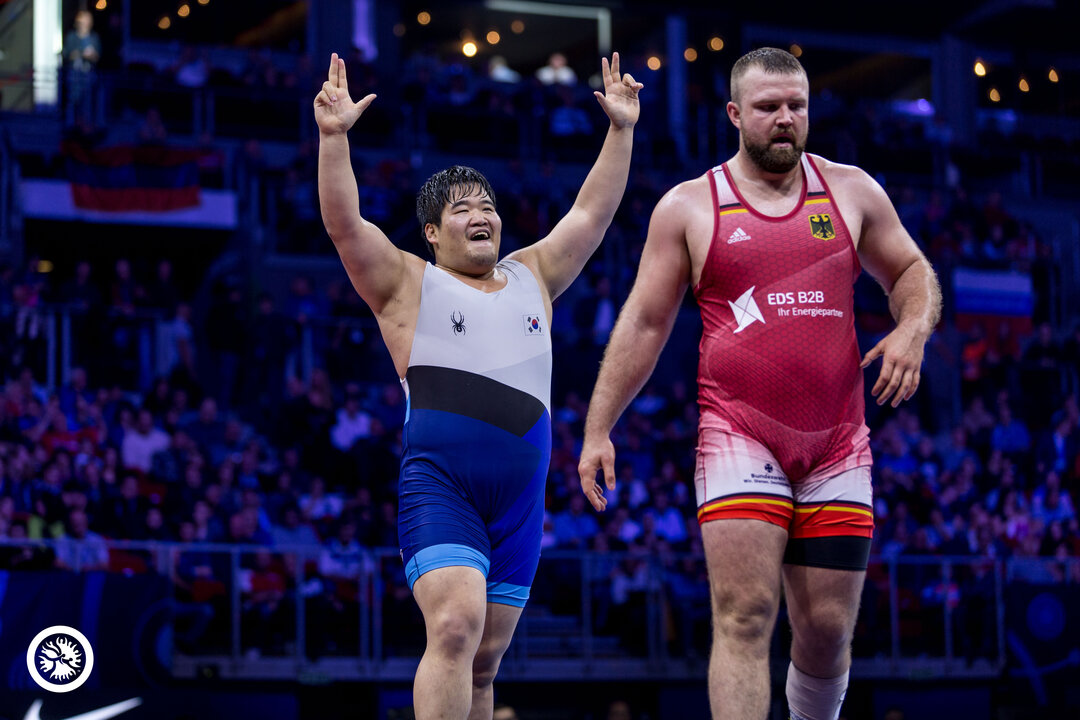 KIM Minseok (KOR), a Budapest world bronze medalist, only need one point to lock up at least a top-four seed at the World Championships. (Photo: Max Rose-Fyne)
130kg
Kiryl HRYSHCHANKA (BLR)
Georgi CHUGOSHVILI (BLR)
Javid HAMZATAU (BLR)
Yasmani ACOSTA FERNANDEZ (CHI)
Di XIAO (CHN)
Lingzhe MENG (CHN)
Stepan DAVID (CZE)
Abdellatif Mohamed Ahmed MOHAMED (EGY)
Konsta Johannes MAEENPAEAE (FIN)
Tuomas Heikki Juhani LAHTI (FIN)
Naveen NAVEEN (IND)
Damir KUZEMBAYEV (KAZ)
Mansur SHADUKAYEV (KAZ)
Minseok KIM (KOR)
Romas FRIDRIKAS (LTU)
Oleg Kahaberovitch AGAKHANOV (RUS)
Osman YILDIRIM (TUR)
Muminjon ABDULLAEV (UZB)