Okuno, Ota Enter Japan World Team Playoffs in Non-Olympic Weights
Monday, July 15, 2019 - 19:55 By Ken Marantz
World champion Haruna OKUNO and Rio 2016 Olympic silver medalist Shinobu OTA, who missed out on places on Japan's team to this year's World Championships in Olympic weight classes, have entered the playoffs for spots in non-Olympic divisions, the Japan Wrestling Federation announced on its website.
Okuno, the world champion last year in Budapest at 53kg, will move up to 55kg---the same weight class she won a world gold at Paris 2017. Okuno was defeated in the Japan team qualifying at 53kg by Mayu Mukaida, the world champion at 55kg who dropped down to the Olympic weight.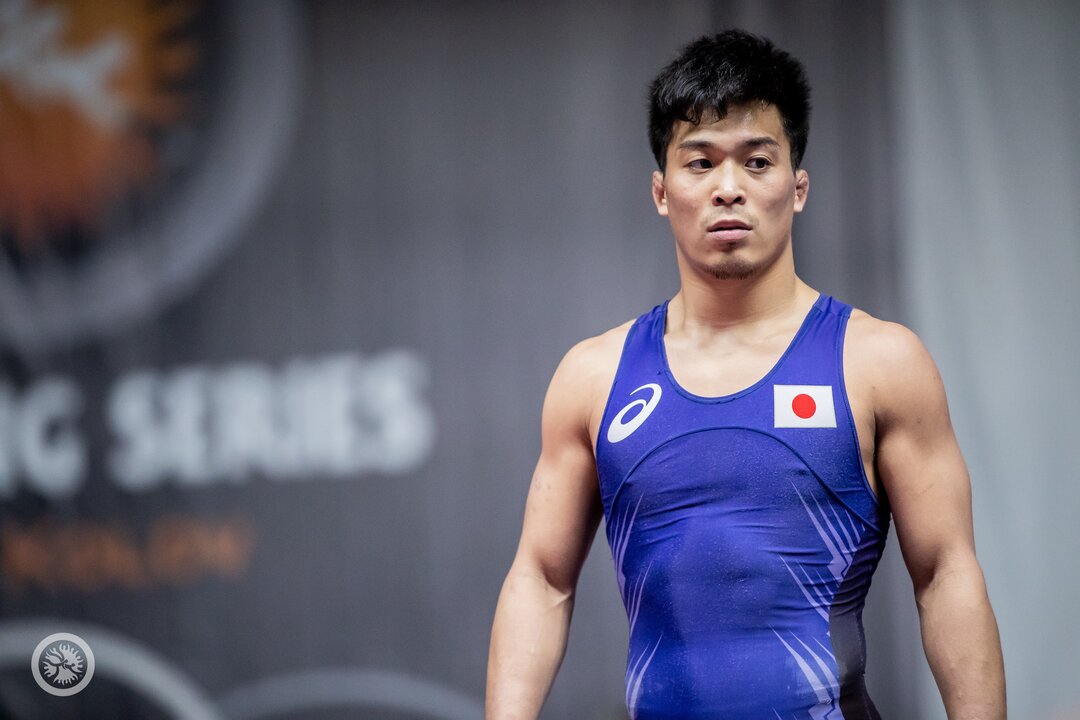 Shinobu OTA​ ​​​​​​will take on Yoshiki YAMADA in the 63kg playoff. (Photo: Sachiko Hotaka) 
Likewise, Asian champion Ota failed to displace 2017 world champion Kenichiro FUMITA at Greco-Roman 60kg, and will now try to make the team at 63kg in the non-Olympic weight playoffs, to be held July 21 at the National Training Center in Tokyo.
This year, the Japan Federation decreed that any wrestler winning a medal in Nur-Sultan in an Olympic weight class would automatically secure a spot at the Tokyo 2020 Olympics.
Such an incentive caused a scramble among top wrestlers into the six Olympic weight classes in each style. In addition to the clash of world champions Okuno and Mukaida, it also produced a highly publicized battle between Olympic gold medalists Risako KAWAI and Kaori ICHO at 57kg, from which Kawai emerged victorious.
To dispatch as strong a team as possible to Nur-Sultan 2019, the federation is allowing the runner-ups in the Olympic weight classes in the two national tournaments, which served as the world team qualifiers, to enter the playoffs in the non-Olympic weights.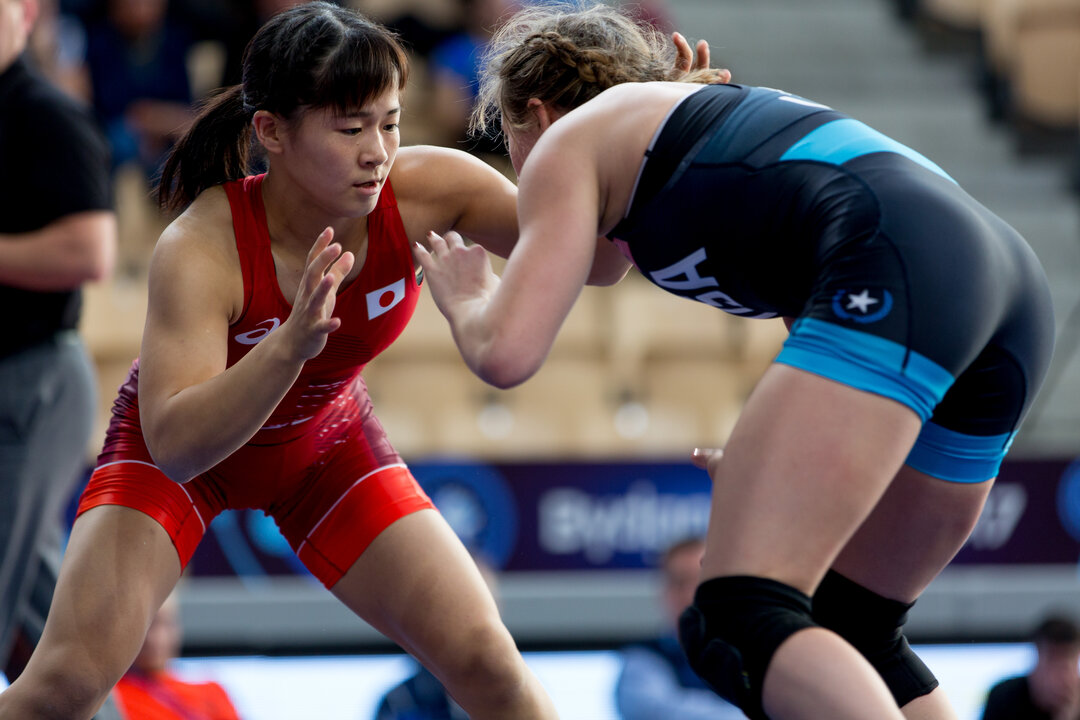 Haruna OKUNO will wrestle Saki IGARASHI and Nanami IRIE in a three-way wrestle-off for the world team spot at 55kg. (Photo: Max Rose-Fyne) 
At women's 55kg, Okuno faces a three-way wrestle-off with Saki IGARASHI, winner of the All-Japan Invitational (Meiji Cup) title in June, and Nanami IRIE, who was second to Mukaida at 53kg at the All-Japan Championships (Emperor's Cup) last December. Okuno had missed the latter tournament due to illness.
Igarashi, a Shigakkan University teammate of Okuno's, won both the world junior and U-23 titles in 2018, and was second at this year's Asian Championships. Irie was a world junior champion in 2015, but has been largely overshadowed by older sister Yuki, who famously knocked off two-time reigning world champion Yui SUSAKI at 50kg.
Okuno has faced Irie twice recently, beating her 5-2 in the Meiji Cup semifinals this year and by fall in the quarterfinals in 2018. Okuno and Igarashi met twice as high schoolers in the finals of two national tournaments in 2016, with Okuno winning both on points.
Ota's path to Nur-Sultan has just one obstacle in the form of Meiji Cup champion Yoshiki YAMADA. Ota has experience at the heavier weight, having won the Grand Prix of Hungary and placing second at the Dan Kolov-Nikola Petrov Tournament at 63kg earlier this year.
In other weight classes, Daichi TAKATANI, a silver medalist at both the Asian Championships and Asian Games in 2018, has moved up to 70kg after failing to displace world champion Takuto OTOGURO at 65kg.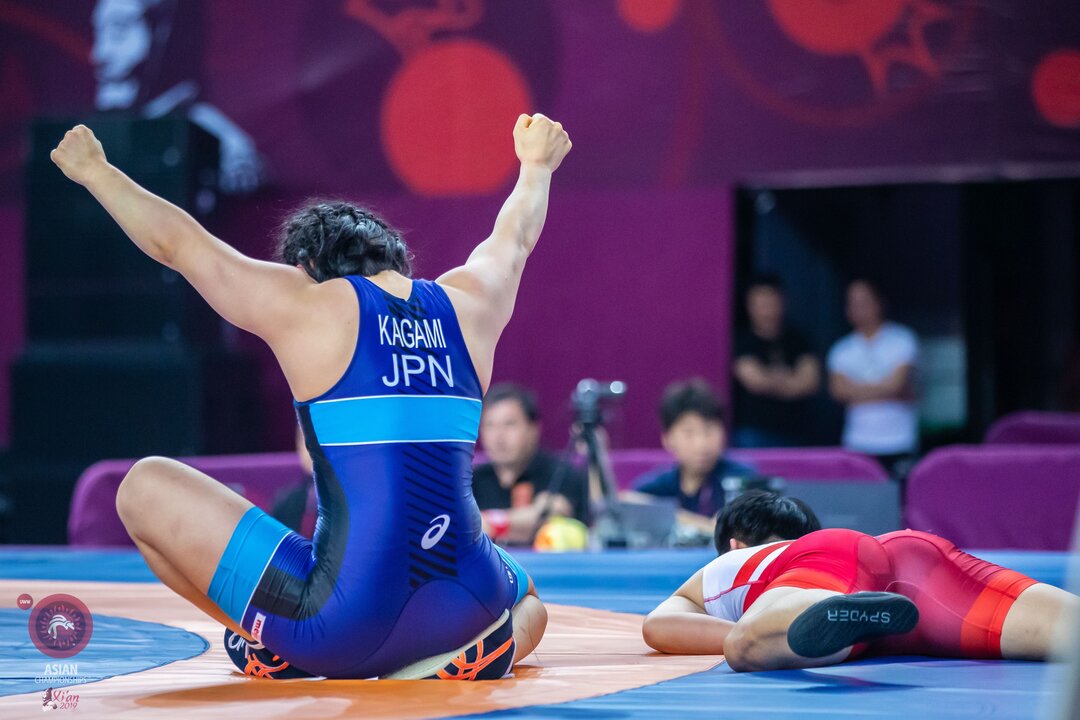 Yuka KAGAMI, a two-time cadet world champion, will try to make the world team at 72kg. (Photo: Sachiko Hotaka) 
The women's 72kg class in the lone division to draw four entries, including high school phenom Yuka KAGAMI. Kagami, a two-time world cadet champion who captured an Asian senior gold in April, won the Emperor's Cup at 72kg, but failed in a bid to knock off two-time world bronze medalist Hiroe MINAGAWA at 76kg at the Meiji Cup.
Two other high schoolers have a chance to earn tickets to the senior worlds: Yuzuka INAGAKI, the senior Asian champion at women's 59kg, and Yudai TAKAHASHI, who is fresh off a victory at the Asian Cadet Championships, also held in Nur-Sultan.
One notable name who was eligible but did not enter the wrestle-off was world bronze medalist Atsushi MATSUMOTO, the Emperor's Cup champion at freestyle 92kg whose absence will concede the spot to Meiji Cup winner Takuma OTSU.
Matsumoto had moved up to the Olympic weight of 97kg for the Meiji Cup, but did not advance past the semifinals.