Mohammadian Mauls Snyder En Route to Matteo Pellicone Title
Friday, January 17, 2020 - 20:06 By Eric Olanowski
ROME, Italy (January 17) --- Even before bulldozing Aliaksandr HUSHTYN (BLR) in the 97kg finals on Friday night, Mohammadhossein MOHAMMADIAN (IRI) outscored his four pre-final opponents 32-0 and pancaked Olympic champion Kyle SNYDER (USA) while shutting him out 8-0 at the time of the fall. 
He ended up outscoring his five Friday opponents 41-0, but his pin over Snyder minimized the seismic day that he had, which saw him defeat an Olympic champion, a U23 world champion, a world bronze medalist and a world fifth-place finisher.
Mohammadian kickstarted his day by walloping Alisher YERGALI (KAZ), a fifth-place finish in Nur-Sultan. The Iranian downed the man who qualified Kazakhstan for the 2020 Olympic Games, 11-0. He followed up that hot start with a second technical superiority victory. This time, he thumped reigning U23 world champion Bo NICKAL (USA), 10-0.
In the quarterfinals, Mohammadian picked up arguably the biggest win of his career when he flattened Olympian champion, Kyle Snyder, while commanding an 8-0 lead. An 11-0 showing against 2018 world bronze-medal finisher Abraham de Jesus CONYEDO RUANO (ITA) inserted the Iranian into the finals, where he met Aliaksandr HUSHTYN (BLR) for the 97kg title. He capped off his dominant run to a Matteo Pellicone gold medal, where he outscored his five opponents 41-0, with a 9-0 blanking of Hushtyn and brought home his first career Rankings Series title.
At 125kg, Amir ZARE (IRI) celebrated his 19th birthday by showing the Italian friendly crowd how youth prevails, even against a 13-year veteran like Bilial MAKHOV (RUS). Zare, who was just six years old when Makhov won his first of three world titles, weathered the upper body threat from the Russian big man and scored the go-ahead takedown with 32 seconds left to win the 125kg gold medal, 5-3.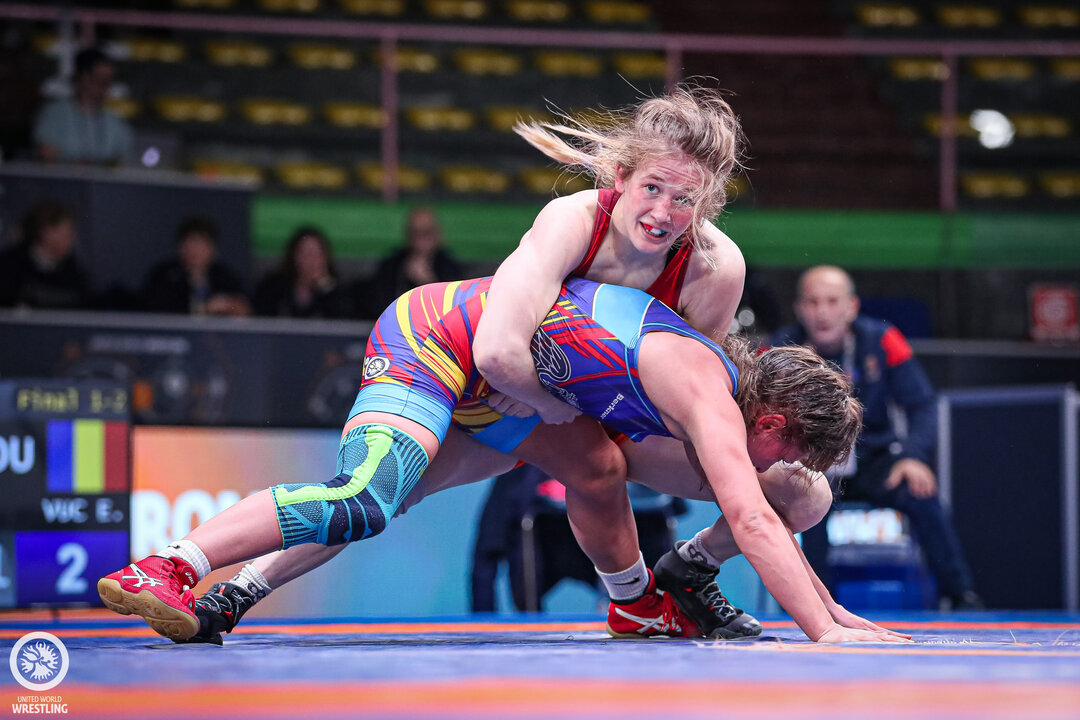 Sarah HILDEBRANDT (USA) peaks at the clock while she was looking for the match-deciding takedown in the 50kg finals. (Photo: Kadir Caliskan)
Women's Wrestling
If there were any questions surrounding Sarah HILDEBRANDT (USA) moving down to 50kg coming into Rome – they've been answered on Friday night. Hildebrandt scored a takedown with two seconds left and stole the gold medal from Emilia VUC (ROU) in the 50kg finals battle that featured a pair of past world silver medalists. With a smile on her face from ear-to-ear, Hildebrandt said, "I like the sound of that, 50kg champ!" 
The American, who was down 2-1 with under 10 seconds left, said she told herself, "You're not going to win because I'm not going to lose." And that's exactly what happened. 
The 2018 world silver medalist used an underhook throw by with under ten seconds left to get to the body of her Romanian opponent. Then, she snaked her left arm out, and barley scored the takedown as time expired to win her second Ranking Series title, 4-2.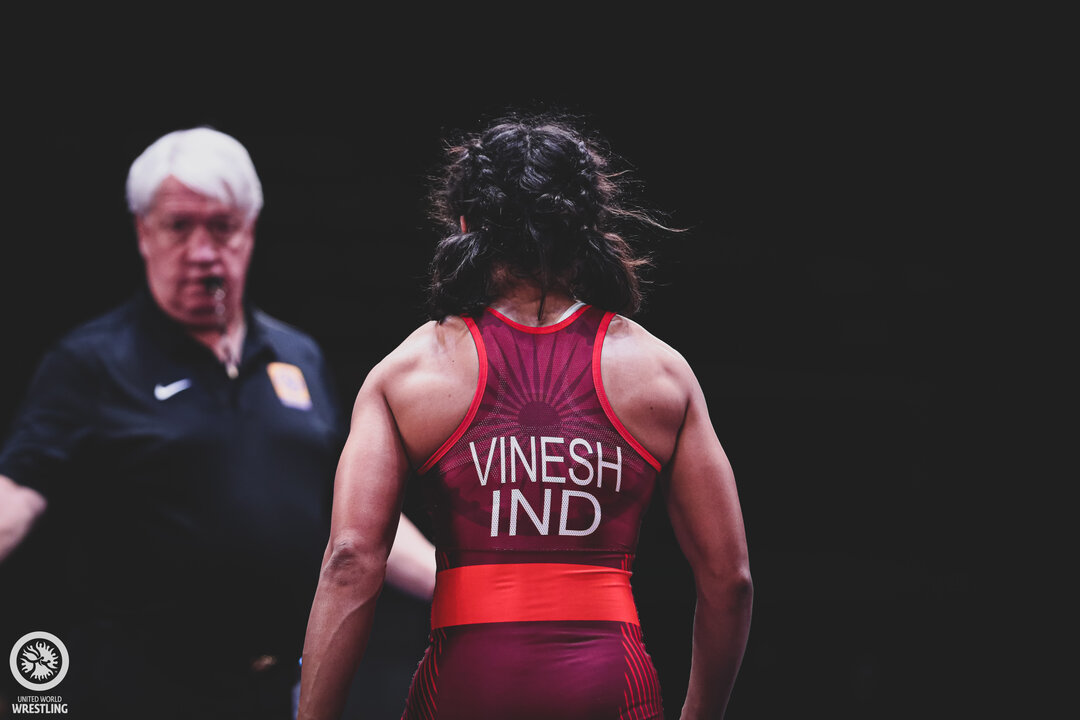 Vinesh VINESH (IND) scored two takedowns in the 53kg finals and defeated Luisa Elizabeth VALVERDE MELENDRES (ECU), 4-0. (Photo: Kadir Caliskan)
In the 53kg finals, Vinesh VINESH (IND) locked up a takedown in each period and shutout Luisa Elizabeth VALVERDE MELENDRES (ECU), 4-0. 
"I feel very good because this is the first competition of the year, and the Olympics are very near," said Vinesh. "This was my first match with Ecuador, and I didn't know how she wrestles and what techniques she uses."
The 2019 world bronze medalist added, "It's my one year in this weight category (53kg) is finished, and I need more matches." And for her will come next in March at the 2020 Asian Championships in New Delhi, India. "We've waited for a competition in India, and now (that'll be) the Asian Championships." She continued by saying, "When you (wrestle) in your hometown, this feeling is incredible." 
Vanesa KALADZINSKAYA (BLR), Inna TRAZHUKOVA  (RUS) and Maria SELMAIER (GER) claimed the 55kg, 65kg, and 72kg Nordic style bracket gold medals, respectively.
RESULTS
Freestyle

97kg
GOLD - Mohammadhossein MOHAMMADIAN (IRI) df. Aliaksandr HUSHTYN (BLR), 9-0 
BRONZE - Kyle Frederick SNYDER (USA) df. Abraham de Jesus CONYEDO RUANO (ITA), 12-1 
BRONZE - Murazi MCHEDLIDZE (UKR) df. Pavel OLEJNYIK (HUN), 8-4
125kg
GOLD - Amir ZARE (IRI) df. Bilial MAKHOV (RUS), 5-3
BRONZE - Amarveer DHESI (CAN) df. Daniel LIGETI (HUN), 8-4
BRONZE - Yusup BATIRMURZAEV (KAZ) df. Nick MATUHIN (GER), 8-3
Women's Wrestling 
50kg 
GOLD - Sarah Ann HILDEBRANDT (USA) df. Emilia Alina VUC (ROU), 4-2 
BRONZE - Oksana LIVACH (UKR) df. Whitney CONDER (USA), 10-2
BRONZE - Victoria Lacey ANTHONY (USA) df. Devi NIRMALA (IND), 4-1 
53kg
GOLD - Vinesh VINESH (IND) df. Luisa Elizabeth VALVERDE MELENDRES (ECU), 4-0 
BRONZE - Katherine Grace SHAI (USA) df. Meng Hsuan HSIEH (TPE), 10-0 
BRONZE - Qianyu PANG (CHN) df. Lannuan LUO (CHN), 10-0 
55kg 
GOLD – Vanesa KALADZINSKAYA (BLR) 
SILVER – Iryna HUSYAK (UKR)
BRONZE – Stalvira ORSHUSH (RUS) 
65kg
GOLD – Inna TRAZHUKOVA  (RUS) 
SILVER – Oksana KUKHTA HERHEL (UKR)
BRONZE –  Hsin Ping PAI (TPE)
72kg
GOLD – Maria SELMAIER (GER) 
SILVER – Anastasiya ZIMIANKOVA (BLR)
BRONZE – Enrica RINALDI (ITA)