Mattsson, Sadulaev Strike Gold Again at European Games; Aliyev Dominates
Thursday, June 27, 2019 - 20:21 By United World Wrestling Press
MINSK, Belarus (June 27) - On Thursday, Sofia MATTSSON (SWE) and Abdulrashid SADULAEV (RUS) captured their second European Games gold medals in as many tries.
One was pushed to limits, while the other did not break a sweat. 
Mattsson, a six-time world medalist and Olympic bronze medalist, held on to defeat Yulia KHAVALDZHY (UKR) 6-4 in the gold-medal match at 53kg. 
The 29-year-old Swedish wrestler raced out to a 6-0 lead at the break after picking up three takedowns in the first period. Khavaldzhy got on the scoreboard with a takedown early in the second period. Trailing 6-2 late the in the match, Khavaldzhy fired off a shot and scored a takedown and put Mattsson in trouble. She was initially awarded four points for the exchange, which would have given her a 6-6 win on criteria. But Mattsson challenged the call and it was overturned. Two points were taken off the scoreboard, giving Mattsson the victory.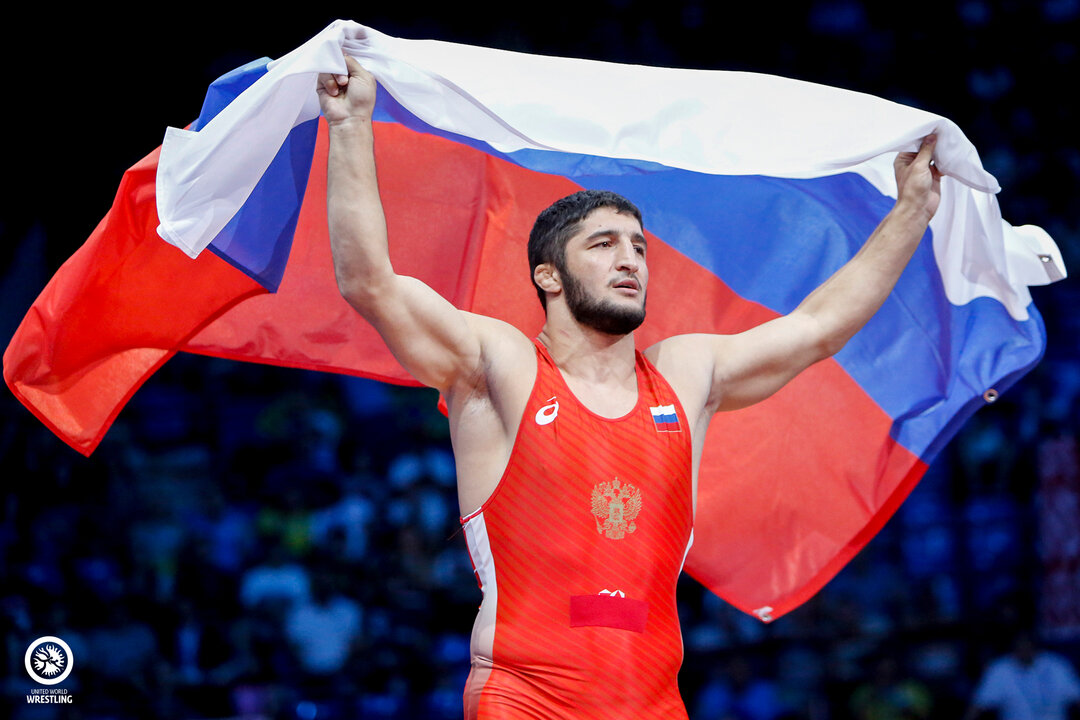 Sadulaev, a 2016 Olympic champion and three-time world champion, added second European Games gold medal to his list of accomplishments after getting an injury default against Nurmagomed GADZHIYEV (AZE) in the gold-medal match at 97kg. Gadzhiyev walked out on to the mat with a heavily bandaged leg and Sadulaev was given the injury default victory. Sadualev's European Games gold medal in 2015 game at 86kg.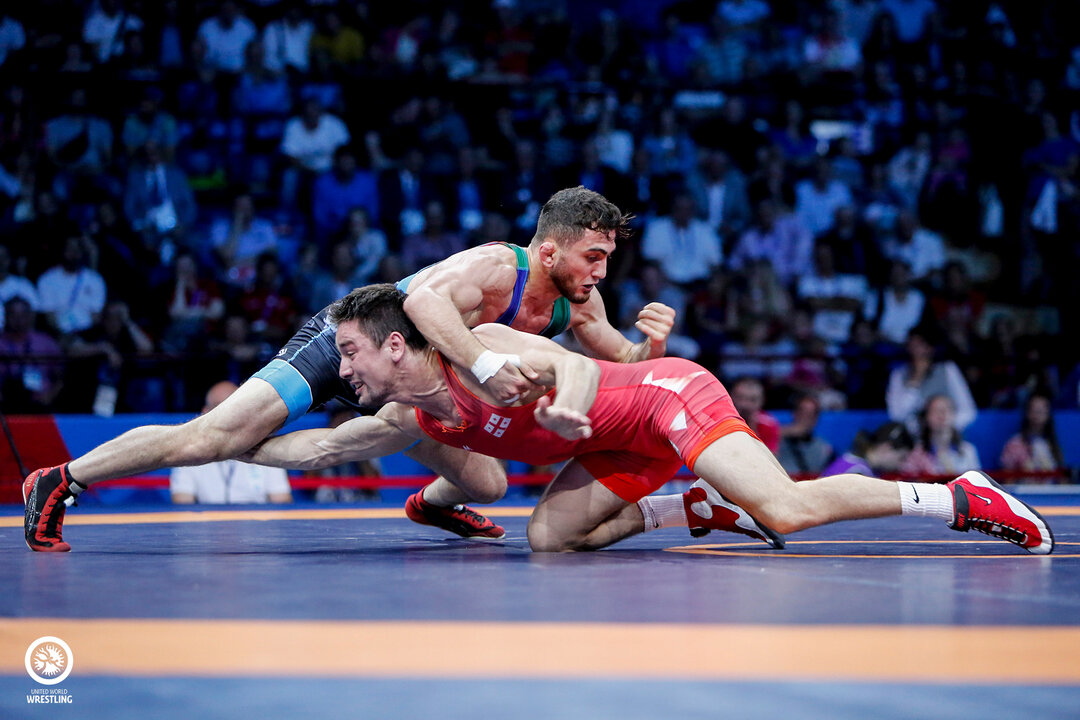 In a battle of world champions, Haji ALIYEV (AZE) dominated Olympic champion Vladimer KHINCHEGASHVILI (GEO) 10-2 to claim the gold medal at 65kg. Aliyev, a three-time world champion and three-time European champion, used a takedown and exposure to grab an early 4-0 lead. He added an additional point after a failed challenge to go up 5-0 at the break. Khinchegashvili inched closer with two one-point scores in the second period, but Aliyev then turned it up. He countered an attacked from the 28-year-old Georgian for a takedown. He added a step out and another takedown to win by eight.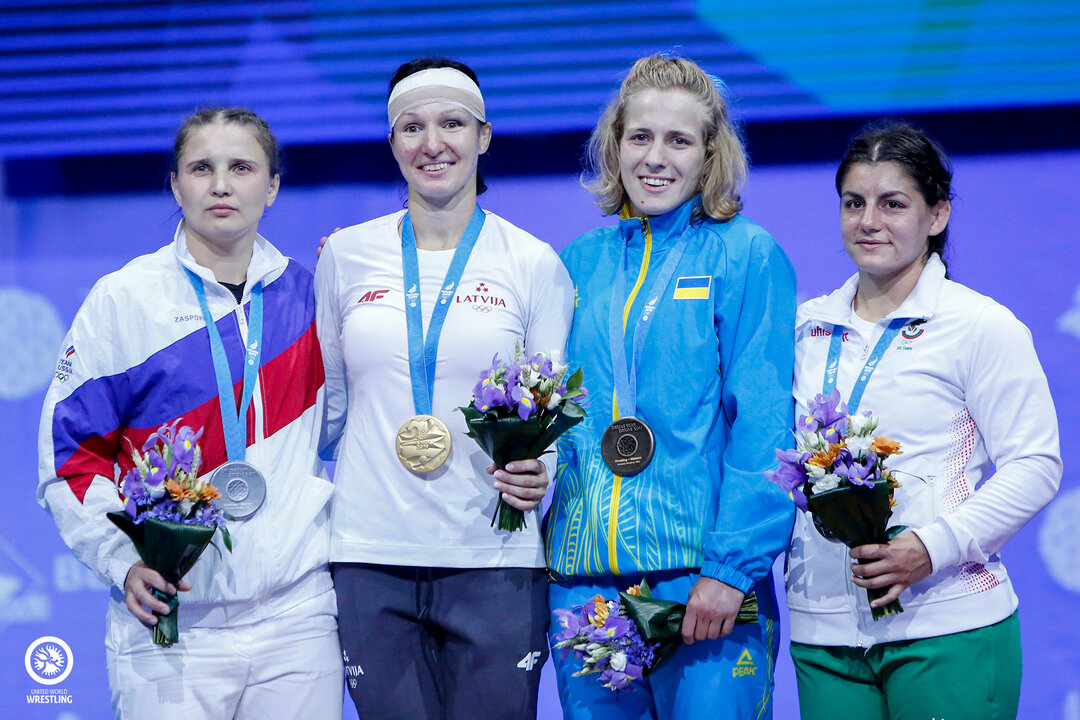 Anastasija GRIGORJEVA (LAT), a two-time world bronze medalist, defeated two-time European champion Anastasiia BRATCHIKOVA (RUS) 5-3 to win the gold medal at 68kg. It's her second European Games medal after winning a bronze medal in 2015. Grigorjeva was in control most of the match. She scored her first point off a passivity and then added a takedown to lead 3-0 after the opening period. She built her lead to 5-0 in the second period after a takedown. Bratchikova put herself back in the match by scoring a step out followed up by takedown in the final 30 seconds to make the score 5-3. But Grigorjeva would hang on for the win.
Two-time world medalist Akhmed CHAKAEV (RUS) picked up a bronze medal at 65kg with an 8-5 victory over Andrei PERPELITSA (MDA). Hor OHANNESIAN (UKR) also won a bronze medal at 65kg, beating Valodya FRANGULYAN (ARM), 8-2.
World No. 4 Elizbar ODIKADZE (GEO) and world No. 8 Aliaksandr HUSHTYN (BLR) won the bronze medals at 97kg. Odikadze shut out Murazi MCHEDLIDZE (UKR), while Hushtyn earned a 3-1 victory over Magomedgadji NUROV (MKD).
Nina HEMMER (GER) topped Zeynep YETGIL (TUR) 2-0 to earn a bronze medal at 53kg. The other bronze medal at 53kg was won by Stalvira ORSHUSH (RUS), who dominated Mercedesz DENES (HUN) 10-0. 
Sofia GEORGIEVA (BUL) and Alla CHERKASOVA (UKR) finished with bronze medals at 68kg.
RESULTS
Freestyle 
65kg
GOLD - Haji ALIYEV (AZE) df. Vladimer KHINCHEGASHVILI (GEO), 10-2
BRONZE - Akhmed CHAKAEV (RUS) df. Andrei PERPELITSA (MDA), 8-5
BRONZE - Hor OHANNESIAN (UKR) df. Valodya FRANGULYAN (ARM), 8-2
97kg
GOLD - Abdulrashid SADULAEV (RUS) df. Nurmagomed GADZHIYEV (AZE) Injury
BRONZE - Aliaksandr HUSHTYN (BLR) df. Magomedgadji NUROV (MKD), 3-1
BRONZE - Elizbar ODIKADZE (GEO) df. Murazi MCHEDLIDZE (UKR), 5-0
Women's Wrestling
53kg
GOLD - Sofia MATTSSON (SWE) df. Yulia KHAVALDZHY (UKR), 6-4
BRONZE - Nina HEMMER (GER) df. Zeynep YETGIL (TUR), 2-0
BRONZE - Stalvira ORSHUSH (RUS) df. Mercedesz DENES (HUN), 10-0
68kg
GOLD - Anastasija GRIGORJEVA (LAT) df. Anastasiia BRATCHIKOVA (RUS), 5-3
BRONZE - Sofia GEORGIEVA (BUL) df. Danute DOMIKAITYTE (LTU), 4-1
BRONZE - Alla CHERKASOVA (UKR) df. Jenny FRANSSON (SWE), 6-2