Mattsson and Koliadenko Sail to European OG Qualifier Golds
Saturday, March 20, 2021 - 16:44 By Eric Olanowski
BUDAPEST, Hungary (March 20) --- Sofia MATTSSON (SWE) and Iryna KOLIADENKO (UKR) sailed to gold medals on Saturday night at the European Olympic Games Qualifier with dominating finals performances at 53kg and 62kg, respectively.
Mattsson put on a stellar performance in the 53kg finals against fellow world champion Vanesa KALADZINSKAYA (BLR) and claimed her second title of the year.
The Rio Olympic bronze medalist scored four single-leg takedowns and an exposure and ended bout 10-0 with 90 seconds left on the clock. In her two '21 competitions, she's captured a pair of golds, but done so in convincing fashion. She's now defeated a world champion in back-to-back tournament finals. In addition to today's win over two-time world champion Kaladzinskaya, Mattsson also defeated '19 world champion Jacarra WINCHESTER (USA) in the Henri Deglane finals.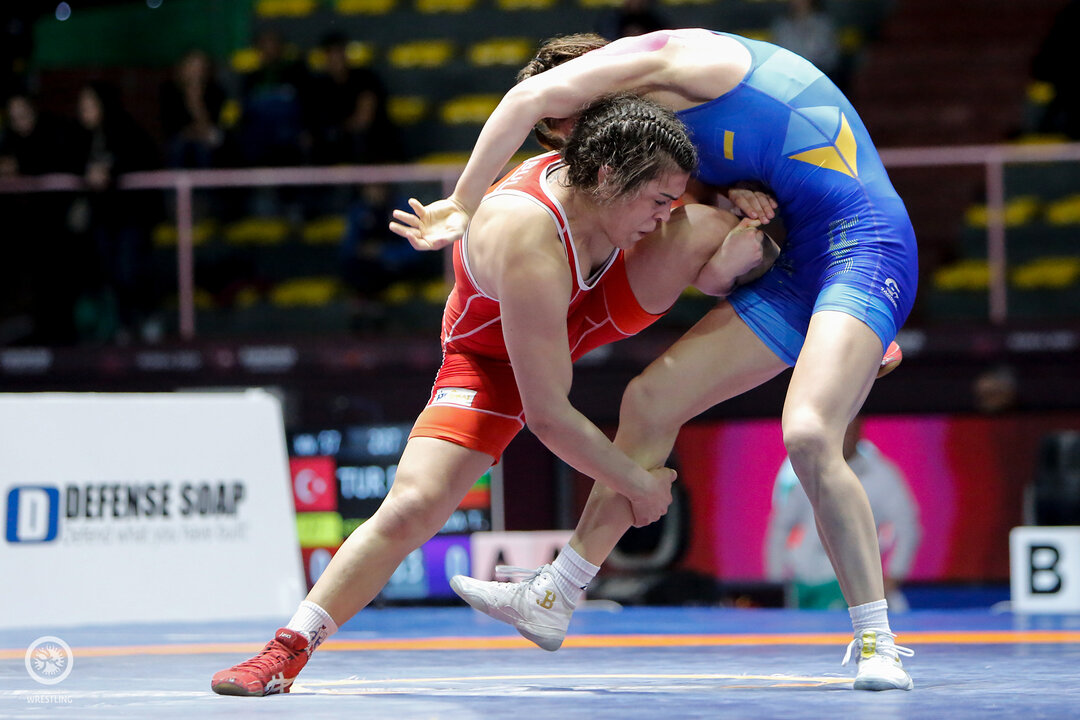 Iryna KOLIADENKO (UKR) looks to finish a single leg at the European Olympic Qualifier. (Photo: Kadir Caliskan)
Koliadenko continued her impressive run to the 62kg gold medal with a 15-4 throttling of Anastasija GRIGORJEVA (LAT). She scored three first-period takedowns before making her lone mistake of the competition. The Ukrainian gave up a four-point outside trip, but squirmed off of her back for the reversal and transitioned into a gut wrench. She ended the first period with a five-point lead, 9-4.
In the closing frame, Koliadenko returned the four-point favor. She made the mid-match adjustment and halted a second outside trip attempt from her Latvian opponent and scored four points of her own. Koliadenko closed out the match with a gut wrench and earned the 15-4 technical superiority victory.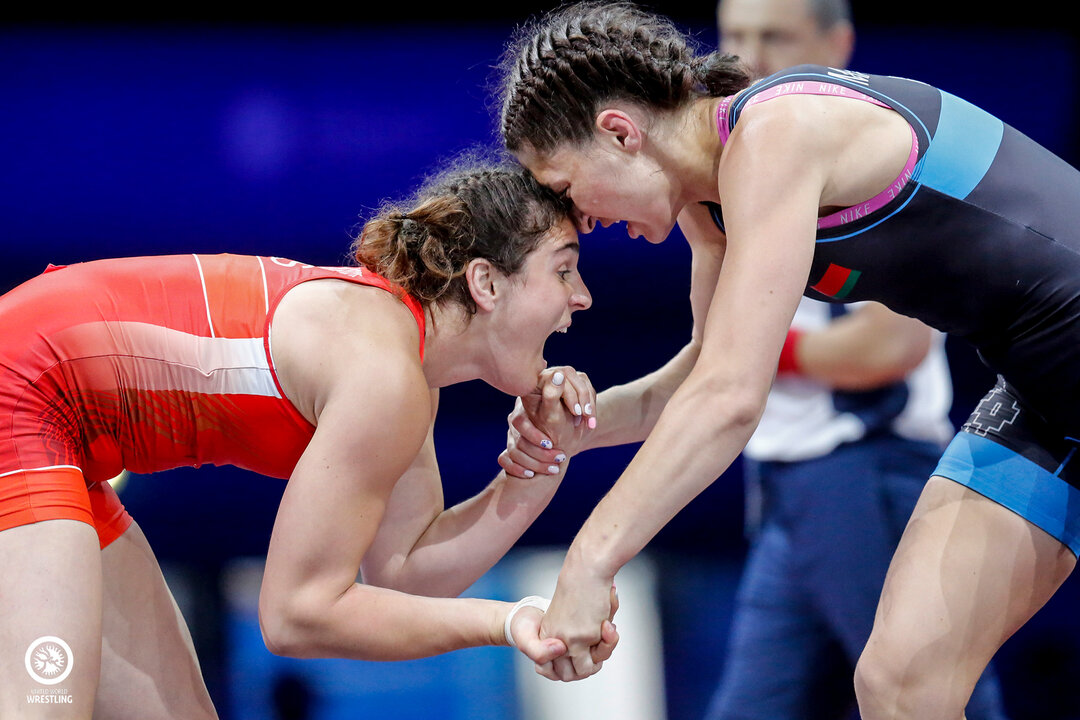 Natalia VOROBEVA (RUS) claimed 76kg gold with a 2-0 win over Vasilisa MARZALIUK (BLR). (Photo: Gabor Martin)
There were three forfeits in the finals but the remaining gold-medal match that was contested came at 76kg. In a pretty dull match, London Olympic champ Natalia VOROBEVA (RUS) earned two points from an inactivity point and a stepout and defeated Vasilisa MARZALIUK (BLR), 2-0.
Miglena SELISHKA (BUL) and Evelina NIKOLOVA (BUL) claimed gold for Bulgaria at 50kg and 57kg, respectively, on Saturday night. Both of their wins came via injury defaults.
Koumba LARROQUE (FRA) was the final champion that was crowned on Saturday night. Her 68kg finals opponent Khanum VELIEVA (RUS) injury defaulted out of the gold-medal match.
Sunday night's Greco-Roman medal matches kick-off at 18:00 (local time) and can be followed live on www.uww.org.
RESULTS
50kg
GOLD - Miglena Georgieva SELISHKA (BUL) df. Evin DEMIRHAN (TUR), via injury default
BRONZE - Iwona Nina MATKOWSKA (POL) df. Emma Jonna Denise MALMGREN (SWE), 8-0
BRONZE - Julie Martine SABATIE (FRA) df. Taru Marketta VAINIONPAEAE (FIN), 5-0
53kg
GOLD - Sofia MATTSSON (SWE) df. Vanesa KALADZINSKAYA (BLR), 10-0
BRONZE - Stalvira ORSHUSH (RUS) df. Mariia VYNNYK (UKR), 5-4
BRONZE - Iulia LEORDA (MDA) df. Leyla GURBANOVA (AZE), 10-0
57kg
GOLD - Evelina Georgieva NIKOLOVA (BUL) df. Alina HRUSHYNA AKOBIIA (UKR), via injury default
BRONZE - Emese BARKA (HUN) vs. Sara Johanna LINDBORG (SWE), 7-3
BRONZE - Veronika CHUMIKOVA (RUS) df. Bediha GUN (TUR), via injury default
62kg
GOLD - Iryna KOLIADENKO (UKR) df. Anastasija GRIGORJEVA (LAT), 15-4
BRONZE - Tetiana OMELCHENKO (AZE) df. Elif Jale YESILIRMAK (TUR), 2-1
BRONZE - Mariana CHERDIVARA ESANU (MDA) df. Maryia MAMASHUK (BLR), 4-1
68kg
GOLD - Koumba LARROQUE (FRA) df. Khanum VELIEVA (RUS), via injury default
BRONZE - Irina RINGACI (MDA) df. Elis MANOLOVA (AZE), 8-0
BRONZE - Yuliana Vasileva YANEVA (BUL) df. Dalma CANEVA (ITA), via injury default
76kg
GOLD - Natalia VOROBEVA (RUS) df. Vasilisa MARZALIUK (BLR), 2-0
BRONZE - Martina KUENZ (AUT) df. Iselin Maria Moen SOLHEIM (NOR), 10-2
BRONZE - Alla BELINSKA (UKR) vs. Mariya Gerginova ORYASHKOVA (BUL), 4-3