Marin Portille Wins Cuba's First Women's Junior World Gold; Susaki Strikes World Gold for Seventh Time
Thursday, August 15, 2019 - 20:06 By Eric Olanowski
TALLINN, Estonia (August 15) -- Milaimys de la Caridad MARIN POTRILLE (CUB) claimed Cuba's first-ever women's wrestling junior world titlle, while Yui SUSAKI (JPN) added a second consecutive junior world title to her resume that's now littered with seven world gold medals. 
In the 76kg gold-medal bout, Marin Portille stopped Hui Tsz CHANG (TPE) from winning Chinese Taipei's first-ever junior world title with a 10-6 victory. 
In the finals, Marin Portille trailed by three points late into the second period after giving up a four-point headlock, but quickly rebounded and gained two exposure points -- cutting Chang's lead to one point. In dramatic fashion, Marin Portille scored a takedown with seven seconds left in the match and became Cuba's first-ever women's wrestling junior world gold medalist. Smiling from ear-to-ear, Marin Portille said, "I dedicate this win to the Cuban people. This win is very important because Cuba is a small island and I prepared very hard for this." 
Still gleaming with joy, Marin Portille added, "I'm so emotional. I feel so good -- so nice. We won three medals at the Pan-Americans, but this is a step forward for Cuban women's wrestling." 
The newly minted junior world champion closed by saying she'll be wrestling at the September's Nur-Sultan World Championships.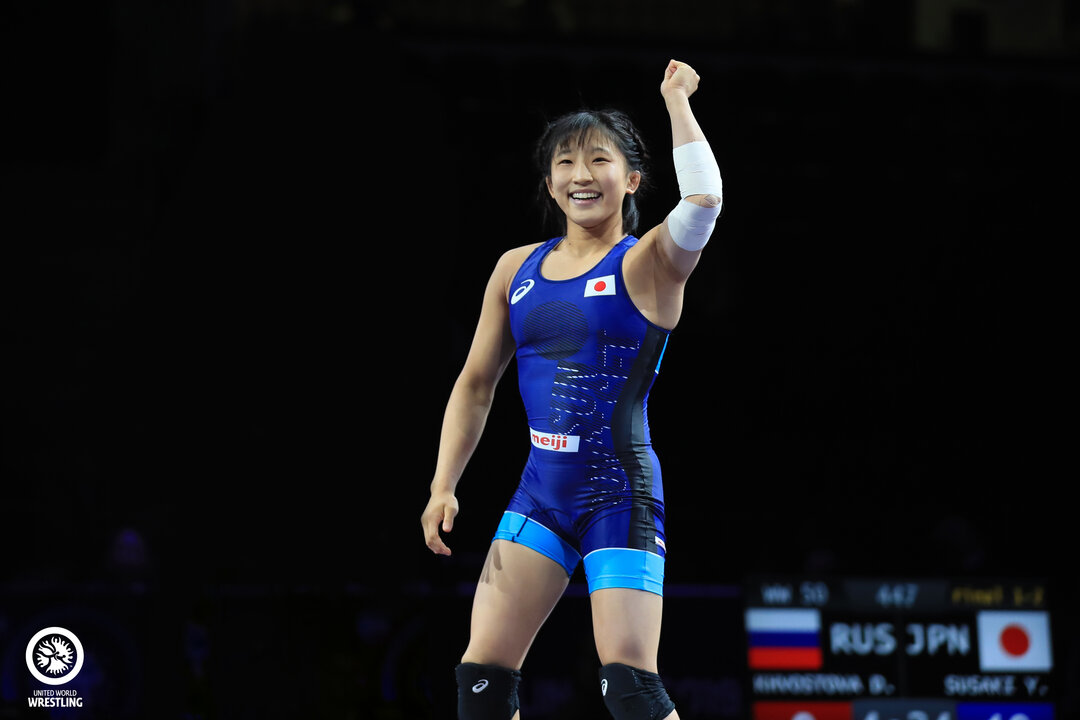 Yui SUSAKI (JPN) downed Daria KHVOSTOVA (RUS), 10-0, and won her seventh world title. (Photo: Kadir Caliskan)
Meanwhile, Yui Susaki claimed back-to-back junior world titles after seizing a 10-0 victory over 2016 cadet world silver medalist Daria KHVOSTOVA (RUS). 
With her win on Thursday night, Susaki brought her grand total to seven overall world gold medals since appearing at her first World Championships in 2014. When asked where this world title stacks up on her list, Susaki said, "My final goal is an Olympic gold medal. I will do my best and I will try to practice towards my final goal." 
Susaki's world championship record is now 31-0 – with 29 of those wins being shutout victories. Perhaps a more impressive stat is Susaki has now outscored her 31 world championship opponents 290-6 and only gave up points in two matches en route to reaching the top of the podium seven times.
She believes the reason she's so successful is because of her strength and mind. She said, "The reason why I get the championships is my own strength and mind."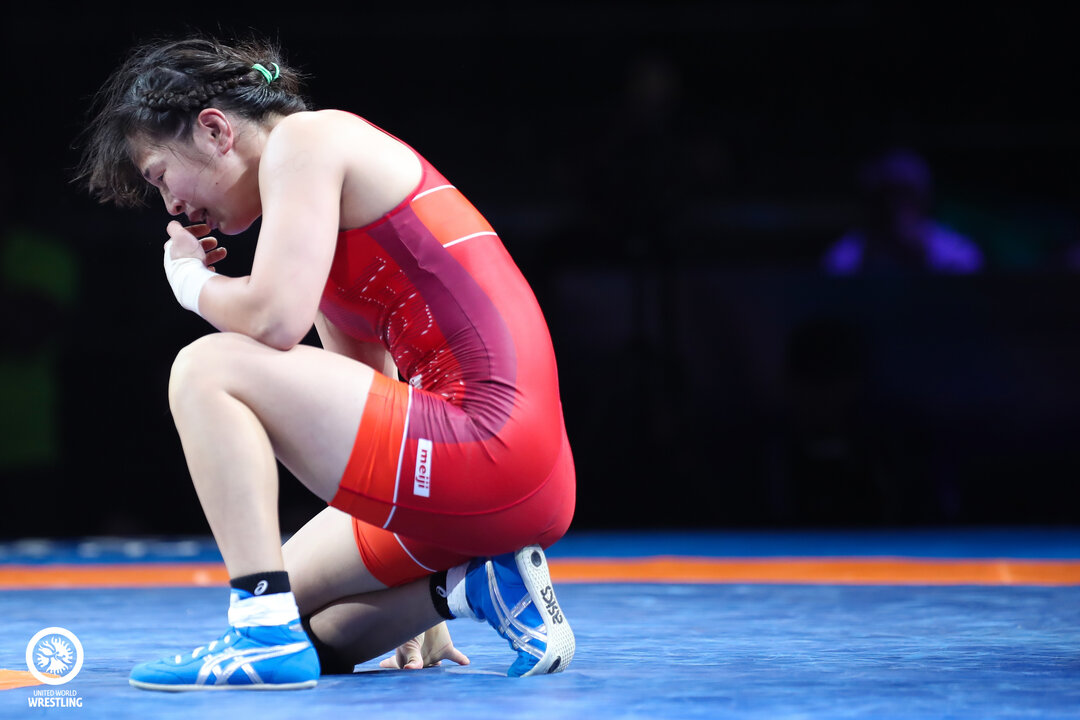 Sae NANJO (JPN) gets emotional after winning the 59kg world title with a 12-1 win over reigning junior world champion Anastasia NICHITA (MDA). (Photo: Kadir Caliskan)

Japan Collects Two Additional World Titles
In addition to Susaki's gold medal, Sae NANJO (JPN) and Naruha MATSUYUKI (JPN) also won gold medals at 59kg and 68kg, respectively. 
In a rematch of last year's 59kg junior world finals, Nanjo unseated reigning junior world champion Anastasia NICHITA (MDA), 12-1. 
Last year, Nichita scored a pair of takedowns -- which trumped Nanjo's takedown and two one-point exchanges to win her first world title, 4-4.
But, Nanjo authored a much different story on Thursday night.
Much like last year, Nanjo surrendered the matches' first points, but that was the last time the Moldovan wrestler would score. After Nanjo was hit with that inactivity point, she scored back-to-back takedowns and closed out the opening period in front by three points (4-1).  
Early in the second period, Nanjo stopped a Nichita duck under attempt and secured a takedown with a high crotch and led by five points (6-1). The Japanese wrestler quickly transitioned into a pair of leg laces off the right-sided high crotch and commanded the 10-1 lead. A flurry ending with Nanjo locking up in a cradle handed Japan their second gold medal of the day with the 12-1 victory. 
With her win on Thursday night, Nanjo now has two junior world titles on her resume. She also won the 2017 junior world title in Tampere, Finland.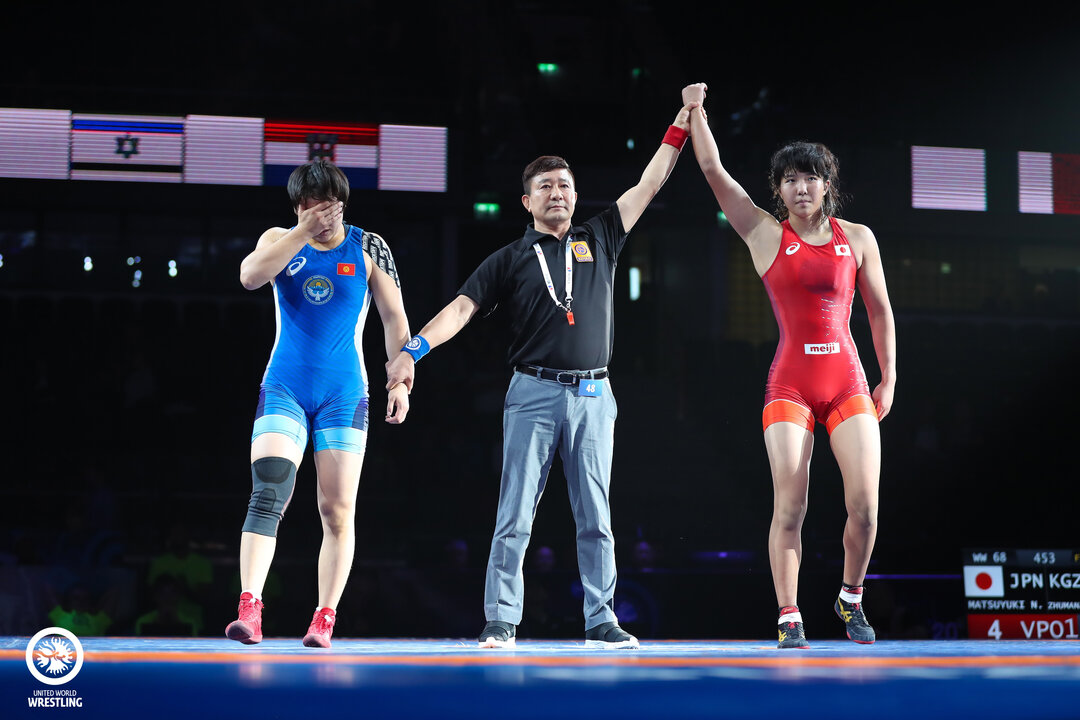 Naruha MATSUYUKI (JPN) was the third Japanese wrestler to claim gold on Thursday night. She took out Meerim ZHUMANAZAROVA (KGZ), 4-2 in the 68kg finals. (Photo: Kadir Caliskan)
Naruha Matsuyuki scored the match-deciding takedown with 31 seconds left in the 68kg finals to stop Meerim ZHUMANAZAROVA (KGZ) from winning Kyrgyzstan second-ever junior world gold medal. 
Matsuyuki, who represented Japan at the junior, U23 and senior World Championships last season, improved on her 2018 junior world bronze medal with a clutch counter offensive attack to give Japan their third gold medal of the day.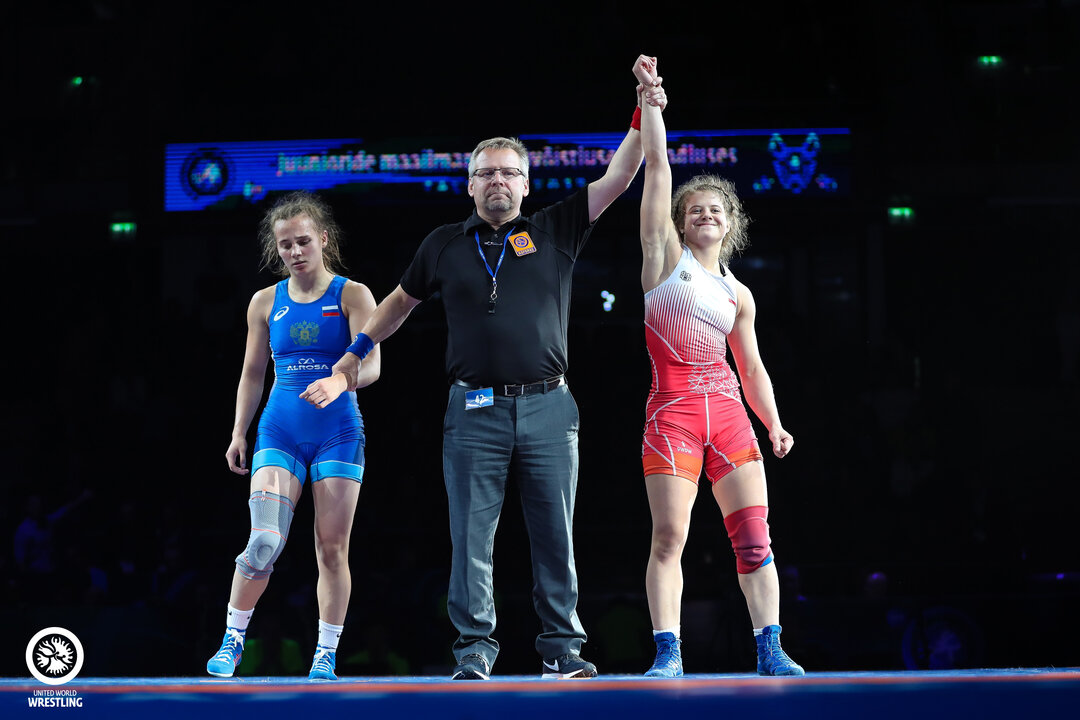 Patrycja GIL (POL) gave Poland their first women's wrestling junior world title since 1999 with a 6-2 win over Ekaterina VERBINA (RUS) in the 55kg finals. (Photo: Kadir Caliskan)
Gil Gives Poland First Junior World Title Since 1999
Patrycja GIL (POL) became Poland's third woman to win a junior world title and first gold medalist since Edyta WITKOWSKA (POL) won the 1999 Junior World Championships in Bucharest, Romania. 
On Friday night, Gil grabbed a first-period takedown, but conceded a takedown and trailed 2018 junior world bronze medalist Ekaterina VERBINA (RUS), 2-2. Mid-way through the second period, while trailing on criteria, the Polish wrestler picked up four points from a double leg takedown and closed out the match, 6-2, to win her country's first junior world title in 20 years. 
RESULTS
50kg 
GOLD - Yui SUSAKI (JPN) df. Daria KHVOSTOVA (RUS), 10-0 
BRONZE - Mariia VYNNYK (UKR) df. Lucia YEPEZ GUZMAN (ECU), 9-9 
BRONZE - Maria LEORDA (MDA) df. Natallia VARAKINA (BLR), 4-2
55kg
GOLD - Patrycja GIL (POL) df. Ekaterina VERBINA (RUS), 6-2 
BRONZE - Saki IGARASHI (JPN) df. Eunyoung PARK (KOR), 4-0 
BRONZE - Sezen Behchetova BELBEROVA (BUL) df. Anastasia BLAYVAS (GER), 8-0 
59kg
GOLD - Sae NANJO (JPN) df. Anastasia NICHITA (MDA), via fall
BRONZE - Kateryna ZELENYKH (UKR) df. Anshu ANSHU (IND), 12-1 
BRONZE - Morena DE VITA (ITA) df. Nazira MARSBEK KYZY (KGZ), 6-6 
68kg
GOLD - Naruha MATSUYUKI (JPN) df. Meerim ZHUMANAZAROVA (KGZ), 4-2 
BRONZE - Khanum VELIEVA (RUS) df. Jayden Leigh LAURENT (USA), 9-1 
BRONZE - Ewelina Weronika CIUNEK (POL) df. Delgermaa ENKHSAIKHAN (MGL), 4-2 
76kg
GOLD - Milaimys de la Caridad MARIN POTRILLE (CUB) df. Hui Tsz CHANG (TPE), 10-6
BRONZE - Yasuha MATSUYUKI (JPN) df. Qian JIANG (CHN), 2-1 
BRONZE - Bernadett NAGY (HUN) df. Eleni PJOLLAJ (ITA), 10-0