Local Hero Zhakansha Uses New Addition to Arsenal to Top Defending Champion, Make Greco 55kg Final
Saturday, September 14, 2019 - 17:53 By Ken Marantz
NUR-SULTAN, Kazakhstan (Sept. 14) --- Khorlan ZHAKANSHA (KAZ) figured he needed to add something new to his arsenal. What he came up with worked not only once, but twice against the defending champion, propelling him into the final of the World Championships in his home country.
Zhakansha nailed Eldaniz AZIZLI (AZE) with a pair of 4-point headlock throws to end his reign as the Greco-Roman 55kg champion by scoring an 11-5 victory in the semifinals before a roaring Barys Arena crowd.
"I can't explain this feeling because I've been working so hard for a long time, for many years," said Zhakansha, a two-time bronze medalist at the Asian Championships.
The medal matches in the four Greco-Roman weight classes that opened the tournament on Saturday will be held Sunday night. 
In the final, Zhakansha will face world U23 champion Nugzari TSURTSUMIA (GEO), who overwhelmed Shota OGAWA (JPN) by 8-0 technical fall in 2:57.
Against Azizli, Zhakansha went ahead 3-0 with a gut wrench off the par terre position, but the Turk scored a takedown to make it 3-2 going into the second period.
Zhakansha then stuck Azizli with his first headlock throw for 4 points. Azizli managed to gain a reversal and a roll to cut the lead to 7-5, but then Zhakansha repeated his awesome throw to clinch the victory.
"I didn't prepare this, I didn't think I would do this," he said of the effective throw. "Before, I would use a back drop, but all of my opponents know that I will do it. So I tried something new."
Zhakansha credited the partisan crowd for propelling him into the final.
"You can see that so many fans come to support us. It was almost impossible to lose. I felt like I had to win."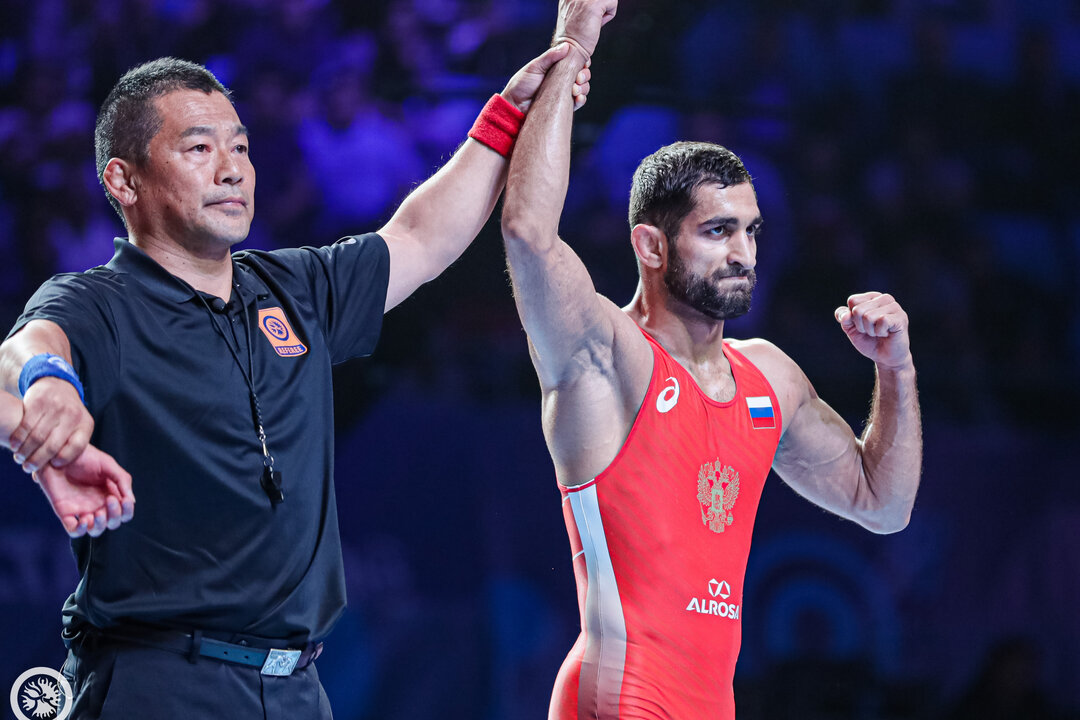 Stepan MARYANYAN (RUS) will look to win back-to-back world title when he takes on Rio Olympic silver medalist Shinobu OTA (JPN)   in the 63kg finals on Sunday night. (Photo: Kadir Caliskan)
Russia, which captured six Greco golds at last year's World Championships in Budapest, earned a shot at two right off the bat when defending champion Stepan MARYANYAN (RUS) made the final at 63kg and Abulazid MANTSIGOV (RUS) followed suit at 72kg.
Georgia is the only other country with two finalists, with Lasha GOBADZE (GEO) at 82kg joining Tsurtsumia. Kazakhstan, Japan, Uzbekistan and Azerbaijan have one finalist each.
Maryanyan survived a tough test in assuring himself of at least a silver medal, scoring all of his points in the second period to slip past Slavik GALSTYAN (ARM), 4-2.
The lanky Galstyan scored a takedown in the first period. But Maryanyan took advantage of the par terre position to go ahead 3-2 in the second period. 
The remainder of the bout consisted mainly of locking arms, which frustrated Galstyan so much he made a challenge after time ran out, looking for a passivity penalty against Maryanyan. The challenge was denied, giving the Russian his final point.
In the gold-medal match, Maryanyan will face Rio 2016 Olympic silver medalist Shinobu OTA (JPN) in a rematch of the final at the Dan Kolov-Nikola Petrov tournament in February. In that match, Ota took a 3-0 lead in the par terre position, only to see Maryanyan score a reversal, then rip off five straight gut wrenches for a 12-3 technical fall.
Ota said he will be better prepared after denying Almat KEBISPAYEV (KAZ) a place in the final with his third technical fall of the day. 
"If I can defend from the ground position like I did in the semifinal today, I don't think it will be problem," Ota said. "I want to go into the final tomorrow with the same feeling that led me to win all of my matches by technical fall."
In the semifinal, Ota was put in the par terre position in the first period, but fought off Kebispayev's attempts to turn him, leaving the score 1-0 going into the second period. Ota scored an early takedown, then used a duck under to a bear hug for 4 points. He finished off the match with a similar 4-point move for a 10-1 technical fall in 5:06.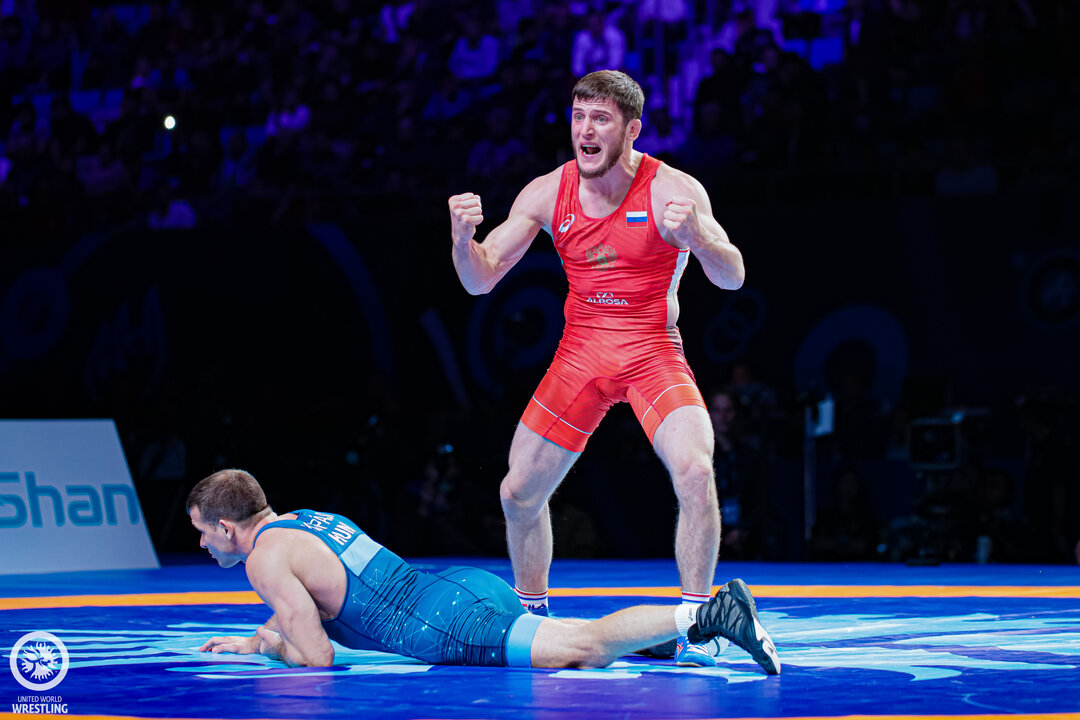 Abulazid MANTSIGOV (RUS) manhandled returning world runner-up Balint KORPASI (HUN) , 8-0 and moved into the 72kg finals.(Photo: Kadir Caliskan)
At 72kg, Mantsigov was similarly dominant in denying veteran Balint KORPASI (HUN) a second straight trip to the final, posting an 8-0 technical fall at 3:32. The big move was a 4-point counter of a back drop late in the first period.
Korpasi, the 2016 world champion and runner-up last year, had beaten Mantsigov in the only previous meeting between the two, in the semifinals at the 2017 European Championships.
Next up for Mantsigov---the only top seed among the four weight classes to make the final---will be Aram VARDANYAN (UZB), who scored a solid 4-1 win over 2019 world bronze medalist Aik MNATSAKANIAN (BUL).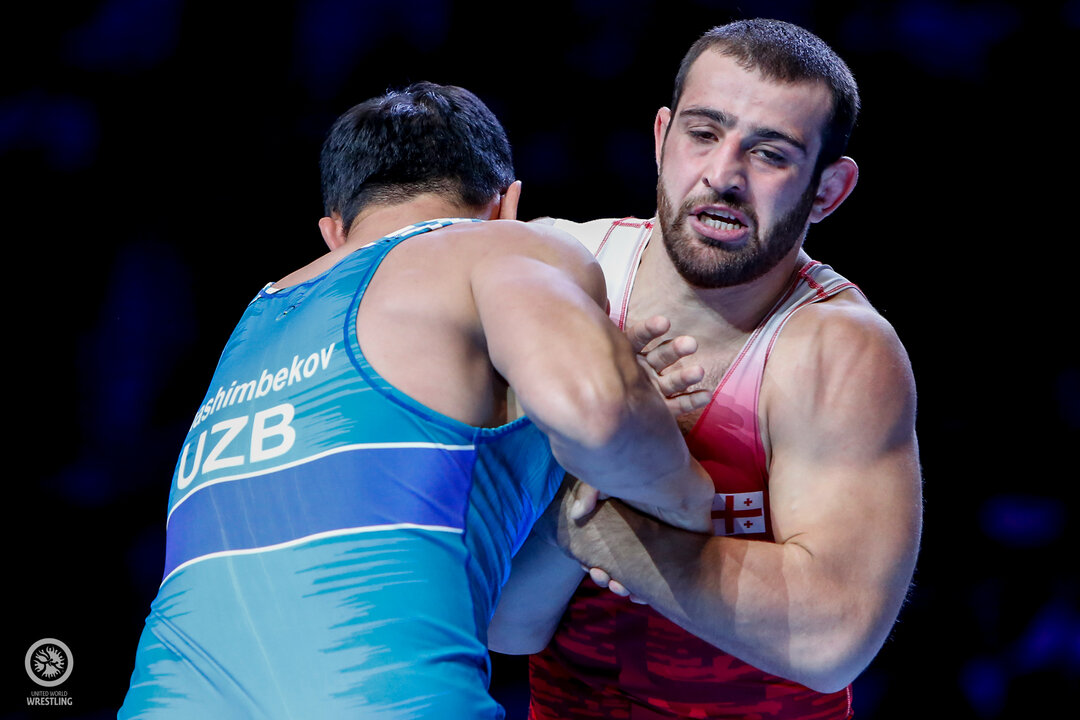 Lasha GOBADZE (GEO) defeated Nurbek KHASHIMBEKOV (UZB), 3-1 in the semifinals and will meet Rafig HUSEYNOV (AZE) in the 82kg gold-medal bout. (Photo: Kadir Caliskan)
The 82kg final will be a showdown between European silver medalist Gobadze and 31-year-old Rafig HUSEYNOV (AZE), who assured himself of a first-ever medal in his eighth trip to the World Championships.
Gobadze scored a roll from the par terre position, then held on when he was put on the bottom to chalk up a 3-1 win over Nurbek KHASHIMBEKOV (UZB). 
Huseynov came out on top of a very physical struggle with Rio 2016 bronze medalist and 2019 Asian champion Saied ABDVALI (IRI), driving his opponent backward for a 4-point move with :28 left to clinch a 8-5 victory. 
The day session on Sunday will see the qualification rounds in the Greco-Roman weight classes of 67kg, 87kg and 97kg. 
Greco-Roman - Semifinals
55kg (20 entries)
Khorlan ZHAKANSHA (KAZ) df. Eldaniz AZIZLI (AZE), 11-5 
Nugzari TSURTSUMIA (GEO) df. Shota OGAWA (JPN) by TF, 8-0, 2:57
63kg (18 entries)
Stepan MARYANYAN (RUS) df. Slavik GALSTYAN (ARM), 4-2
Shinobu OTA (JPN) df. Almat KEBISPAYEV (KAZ) by TF, 10-1, 5:06
72kg (25 entries)
Aram VARDANYAN (UZB) df. Aik MNATSAKANIAN (BUL), 4-1
Abulazid MANTSIGOV (RUS) df. Balint KORPASI (HUN) by TF, 8-0, 3:32
82kg (23 entries)
Lasha GOBADZE (GEO) df. Nurbek KHASHIMBEKOV (UZB), 3-1
Rafig HUSEYNOV (AZE) df. Saied ABDVALI (IRI), 8-5