Lei Denies Vinesh as Chinese Women Dominant
Thursday, March 1, 2018 - 18:22 By Ken Marantz
LEI Chun (CHN) joined a long line of wrestlers who have denied India a first-ever gold medal in women's wrestling at the Asian Championships while leading a procession of Chinese onto the top step of the medal podium.
Lei scored the winning takedown with just under a minute to go to defeat Vinesh VINESH (IND) 3-2 in the 50kg final, the first of four gold medals won by China in the five weight classes contested on the third day of competition at the Kozhomkul Sports Palace.
"I felt very good for today's competition," Lei said. "The key factor for my victory came from my heart. I was quite confident today."
After teenager Saki IGARASHI (JPN) took the 55kg title in the only China-less final, Chinese wrestlers posted one-sided victories in the three remaining finals, only one of which went the distance.
RONG Ningning needed just 40 seconds to end her 59kg showdown with Nabira ESENBAEVA (UZB) with a 10-0 technical fall, and compatriot ZHOU Feng followed with a 10-0 technical fall of her own over Tumentsetseg SHARKHUU (MGL) at 68kg, although she took 5:36 to complete the rout.
The last final of the night was a direct showdown between China and Japan, which has sent a depleted team to Bishkek to give younger wrestlers experience and to save its big guns for the Women's World Cup which it will host in mid-March.
Japan, however, sent its top wrestler at 76kg. But Paris 2017 world bronze medalist Hiroe MINAGAWA (nee SUZUKI) couldn't breach the Great Wall of China and was overpowered by ZHOU Qian 7-2 to cap the day's competition.
Every Chinese came away with a medal, as LUO Lannuan crushed Amina ALIMBETOVA (UZB) for a 10-0 technical fall at 4:11 in a 55kg bronze-medal match. Luo had suffered the lone Chinese defeat of the day in the quarterfinals, and that was by a single point.
Lei was determined to make a good showing in her debut at the Asian Championships, after faring poorly at her only other major senior-level competition, the 2014 world championships.
"I couldn't compete in international events for many years because in China, there are so many good wrestlers," Lei said. "This was a very rare chance for me to show myself. So I seized the chance."
In the final, Lei scored the lone point of the first period when Vinesh was on the activity clock. The Indian took the lead early in the second with a takedown, but Lei went on the offensive and eventually broke through Vinesh's defenses for the decisive single-leg takedown.
"I knew about the Indian because she is very famous and a very strong opponent," Lei said. "It is the first time to face her. It's really hard to make an attack against her. But I used my own techniques."
With the defeat, India is now 0-13 in gold-medal matches at the Asian Championships dating back to the nation's first appearance at Ulaanbaatar 2001---and Vinesh now has three of the resulting silver medals.
Both of her two previous losses in finals came at the hands of Japanese, last year in New Delhi to eventual world champion Yui SUSAKI and in 2015 to Yuki IRIE. Vinesh avenged the 2015 defeat by beating Irie in the semifinals in Bishkek, but against Lei, could not come up with the big countermove she used to beat the Japanese.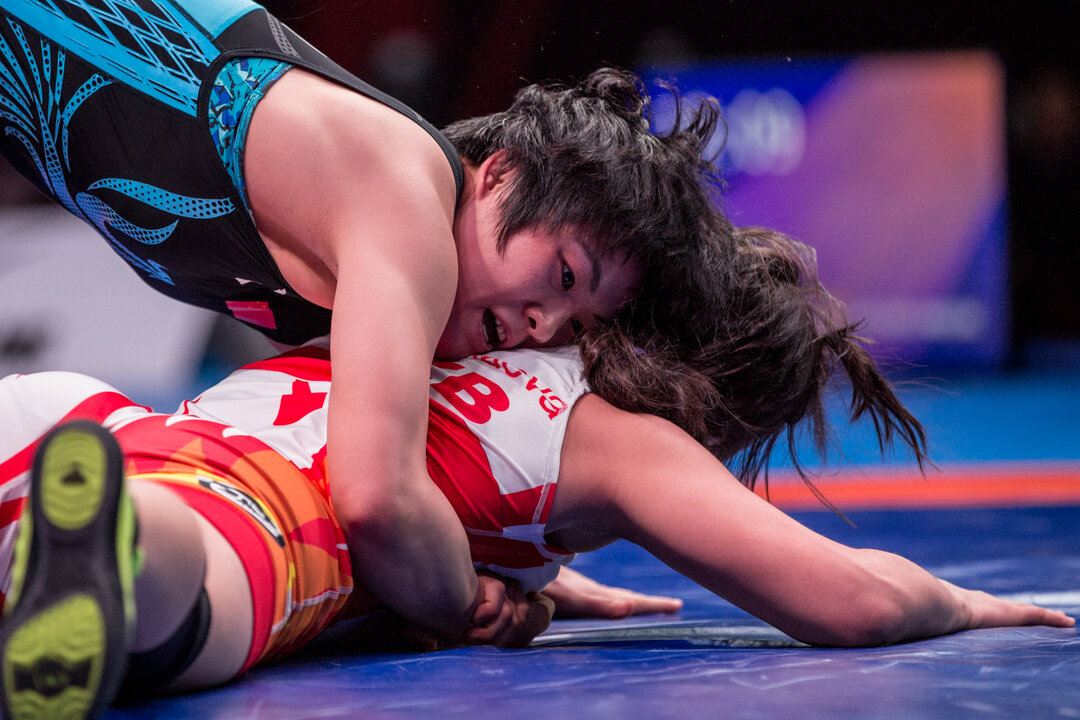 Rong, a winner at the Ivan Yarygin Grand Prix in January, turned in the most dominant performance of the Chinese champions, winning all three of her matches by technical falls in a combined time of just 4:37.
"When I came here, I just wanted to show what I learned in training," Rong said.
Against Esenbaeva, Rong went right into a roll as she scored a takedown, then reeled off three straight gut wrenches to bring the match to an early end.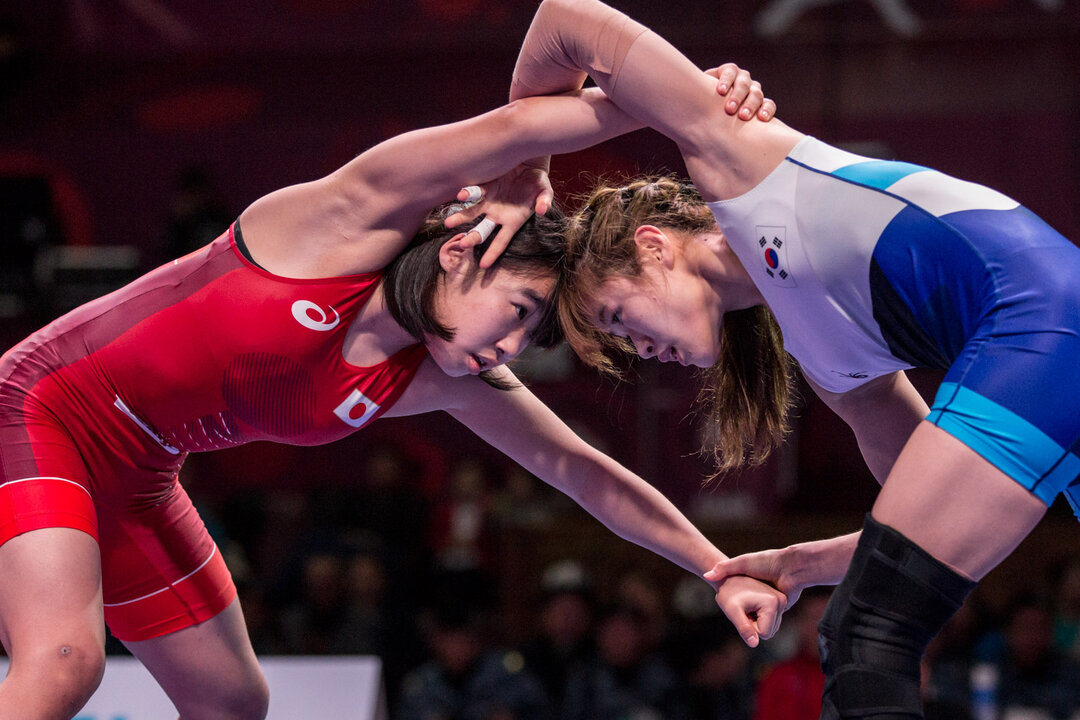 Igarashi, a 2015 world cadet silver medalist, came up a winner in her international debut on the senior level. In the final, she scored with a step-out in the first period, then added two second-period takedowns to top Oh.
"Overall, I was able to move very well," Igarashi said. "It was good that I stayed on the attack. I was a little nervous, so I just thought to go all out."
Irie, meanwhile, came away with a bronze medal after KIM Hyungjoo (KOR) defaulted due to a knee injury with 1:56 left in their match and the Japanese ahead 8-0.
Davaachimeg ERKHEMBAYAR (MGL) at 55kg won a second straight bronze medal and was one of three Mongolians to win third-place matches. Kazakhstan claimed two bronzes, while South Korea, host Kyrgyzstan, and India had one each.
Women's Wrestling
50kg (12 entries)
Gold - LEI Chun (CHN) df. Vinesh VINESH (IND), 3-2
Bronze –  Narangerel ERDENESUKH (MGL) df. Aktenge KEUNIMJAEVA (UZB), 8-2
Bronze – Yuki IRIE (JPN) df. KIM Hyungjoo (KOR) by Def., 1:56 (8-0)
55kg (9 entries)
Gold - Saki IGARASHI (JPN) df. OH Hyemin (KOR), 5-0
Bronze –  Davaachimeg ERKHEMBAYAR (MGL) df. Nazgul NURAKHAN (KAZ) by TF, 14-4, 0:32
Bronze – LUO Lannuan (CHN) df. Amina ALIMBETOVA (UZB) by TF, 10-0, 4:11
59kg (10 entries)
Gold - RONG Ningning (CHN) df. Nabira ESENBAEVA (UZB) by TF, 10-0, 5:20
Bronze –  Sangeeta SANGEETA (IND) df. UM Jieun (KOR), 9-4
Bronze – Shoovdor BAATARJAV (MGL) df. Phimsuphak AINPHEN (THA) by TF, 10-0, 5:31
68kg (9 entries)
Gold - ZHOU Feng (CHN) df. Tumentsetseg SH.RKHUU (MGL) by TF, 10-0, 0:24
Bronze –  Irina KAZYULINA (KAZ) df. PARK Sujin (KOR), 8-2
Bronze –  Meerim ZHUMANAZAROVA (KGZ) df. Divya KAKRAN (IND), 12-6
76kg (9 entries)
Gold - ZHOU Qian (CHN) df. Hiroe MINAGAWA (JPN), 7-2
Bronze –  Elmira SYZDYKOVA (KAZ) def. Chantsalnyamaa AMGALANBAATAR (MGL) by TF, 11-1, 3:09
Bronze – HWANG Eunju (KOR) df. Aiperi MEDET KYZY (KGZ) by Fall, 1:02 (12-0)