Kyrgyzstan's Akmataliev Adds Wild Win for 65kg Gold to Elation Over Olympic Ticket
Sunday, April 11, 2021 - 15:43 By Ken Marantz
ALMATY, Kazakhstan (April 11) --- The wild victory that gave Ernazar AKMATALIEV (KGZ) the freestyle 65kg gold seemed more appropriate for an Olympic final than a  low-stakes clash between wrestlers who had already achieved their goal of securing Olympic spots.
Akmatiev's counter style of wrestling trumped the attacking of Amir Mohammad YAZDANI (IRI) in a rough-and-tumble 15-13 victory on the final day of the Asian Olympic qualifying tournament on Sunday in Almaty.
The fact that nothing was at stake other than the color of the medal that they would be taking home failed to dissuade the two from going all out in a match that produced 20 points in the first period alone.
While Yazdani was putting on a takedown clinic -- he scored five in the first period -- Akmataliev effectively used counters to keep the match from getting away from him. A 4-point counter lift off a tackle attempt and a 2-point counter at the edge helped him end the first period trailing only 12-8.
In the second period, Akmataliev came close to finishing the match when he used a front headlock to put Yazdani onto his back, but the Iranian managed to escape the predicament. Still trailing by 2 points, Akmataliev converted a double-leg tackle attempt into a pair of 2-point exposures with 30 seconds left to take the lead.
"In those final 30 seconds, my mind was blank and I was only thinking of winning the gold medal," Akmataliev said.
A challenge sorted out the confusing flurry, with Yazdani awarded a point for a reversal but Akmataliev gaining one himself because the challenge was lost, resulting in the final score of 15-13.
"This was the second time I have wrestled him," Akmataliev said. "I wrestled him before in Iran and I was young back then. I lost 6-16. He got me in a gut wrench. But now we are tied 1-1."
The 65kg class was the most open at the tournament, as Asian wrestlers had secured four berths at the 2019 World Championships in Nursultan. Akmataliev, a silver medalist at the International Ukrainian Tournament in February, took advantage and took the title with three hard-fought wins.
In another entertaining final, Javrail SHAPIEV (UZB) scored a takedown in each period to offset three stepout points for each wrestler in a 7-3 victory at 86kg over Zushen LIN (CHN).
The Russian-born Shapiev, who began competing for Uzbekistan in 2017, missed a chance to qualify for Tokyo when he finished 12th at Nursultan, but showed he was prepared for Almaty by placing third at the Ukrainian Tournament.
In the 57kg final, Ukrainian Tournament champion Gulomjon ABDULLAEV (UZB) made short work of 2019 Asian silver medalist Minghu LIU (CHN), hitting a 4-point fireman's carry to finish off a 10-0 technical fall in 3:46.
The final gold of the tournament went to the host nation's 2020 Asian champion Yusup BATIRMURZAEV (KAZ), who outmuscled Lkhagvagerel MUNKHTUR (MGL) for a 4-2 victory at 125kg. All but one point in the match were scored on stepouts.
"To win a medal in the Olympics, I need to train and there is a lot of work to do to achieve a medal there," Batimurzaev said. "This is one of the best days in my career."
Batirmurzaev's victory was a repeat of the Asian U-23 final in 2019, the year they both won bronze medals at the World U-23 Championships.
"This is a second time I have wrestled Munkhtur in a final and thankfully it went my way," he said.
Munkhtur's disappointment with the defeat was tempered by the reality he will be going to the Olympics for the first time.
"I think I made a lot of mistakes in the final, the second period especially," Munkhtur said. "A lot of things were going on in my mind and I lost focus.
"I began wrestling when I was 10 years old. This will be my first Olympics and I am feeling awesome."
Iran's two other finalists came away with golds, although without a fight as their opponents are nursing injuries and opted not to risk making things worse.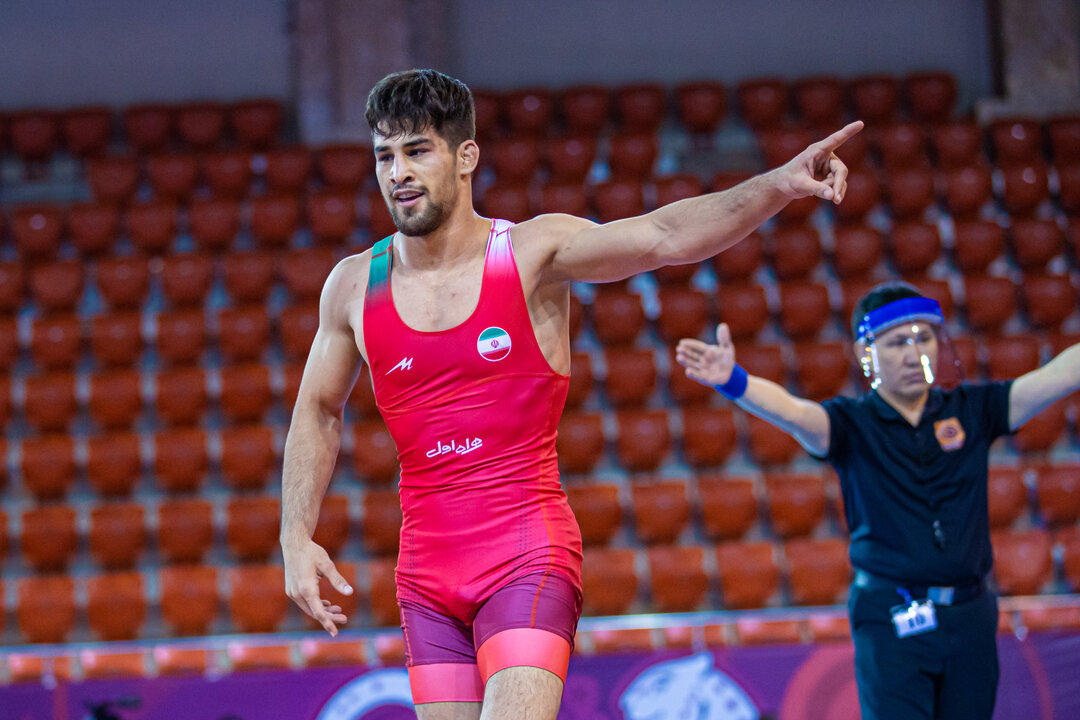 Yones EMAMICHOGHAEI (IRI) was one of three Iranian wrestlers who qualified their nation for the Olympic Games on Sunday in Almaty. (Photo: Sachiko Hotaka)
Yones EMAMICHOGHAEI (IRI) took the 74kg title when Bekzod ABDURAKHMONOV (UZB) defaulted, and Mohammadhossein MOHAMMADIAN (IRI) received a forfeit from Rio 2016 Olympic bronze medalist Magomed IBRAGIMOV (UZB) at 97kg.
"There is now no pressure on me," said Abdurakhmonov, who will be making his second Olympic appearance. "It's easier to wrestle at the Olympics than qualifying, so I am done with the hard part. I'll definitely work a lot on my mistakes."
As for what lies ahead after Tokyo, the 31-year-old said, "I will continue wrestling as long as I am healthy. We have Asian Games, Asian Indoor Games, World Championships, Paris Olympics."
Mohammadian, who returned from a four-year doping ban, said he will try to live up to the Iranian tradition of excellence in the 97kg class set by the legendary two-time world champion Reza YAZDANI (IRI).
"Definitely I feel the pressure of replicating what Reza Yazdani did for Iran at 97," Mohammadian said. "I have forgotten about the bad times when I was banned for four years and now I am only training to win gold at the Olympics. That is the only thing that will satisfy me after what happened."
Meanwhile, although Muhammad INAM (PAK) was unable to secure Pakistan's first Olympic freestyle spot since 1996, his performance in winning a bronze medal at 97kg epitomized how a wrestler can still make a solid effort regardless of what is at stake.
Taking on Symbat SULAIMANOV (KGZ), Inam never gave up in fighting back from 6-0 and 7-4 deficits as his opponent became winded. The two-time Commonwealth Games champion came through with a 4-point takedown-roll combination with just under a minute left for well-earned victory.
Freestyle Results
57kg
GOLD - Gulomjon ABDULLAEV (UZB) df. Minghu LIU (CHN) by TF, 10-0, 3:46
BRONZE - Bekbolot MYRZANAZAR UULU (KGZ) df. Sunggwon KIM (KOR) by TF, 11-0, 3:53
BRONZE - Muhammad IKROMOV (TJK) df. Tuvshintulga TUMENBILEG (MGL), 7-6
65kg
GOLD - Ernazar AKMATALIEV (KGZ) df. Amir Mohammad YAZDANI (IRI), 15-13
BRONZE - Kerim HOJAKOV (TKM) df. Ilyas BEKBULATOV (UZB) by Default
BRONZE - Haji ALI (BRN) df. Mohammed ABDULKAREEM (KUW) by TF, 10-0, :58
74kg
GOLD - Yones EMAMICHOGHAEI (IRI) df. Bekzod ABDURAKHMONOV (UZB) by Default
BRONZE - Elaman DOGDURBEK UULU (KGZ) df. Bat Erdene BYAMBASUREN (MGL), 2-2
BRONZE - Menghejigan MENGHEJIGAN (CHN) df. Sandeep MANN (INDIA) by TF, 14-4, 3:40
86kg
GOLD - Javrail SHAPIEV (UZB) df. Zushen LIN (CHN), 7-3
BRONZE - Sohsuke TAKATANI (JPN) df. Nurtilek KARYPBAEV (KGZ), 6-1
BRONZE - Azamat DAULETBEKOV (KAZ) df. Bakhodur KODIROV (TJK), 6-3
97kg
GOLD - Mohammadhossein MOHAMMADIAN (IRI) df. Magomed IBRAGIMOV (UZB) by Default
BRONZE - Muhammad INAM (PAK) df. Symbat SULAIMANOV (KGZ), 10-7
BRONZE - Satywart KADIAN (IND) df. Zyyamuhammet SAPAROV (TKM), 5-0
125kg
GOLD - Yusup BATIRMURZAEV (KAZ) df. Lkhagvagerel MUNKHTUR (MGL), 4-2
BRONZE - Sumit SUMIT (IND) df. Donghwan KIM (KOR), 5-0
BRONZE - Aiaal LAZAREV (KGZ) df. Tetsuya TANAKA (JPN) by Default