Kazakhstan Puts Trio into Greco Finals on 2nd Day as Iran Falters Mightily
Wednesday, February 28, 2018 - 11:08 By Ken Marantz
World silver medalist Demeu ZHADRAYEV led a trio from Kazakhstan into the Greco-Roman finals on the second day of the Asian Championships, while Iran surprisingly struggled and put just one wrestler into the five gold-medal matches slated for the night session.
Zhadrayev, the 2015 Asian bronze medalist, will take on Akzhol MAKHMUDOV (KGZ) in the 72kg final---one of two head-to-head clashes between host Kyrgyzstan and neighbor Kazakhstan, which will surely incite the vocal crowd at Kozhomkul Sports Palace.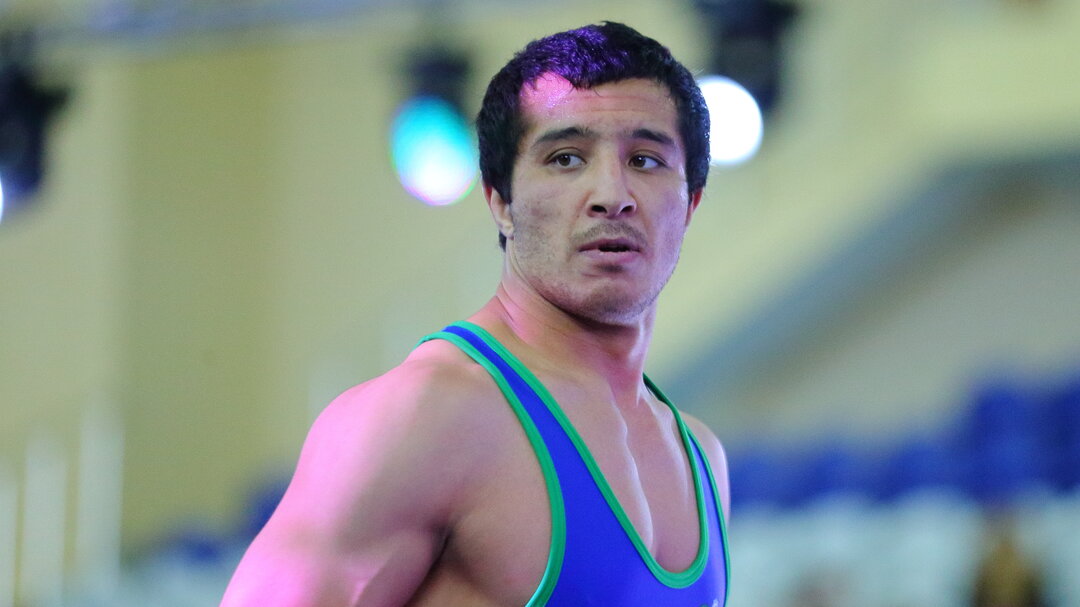 In the other, at 82kg, Askhat DILMUKHAMEDOV (KAZ) will take on Atabek AZISBEKOV (KGZ).
The third Kazakh vying for a continental championship will be Almat KEBISPAYEV (KAZ), a silver medalist last year in New Delhi who will take on unheralded Tsuchika SHIMOYAMADA (JPN) at 67kg.
In the morning session, Shimoyamada ousted Paris 2017 world champion RYU Hansu by default in the quarterfinals. Ryu had suffered a deep gash over his eye in his first-round bout, and after falling behind 7-1 to Shimoyamada and with blood continually flowing through his thick bandages, the bout was stopped with :51 left.
That was a rematch of the 67kg final at the Dave Schultz Memorial, which Shimoyamada won 3-2.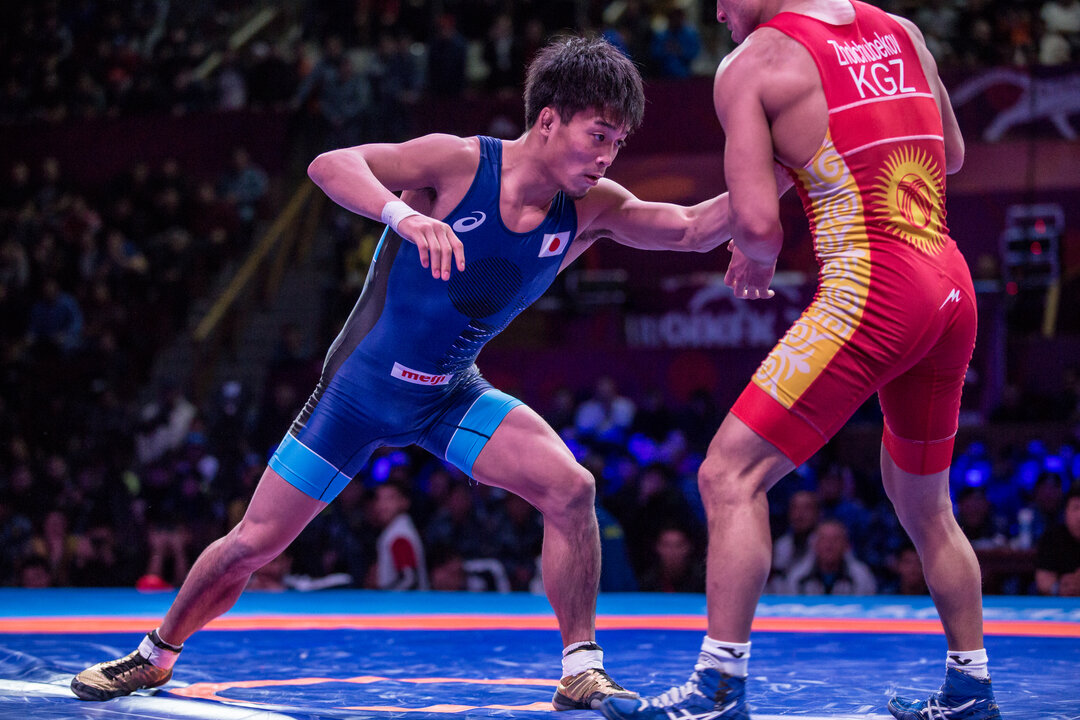 Japan, which got a victory from Shota TANOKURA at 55kg on the opening day, will have a chance to sweep the three lightest weights, as Rio 2016 silver medalist Shinobu OTA advanced to the final at 60kg.
Ota, an Asian silver medalist in 2014 and bronze medalist in 2013, will try to finally strike gold when he clashes with teenager RI Se Ung (PRK) in the final.
Since Rio, Ota had lost his place on the national team to Keniichiro FUMITA, who went on to win Asian and world titles. But Ota finally beat Fumita at the Japan nationals in December, earning a ticket to Bishkek.
As is often the case with North Koreans, little is known of Ri, except that he was an Asian cadet champion in 2013 and 2015, and Youth Olympic winner in 2014. He showed few weak spots when he stormed into the final with three consecutive technical falls, without giving up a point.
Ota's path to the final was far less smoother. In the semifinals, he had to battle back from a 4-0 deficit to defeat Shirzad Ali BEHESHTITALA (IRI) 5-4, with the decisive point coming on passivity with :30 left.
"Ota is the type of wrestler who gives up points, but stays calm and under control," said Japan Greco-Roman coach Masatoshi TOYOTA. "He wrestled his way and did what he does best."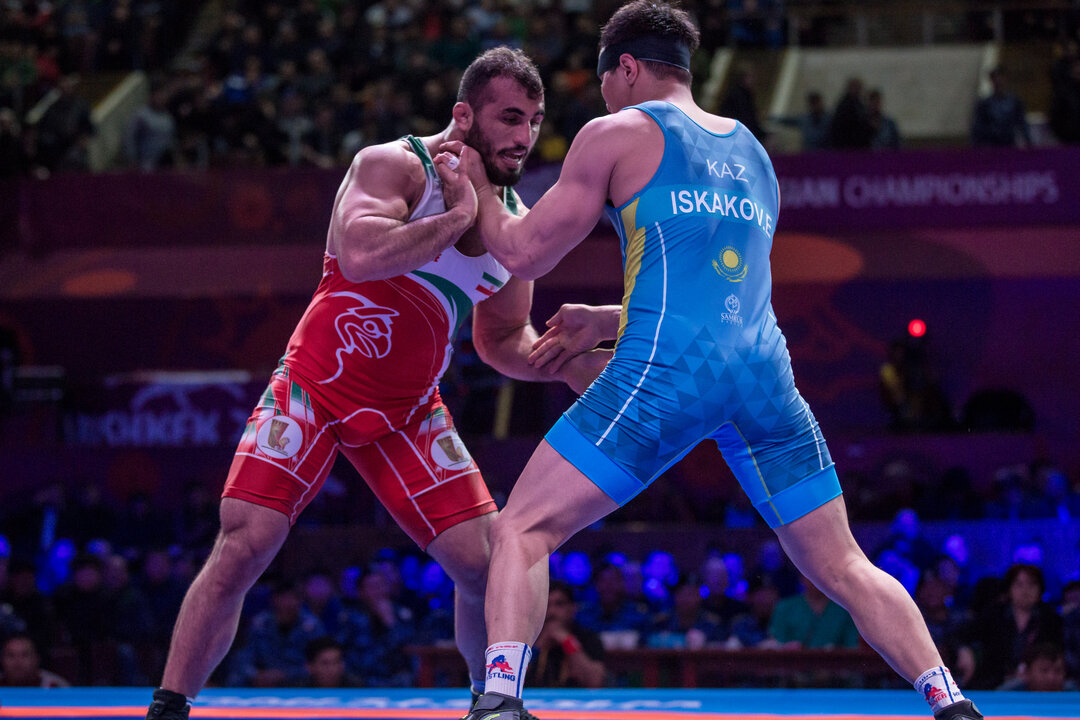 Beheshtitala's collapse added salt into the wounds for Iran, which had just one wrestler make the final, with New Delhi 2017 champion Sayedmostafa SALEHIZADEH (IRI) going for the 97kg gold against Rustam ASSAKALOV (UZB).
Behestitala is the only Iranian in the bronze-medal matches, meaning the powerhouse can finish the day with a maximum of two medals after taking two golds and a silver the previous day.
Assakalov, a New Delhi 2017 bronze medalist, got the already fired-up crowd even more excited with his antics during his 2x-2 quarterfinal win over home favorite Uzur DZHUZUPBEKOV (KGZ).
Assakalov had a mini-tantrum that included kicking the bowling pin-like object used for making challenges. Then when he was awarded a second penalty point when his opponent grabbed his singlet late in the match, he was so grateful he moved to kiss the referee (who obviously refused).
Greco-Roman
60kg (11 entries)
Gold - Shinobu OTA (JPN) v RI Se Ung (PRK)
Bronze –  Kanybek ZHOLCHUBEKOV (KGZ) v Shirzad Ali BEHESHTITALA (IRI)
Bronze – LIN Yu Hung (TPE) v Islomjon BAKHRAMOV (UZB)
Semifinal – Shinobu OTA (JPN) df. Shirzad Ali BEHESHTITALA (IRI), 5-4
Semifinal – RI Se Ung (PRK) df. Islomjon BAKHRAMOV (UZB) by TF, 8-0, 4:35
67kg (12 entries)
Gold - Almat KEBISPAYEV (KAZ) v Tsuchika SHIMOYAMADA (JPN)
Bronze –  Mirzobek RAKHMATOV (UZB) v Manish MANISH (IND)
Bronze – Seydylla TAZAYEV (TKM) v ZHANG Gaoquan (CHN)
Semifinal – Almat KEBISPAYEV (KAZ) df. Manish MANISH (IND) by TF, 10-1, 2:33
Semifinal – Tsuchika SHIMOYAMADA (JPN) df. ZHANG Gaoquan (CHN), 6-5
72kg (12 entries)
Gold - Demeu ZHADRAYEV (KAZ) v Akzhol MAKHMUDOV (KGZ)
Bronze –  Aram VARDANYAN (UZB) v JIANG Yuan (CHN)
Bronze – Kuldeep MALIK (IND) v Tomohiro INOUE (JPN)
Semifinal – Demeu ZHADRAYEV (KAZ) df. JIANG Yuan (CHN) by TF, 8-0, 3:34
Semifinal – Akzhol MAKHMUDOV (KGZ) df. Tomohiro INOUE (JPN), 7-0
82kg (10 entries)
Gold - Askhat DILMUKHAMEDOV (KAZ) v Atabek AZISBEKOV (KGZ)
Bronze –  Yuya MAETA (JPN) v KIM Jinhyeok (KOR)
Bronze – Nurbek KHASHIMBEKOV (UZB) v Singh HARPEET (IND)
Semifinal – Askhat DILMUKHAMEDOV (KAZ) df. KIM Jinhyeok (KOR), 10-5
Semifinal – Atabek AZISBEKOV (KGZ) df. Singh HARPEET (IND), 5-0
97kg (10 entries)
Gold - Sayedmostafa SALEHIZADEH (IRI) v Rustam ASSAKALOV (UZB)
Bronze –  Ali Majeed AL KAABI (IRQ) v Yerulan ISKAKOV (KAZ)
Bronze – Uzur DZHUZUPBEKOV (KGZ) v GU Hakbon (KOR)
Semifinal – Sayedmostafa SALEHIZADEH (IRI) df. Yerulan ISKAKOV (KAZ), 5-0
Semifinal – Rustam ASSAKALOV (UZB) df. GU Hakbon (KOR) by TF, 8-0, 5:22