Kawai Ready to Lead Japan at Women's World Cup
Wednesday, November 13, 2019 - 15:51 By Ken Marantz
NARITA, Japan (November 13) --- With an Olympic gold and three world titles already under her belt, it seems hard to believe that Risako KAWAI is only approaching her 25th birthday. But when it comes to the team that Japan will send out when it hosts the Women's World Cup, she can be considered one of the grand old ladies of the squad.
Kawai and younger sister Yukako are among four medalists from the senior World Championships named to a relatively young Japanese team, which includes all 10 medalists---including seven champions---from the recently concluded U23 World Championships in Budapest.
"We will be going for a fifth straight title," Risako Kawai said at a recent press conference to announce the team in Tokyo. "I took on the challenge of captain of the team at the World Championships. My task at this World Cup will also be to lead us to victory."
Kawai will turn 25 on Nov. 21---four days after she hopes to be celebrating Japan's 17th title overall in the six-nation tournament to be held in Narita, the city east of Tokyo best known for its international airport.
"For me personally, this is my third World Cup that our country is hosting," said Kawai, who will compete at the Olympic weight class of 57kg. "I will do everything I can to bring the Japan team a 17th title overall and achieve a fifth straight."
Also named to the 20-woman squad (two in each weight class) were world silver medalist Hiroe MINAGAWA at 76kg and bronze medalists Yukako KAWAI at 62kg and Masako FURUICHI, who finished third at 72kg in Nur-Sultan but has dropped down to 68kg. At 32, only Minagawa is older than Risako Kawai. 
The squad also features a pair of former world champions in Yui SUSAKI at 50kg and Haruna OKUNO at 53kg, both of whom lost in wrestle-offs for places on the team to Nur-Sultan but will surely bring added firepower to the hosts.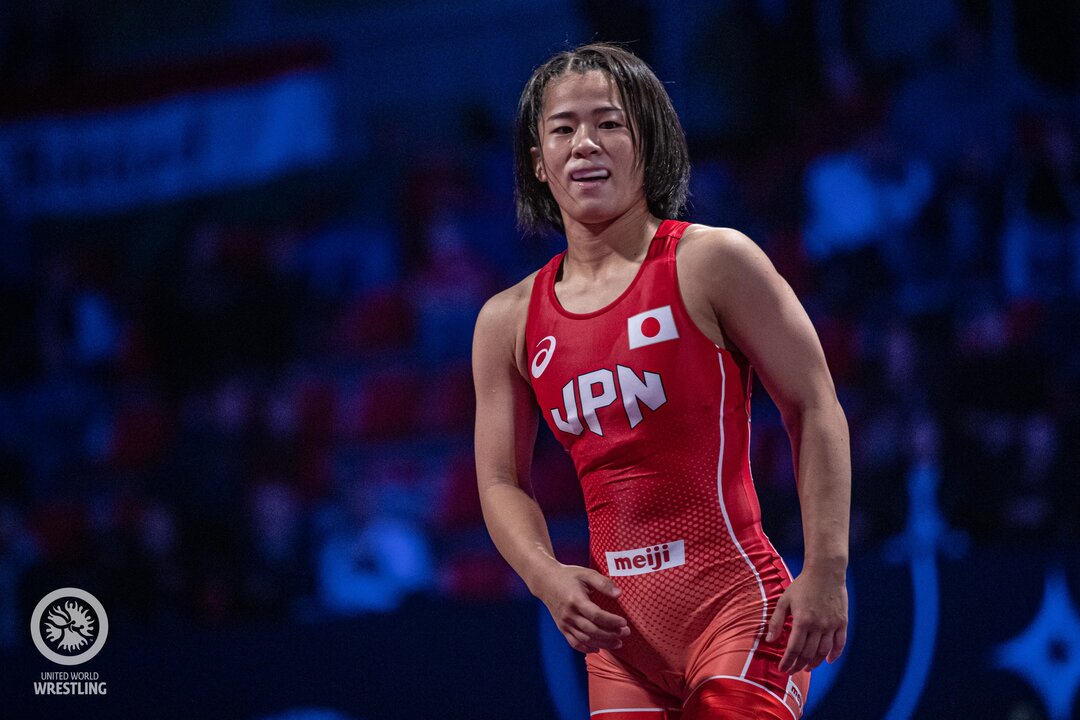 Haruna OKUNO, a 2019 U23 world champion, will wrestle at 53kg. (Photo: Sachiko Hotaka)
All but three of the 20 wrestlers are either collegians or high schoolers. Eight are from powerhouse Shigakkan University, including Yukako Kawai, Okuno and twin sisters Naruha and Yasuha MATSUYUKI, who are entered at 68kg and 76kg, respectively. 
Okuno was one of Japan's seven women gold medalists at the U23 World Championships, where the country also hauled in two silvers and a bronze.  
"At the U23, the women won titles in seven weight classes. It's good momentum to bring to the World Cup," national team technical director Shigeki Nishiguchi said. "This time, a number of wrestlers firmly expressed an interest in participating. I feel like they want to raise their level one or two steps at the World Cup."
In taking a leadership role, Kawai said she was inspired by the performance of Japan's captain at the recent Rugby World Cup, New Zealand-born Michael Leitch, whose efforts to get the team to gel resulted in a stunning run by the host country into the quarterfinals for the first time ever. 
"The most important thing in a team event is to come together as one," Kawai said. "Recently, I have been thinking about how to deal with the younger wrestlers. I heard that Leitch handed out gum to his teammates. Maybe I should try that," she added with a laugh.
With Japan grouped together with Asian rival China and Ukraine, Kawai will likely face a rematch of the gold medal match from Nur-Sultan against RONG Ningning (CHN), whom she beat 9-6. 
"At this year's world championships, I met the Chinese wrestler in the final," Kawai said. "Still, every country is going to send out a strong wrestler. For every match, I fight with the assumption I can win." 
Noticeably absent are Mayu MUKAIDA, who finished second at 53kg in Nur-Sultan, and Rio 2016 gold medalist Sara DOSHO, who finished fifth at 68kg. It was at the 2018 World Cup that Dosho suffered a shoulder injury that required surgery and kept her out of that year's World Championships. 
Japan officials said that Mukaida, also a Shigakkan student, was involved in student-teaching and could not adequately train for the World Cup. As for Dosho, she needs a victory at the All-Japan Championships in December to clinch her place at the Tokyo 2020 Olympics and, while her shoulder has healed, did not want to take any chances. 
The drop of both Furuichi and Naruha Matsuyuki from 72kg to 68kg appears to indicate they will challenge Dosho for the Tokyo 2020 spot that she earned in that weight class with her fifth place in Nur-Sultan. Had Dosho won a medal, she would have clinched the berth outright; instead, she has to wait for the All-Japan tournament.  
High schooler Yuzuka INAGAKI (JPN) will make her World Cup debut, where she'll wrestle at 59kg. (Photo: Sachiko Hotaka)
The high schoolers on the squad are a pair of current world junior champions, Yuzuka INAGAKI at 59kg and Yuka KAGAMI at 72kg, both of whom medaled at higher weights in Budapest.
Inagaki was the top seed at 59kg at the senior World Championships, but finished out of the medals after losing in the quarterfinals to Pooja DHANDA (IND)---although she bounced back by taking the 62kg gold at the U23 tournament. Kagami finished second at 76kg in Budapest. 
One other noticeable absence from the team is Yuki IRIE, who defeated two-time world champion Susaki in the national team playoffs for the 50kg spot in Nur-Sultan. She not only finished there without a medal, but without an Olympic berth for Japan after suffering a heartbreaking 13-12 loss to SUN Yanan (CHN) in the quarterfinals.
A wrist injury has kept Irie from appearing at a second straight World Cup, Japan officials said. She was a member of the Japan team that won the title last year in the Japanese city of Takasaki. Japan took the trophy with a 6-4 victory in the final over China---a triumph sparked by Irie's victory by fall over Sun in the opening match. 
Japan's other medalist in Nur-Sultan, Irie's younger sister Nanami, who took the silver medal at 55kg, will also not be competing.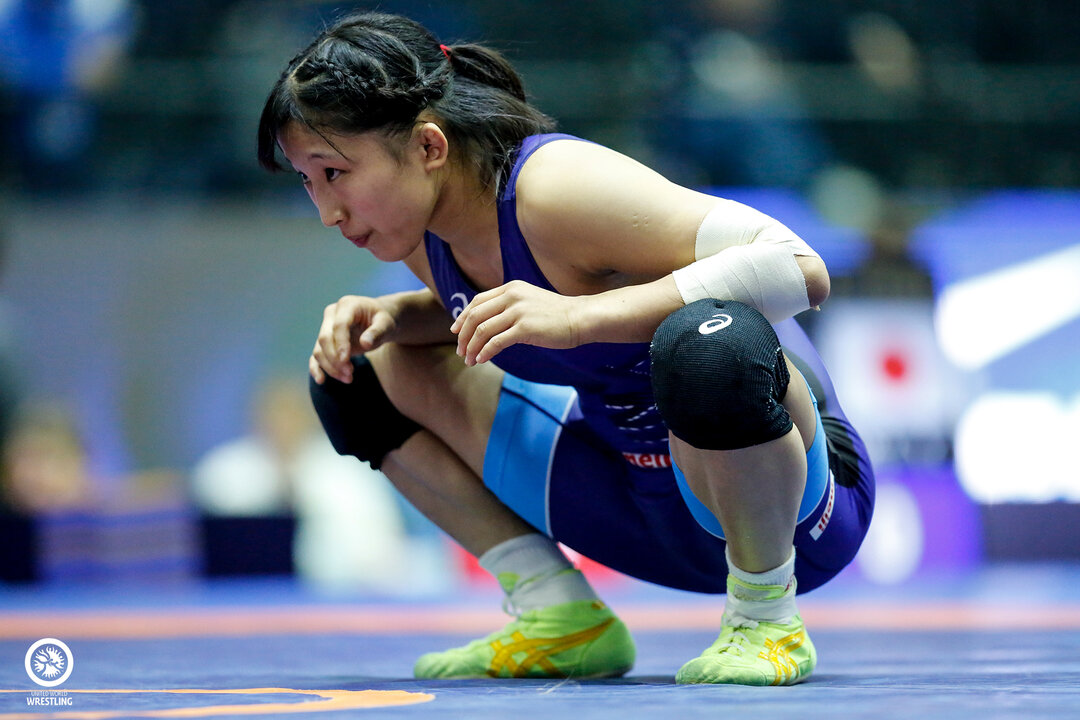 Two-time world champion Yui SUSAKI (JPN) returns to Japan's senior-level lineup for the first time since the 2018 World Championships. (Photo: Gabor Martin)
With the door to the Olympics reopened for Susaki, the Waseda University student will certainly look to use the World Cup as preparation for another possible showdown with Irie at the All-Japan Championships, where she can earn the right to enter the Asian Olympic qualifying tournament in March. 
Susaki is joined on the Japan team at 50kg by Kika KAGATA, who added the U23 world title to the junior crown she previously held, while Ibuki TAMURA fills the other 53kg slot with Okuno.
The other world U23 gold medalists on the squad are Sae NANJO (57kg), Yumeka TANABE (59kg) and Misuzu ENOMOTO (65kg), while silver medalist Saki IGARASHI (55kg) and bronze medalist Mei SHINDO (72kg) are also on the roster. 
Igarashi, Nanjo and 2018 world junior champion Miwa MORIKAWA (62kg) were all members of last year's championship team. 
The others on the team are Akie HANAI (55kg) and Naomi RUIKE (65kg). 
While the World Cup is not as high profile as its individual cousins, it can produce memorable moments. Just ask Saori YOSHIDA. The three-time Olympic and 10-time world champion suffered only three losses in her career to non-Japanese opponents---and two of them came at a World Cup. 
The first was to Marcie VAN DUSEN (USA) in early 2008 in Taiyuan, China, which became her first loss in any competition dating back to December 2001. The second also came at pre-Olympic World Cup, when she was beaten by Valeria ZHOLOBOVA (RUS) in 2012 in the final in Tokyo. 
Even though Japan defeated Russia for the title, the image of Yoshida crying on the podium as the team received its gold medals remains vivid. 
In addition to Japan, China and the United States are the only countries to have walked off with the World Cup trophy. China has captured the title six times, including five in a row between 2007 and 2011, while the U.S. won its lone title in 2003. 

Japan's Team
50kg - Yui SUSAKI, Kika KAGATA
53kg - Haruna OKUNO, Ibuki TAMURA
55kg - Saki IGARASHI, Akie HANAI
57kg - Risako KAWAI, Sae NANJO
59kg - Yuzuka INAGAKI, Yumeka TANABE
62kg - Yukako KAWAI, Miwa MORIKAWA
65kg - Misuzu ENOMOTO, Naomi RUIKE
68kg - Masako FURUICHI, Naruha MATSUYUKI
72kg - Mei SHINDO, Yuka KAGAMI
76kg - Hiroe MINAGAWA, Yasuha MATSUYUKI