Japan, U.S. Set to Clash; China All But Through
Saturday, March 17, 2018 - 06:41 By Ken Marantz
Host Japan and the United States will clash in the evening session for a place in the final of the Women's World Cup after the two powerhouses handily disposed of the two other group opponents on the opening day at Takasaki Arena.

Japan, aiming for its fourth straight title, swept past overmatched Sweden 10-0 before putting away Canada 8-2 in Group A. The United States opened with an 8-2 win over Canada, then topped Sweden 9-1.

In Group B, China moved to the brink of a berth in Sunday's final by topping Asian rival Mongolia 9-1, then whitewashing Romania 10-0. In the night session, China, the 2017 runner-up, will face Belarus, a 7-3 winner over Romania that lost 6-4 to Mongolia in most competitive match of the first two sessions.

"We were moving very well," Japan head coach Hideo SASAYAMA said of his team, which liberally used all of its members to keep the top wrestlers fresh for the impending battle with the U.S. "If we do out on the mat what we have done in practice, I think we will be able to win."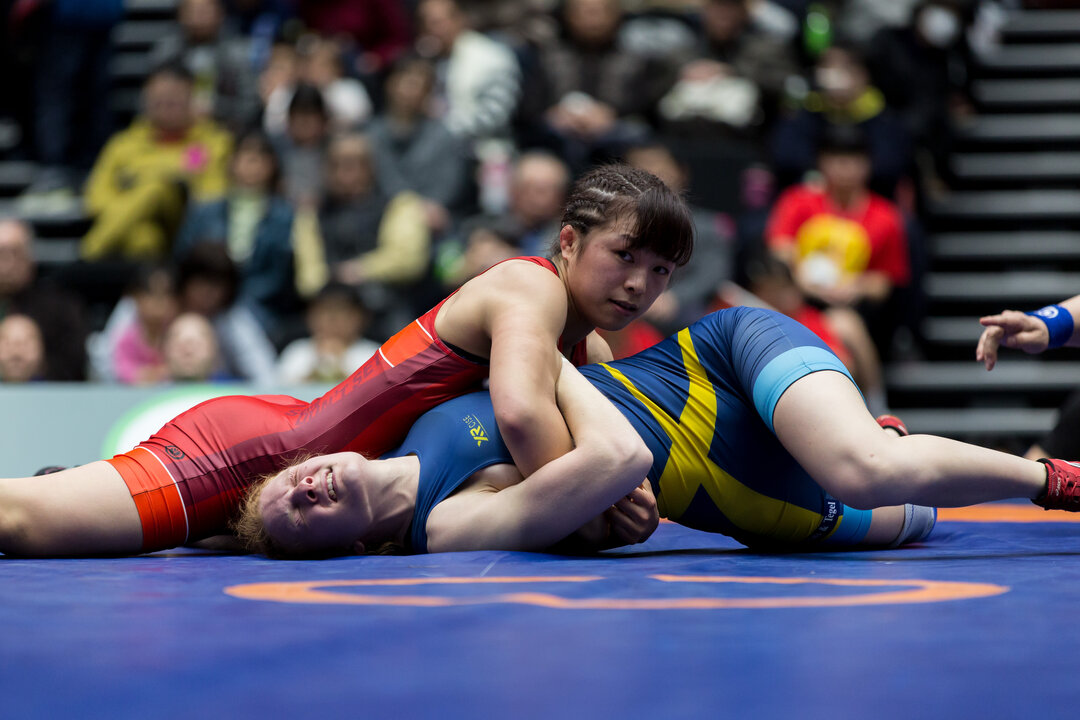 (Yukako KAWAI (JPN) looks for the fall against Emma JOHANSSON (SWE) //Photo: Max Rose-Fyne)

Japan, despite a lineup of world and Olympic champions, looks vulnerable in the heavier weight classes, where it suffered both of its losses to Canada and had several close calls with Sweden. 

Complicating matters is that world and Olympic champion Sara DOSHO (JPN) appeared to suffer a left shoulder injury during her match with Danielle LAPPAGE (CAN), in which she took an early 2-1 lead and did just enough to make that score stick to the end. 

On a positive note, Masako FURUICHI (JPN), a bronze medalist at the recent Asian Championships in Bishkek, pulled off a surprise by scoring a takedown with :30 left to beat Rio 2017 Olympic bronze medalist Jenny FRANSSON (SWE), 2x-2. 

Getting off to an early lead will be the key for Japan---in the six weight divisions up to 62kg, Japan won every match by fall or technical fall, while only conceding a total of six points. 

U.S. head coach Terry STEINER said his squad has prepared well and is ready for the challenge of beating Japan on its home mat. That would avenge a close loss in the group stage at the 2017 World Cup three months ago in Russia, when the two sides split eight matches, and Japan won by virtue of having a fall and two technical falls among its victories.

"We know that Japan is going to throw their best at us," Steiner said. "They're not going to get beat by an American team without fighting with their best people. We know we've got to be on our game tonight.

"I want to see us compete hard, I want to see us fight, I want to see us be aggressive. And that's the main thing. If I see that out of them, I think we have a chance."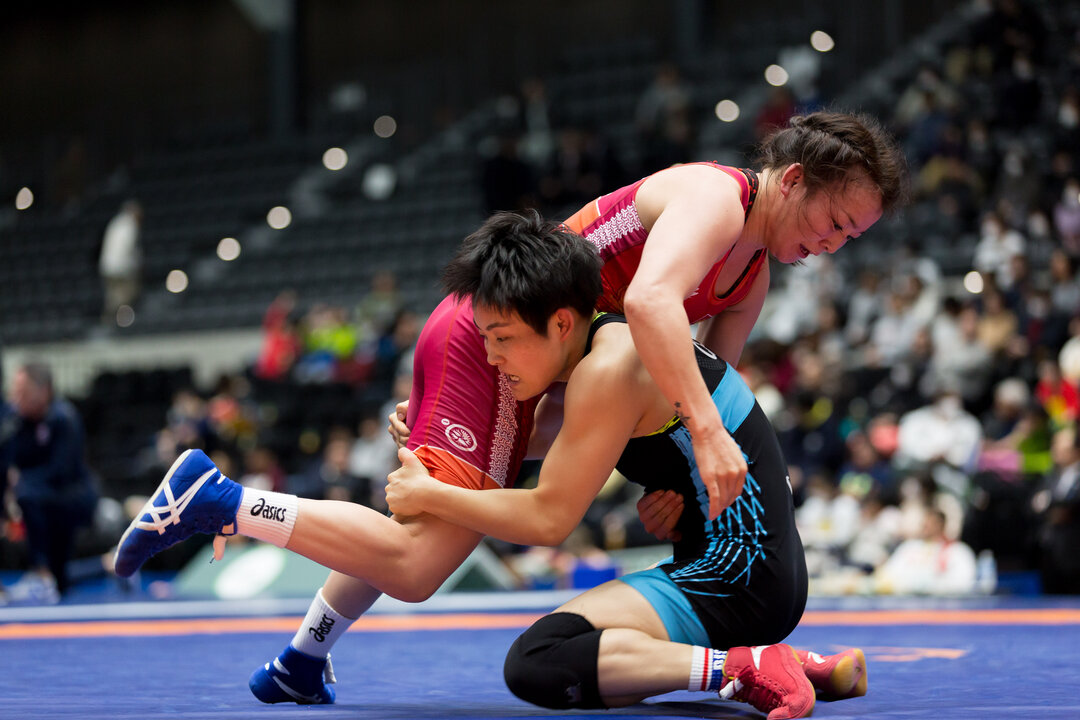 (Ningning RONG (CHN) looks for the double leg against Battsetseg ALTANTSETSEG (MGL) // Photo: Max Rose-Fyne)

China, which won five gold medals in Bishkek, switched the weight classes of champions RONG Ningning and PEI Xingru, moving Rong down to 57kg and Pei up to 59kg. 

Against Mongolia, Pei was pitted against Shoovdor BAATARJAV, who lost to Rong in Bishkek and came away with a bronze medal. Pei had her hands full on Saturday, needing a takedown with :04 left to pull out a 3x-3 victory.

The comeback of the day so far, however, belongs to Bishkek 2018 bronze medalist Davaachimeg ERKHEMBAYAR (MGL). 

In her 55kg match against Iryna KURACHKINA (BLR), Erkhembayar was losing 5-0 when she scored with a step-out with 20 seconds to go. A desperate attempt for a tackle was thwarted, but with the clock ticking down, she launched a barrel roll of sorts for a miracle 4-point move as time expired and a 5x-5 victory.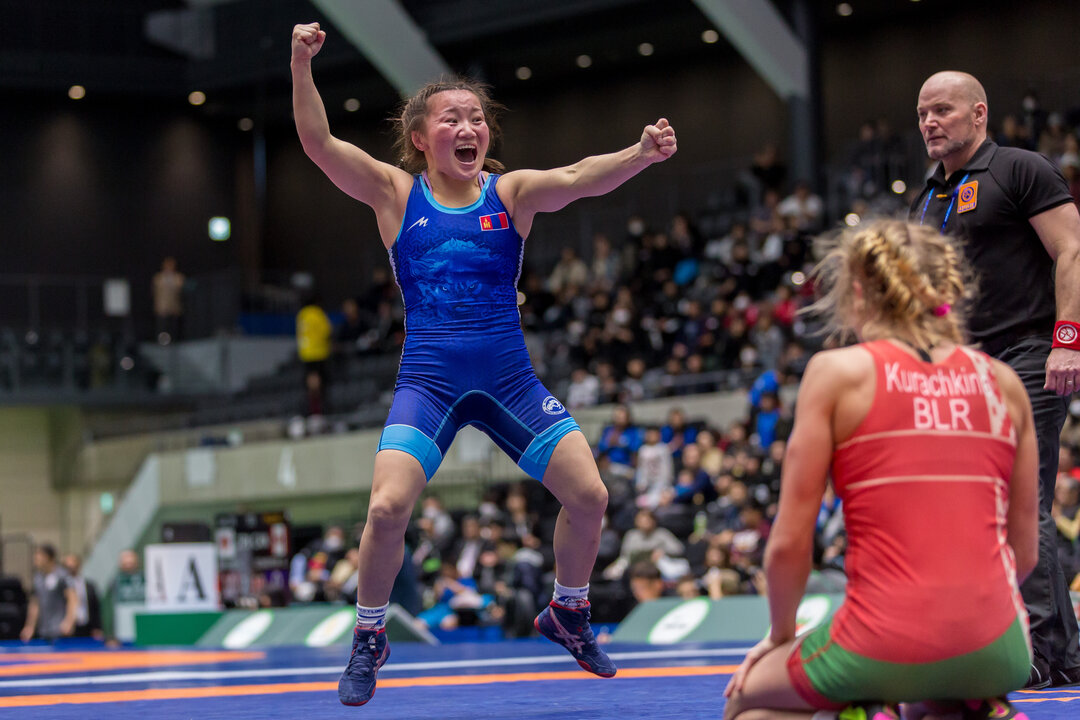 (Davaachimeg ERKHEMBAYAR (MGL) celebrates her last second victory against Iryna KURACHKINA (BLR), Photo: Max Rose-Fyne)

That victory became key in Mongolia's win over Belarus, as it kept the Asian nation in contention for a medal---particularly after its top wrestler suffered a stunning defeat. 

World and Asian champion Orkhon PUREVDORJ (MGL) was thrown to her back early in her 62kg match with Veranika IVANOVA (BLR), only to fight out of the predicament and build an 11-4 lead herself. But Ivanova stuck the Mongolian on her back again, and this time finished her off for a fall in with 1:49 remaining. 

That loss came after Mongolian coaches allowed Purevdorj to default her earlier match against China, after the Chinese had built up a insurmountable lead. Her default to LUO Xiaojuan (CHN) prevented a rematch of the final in Bishkek, which Purevdorj had won 12-4. 

"That's a tactic," Mongolian coach Byambajov BATTULGA said. "Just to keep power."

Two matches later, however, a rematch of a final did become reality, as ZHOU Feng (CHN) repeated her victory over Tumentsetseg SHARKHUU (MGL), again by technical fall.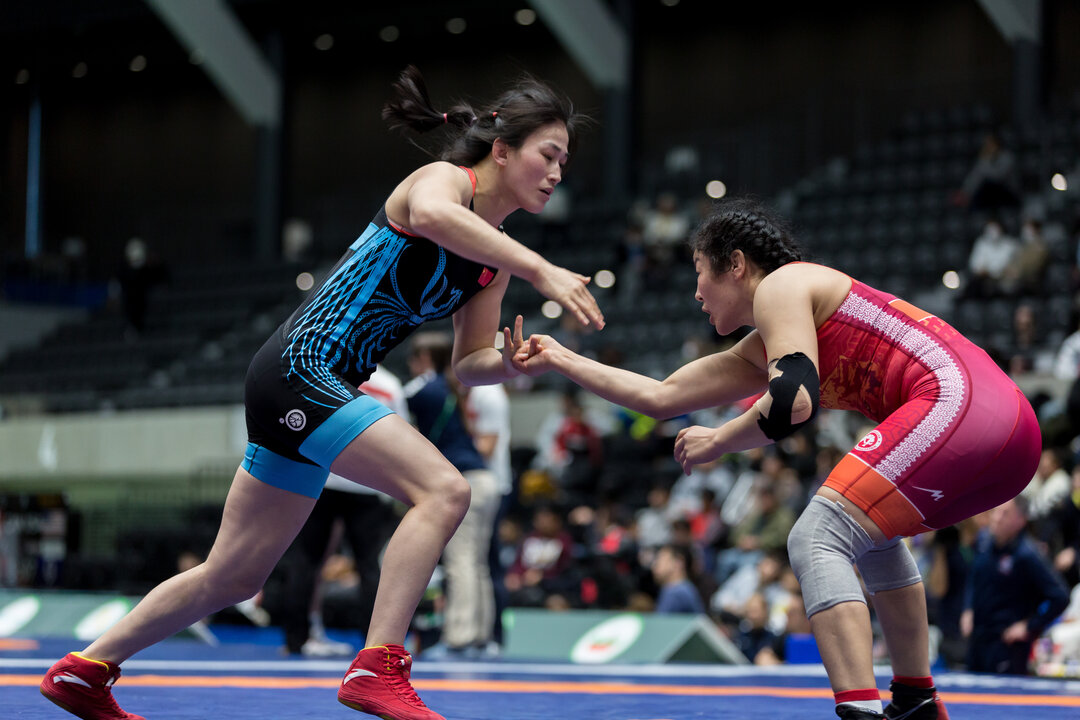 (ZHOU Feng led China in the opening two sessions of the 2018 Women's World Cup in Takasaki // Photo: Max Rose-Fyne)

In another intriguing matchup, there was a clash of Paris 2017 world bronze medalists, with Justina DI STASIO (CAN) defeating Hiroe MINAGAWA (JPN) by the narrowest of margins. Di Stasio scored a takedown with :24 left, then survived two step-outs to win 3x-3.

Rio 2016 champion Erica WIEBE (CAN) stood out as the only wrestler to chalk up wins over both Japan and U.S. opponents, topping Victoria FRANCIS (USA) by fall and Naruha MATSUYUKI (JPN), 8-0.

In her lone match, Rio 2016 and Paris 2017 gold medalist Risako KAWAI (JPN) . stormed to a 10-0 technical fall of Jessica BROUILLETTE (CAN) in just under two minutes.
 
Group A

Session 1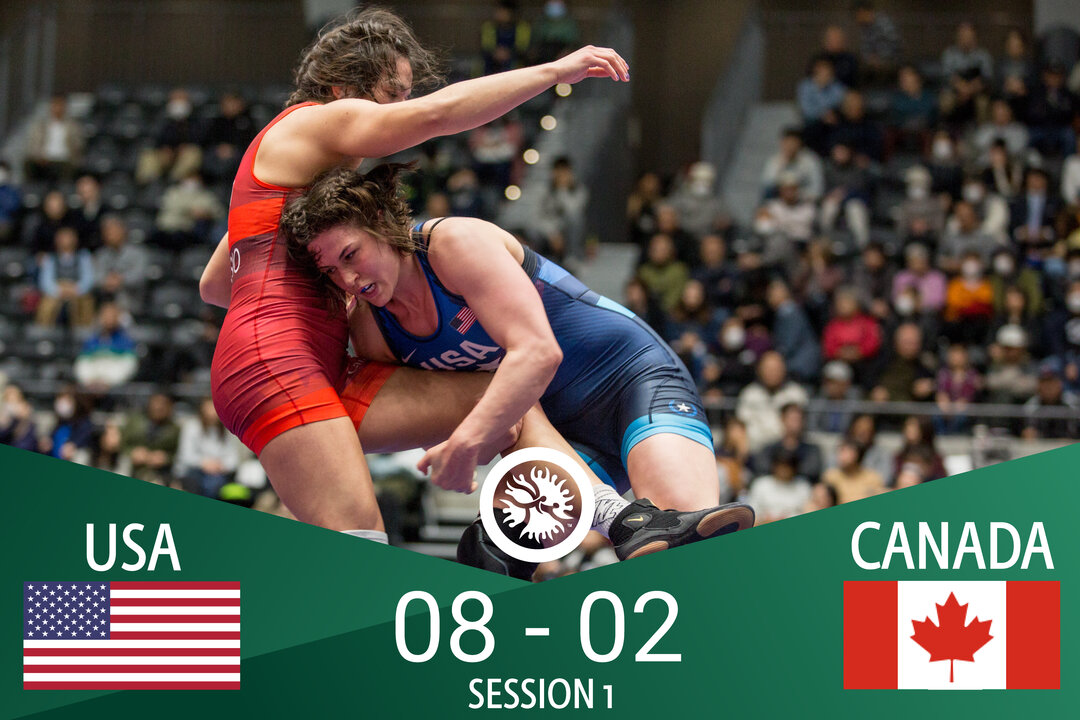 UNITED STATES 8 CANADA 2

50 kg:  Victoria ANTHONY (USA) df. Jessica MACDONALD (CAN), 8-4
53 kg:  Diana WEICKER (CAN) df. Haley AUGELLO (USA), 6-1 
55 kg: Becka LEATHERS (USA) df. Jade PARSONS (CAN) by Fall, 5:31 (4-0) 
57 kg: Allison RAGAN (USA) df. Samantha STEWART (CAN) by TF, 10-0, 3:17
59 kg: Kayla MIRACLE (USA) df. Emily SCHAEFER (CAN) by TF, 17-6, 1:46
62 kg:  Mallory VELTE (USA) df. Jessica BROUILLETTE (CAN) by TF, 11-0, 2:06 
65 kg:  Julia SALATA (USA) df. Braxton STONE (CAN) by TF, 10-0, 0:30
68 kg:  Tamyra MENSAH (USA)  df. Olivia DI BACCO (CAN), 5-2
72 kg:  Erica WIEBE (CAN) df. Victoria FRANCIS (USA) by Fall, 1:43 (10-0) 
76 kg: Adeline GRAY (USA) df. Justina DI STASIO (CAN), 10-2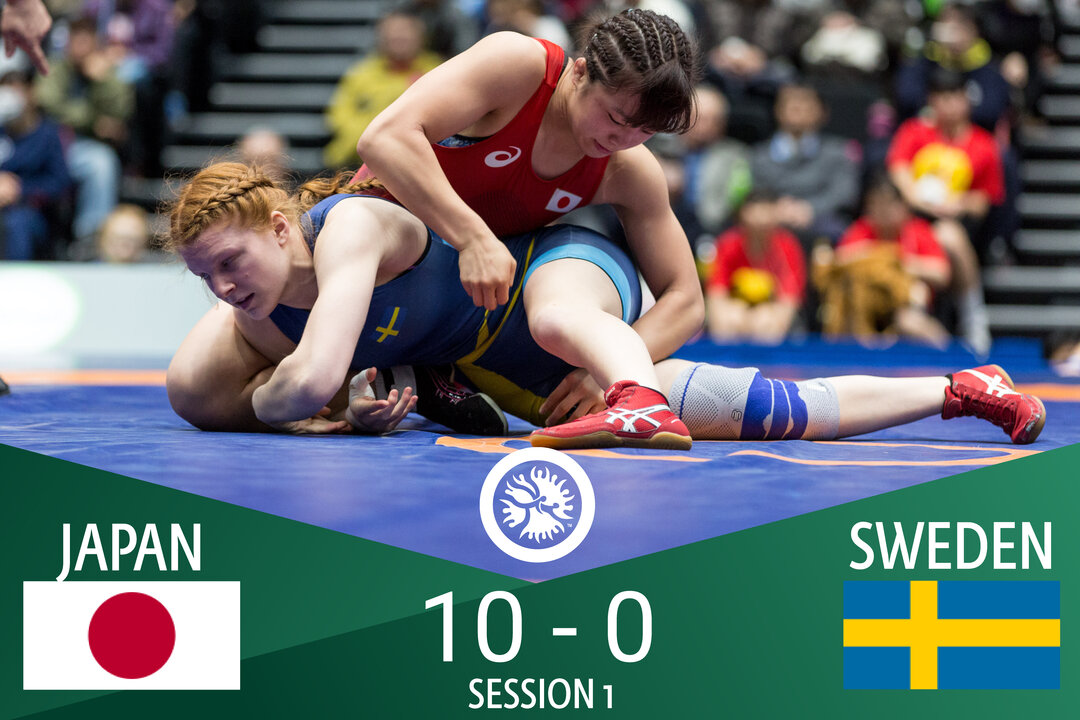 JAPAN 10 SWEDEN 0

50 kg: Miho IGARASHI (JPN) vs Malin LJUNGSTROEM (SWE) by Fall, 5:24 (4-0) 
53 kg:  Haruna OKUNO (JPN) df.  Linn LUNDSTROEM (SWE) by TF, 10-0, 4:27 
55 kg:  Saki IGARASHI (JPN) df. Liliana JUAREZ ANDINO (SWE) by TF, 10-0, 4:34
57 kg:  Katsuki SAKAGAMI (JPN) df. Sara LINDBORG (SWE) by TF, 10-0, 2:30
59 kg:  Yukako KAWAI (JPN) df. Emma JOHANSSON by Fall, 5:13 (3-2)
62 kg:  Yurika ITO (JPN) df. Therese PERSSON (SWE) by TF, 10-0, 2:31
65 kg:  Kiwa SAKAE (JPN) df. Moa NYGREN (SWE), 4-2
68 kg:  Miwa MORIKAWA (JPN) df. Alexandra SANDAHL (SWE), 5-1
72 kg:  Masako FURUICHI (JPN) df. Jenny FRANSSON (SWE), 2x-2
76 kg:  Yasuha MATSUYUKI (JPN) df. Denise MAKOTA STROEM (SWE) by Fall, 0:03 (6-4)

Session 2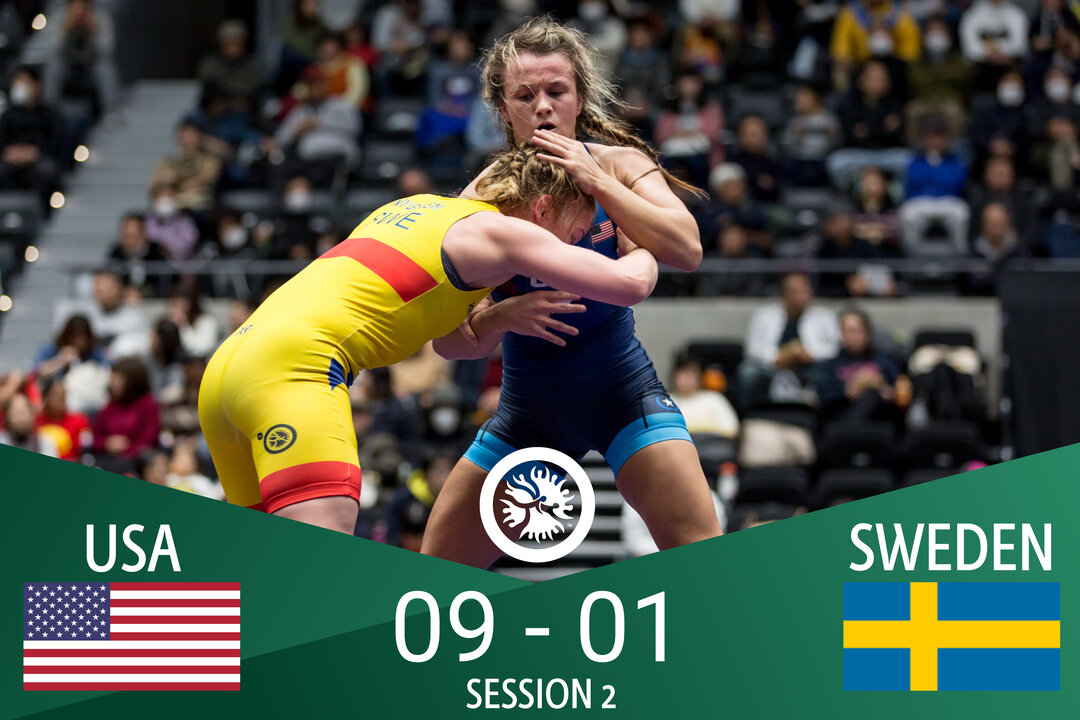 UNITED STATES 9 SWEDEN 1

50 kg: Erin GOLSTON (USA) df. Malin LJUNGSTROEM (SWE) by Fall, 4:57 (4-0) 
53 kg: Sarah HILDEBRANDT (USA) df. Linn LUNDSTROEM (SWE) by TF, 10-0, 3:41 
55 kg: Jacarra WINCHESTER (USA) df. Liliana JUAREZ ANDINO (SWE) by Fall, 5:12 (4-0) 
57 kg:  Allison RAGAN (USA) df. Sara LINDBORG (SWE) by TF, 10-0, 3:33 
59 kg: Kayla MIRACLE (USA) df. Emma JOHANSSON (SWE) by Fall, 4:57 (4-0) 
62 kg: Mallory VELTE (USA) df. Therese PERSSON (SWE) by Default
65 kg: Forrest MOLINARI (USA) df. Moa NYGREN (SWE), 4-0 
68 kg: Tamyra MENSAH (USA) df. Alexandra SANDAHL (SWE) by TF, 10-0, 2:40 
72 kg: Jenny FRANSSON (SWE) df. Victoria FRANCIS (USA) by TF, 10-0, 0:24
76 kg: Adeline GRAY (USA) df. Denise MAKOTA STROEM (SWE) by Fall, 4:47 (2-0)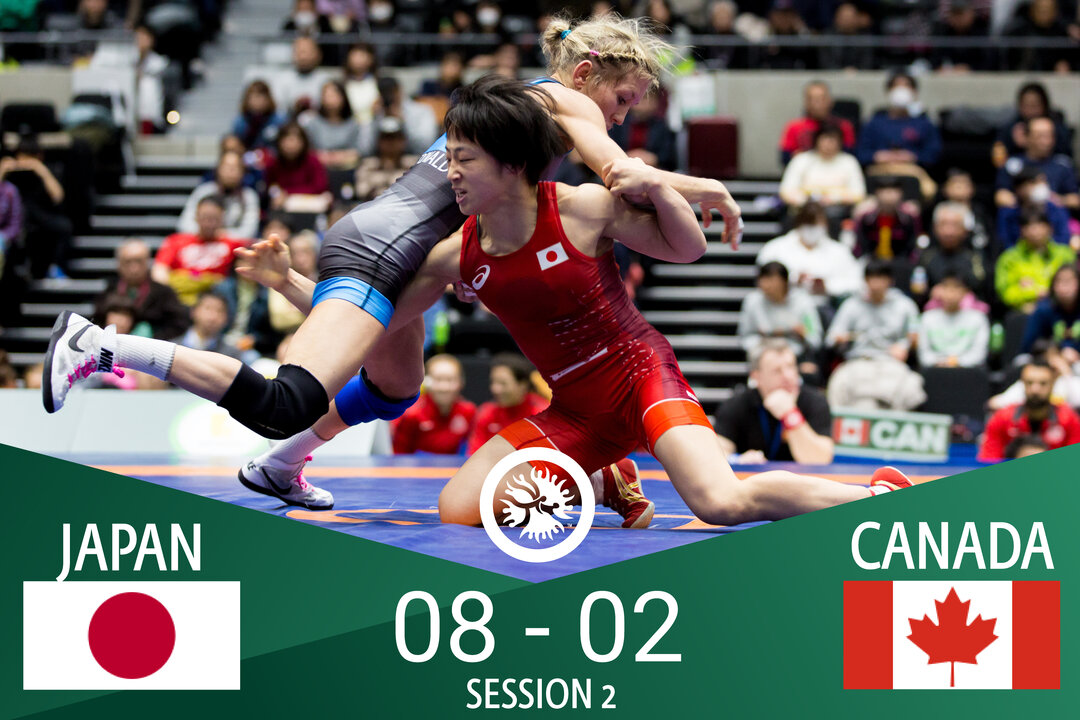 JAPAN 8 CANADA 2

50 kg: Yuki IRIE (JPN) df. Jessica MACDONALD (CAN) by Fall, 1:33 (13-2)
53 kg: Yu MIYAHARA (JPN) df. Diana WEICKER (CAN) by Fall, 0:34 (9-2)
55 kg: Mayu MUKAIDA (JPN) df.  Jade PARSONS (CAN) by TF, 10-0, 3:23
57 kg:  Sae NANJO (JPN) df. Samantha STEWART (CAN) by TF, 10-0, 4:39
59 kg: Yuzuru KUMANO (JPN) df. Emily SCHAEFER (CAN) by TF, 10-0, 2:10
62 kg: Risako KAWAI (JPN) df. Jessica BROUILLETTE (CAN) by TF, 10-0, 4:08
65 kg: Ayana GEMPEI (JPN) df. Braxton STONE (CAN) by Default
68 kg: Sara DOSHO (JPN) df. Danielle LAPPAGE (CAN), 2-1 
72 kg: Erica WIEBE (CAN) df. Naruha MATSUYUKI (JPN), 8-0 
76 kg: Justina DI STASIO (CAN) df. Hiroe MINAGAWA (JPN), 3x-3

Group B

Session 1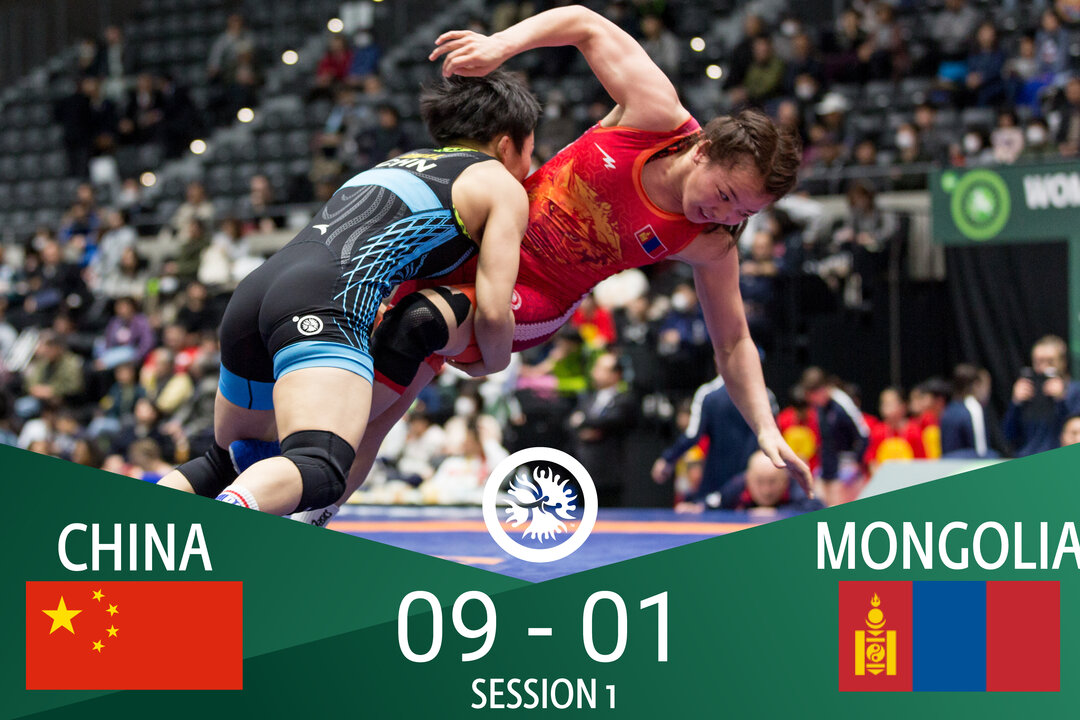 CHINA 9 MONGOLIA 1

50 kg: SUN Yanan (CHN) df. Namuuntsetseg TSOGT OCHIR (MGL) by VSU, 10-0
53 kg: Sumiya ERDENECHIMEG (MGL) df. OUYANG Junling (CHN) by VFA, 8-7
55 kg: ZHANG Qi  (CHN) df. Davaachimeg ERKHEMBAYAR (MGL), 6-5
57 kg: RONG Ningning (CHN) df. Battsetseg ALTANTSETSEG (MGL), 9-1
59 kg: PEI Xingru (CHN) df. Shoovdor BAATARJAV (MGL), 3x-3
62 kg: LUO Xiaojuan (CHN) df. Orkhon PUREVDORJ (MGL) by Default
65 kg: TANG Chuying (CHN) df. Battsetseg SORONZONBOLD (MGL), 6-4
68 kg: ZHOU Feng (CHN) df. Tumentsetseg SHARKHUU (MGL) by TF, 16-5, 1:11
72 kg: HAN Yue (CHN) df. Nasanburmaa OCHIRBAT (MGL) by TF, 15-4, 1:50
76 kg: ZHOU Qian (CHN) df. Chantsalnyamaa AMGALANBAATAR (MGL) by TF, 14-0, 1:25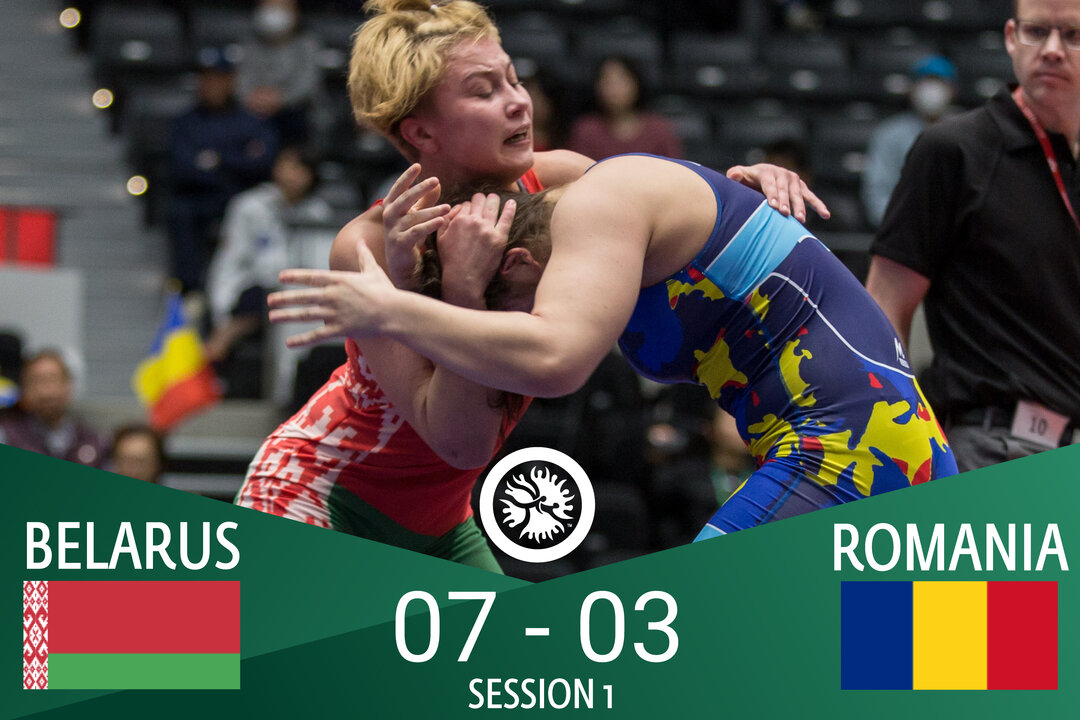 BELARUS 7 ROMANIA 3

50 kg: Alina VUC (ROU) df. Kseniya STANKEVICH (BLR) by Fall, 0:10 (14-7) 
53 kg: Vanesa KALADZINSKAYA (BLR) df. Estera TAMADUIANU DOBRE (ROU) by Fall, 4:30 (9-0)
55 kg: Iryna KURACHKINA (BLR) df. Simona PRICOB (ROU) by Fall, 0:26 (10-0)
57 kg: Zalina SIDAKOVA (BLR) df. Kateryna ZHYDACHEVSKA (ROU) by Fall, 4:21 (4-0)
59 kg: Katsiaryna HANCHAR YANUSHKEVICH (BLR) by Forfeit
62 kg: Veranika IVANOVA (BLR) df. Kriszta INCZE (ROU), 3-0
65 kg: Krystsina FEDARASHKA (BLR) df. Adina POPESCU (ROU), 1x-1
68 kg: Alexandra ANGHEL (ROU) df. Hanna SADCHANKA (BLR), 6-0 
72 kg: Catalina AXENTE (ROU) by Forfeit
76 kg: Vasilisa MARZALIUK (BLR) by Forfeit

Session 2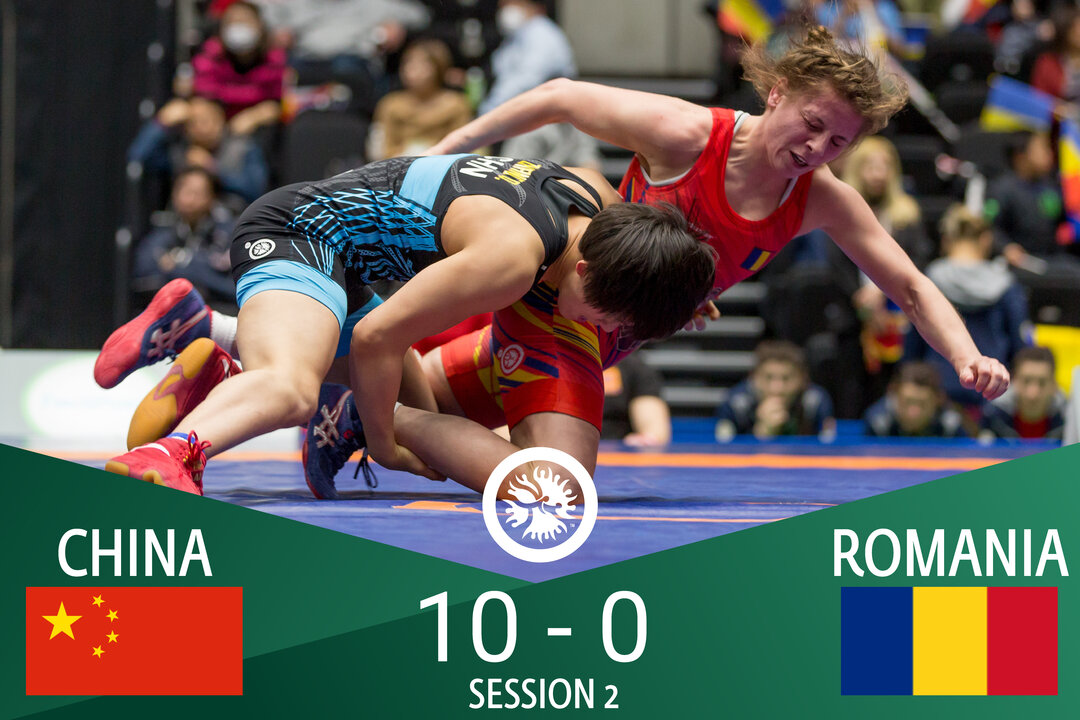 CHINA 10 ROMANIA 0

50 kg: ZHU Jiang (CHN) df. Emilia Alina VUC (ROU) by TF, 10-0, 3:38 
53 kg: OUYANG Junling (CHN) df. Estera TAMADUIANU DOBRE (ROU) by Fall, 2:17 (11-0)  
55 kg: ZHANG Qi (CHN) df. Simona PRICOB (ROU) by TF, 10-0, 1:39 
57 kg: YANG Nan (CHN) df. Kateryna ZHYDACHEVSKA (ROU), 8-4
59 kg: Lingling BAO (CHN) by Forfeit
62 kg: LUO Xiaojuan (CHN) df. Kriszta INCZE (ROU), 3-2
65 kg: TANG Chuying (CHN) df. Adina Elena POPESCU (ROU) by TF, 10-0, 4:43 
68 kg: ZHOU Feng (CHN) df. Alexandra ANGHEL (ROU) by Fall, 2:29 (11-0) 
72 kg: WANG Juan (CHN) df. Catalina AXENTE (ROU) by TF, 11-0, 4:53 
76 kg: Paliha PALIHA (CHN) by Forfeit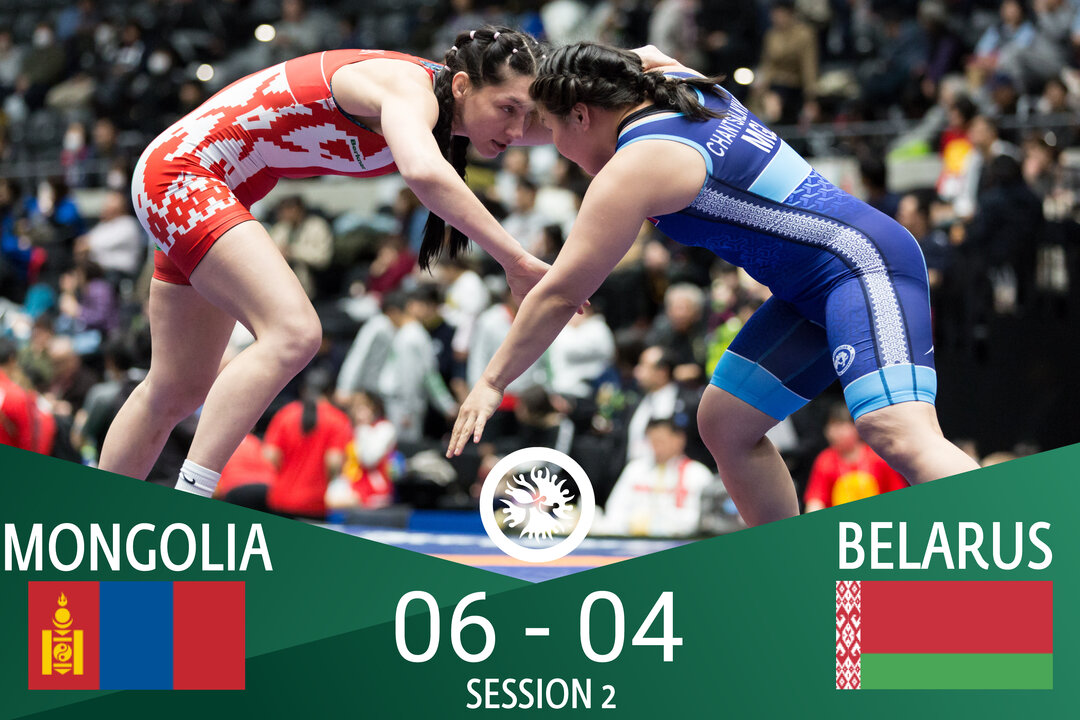 MONGOLIA 6 BELARUS 4 

50 kg: Narangerel ERDENESUKH (MGL) df. Kseniya STANKEVICH (BLR), 10-6 
53 kg: Vanesa KALADZINSKAYA (BLR) df. Otgonjargal GANBAATAR (MGL), 7-6
55 kg: Davaachimeg ERKHEMBAYAR (MGL) df. Iryna KURACHKINA (BLR) 5x-5 
57 kg: Zalina SIDAKOVA (BLR) df. Battsetseg ALTANTSETSEG (MGL), 2-1 
59 kg: Shoovdor BAATARJAV df. Katsiaryna HANCHAR YANUSHKEVICH (BLR) by TF, 14-3, 1:48 
62 kg: Veranika IVANOVA (BLR) df. Orkhon PUREVDORJ (MGL) by Fall, 4:11 (6-11)
65 kg: Battsetseg SORONZONBOLD (MGL) df. Krystsina FEDARASHKA (BLR) by TF, 10-0, 4:32
68 kg: Tumentsetseg SHARKHUU (MGL) df. Hanna SADCHANKA (BLR) by Fall, 1:16 (11-2) 
72 kg: Nasanburmaa OCHIRBAT (MGL) by Forfeit
76 kg: Vasilisa MARZALIUK (BLR) df. Chantsalnyamaa AMGALANBAATAR (MGL), 4-1