Japan Storms Past U.S., Into All-Asian Clash for Gold with China
Saturday, March 17, 2018 - 19:49 By Ken Marantz
The big showdown at the Women's World Cup turned into the big blowout, as host Japan powered into the final with a one-sided victory over the United States in the final preliminary group match.
Next up, an all-Asian clash with an impressive Chinese squad that absolutely decimated its group at Takasaki Arena.
Japan, getting an unexpectedly tough win from world champion Haruna OKUNO at 53kg and a surprisingly easy victory from erratic Katsuki SAKAGAMI at 57kg, earned a shot at a fourth consecutive title by routing the U.S. 8-2 and finishing 3-0 in Group A.
China capped its dominant run in Group B by crushing Belarus 10-0, with seven of the matches won by either fall or technical fall, and two by default or forfeit. Only the final match at 76kg went the distance as China lost only one match the entire day in finishing 3-0.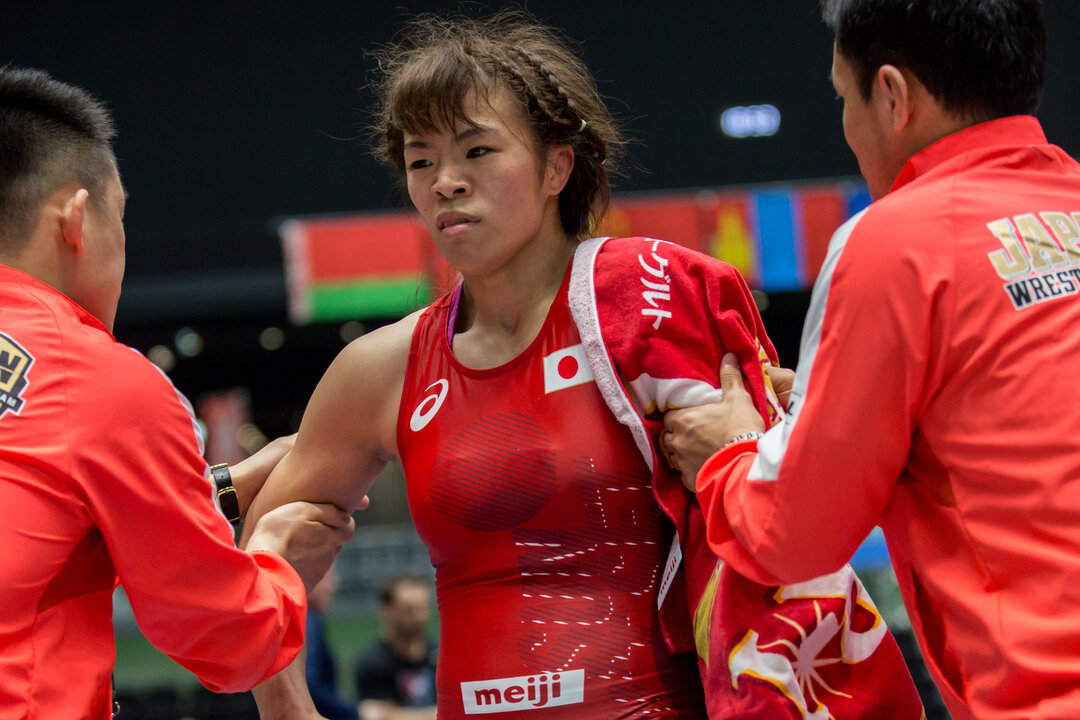 World and Olympic champion Risako KAWAI (JPN) by Max Rose-Fyne 
Japan's victory in the highly anticipated clash with the U.S. was clinched in the minimum of matches when world and Olympic champion Risako KAWAI (JPN) chalking up a solid but somewhat mediocre 5-0 victory over Mallory VELTE (USA) at 62kg to give Japan an insurmountable 6-0 lead.
"Against the U.S., that's like a bad habit I have," Kawai said. "I have the desire, and I want to do more, but I'm always thinking that the opponent will attack and I make it more complicated for myself. It happens all the time and things become difficult."
Still, she did enough to ensure the victory, scoring a takedown in the first period, then gaining an activity point in the second before capping the match with a late takedown.
"Winning is the most important thing, but with everyone thinking that it's only natural that I win all of the time, there are certain things I want to accomplish. The problem is not on the technical side."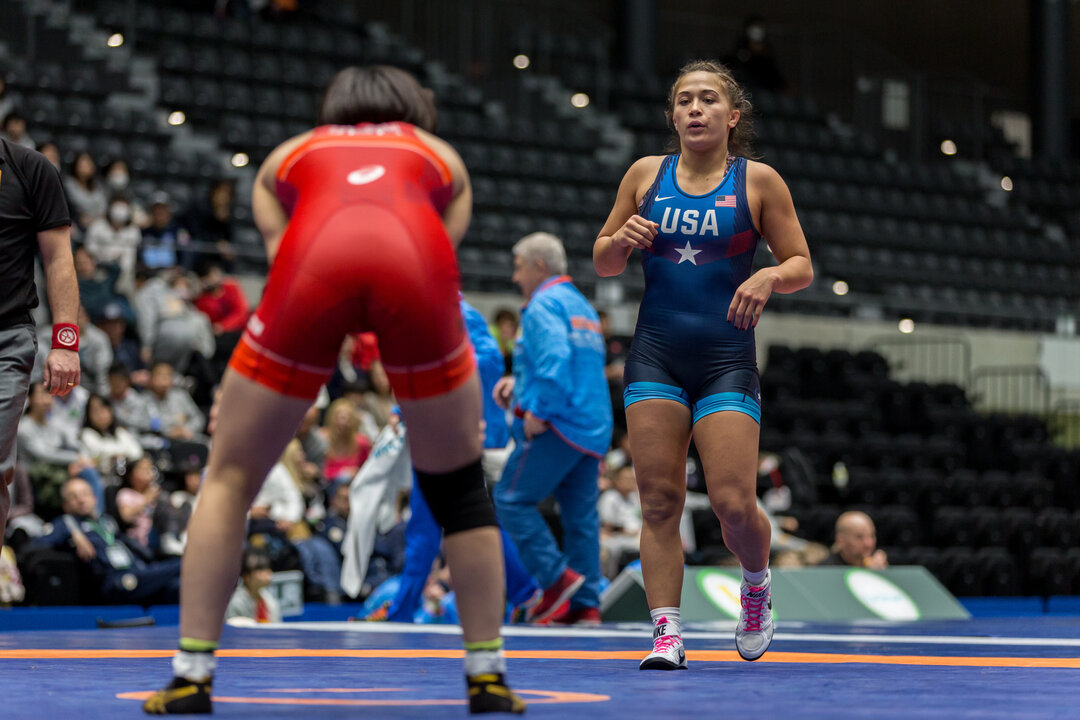 Katsuki SAKAGAMI (JPN) defeated world silver medalist Allison RAGAN (USA), 10-0. Photo by Max Rose-Fyne. 
Sakagami showed her mental toughness by stepping up and showing the potential that had previously abandoned her on big stages. She was a bronze medalist at the 2017 Asian Championships where Japan won five of eight gold medals and two silvers, and was one of only two Japanese to fail to medal at that year's world championships in Paris.
With Japan leading 3-0, a loss to Paris 2017 silver medalist Allison RAGAN (USA) could have turned the tide. Instead, Sakagami came out like gang-busters, scored with a 4-point tackle in the opening seconds and rolled to a 10-0 technical fall in just under two minutes.
"In my first match, I didn't finish up my moves to the end," Sakagami said, referring a technical fall victory over Sweden in the opening session. "I scored points, but I didn't finish well, so my coach said, 'You're not going to die, so give it everything you've got.'"
Sakagami gained motivation after seeing Okuno, the Paris 2017 gold medalist at 55kg, struggle to eke out a 7-6 victory over Sarah HILDEBRANDT (USA) that could have gone either way.
"I thought the three before me would win handily one after the other, but the 53kg had a tough match," she said. "I thought, maybe America will change the momentum. I knew my opponent Ragan is strong, and that made me go that much harder."
For the United States, it was a bitter pill to swallow.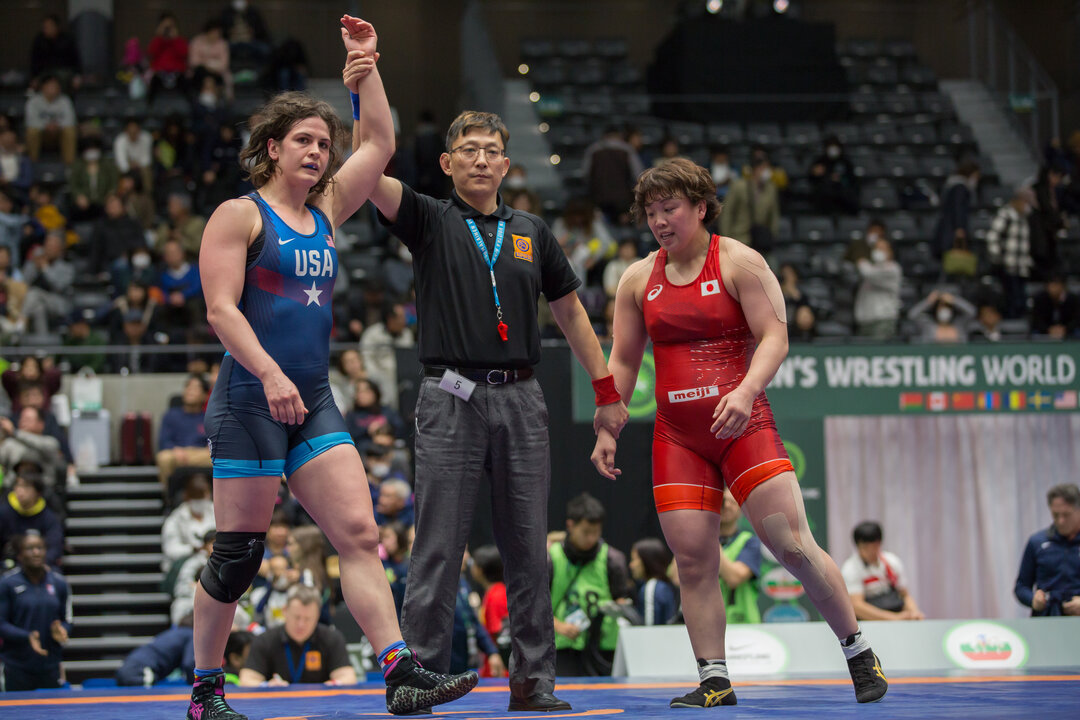 Adeline GRAY (USA) picked up one of two victories for the United States against Japan. Photo by Max Rose-Fyne. 
"I don't think we ever expected to get beat that bad," said Adeline GRAY (USA), the former three-time world champion whose 6-1 victory over Paris 2017 bronze medalist Hiroe SUZUKI (JPN) at 76kg left her 3-0 individually for the competition.
"For the most part, we came in ready for this day and it's so disappointing that we didn't live up to the expectations that we set for ourselves. It's a bummer for sure."
Gray acknowledged that the U.S. is still playing catch-up with Japan, the dominant force in women's wrestling since its inception.
"Japan is doing something excellent here and on home soil, when they get the momentum going, it's tough to stop," she said. "It's almost awesome to see from the unfortunate side. They have some motivation that comes from within that truly shines on the wrestling mat. It's unfortunate, but we're going to break through one of these days."
The pairing between Japan and China carries so much intrigue because of the incredible progress China has seemed to make in the half-year since hiring Bulgarian coach Simeon CHTEROV.
At the recent Asian Championships in Bishkek, China won six of 10 gold medals (five of those wrestlers are on the team in Takasaki), albeit with Japan entering a second-string team. Sunday's final, to be televised nationally, can be considered in some cases to be de facto Asian gold medal matches.
"The Chinese team now believes in themselves," Chterov said. "If they continue believing, I think they can win. This is very important, desire, to win."
For Kawai and Japan, the key to victory will be doing what they know they are capable of.
"I really don't know what's going to happen, but I know the Japanese team has practiced very hard," she said. "If everyone gives their full effort, the result will come."
As an independent but interested observer, Gray expects nothing short of fireworks in the clash between the Asian powers.
"They didn't have a tough match today at all, it looked like a technique practice going on the other mat," Gray said of China's rout of Belarus. "They went out there and executed. Those are some STRONG women. I'm looking forward to it....I'll be curious to see how they [Japan] matches up with China."
The U.S. will vie for the bronze medal against Mongolia which, like the final between Japan and China, is a repeat of the medal match pairings from the 2017 World Cup held three months ago in Russia. Mongolia won that clash.
In the other pairings for classification, it will be Canada and Belarus in the match for fifth place, while Sweden and Romania will battle for seventh place.
Canada finished up the group stage by crushing Sweden 9-1 (the lone loss was an injury-induced default), but one match stood out in particular---the clash at 72kg between Erica WIEBE (CAN), the Rio 2017 Olympic gold medalist at 75kg, and Jenny FRANSSON (SWE), who won a bronze at 69kg.
Fransson was holding a 4-0 lead in the second period when Wiebe scored a pair of takedowns, the second in the final 30 seconds to pull out a 4x-4 win and finish 3-0 in the group stage.
"That's like the trademark of my wrestling," Wiebe said. "I love being behind, and pulling out the win. That's when I really feel I'm able to wrestle---so I've got to work on that."
Wiebe had previously beaten Fransson in a second-round match at the 2013 world championships, and knew---and welcomed---the tough challenge facing her.
"Jenny Fransson is an incredible competitor, she's really tough. We know each other really well. As athletes, I think also as friends, I have a lot of respect for her. I knew it was going to be a tough match, and I always cherish those tough matches. I was excited to draw her, and excited to test out new things in my arsenal."
Asked what new moves she tried out, she said "I shot some high crotches today which I don't usually do. It's Year 2 of the quad [four-year Olympic cycle] and I'm trying to add some tools."
So she expects to be back in Japan for Tokyo 2020?
"That's the hope, that's the plan."
Final Day Pairings
Gold Medal: Japan vs China
Bronze Medal: United States vs Mongolia
5th Place: Canada vs Belarus
7th Place: Sweden vs Romania
Session 3
Group A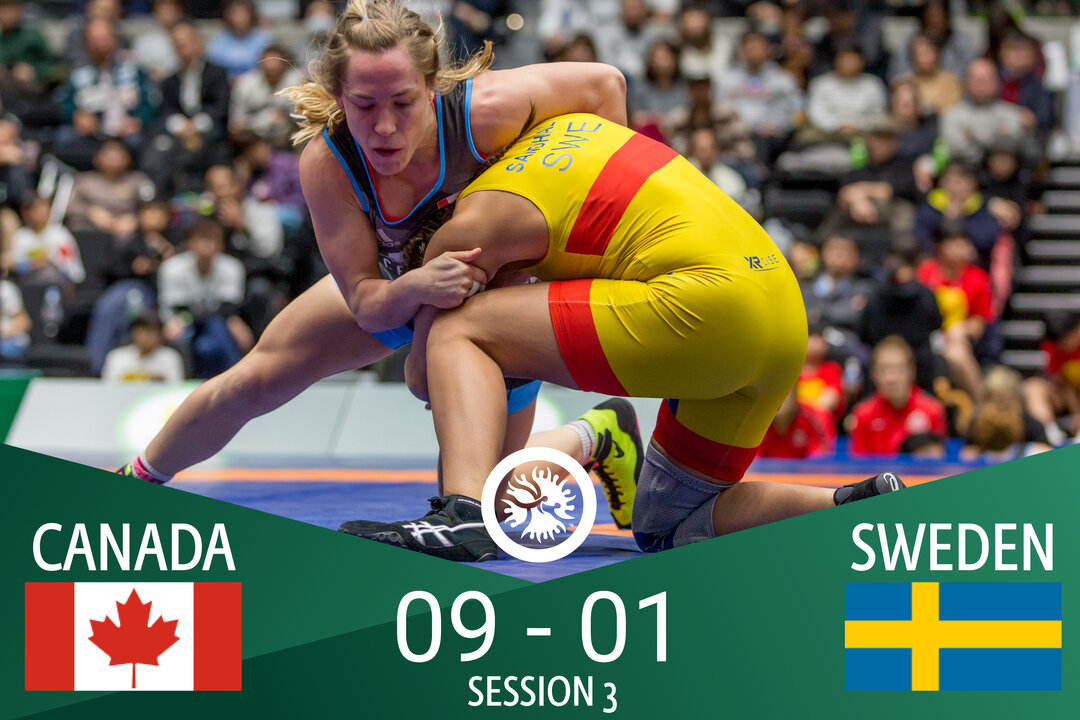 CANADA 9 SWEDEN 1
50 kg: Jessica MACDONALD (CAN) df. Malin LJUNGSTROEM (SWE) by Fall, 5:33 (4-0)
53 kg: Diana WEICKER (CAN) df. Linn LUNDSTROEM (SWE) by TF, 10-0, 4:27
55 kg: Jade PARSONS (CAN) df. Liliana JUAREZ ANDINO (SWE) by TF, 10-0, 3:49
57 kg: Samantha STEWART (CAN) df. Sara LINDBORG (SWE), 6-3
59 kg: Emily SCHAEFER (CAN) df. Emma JOHANSSON (SWE) by Fall, 3:58 (4-0)
62 kg: Jessica BROUILLETTE (CAN) df. Therese PERSSON (SWE) by Default
65 kg: Moa NYGREN (SWE) df. Braxton STONE (CAN) by Default
68 kg: Danielle LAPPAGE (CAN) df. Alexandra SANDAHL (SWE) by TF, 10-0, 3:25
72 kg: Erica WIEBE (CAN) df. Jenny FRANSSON (SWE), 4x-4
76 kg: Justina DI STASIO (CAN) df. Denise MAKOTA STROEM (SWE) by Fall, 5:07 (2-0)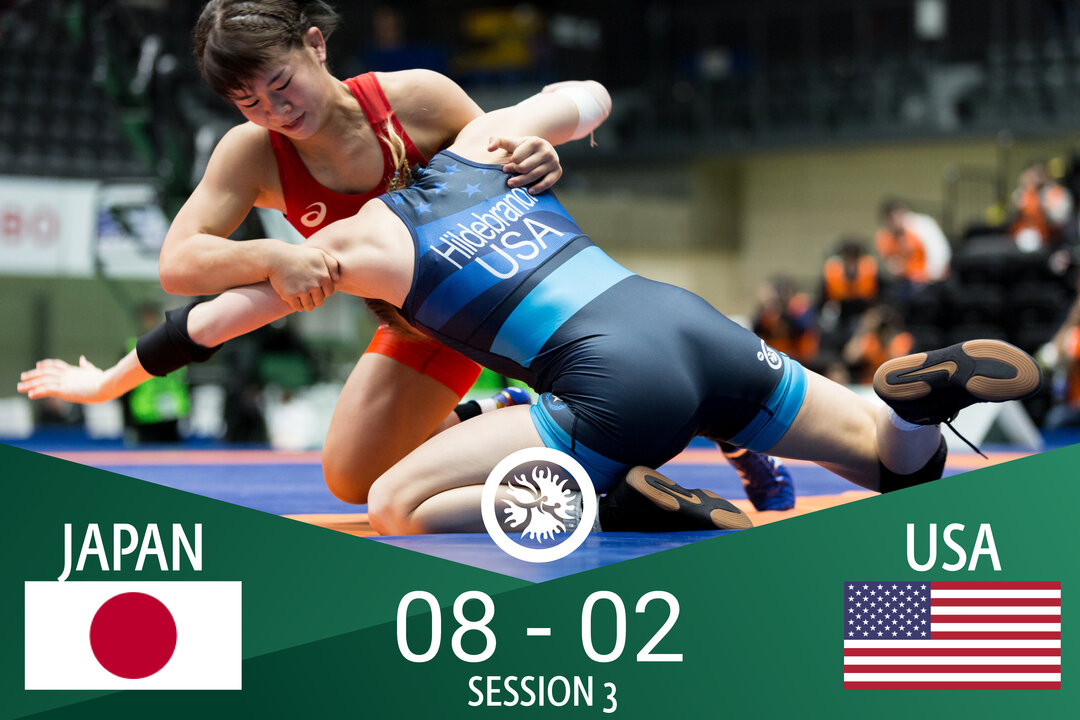 JAPAN 8 UNITED STATES 2
50 kg: Yuki IRIE (JPN) df. Victoria ANTHONY (USA), 8-2
53 kg: Haruna OKUNO (JPN) df. Sarah HILDEBRANDT (USA), 7-6
55 kg: Mayu MUKAIDA (JPN) df. Becka LEATHERS (USA) by TF, 10-0, 3:26
57 kg: Katsuki SAKAGAMI (JPN) df. Allison RAGAN (USA) by TF, 10-0, 4:02
59 kg: Yukako KAWAI (JPN) df.  Kayla MIRACLE (USA) by TF, 12-1, 1:01
62 kg: Risako KAWAI (JPN) df. Mallory VELTE (USA), 5-0
65 kg: Ayana GEMPEI (JPN) df. Julia SALATA (USA), 5-2
68 kg: Tamyra MENSAH (USA) df. Miwa MORIKAWA (JPN), 8-2
72 kg: Masako FURUICHI (JPN) df. Victoria FRANCIS (USA), 9-2
76 kg: Adeline GRAY (USA) df. Hiroe MINAGAWA (JPN), 6-1
Group B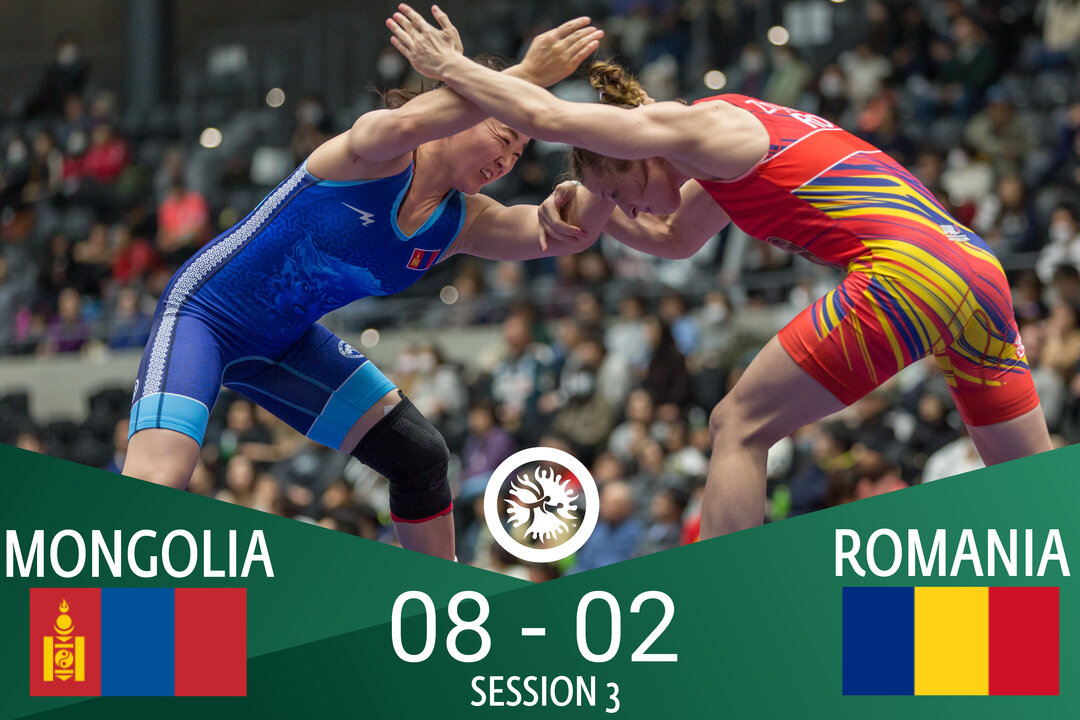 MONGOLIA 8 ROMANIA 2

50 kg: Alina VUC (ROU) df. Namuuntsetseg TSOGT OCHIR (MGL) by TF, 10-0, 5:14
53 kg: Otgonjargal GANBAATAR (MGL) df. Estera TAMADUIANU DOBRE (ROU) by Fall, 1:36 (9-8)
55 kg: Davaachimeg ERKHEMBAYAR (MGL) df. Simona PRICOB (ROU), 3-0
57 kg: Battsetseg ALTANTSETSEG (MGL)  df. Kateryna ZHYDACHEVSKA (ROU), 11-5
59 kg: Shoovdor BAATARJAV (MGL) by Forfeit
62 kg: Kriszta Tunde INCZE (ROU) df. Orkhon PUREVDORJ (MGL) by Default
65 kg: Battsetseg SORONZONBOLD (MGL) df. Adina POPESCU (ROU) by Fall, 3:47 (9-0)
68 kg: Tumentsetseg SHARKHUU (MGL) df. Alexandra Nicoleta ANGHEL (ROU) by Fall, 2:16 (16-10)
72 kg: Nasanburmaa OCHIRBAT (MGL) df. Catalina AXENTE (ROU) by Fall, 4:59 (4-0)
76 kg: Chantsalnyamaa AMGALANBAATAR (MGL) by Forfeit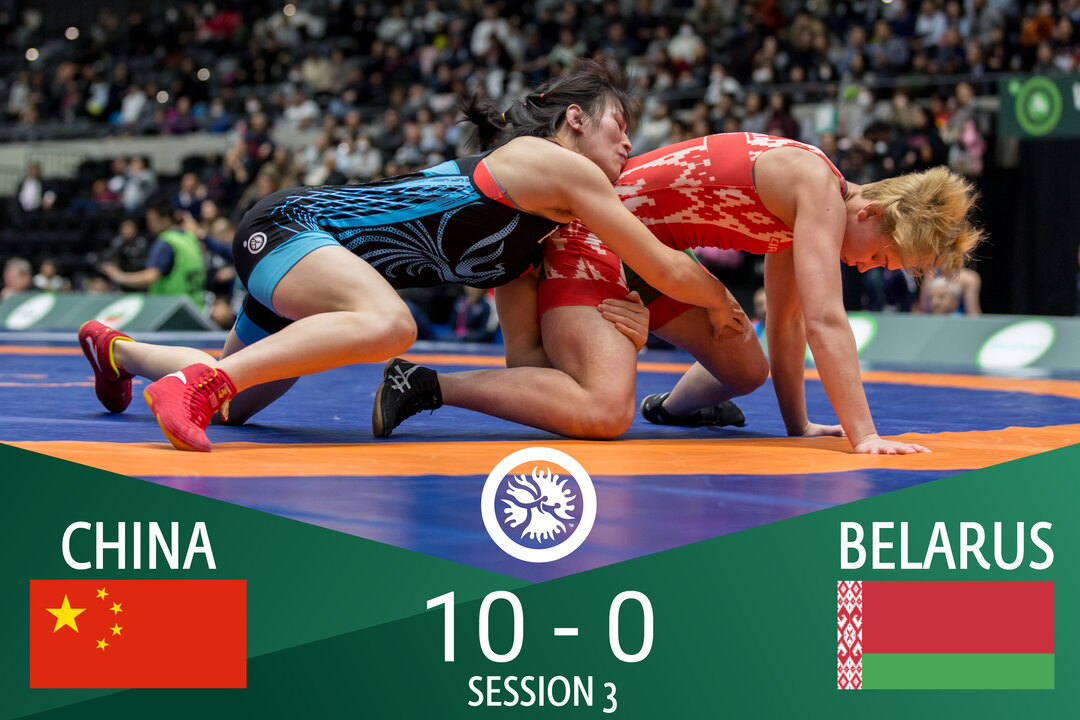 CHINA 10 BELARUS 0
50 kg: SUN Yanan (CHN) df. Kseniya STANKEVICH (BLR) by Fall, 4:54 (2-0)
53 kg: OUYANG Junling (CHN) df. Vanesa KALADZINSKAYA (BLR) by Default
55 kg: ZHANG Qi (CHN) df. Iryna KURACHKINA (BLR) by TF, 10-0, 4:14
57 kg: RONG Ningning (CHN) df. Zalina SIDAKOVA (BLR) by TF, 10-0, 4:43
59 kg: PEI Xingru (CHN) df. Katsiaryna HANCHAR YANUSHKEVICH (BLR) by TF, 10-0, 4:11
62 kg: LUO Xiaojuan (CHN) df. Veranika IVANOVA (BLR) by Fall, 4:47 (4-0)
65 kg: TANG Chuying (CHN) df. Krystsina FEDARASHKA (BLR) by TF, 10-0, 3:55
68 kg: ZHOU Feng (CHN) df. Hanna SADCHANKA (BLR) by TF, 11-0, 3:21
72 kg: HAN Yue (CHN) by Forfeit
76 kg: ZHOU Qian (CHN) df. Vasilisa MARZALIUK (BLR), 3-2