Japan Snags Three Champions in Final Day of #BuchaWrestU23 Women's Action
Friday, November 16, 2018 - 21:19 By Taylor Miller
Photo of Ayana GEMPEI (JPN) by Martin Gabor. 
BUCHAREST, Romania – Japan won three more World titles in women's freestyle on Friday night at the U23 World Championships in Bucharest, Romania, to win the team title with 188 points.
Winning for Japan tonight was Momoka KADOYA at 53 kg, Yukako KUWAI at 62 kg and Ayana GEMPEI at 65 kg, bringing Japan's gold-medal total to five in women's freestyle.
It was an emotional ending at 53 kg as it appeared that Milana DADASHEVA (RUS) won 5-4 with a late takedown. However, Kadoya's corner challenged and won, giving Japan its third World champion of the week with a 4-3 decision.
Making her second World finals in less than a month, 2018 Senior World runner-up Yukako KAWAI (JPN) defeated Ilona PROKOPEVNIUK (UKR) in the 62 kg gold bout with a dominant 14-3 performance.
The final champion from Japan came at 65 kg as Gempei won her second-consecutive U23 World title. To earn gold, Gempei put up a decisive 7-3 decision against two-time Junior World bronze medalist Elis MANOLOVA (AZE).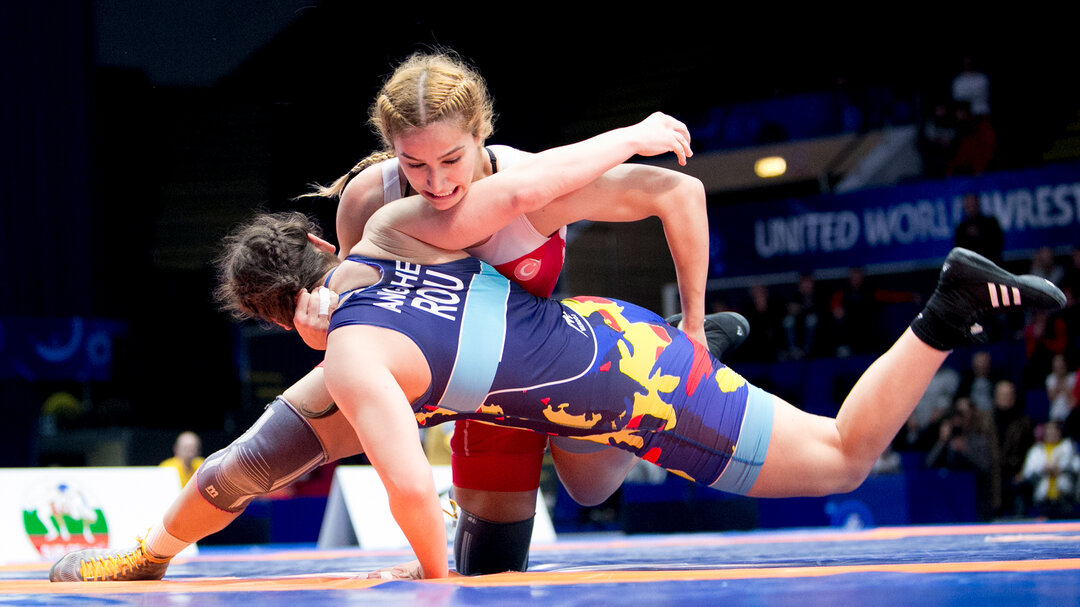 Photo of Buse TOSUN (TUR) by Martin Gabor. 
The other two golds up for grabs tonight went to Canada and Turkey.
At 57 kg, Alexandria TOWN (CAN) stopped Japan from another gold medal, defeating 2018 Junior Asian champion Akie HANAI (JPN) with a 7-4 win.
To close out the night, 2018 Senior World bronze medalist Buse TOSUN (TUR) finished off fast 10-0 technical fall over host country's Alexandra ANGHEL (ROU), ending the bout in 1:35.
This is Tosun's third World medal as she also has a 2013 Junior World silver medal.
Finishing behind Japan in the team race was Russia in second with 113 points and China in third with 106 points.
The 2018 U23 World Championships continue tomorrow with men's freestyle action.
Finals results
53 kg
GOLD - Momoka KADOYA (JPN) df. Milana DADASHEVA (RUS), 4-3
BRONZE - Khrystyna BEREZA (UKR) df. Aktenge KEUNIMJAEVA (UZB), fall
BRONZE - Andreea Beatrice ANA (ROU) df. Bolortuya BAT OCHIR (MGL), 5-3
57 kg
GOLD - Alexandria TOWN (CAN) df. Akie HANAI (JPN), 7-4
BRONZE - Tserenchimed SUKHEE (MGL) df. Alyona KOLESNIK (AZE), 11-3
BRONZE - Alexandra ANDREEVA (RUS) df. Qi ZHANG (CHN), 2-1
62 kg
GOLD - Yukako KAWAI (JPN) df. Ilona PROKOPEVNIUK (UKR), 14-3
BRONZE - Luisa NIEMESCH (GER) df. Kayla MIRACLE (USA), 6-3
BRONZE - Gantuya ENKHBAT (MGL) df. Kriszta Tunde INCZE (ROU), 4-2
65 kg
GOLD - Ayana GEMPEI (JPN) df. Elis MANOLOVA (AZE), 7-3
BRONZE - Iryna KOLIADENKO (UKR) df. Sofiya GEORGIEVA (BUL), fall
BRONZE - Mariia KUZNETSOVA (RUS) df. Moa NYGREN (SWE), 10-0
72 kg
GOLD - Buse TOSUN (TUR) df. Alexandra ANGHEL (ROU), 10-0
BRONZE - Xiaoqian WANG (CHN) df. Nomin Erdene PURVEE (MGL), 8-3
BRONZE - Zhamila BAKBERGENOVA (KAZ) df. Naina NAINA (IND), fall
Team scores      
1. Japan – 188
2. Russia – 113
3. China – 106
4. Ukraine – 81
5. USA – 76