Irie, Icho Aim to Clear Big Hurdles, Move Closer to Tokyo 2020 with Victories at Meiji Cup
Monday, June 10, 2019 - 20:47 By Ken Marantz
TOKYO---After winning the women's 50kg gold medal at the Asian Championships in Xi'an, China, in April, Yuki IRIE's first reaction was that she wanted to get back to Japan and into the wrestling room as soon as possible.
The continental championship could be considered just a snack on the way to a main banquet---in this case, the Tokyo 2020 Olympics---and the next stage in the process for getting a seat at that event was fast approaching.  And when it means possible rematches with two-time world champion Yui SUSAKI or Rio 2016 Olympic gold medalist Eri TOSAKA, there's not a moment to spare.
A number of world and Olympic champions and medalists could potentially collide again as Japan's top wrestlers---funneled into the Olympic weight classes---clash at the four-day All-Japan Invitational Championships, referred to as the Meiji Cup, starting Thursday at Tokyo's Komazawa Gym.
The tournament, combined with the All-Japan Championships (Emperor's Cup) held in December, serves as a qualifier for the World Championships in Kazakhstan in September. A victory in both gives the wrestler an automatic berth on the team to Nur-Sultan; if the victors are different, they will meet it a playoff on July 6.
Making the team to the World Championships has even larger ramifications this year, as the Japan Wrestling Federation has decreed that any wrestler winning a medal there will automatically fill a spot on the Tokyo 2020 team. While that will be a tall task for the men, there is certainly a strong possibility of Japan medaling in all six women's Olympic divisions in the Kazakh capital, so getting there is of the utmost urgency.
Thus, Irie's comments after defeating SUN Yanan (CHN) in the Asian final were echoed by many others: "I uncovered many issues, so I want to get home right away and start practicing. If I don't win at the Meiji Cup, it doesn't mean anything...To aim for the 2020 Tokyo Olympics, winning this tournament was essential. I was glad to clear that. To me, June is the real deal."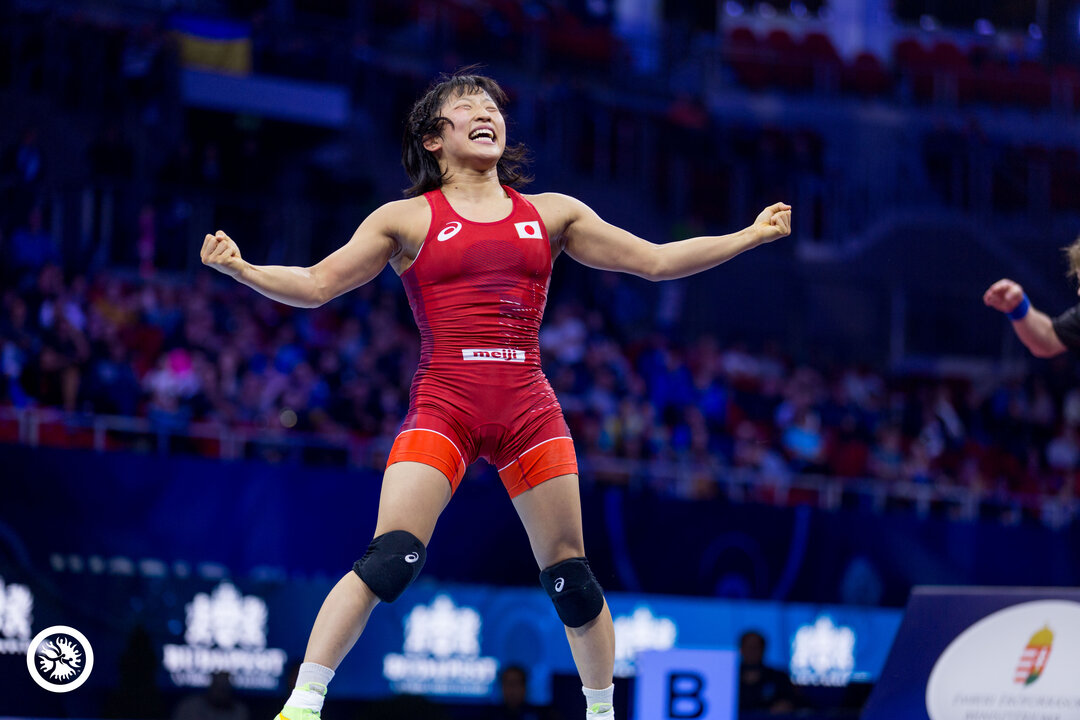 Two-time world champion Yui SUSAKI will be making her return to action after skipping the Emperor's Cup due to a dislocated elbow. (Photo: Max Rose-Fyne)
Irie will renew her rivalry at 50kg with Susaki, who was forced to skip the Emperor's Cup due to a dislocated elbow. Irie is the only wrestler in the world who has defeated Susaki multiple times, with her most recent win coming at last year's Emperor's Cup.
Not to be counted out are Tosaka, who lost in the semifinals to Irie at the Emperor's Cup, and 2017 world cadet champion Remina YOSHIMOTO, who gave Susaki a tough fight in losing 2-1 in the final of the Junior Queen's Cup in April.
Four-time Olympic champion Kaori ICHO (JPN) and Rio Olympic champion Risako KAWAI (JPN) are both entered at 57kg. The pair split their two matches at the Emperor's Cup. (Photo: Sachiko Hotaka)
Icho, Kawai to likely go at it again
At the Emperor's Cup, fans were treated to not just one clash between Rio 2016 champions Kaori ICHO and Risako KAWAI, but two.
Icho defeated her younger rival in a thriller for the 57kg title, scoring a takedown in the last 10 seconds for a 3-2 victory. That came after Kawai stunned the four-time Olympic gold medalist 2-1 in a preliminary group match, handing Icho her first loss to a Japanese opponent since 2001.
Kawai, the 2018 world champion at 59kg, moved down to 57kg, rather than up to 62kg, where she would have to displace her younger sister Yukako. But it meant risking her shot at the Olympics by putting her on a collision course with Icho, who returned to competition in late 2018 for the first time since winning the gold in Rio.
Icho, who will turn 35 on Thursday, got a dose of reality in Xi'an, where she lost in the semifinals to JONG Myung-Suk (PRK) and had to settle for a bronze medal. But that defeat might have been the wakeup call that she needed, as it showed that she could not take any opponent for granted.
According to a Japanese press report, Icho has been below par physically since returning from Xi'an and only participated one day in a recent national team training camp. Kawai, determined to exact revenge, attended the entire camp. Still, one Japan federation official said, "I think [Icho] will definitely be ready."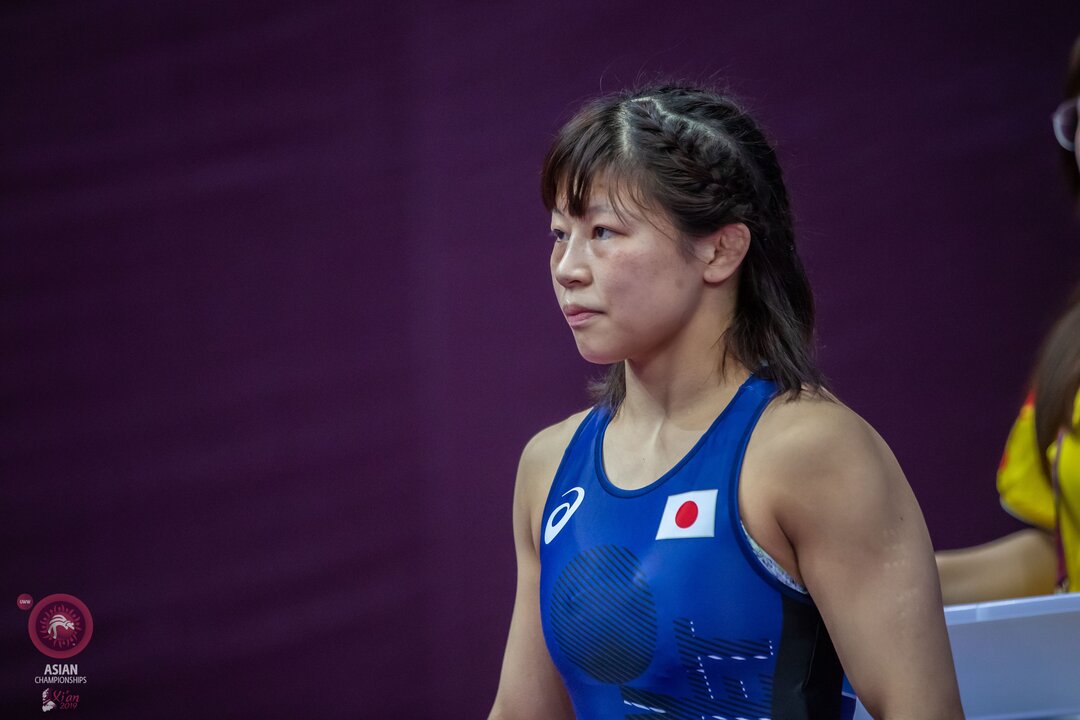 World champion Mayu MUKAIDA (JPN) and Haruna OKUNO (JPN) could meet at 53kg. If they do, Mukaida holds the upper hand in head-to-head meetings, having won all eight previous bouts between the two. (Photo: Sachiko Hotaka)
The other big showdown on tap could come at 53kg between Shigakkan University teammates Haruna OKUNO, the world champion at that weight, and Mayu MUKAIDA, the gold medalist at 55kg who has dropped to the Olympic weight.
An anticipated meeting at the Emperor's Cup never came about after Okuno withdrew due to a stomach virus. Mukaida holds the upper hand in head-to-head meetings, having won all eight previous bouts between the two, most recently in 2017.
Like Icho, Mukaida fell short of a gold medal at the Asian Championships, where she gave up a last-second takedown and fell 4-3 in the final to PAK Yongmi (PRK). While that may have exposed a weakness, it also will serve to make her more determined to avoid making the same mistakes.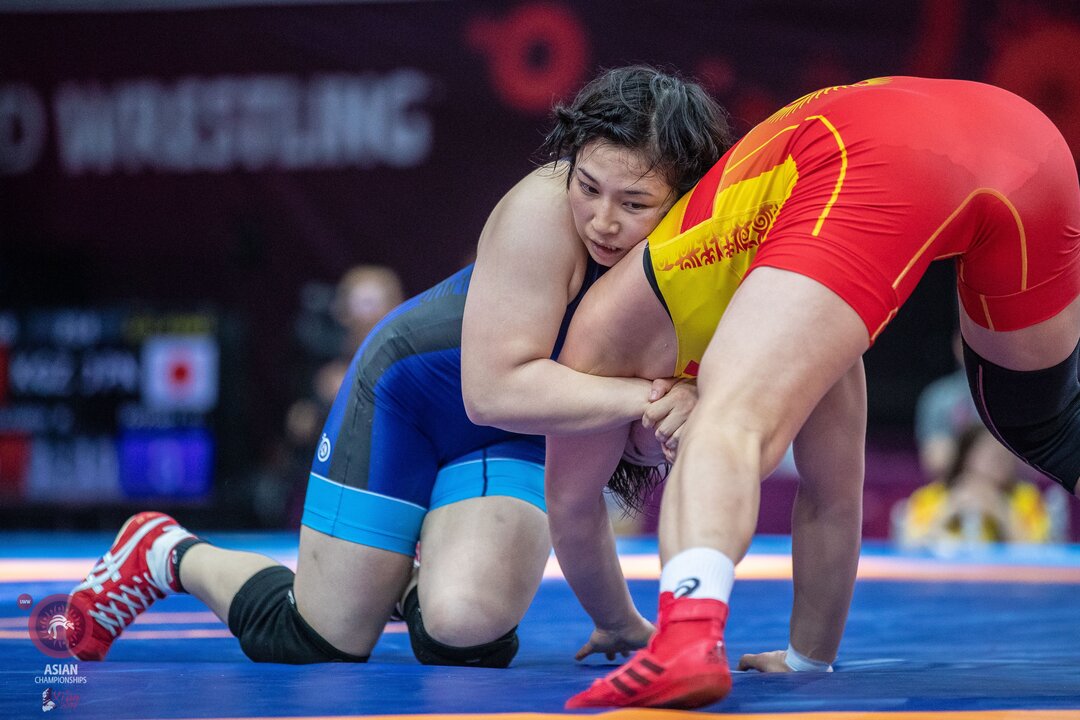 Olympic champion Sara DOSHO (JPN) has won gold medals at both the Emperor's Cup and Asian Championships since returning from shoulder surgery. (Photo Sachiko Hotaka) 
Japan's other reigning Olympic champion, Sara DOSHO, will look to fight off a challenge from fellow Rio Olympian Rio WATARI at 68kg. Dosho was unable to defend her world title last year after undergoing shoulder surgery, but showed she was on the right track in her return by winning titles at both the Emperor's Cup and Asian Championships.
World bronze medalist Hiroe MINAGAWA's stranglehold on the 76kg division will be put to the test by high school phenom Yuka KAGAMI, a two-time world cadet champion. Having captured the Emperor's Cup and Asian titles at 72kg, the 17-year-old Kagami decided to take a shot at making the Tokyo Olympics by challenging the veteran Minagawa.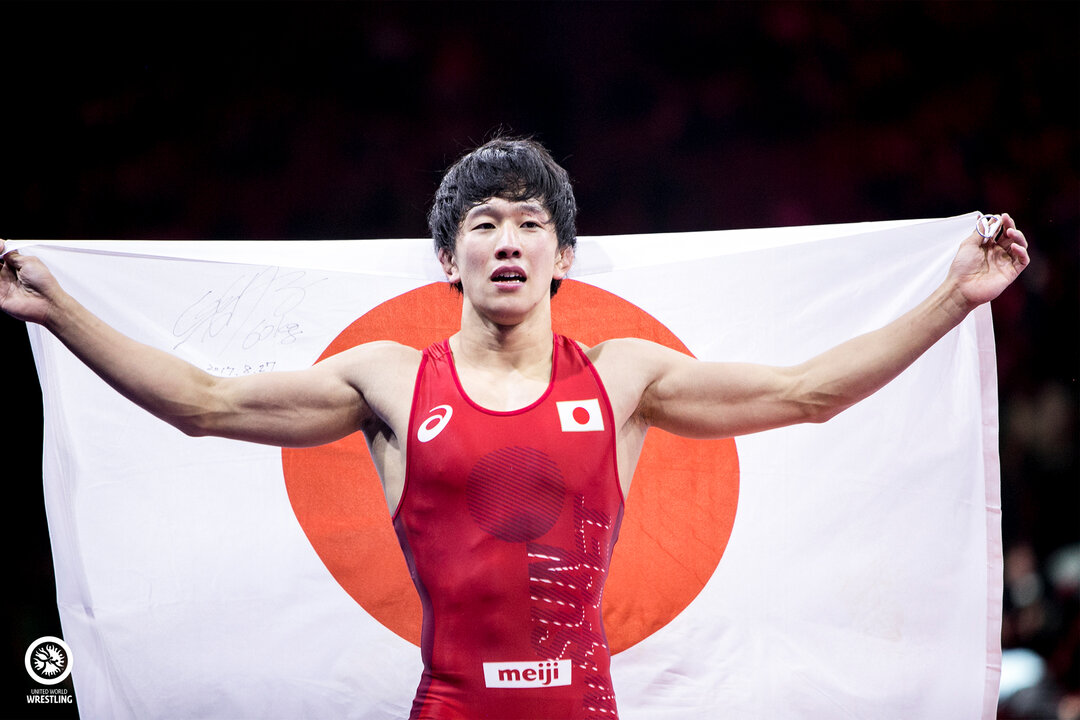 Takuto OTOGURO (JPN) will make his return to competition since becoming Japan's youngest-ever male world champion when he won the gold in Budapest 2018. Otoguro has been sidelined with a bursitis in his right knee.   (Photo: Max Rose-Fyne) 
Injury concerns shadow Otoguro
In freestyle, world champion Takuto OTOGURO will need to show he has recovered from recent knee problems to win his second straight Meiji Cup title at 65kg and earn his ticket to Nur-Sultan.
Otoguro, who became Japan's youngest-ever male world champion when he won the gold in Budapest 2018 at 19 years 10 months, came down with bursitis in his right knee earlier this year, which caused him to withdraw from both the World Cup and Asian Championships.
He returned to the mat to wrestle one match for Yamanashi Gakuin University at the East Japan collegiate team tournament in May, which he won. But he will have to be sharp to beat Asian Games silver medalist Daichi TAKATANI, world U-23 champion and Rio 2016 57kg silver medalist Rei HIGUCHI, and a number of others who help make this one of Japan's deepest weight classes.
Sosuke TAKATANI, Daichi's older brother, seems to have settled in at the Olympic weight of 86kg after a two-year progression from 74kg, in which he won a world silver in 2014.
The 30-year-old Takatani won his eighth straight national title and first at 86kg at the Emperor's Cup, then showed he could be a factor on the international stage in the heavier division when he defeated world silver medalist Fatih ERDIN (TUR) at the World Cup.
Shota SHIRAI, who lost in the Emperor's Cup final to Takatani, spent January training in Russia and will be looking for revenge, along with the two bronze medalists, Masao MATSUSAKA, who fell to Takatani 2-1 in the semifinals, and teenager Hayato ISHIGURO, the world junior champion at 79kg.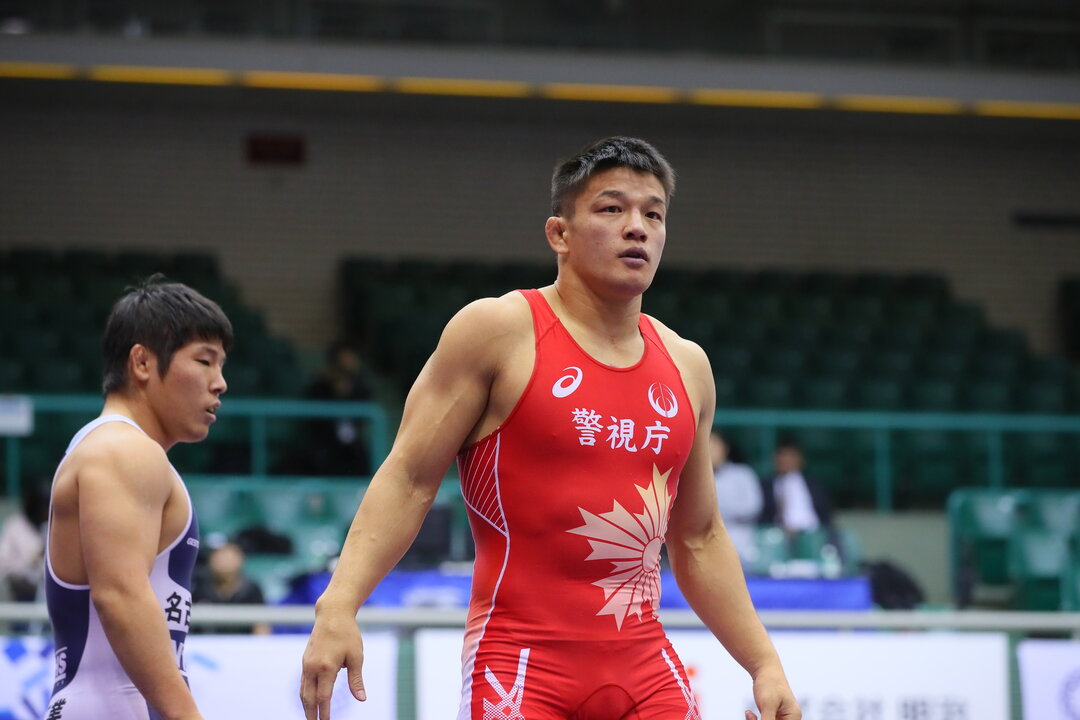 World bronze medalist Atsushi MATSUMOTO (JPN), who normally competes at 92kg, will be bumping up to the Olympic weight of 97kg. (Photo: Unknown)
One high-profile man who has switched to an Olympic weight class for this tournament is Atsushi MATSUMOTO, the world bronze medalist and Emperor's Cup winner at 92kg who has moved up to 97kg.
Matsumoto, who finished third at 92kg in Xi'an, had previously demonstrated just how strong his desire is to make an Olympics---in 2017-18, he switched to Greco-Roman after failing to qualify for Rio 2016. (He later switched back to freestyle after a rule change worked against him.)
Looking to stop Matsumoto's bid at 97kg are Emperor's Cup champion Naoya AKAGUMA and runner-up Takeshi YAMAGUCHI, who reportedly paid his own way to the Mongolian Open in April, where he won the silver medal.
At 74kg, Yuhi FUJINAMI, a 2017 world bronze medalist at 70kg, suffered a knee injury during a first-round victory at the Asian Championships, then opted to pull out rather than jeopardize his chances of being ready for the Meiji Cup.    
Fujinami's readiness will be tested by Emperor's Cup runner-up Ken HOSAKA and third-place finisher Yuto MIWA, who had a key win in Japan's victory over Cuba at the World Cup. Adding depth to the field are Keisuke OTOGURO (Takuto's older brother), who has moved up from 70kg along with teenager Jintaro MOTOYAMA, last year's Meiji Cup champ at that weight.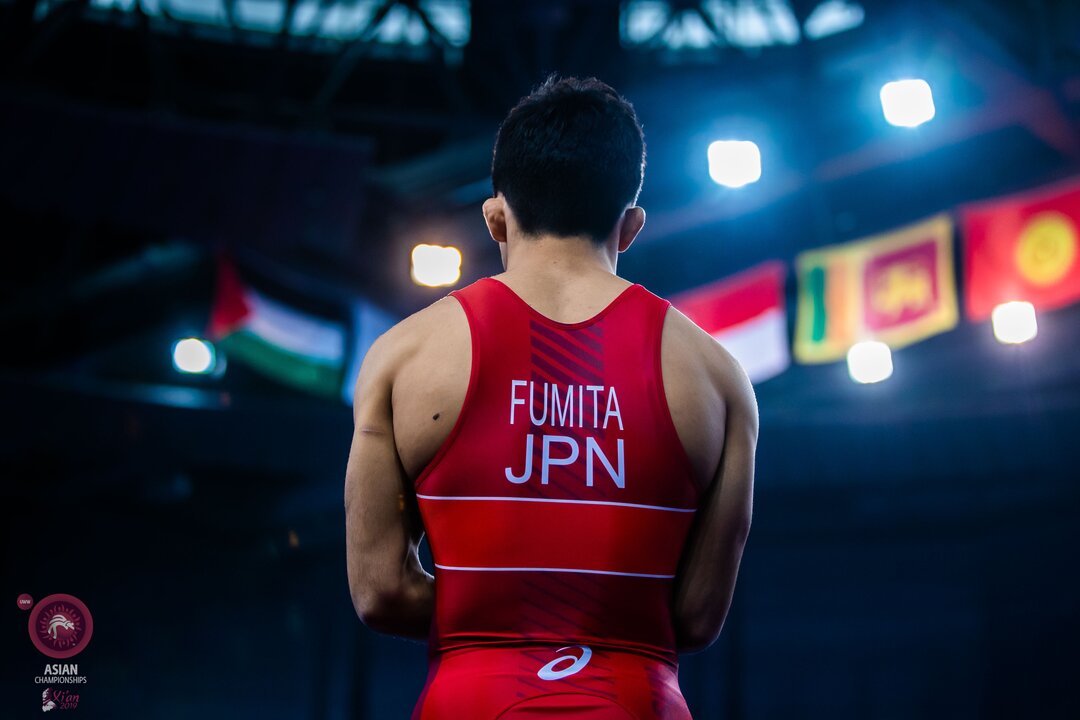 World champion Kenichiro FUMITA (JPN) will likely meet his former teammate and Rio 2016 silver medalist Shinobu OTA in the 60kg division. (Photo: Sachiko Hotaka)
In Greco-Roman, the 60kg division will likely see the latest battle between 2017 world champion Kenichiro FUMITA and Rio 2016 silver medalist Shinobu OTA, former teammates at Nippon Sports Science University.
Fumita returned from injury to defeat Ota 7-2 in the final at the Emperor's Cup. That gave Fumita, at 23 two years younger than Ota, a 5-4 advantage in their head-to-head meetings dating back to 2014.
While Fumita went on to win a bronze medal at Xi'an, Ota did not sit around idly waiting for the Meiji Cup. He traveled to Europe, where he won the gold at the Hungary Grand Prix and silver at the Dan Kolov-Nikola Petrov Tournament in Bulgaria, both at 63kg.
En route to the final, either of the two might have to get past world junior bronze medalist Kazuki YABE, who lost to Fumita by technical fall in December.