Iran Cruises to Four Golds on Opening Day of Asian Junior C'Ships
Tuesday, July 17, 2018 - 16:06 By Eric Olanowski
NEW DELHI, India (July 17) - Iran kick-started the 2018 Asian Junior Championships by putting five wrestlers into the opening day finals and collected an impressive four of five gold medals. In their fifteen matches, Iran went 14-1 and collected ten wins without surrendering a single point. 
Pouya NASERPOUR (IRI), the 2014 cadet world bronze medalist sparked Iran's gold medal parade by thumping Vijay VIJAY (IND), 8-0, grabbing the 55kg gold medal. 
In route to his first continental championship, Naserpour outscored his opponents 24-0 while picking up three technical superiority victories. 
At 63kg, Bahram MAROUFKHANI IMCHEH (IRI) hooked Iran's second gold medal by coming out on top of the back and forth battle over Kamol KUZIEV (UZB), 7-3. 
Maroufkhani Imcheh commanded the early 5-0 lead, but conceded a takedown and a step out, ending the first period with a two-point lead. The Iranian wrestler closed out the extremely slow-paced second period with a takedown, ultimately scooping up the 7-3 victory.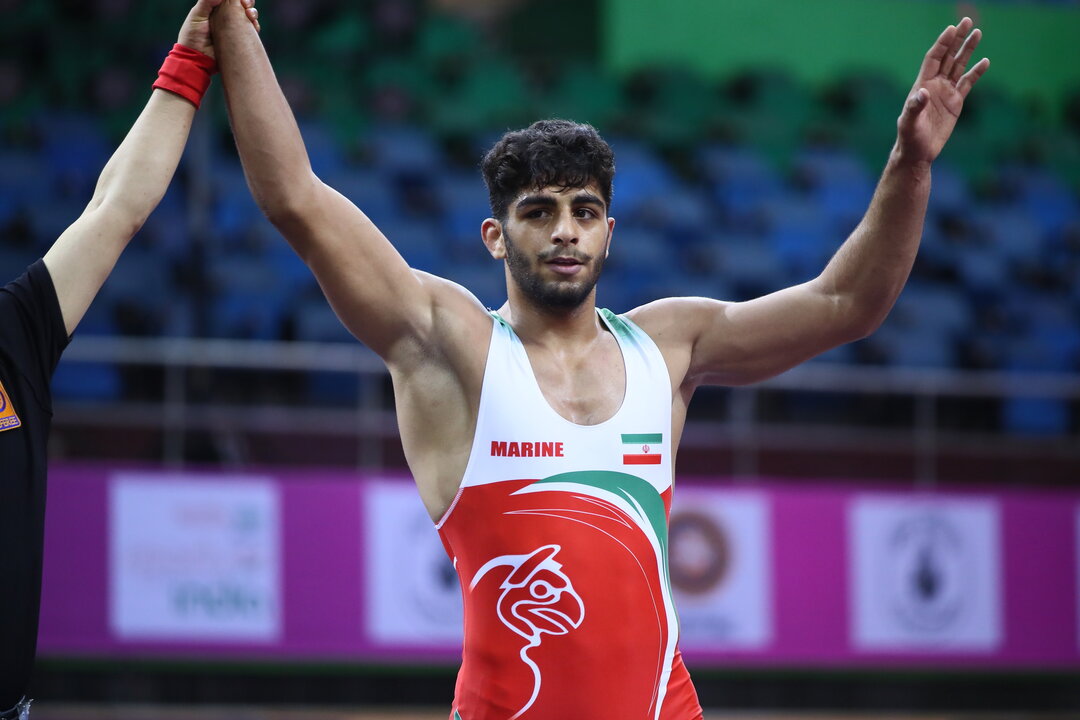 Mohammadhadi SARAVI (IRI) won the 87kg gold medal, giving Iran their third gold medal of the night. (Photo by Sachiko Hotaka)
Mohammadhadi SARAVI (IRI) added a third gold medal to Iran's collection, blasting Maimaiti KAISAIER (CHN), 9-0 in the 87kg finals. 
Savari only needed just over four minutes to pick up the technical superiority win over his Chinese opponent. This marked the third time on the day that the Iranian wrestler picked up a shutout victory and the second time on the day where he collected a 9-0 technical superiority victory. 
Amin MIRZAZADEH (IRI) capped off the first day of competition with a 2-1 win over India's Aryan PANWAR in the 130kg finals, giving Iran their fourth gold medal of the day.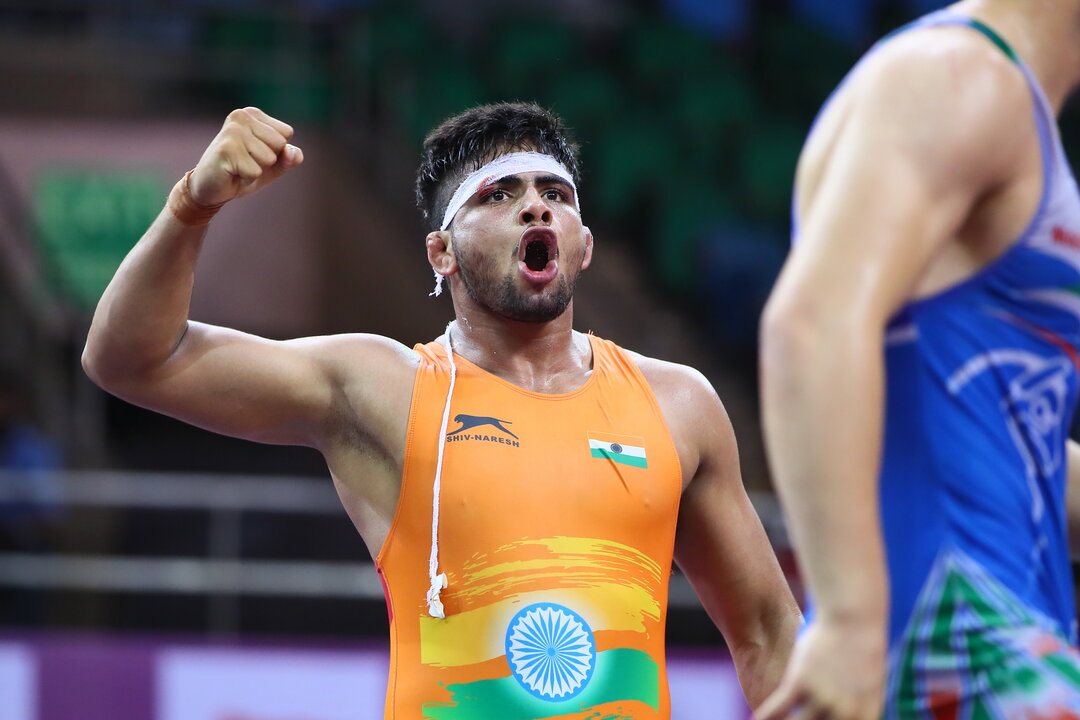 Sajan SAJAN (IND) stopped Iran from winning their fifth straight gold medal on the opening day of the Asian Junior Championships. (Photo by Sachiko Hotaka)
The final gold medal went to India's Sajan SAJAN (IND) who denied Iran their fifth gold medal by stopping Shayan Hossein AFIFI (IRI), 3-0 in the 77kg finals. 
RESULTS 
55kg 
GOLD - Pouya Mohammad NASERPOUR (IRI) df. Vijay VIJAY (IND), 8-0 
BRONZE - Arslan ABDURAKHMANOV (KAZ) df. Hiromu KATAGIRI (JPN), 8 - 7
BRONZE- JEONG Yeongwoo (KOR) df. BORONOV Azamat (KGZ), 12-6 
63kg
GOLD – Bahram MAROUFKHANI IMCHEH (IRI) df. Kamol KUZIEV (UZB), 7-3
BRONZE - Tilek ASSEMBAYEV (KAZ) df. Seydylla TAZAYEV (TKM), 6-1 
BRONZE - Eldiiar SATAROV (KGZ) df. Delin WANG (CHN), 8-0 
77kg
GOLD - Sajan SAJAN (IND) df. Shayan Hossein AFIFI (IRI), 3-0
BRONZE - Temirlan BEKTURDIEV (KGZ) df. Shoma YAMASAKI (JPN), 2-1
BRONZE - Seunghwan LEE (KOR) df. Daler ROZIKOV (TJK), 10-0 
87kg 
GOLD - Mohammadhadi Abdollah SARAVI (IRI) df. Maimaiti KAISAIER (CHN), 9-0 
BRONZE - Kumar SUNIL (IND) df. Hiroto TOYOMURA (JPN), 8-0 
BRONZE - Sanzhar TEMIRBEK (KAZ) df. Meder ABYKEEV (KGZ), 9-0
130kg 
GOLD –  Amin Mohammadzaman MIRZAZADEH (IRI) df. Aryan PANWAR (IND), 2-1 
BRONZE - Anton SAVENKO (KAZ) df. Xiaonan LIANG (CHN), 8-0 
BRONZE - Azmuddin VAKHOBOV (TJK) df. Akimichi SAKAI (JPN), 8-0