Iran Closes out Cadet Asian C'Ships with Sixth Freestyle Gold
Sunday, May 13, 2018 - 14:38 By Eric Olanowski
TASHKENT, Uzbekistan (May 12) - For the second day in a row, Iran claimed three Cadet Asian freestyle gold medals in Tashkent, Uzbekistan, bringing their tournament total to six gold medals. The host nation, Uzbekistan bagged a pair of golds on the final day, while India and Japan each had wrestler leave with the top spot. 
Rahman AMOUZADKHALILI (IRI) kicked off Iran's championship parade with a 10-0 technical superiority victory over Sultan KURMANALIYEV (KAZ) in the 45kg gold-medal match. 
Ali ABDOLLAHI (IRI) gave Iran their second gold medal via technical superiority with a win over Yunus GAFUROV (KAZ) in the 92kg finals bout. 
Abdollahi picked up a takedown and five gut wrenches after giving up the match's first takedown, outscoring Gafurov 10-0 to take the match, 12-2. 
Amir ZARE (IRI) completed Iran's three-peat with a 10-0 routing of Kumar ANIRUDH (IND) in the first period of the 110kg finals.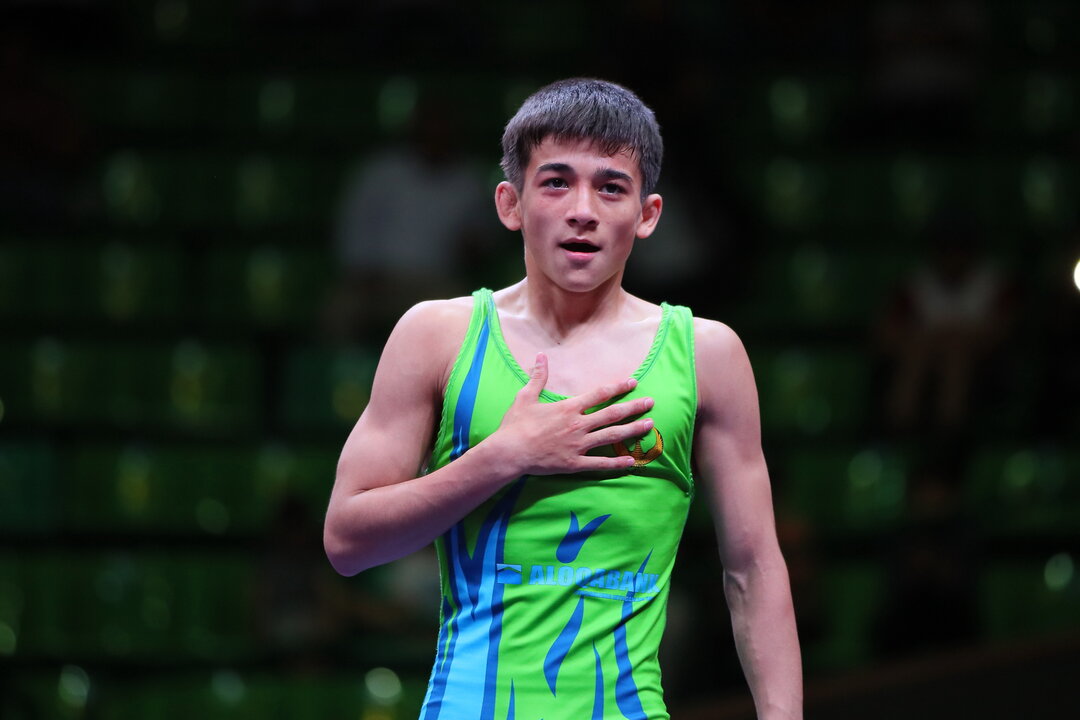 Umidjon JALOLOV (UZB), 48kg Cadet Asian champion. (Photo by Sachiko Hotaka) 
The host nation, Uzbekistan claimed back-to-back gold medals at 48kg and 51kg. 
Umidjon JALOLOV (UZB) shutout Assylzhan YESSENGELDI (KAZ), 10-0 to snag the 48kg crown, while fellow countryman Arslan RAKHIMOV (UZB) squeaked out a 4-2 against Kenessary TAIYRBEK (KAZ) in the 51kg title match-up.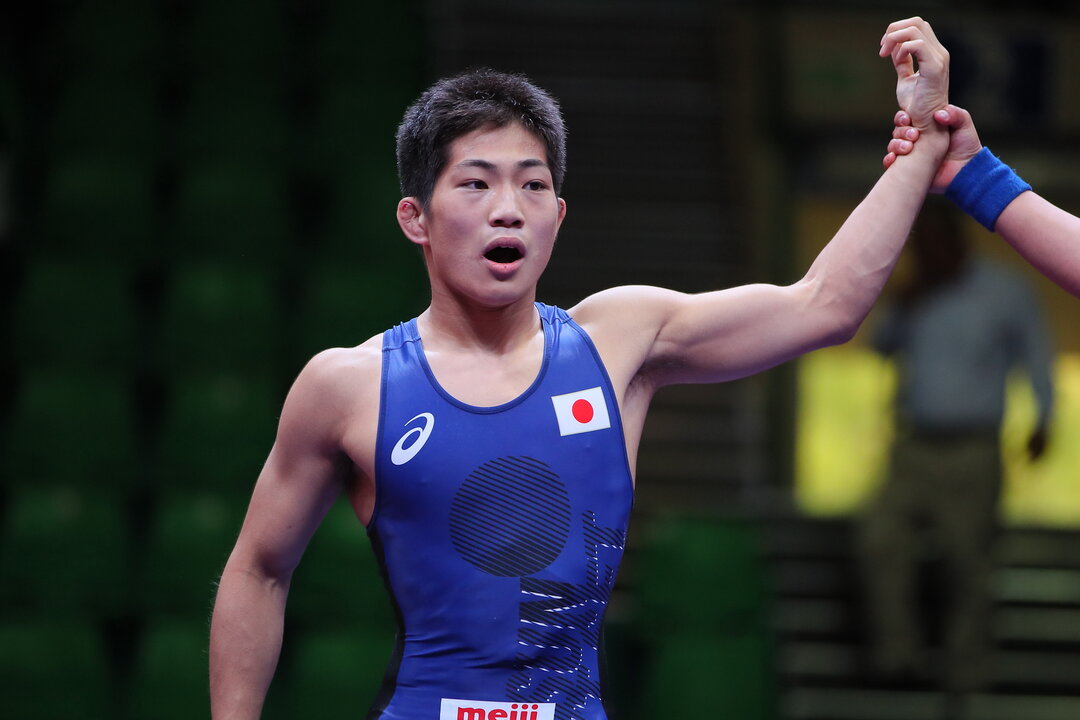 Hayato FUJITA (JPN) defeated Auyez SEITBAYEV (KAZ),4-4 to win the 55kg gold medal. (Photo by Sachiko Hotaka.) 
At 55kg, Hayato FUJITA (JPN) defeated Auyez SEITBAYEV (KAZ) to win the gold medal. 
Fujita entered the final period of the gold-medal bout trailing 4-2. With a minute left, he picked up the matches final takedown to take the 4-4 lead on criteria to give Japan their lone freestyle champion of these Asian Championships. 
India's solo champion came at 60kg as Ravinder RAVINDER (IND) dominated Lassaui MUKHTARULY (KAZ), 8-1. 
Ravinder used two takedowns and an exposure to take the five-point advantage into the second period. The Indian tacked on two additional points in the closing period, ending the bout, 8-1. 
RESULTS
TEAM SCORES
GOLD - Iran  (196 points)
SILVER - Kazahstan  (171 points)
BRONZE - Uzbekistan (146 points)
Fourth - India (134 points)
Fifth - Japan (111 points)
45kg
GOLD - Rahman Mousa AMOUZADKHALILI (IRI) df. Sultan KURMANALIYEV (KAZ), 10-0 
BRONZE - Myrza ZHYRGALBEK UULU (KGZ) df. Chaehwan SHIN (KOR), 10-0
BRONZE - Sarvarbek KHUDAYBERGANOV (UZB) df. Otgonbaatar BOLDBAATAR (MGL), 13-2 
48kg
GOLD - Umidjon JALOLOV (UZB) df. Assylzhan YESSENGELDI (KAZ), 10-0
BRONZE -  Saurabh Madhukar IGAVE (IND) df. Munkh Erdene BATKHUYAG (MGL), 12-6
BRONZE - Kento YUMIYA (JPN) df. Elnur AKMATOV (KGZ), 14-2 
51kg
GOLD - Arslan RAKHIMOV (UZB) df. Kenessary TAIYRBEK (KAZ), 4-2
BRONZE -  Seyederfan JAFARIANGELYERDI (IRI) df. Faisal ALDOSSARY (KSA), 0-0 
BRONZE -  Abdymalik KARACHOV (KGZ) df. Rasuljon INOYATOV (TJK), 4-2 
60kg 
GOLD - Ravinder RAVINDER (IND) df. Iassaui MUKHTARULY (KAZ), 8-1 
BRONZE - Yamato HAGIWARA (JPN) df. Amir Arsalan Yousef DARABI GORGELANI (IRI), 4-3 
BRONZE Mirkamol BESHIMOV (UZB) df. Muhammad Asad ULLAH (PAK), 10-0 
92kg
GOLD -  Ali ABDOLLAHI (IRI) df. Yunus GAFUROV (KAZ), 12-2
BRONZE - Shokhjakhon AVAZOV (UZB) df. Banzragch MUNKHBAT (MGL), 2-1 
BRONZE -  Monu DAHIYA (IND) df. Ismoil RADZHABOV (TJK), 6-0 
110kg
GOLD - Amir Abbas ZARE (IRI) df. Kumar ANIRUDH (IND), 10-0 
BRONZE -  Rahmonjon MAHMADBEKOV (TJK) df. Islam TAGIROV (KAZ), 10-0 
BRONZE -  Qiang LI (CHN) df. Baehyeong JEONG (KOR), 10-0