Iran Adds Three Golds, Bringing Asian Junior C'ship Gold Medal Count to Nine
Saturday, July 21, 2018 - 16:00 By Eric Olanowski
NEW DELHI, India (July 21) - Iran kicked off freestyle action at the Asian Junior Championships by winning three gold medals and bringing their tournament total to nine championship performances.  Their three gold medal day keeps them on par to match their Greco-Roman countryman's six gold medal performance from earlier this week. 
Iran was matched-up head-to-head with the host nation, India, in two of their three gold medal bouts and came out on top in both matches.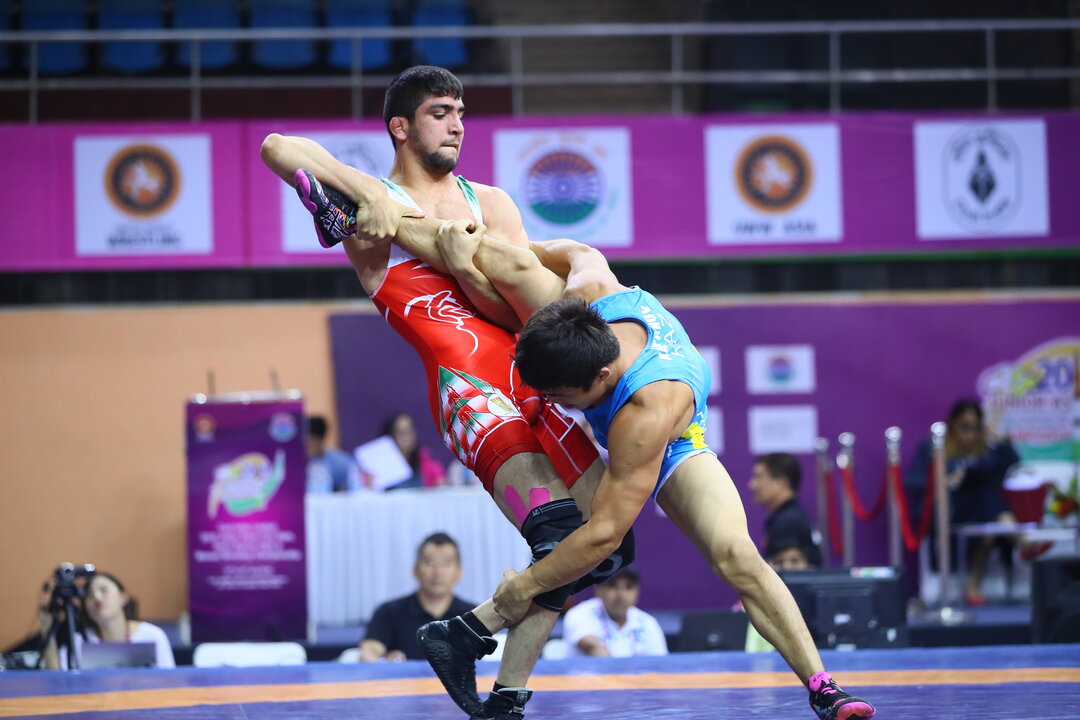 Amirhossein KAVOUSI (IRI), one of three Iranian wrestlers to claim gold medals on the opening day of freestyle action at the Asian Junior Championships. (Photo by Sachiko Hotaka)
At 70kg, 2015 cadet world bronze medalist Amirhossein KAVOUSI (IRI) scooped up the come-from-behind win against Vishal KALIRAMANA (IND), giving Iran their first freestyle gold medal of these championships. 
Kavousi found himself in a 4-0 hole after giving up a chest wrap but continued to chip away at the deficit, racking up three step outs in a row and closing Kaliramana's lead to a single point. 
The Asian cadet runner-up gained his first lead of the match (5-4) with 90 seconds left, plopping Kaliramana to his butt from a head outside single leg. The Iranian wrestler tacked on two additional points from an exposure but fell behind on criteria after the Indian wrestler's three-point reversal and gut wrench sequence. 
Kavousi broke the tie, shooting a deep double to earn the go-ahead step out point, taking the 8-7 lead. He closed the bout out with a takedown from Kaliramana's failed open shot attempt, winning the match 10-7.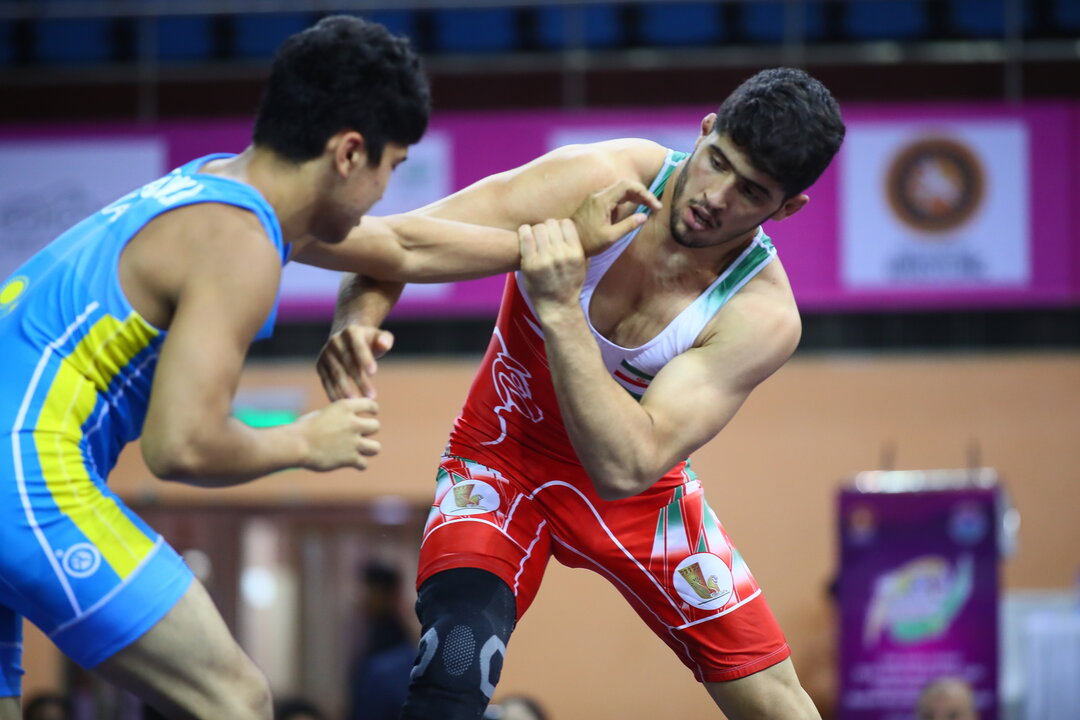 Sajjad GHOLAMI (IRI) only needed 60-seconds to pick up the technical superiority in the finals. (Photo by Sachiko Hotaka)
Sajjad GHOLAMI (IRI) gave Iran back-to-back individual titles with the 60 second thumping of Sachin GIRI (IND) in the 79kg gold-medal bout. 
Gholami used a counter-offensive single leg to pick up the first takedown of the bout, immediately rolling into four leg laces for the 10-0 technical superiority win.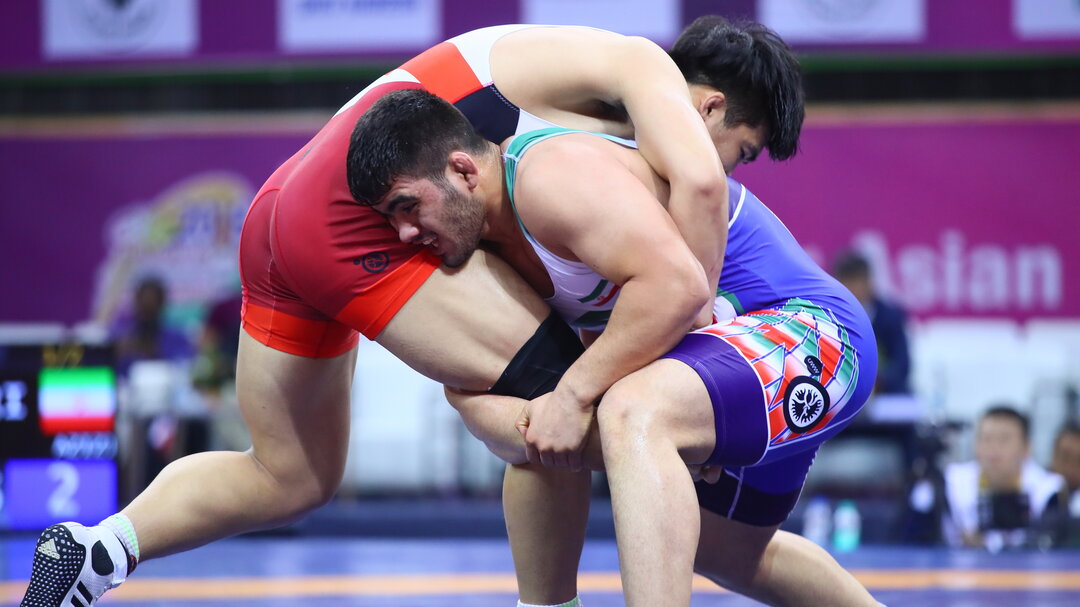 Sajad AZIZI (IRI) cruised to his first continental championships with a 6-1 victory in the finals. (Photo by Sachiko Hotaka) 
Sajad AZIZI (IRI) claimed Iran's third gold medal of the day with his workmanlike performance against Serik BAKYTKHANOV (KAZ) in the 97kg finals. 
Azizi's relaxed demeanor didn't change throughout the six-minute gold-medal bout. He commanded a 4-0 lead after a failed challenge, an activity clock point, and two step-outs. 
With 90 seconds left, Azizi picked up the match's only takedown when Bakytkhanov got stuck underneath while trying a duck under. This gave the Iranian the gold medal and the 6-1 win. 
The Asian Junior Championships wrap up tomorrow, with the final medal matches beginning at 6:00 PM local time.
RESULTS 
57kg 
GOLD - Gulomjon ABDULLAEV (UZB) df. Naveen NAVEEN (IND)  , 7-1 
BRONZE -  Almaz SMANBEKOV (KGZ) df. Wanhao ZOU (CHN)  , via forfeit 
BRONZE - Reza Mohsen ALIJANZADEHJOUYBARI (IRI) df. Rozgeldi SEYIDOV (TKM), 11-0 
65kg 
GOLD - Takuma TANIYAMA (JPN) df. Ernazar AKMATALIEV (KGZ), 6-2
BRONZE - Karan KARAN (IND) df. Perman HOMMADOV (TKM), 4-0 
BRONZE  Amirhossein Azim MAGHSOUDI (IRI) df. Kuanysh DUISENKUL (KAZ), 5-2
70kg
GOLD -  Amirhossein Morteza Gholi KAVOUSI (IRI) df. Vishal KALIRAMANA (IND), 10-7
BRONZE -  Kojiro SHIGA (JPN) df. Jun ZHAO (CHN), 11-0 
BRONZE - Nurkozha KAIPANOV (KAZ) df. Inayat ULLAH (PAK), 10-0
79kg
GOLD -  Sajjad Saberali GHOLAMI (IRI) df. Sachin GIRI (IND), 10-0 
BRONZE - Mukhammadrasul RAKHIMOV (UZB) df. Dongmin SHIN (KOR), 10-0
BRONZE -  Takato UCHIDA (JPN) df. Aibar ZHYLKAIDAROV (KAZ), 7-6
97kg
GOLD - Sajad Gholamhossein AZIZI (IRI) df. Serik BAKYTKHANOV (KAZ), 6-1
BRONZE -  Kunai NURDAVLETOV (KGZ) df. Umid DJURAEV (UZB), 3-1  BRONZE -  Hyunsu HAN (KOR) df. Keivan YOSHIDA (JPN), 12-2