India Closes out Asian Junior C'Ships with Pair of Gold Medals After Seven Straight Runner-Up Finishes
Sunday, July 22, 2018 - 14:36 By Eric Olanowski
NEW DELHI, India (July 22) – India had to wait until the final day of the 2018 Asian Junior Championships to add to Sajan SAJAN's (IND) gold medal, but they finally got the gold medals they were hoping for. In total, ten Indian wrestlers made the championship finals but seven straight wrestlers failed to come out on top. It all came down to Deepak PUNIA (IND) and Sachin RATHI (IND) to carry the country's flag one more time, and they did so in significant fashion. 
Sachin RATHI (IND) was the first Indian wrestler who claimed a freestyle gold medal with his clutch come-from-behind performance, picking up the pin against BYAMBASUREN Bat-Erdene (MGL) in the 74kg gold-medal bout. 
Rathi was getting bullied and pushed around in the opening 30-seconds of the match, surrendering two easy takedowns. The fluid movement, heavy hands, and lightning quick fakes looked to be too much for Indian wrestler in the first period. 
He got on the board with a crotch lift, but forfeited a reversal point, closing out the first period down 5-2. 
The action-packed second period only lasted a minute but started with the wrestler from Mongolia scoring six points from a takedown and two leg laces, giving him the 9-2 lead. After the second leg lace, Rathi snuck his right leg out and came up to a pair of two-point crotch lifts, closing Byambasuren's lead 9-6. 
The Indian wrestler kept his head high, and came up through the middle, catching Byambasuren on his back, securing the come-from-behind fall, to end the ten point half minute flurry.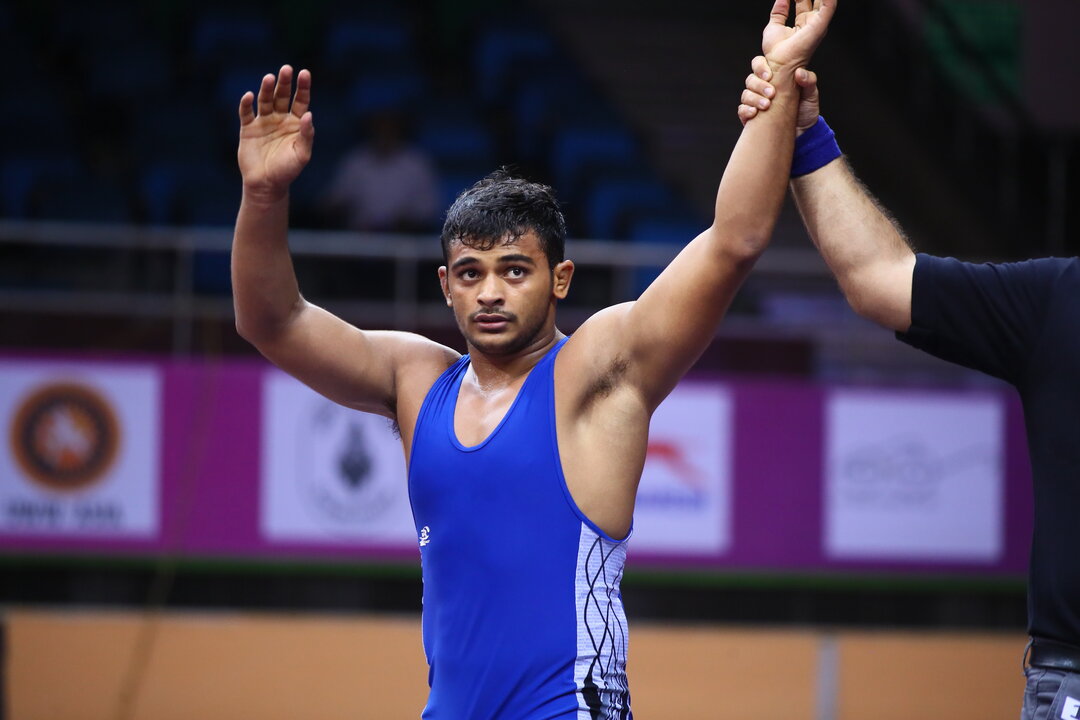 Deepak PUNIA (IND) gave the host nation, India their second gold medal of the day, closing out the 2018 Asian Junior Championships. (Photo by Sachiko Hotaka)
Deepak PUNIA (IND), the 2016 cadet world champion crushed Azat GAJYYEV (TKM) in the one-sided 86kg gold-medal bout, giving the host nation their second gold medal of the day. 
Punia, last year's Asian junior runner-up put two points on the board after Gajyev failed to score on the activity clock and gave up a step out point. The Indian wrestler shot a beautiful elbow-post low-level shot, and went right into a bow and arrow, scoring four addition points and taking the 6-0 lead. Punia added a step out point and commanded the 7-0 lead heading into the final period. 
In the closing period, Punia extended his lead to 8-0 with another step-out before scoring the match-ending takedown at the two-minute mark, giving India their third overall gold medal. 
Iran closed out their dominant championship performance with two additional gold medals, bringing their freestyle total to five gold medals and overall tournament gold medal count to eleven. They finished the team race in first place with 189 points, followed by India (173 points) and Uzbekistan (128 points). 
RESULTS 
Team Scores 
GOLD - Iran (189 points)
SILVER - India (173 points)
BRONZE - Uzbekistan (128 points)
Fourth - Japan (126 points)
Fifth - Kazahkstan (125 points)
61kg
GOLD -Abbos RAKHMONOV (UZB) df. Syrbaz TALGAT (KAZ), 6-4
BRONZE - Suraj Rajkumar KOKATE (IND) df. Yuto TSUCHIYA (JPN) ,16-8
BRONZE - Minsu CHO (KOR) df. Minghu LIU (CHN) ,5-3
74kg
GOLD - Sachin RATHI (IND) df. Bat-Erdene BYAMBASUREN (MGL), via fall
BRONZE - Ali Bakhtiar SAVADKOUHI (IRI) df. Bekzhan KAMCHYBEKOV (KGZ), 11-1
BRONZE - Taro UMEBAYASHI (JPN) df. Ghulam GHOUS (PAK), 3-0
86kg
GOLD - Deepak PUNIA (IND) df. Azat GAJYYEV (TKM), 10-0
BRONZE -  Dinislambek TAALAIBEK UULU (KGZ) df. Rustam SHODIEV (UZB), 7-1
BRONZE - Seyedsajjad Seyedmehdi SEYEDI (IRI) df. Kairi YAGI (JPN), 10-2 
97kg
GOLD - Sajad Gholamhossein AZIZI (IRI) df. Serik BAKYTKHANOV (KAZ), 6-1 
BRONZE -  Kunai NURDAVLETOV (KGZ) df. Umid DJURAEV (UZB), 3-1  
BRONZE -  Hyunsu HAN (KOR) df. Keivan YOSHIDA (JPN), 12-1 
125kg
GOLD -  Amir Nader YARI (IRI) df. Khasanboy RAKHIMOV (UZB), 3-1 
BRONZE - Mohit MOHIT (IND) df. Bat Erdene ERDENEBAATAR (MGL), 10-0 
BRONZE -  Omar EYUBOV (KAZ) df. Yeonjun KI (KOR), 10-0