Ibrahim Moustafa Ranking Series Entry List
Wednesday, February 15, 2023 - 15:56 By Eric Olanowski
ALEXANDRIA, Egypt (February 14) --- The continent of Africa is set to host its biggest wrestling event ever next week, as 466 wrestlers from 48 countries will toe the line at the second point-based Ranking Series event of the season, the Ibrahim Moustafa (February 23-26).
The Ibrahim Moustafa will be the final point-based event before the calendar transitions into the Continental Championship season. After the Egyptian Ranking Series event, the four highest-ranked wrestlers in each weight will earn a seed at the upcoming Asian, African, European, Oceania and Pan-American Championships.
Freestyle wrestling tops the list of entries with 184 athletes entered, while Greco-Roman has 149 and women's wrestling has 133 competitors.
On the freestyle side of the Ranking Series event, Batyrbek TSAKULOV (SVK), the reigning 97kg world runner-up, headlines the entries list with six world medalists from the 2022 World Championships.
The five remaining '22 world medalists rounded out last season with bronze medals. They are: Ernazar AKMATALIEV (KGZ), Arsen HARUTYUNYAN (ARM), Miriani MAISURADZE (GEO), Boris MAKOEV (SVK) and Givi MATCHARASHVILI (GEO).
The living legend Riza KAYAALP (TUR) is the most credentialed wrestler entered on the Greco-Roman side of the competition. The five-time world is one of ten returning world medalists heading to Egypt.
Kayaalp is the lone world champion entered in the classic style. He'll be joined by five world runner-ups and four world bronze medalists.
The silver medalists include: Leri ABULADZE (GEO), Zoltan LEVAI (HUN), Amin MIRZAZADEH (IRI), Edmond Armen NAZARYAN (BUL) and Nugzari TSURTSUMIA (GEO). The four bronze medalists from Belgrade wrestling next week are: Yunus Emre BASAR (TUR), Ali CENGIZ (TUR), Alin ALEXUC CIURARIU (ROU) and Mohammadhadi Abdollah SARAVI (IRI).
In women's wrestling, the top talent features eight podium finishers from Serbia—including reigning world champions Anastasia NICHITA (MDA) and Dominique Olivia PARRISH (USA).
Grace Jacob BULLEN (NOR) and Kayla MIRACLE (USA) are the pair of 2022 second-place finishers, while last year's third-place finishers Epp MAE (EST), Samar HAMZA (EGY) and Ilona PROKOPEVNIUK (UKR) and Mengyu XIE (CHN) will also be in action next week.
All the action from Egypt starts next Thursday and can be followed live on www.uww.org or on the UWW app.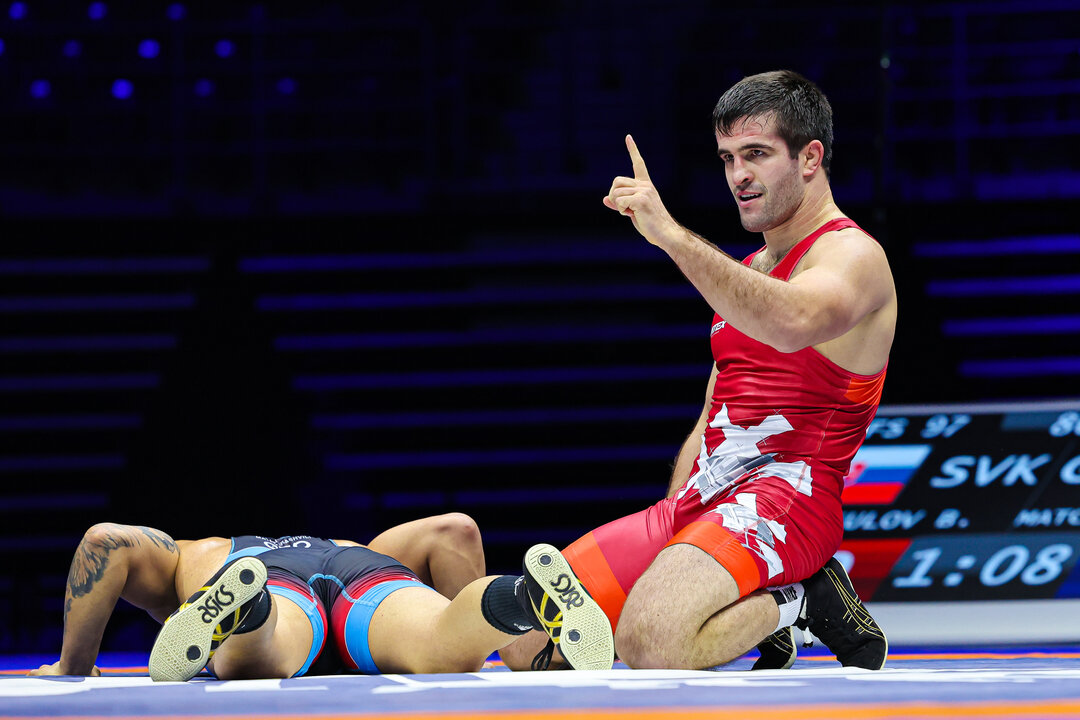 Batyrbek TSAKULOV (SVK), the third-ranked wrestler in the world, will compete at 97kg. (Photo: Kadir Caliskan)
Freestyle
57kg
Manvel KHNDZRTSYAN (ARM)
Wanhao ZOU (CHN)
Minghu LIU (CHN)
Weiyu LI (CHN)
Guesseppe Ricardo REA VILLARROEL (ECU)
Alaa Ali Sheba ELSAYED (EGY)
Mahmoud Mohamed Abdelkader Elsayed ELAZAB (EGY)
Diamantino IUNA FAFE (GBS)
Roberti DINGASHVILI (GEO)
Beka BUJIASHVILI (GEO)
Brandon Jesus ESCOBAR AMADOR (HON)
Rakhat KALZHAN (KAZ)
Abzal OKENOV (KAZ)
Yerassyl MUKHTARULY (KAZ)
Bekzat ALMAZ UULU (KGZ)
Almaz SMANBEKOV (KGZ)
Ben Hachem TARIK (MAR)
Darian Toi CRUZ (PUR)
Suleyman ATLI (TUR)
Andrii YATSENKO (UKR)
Nicholas Raymond SURIANO (USA)
Nodirjon SAFAROV (UZB)
Arslan RAKHIMOV (UZB)
61kg
Abdelghani BENATALLAH (ALG)
Arsen HARUTYUNYAN (ARM)
Mahmoud Shaban Azmy SHORBAGY (EGY)
Gamal Abdelnaser Hanafy MOHAMED (EGY)
Shehabeldin Emam Abdelraouf MOHAMED (EGY)
Shota PHARTENADZE (GEO)
Pankaj PANKAJ (IND)
Aman AMAN (IND)
Yasin Abbas REZAEIAGHOUZGOLEH (IRI)
Nurbolat ABDUALIYEV (KAZ)
Vladimir KUDRIN (KAZ)
Taiyrbek ZHUMASHBEK UULU (KGZ)
Ulukbek ZHOLDOSHBEKOV (KGZ)
Yassine JAA (MAR)
Ali M M ABURUMAILA (PLE)
Joseph Andres SILVA (PUR)
Kamil KERYMOV (UKR)
Austin James DESANTO (USA)
Nahshon Aaron GARRETT (USA)
Jahongirmirza TUROBOV (UZB)
65kg
Zohier IFTENE (ALG)
Agustin Alejandro DESTRIBATS (ARG)
Vazgen TEVANYAN (ARM)
Shaohua YUAN (CHN)
Omar Mohamed Amin Mahmoud MOURAD (EGY)
Edemi BOLKVADZE (GEO)
Sujeet SUJEET (IND)
Joshua Stuart FINESILVER (ISR)
Sanzhar MUKHTAR (KAZ)
Ilyas AMANZHOLOV (KAZ)
Timur AITKULOV (KAZ)
Alibek OSMONOV (KGZ)
Krzysztof BIENKOWSKI (POL)
Eduard GRIGOREV (POL)
Sebastian C RIVERA (PUR)
Erik ARUSHANIAN (UKR)
Patricio LUGO III (USA)
Anthony James ASHNAULT (USA)
Joseph Christopher MC KENNA (USA)
Umidjon JALOLOV (UZB)
Abbos RAKHMONOV (UZB)
70kg
Arman ANDREASYAN (ARM)
Agudamu AGUDAMU (CHN)
Fares Mohamed Mosad Rashad ELBAIOUMY (EGY)
Khaled Salem Mohamed  Mousa MOHAMED (EGY)
Giorgi ELBAKIDZE (GEO)
Doszhan ASSETOV (KAZ)
Azamat SHAGAPULY (KAZ)
Orozobek TOKTOMAMBETOV (KGZ)
Ernazar AKMATALIEV (KGZ)
Maxim SACULTAN (MDA)
Cuneyt BUDAK (TUR)
Ihor NYKYFORUK (UKR)
Lucas Dakota CHITTUM (USA)
Tyler Daniel BERGER (USA)
Zafarbek OTAKHONOV (UZB)
74kg
Abdelkader IKKAL (ALG)
Hrayr ALIKHANYAN (ARM)
Magomedrasul ASLUEV (BRN)
Shengsong XIA (CHN)
Nuerlanbieke WURENIBAI (CHN)
Amr Reda Ramadan HUSSEN (EGY)
Mohamed Tarek Abdou Khalil ABDELHADY (EGY)
Luis Isabel BARRIOS ROCHEZ (HON)
Sagar JAGLAN (IND)
Hossein Noorali ABOUZARIPASHKOLAEI (IRI)
Mitchell Louis FINESILVER (ISR)
Darkhan YESSENGALI (KAZ)
Nurlan BEKZHANOV (KAZ)
Kanat MUSSABEKOV (KAZ)
Islambek OROZBEKOV (KGZ)
Rayanne ESSAIDI (MAR)
Anthony VALENCIA GOMEZ (MEX)
Iakub SHIKHDZHAMALOV (ROU)
Soner DEMIRTAS (TUR)
Semen RADULOV (UKR)
Joshua Richard SHIELDS (USA)
Vincenzo JOSEPH (USA)
Joseph Lawrence Michael LAVALLEE (USA)
79kg
Chems  Eddine FETAIRIA (ALG)
Francisco de Deus KADIMA (ANG)
Arman AVAGYAN (ARM)
Peilong LI (CHN)
Nasser Sayed Fares SAYED (EGY)
Ahmed khaled Mohamed MAHMOUD (EGY)
Avtandil KENTCHADZE (GEO)
Vladimeri GAMKRELIDZE (GEO)
Georgios KOUGIOUMTSIDIS (GRE)
Jitender JITENDER (IND)
Amirhossein Morteza Gholi KAVOUSI (IRI)
Bolat SAKAYEV (KAZ)
Zhiger ZAKIROV (KAZ)
Bibarys NURYLLAULY (KAZ)
Sofiane PADIOU BELMIR (MAR)
Akhsarbek GULAEV (SVK)
Evan WICK (USA)
David Vincent MC FADDEN (USA)
Chandler Shane MARSTELLER (USA)
Bekzod ABDURAKHMONOV (UZB)
86kg
Fateh BENFERDJALLAH (ALG)
Zushen LIN (CHN)
Xiao SUN (CHN)
Saifeldin Shokry Mohamed Mahmoud ELKOUMY (EGY)
Mahmoud Said Ahmed Ismail BADAWI (EGY)
Tariel GAPHRINDASHVILI (GEO)
Vicky VICKY (IND)
Islyambek ILYASSOV (KAZ)
Nurtilek KARYPBAEV (KGZ)
Ivan ICHIZLI (MDA)
Sebastian JEZIERZANSKI (POL)
Ethan Adrian RAMOS (PUR)
Boris MAKOEV (SVK)
Mukhammed ALIIEV (UKR)
Vasyl MYKHAILOV (UKR)
Zahid VALENCIA (USA)
Bobur ISLOMOV (UZB)
92kg
Magomed SHARIPOV (BRN)
Mohamed Wael Ahmed  Elsayed ABDELWAHAB (EGY)
Khaled Masoud Ismail ELMOATAMADAWI (EGY)
Miriani MAISURADZE (GEO)
Pruthviraj Babasaheb PATIL (IND)
Abdul Kareem Mahmoud Abdul ABUIDAIJ (JOR)
Rizabek AITMUKHAN (KAZ)
Feyzullah AKTURK (TUR)
Illia ARCHAIA (UKR)
Nathan Dyamin JACKSON (USA)
Kollin Raymond MOORE (USA)
97kg
Akhmed TAZHUDINOV (BRN)
Awusayiman HABILA (CHN)
Tuerxunbieke MUHEITE (CHN)
Mostafa Aly Elsayed Gabr ELDERS (EGY)
Aboubakr Elsayed Elsayed GADELMAWLA (EGY)
Givi MATCHARASHVILI (GEO)
Vladislav BAITSAEV (HUN)
Sahil SAHIL (IND)
Amirhossein Biglar FIROUZPOURBANDPEI (IRI)
Benjamin Konrad HONIS (ITA)
Mamed IBRAGIMOV (KAZ)
Bekzat URKIMBAY (KAZ)
Serik BAKYTKHANOV (KAZ)
Radu LEFTER (MDA)
Radoslaw BARAN (POL)
Zbigniew Mateusz BARANOWSKI (POL)
Batyrbek TSAKULOV (SVK)
Mahamed ZAKARIIEV (UKR)
Morgan Patrick SMITH (USA)
Michael Justin MACCHIAVELLO (USA)
Makhsud VEYSALOV (UZB)
125kg
Reheman RUSIDANMU (CHN)
Benxin DUAN (CHN)
Adham Abdalla Amin Mansour ABDELKARIM (EGY)
Mohamed Mostafa Aly Elshamy SALAHELDIN (EGY)
Daniel LIGETI (HUN)
Dinesh DINESH (IND)
Yusup BATIRMURZAEV (KAZ)
Kamil Tomasz KOSCIOLEK (POL)
Robert BARAN (POL)
Nicholas Edward GWIAZDOWSKI (USA)
Jordan Michael WOOD (USA)
Khasanboy RAKHIMOV (UZB)
Sardorbek KHOLMATOV (UZB)
Greco-Roman
55kg
Shaaban Safy Abdelrazek ABDELLATIF (EGY)
Mohamed Mohamed Ismail Mohamed Ibrahim MOHAMED (EGY)
Nugzari TSURTSUMIA (GEO)
Manjeet MANJEET (IND)
Amangali BEKBOLATOV (KAZ)
Marlan MUKASHEV (KAZ)
Iskhar KURBAYEV (KAZ)
Sardarbek KONUSHBAEV (KGZ)
Denis Florin MIHAI (ROU)
60kg
Abdelkarim FERGAT (ALG)
Edmond Armen NAZARYAN (BUL)
Liguo CAO (CHN)
Haodong TAN (CHN)
Ahmed Fouad Fouad Hussein BAGHDOUDA (EGY)
Haithem Mahmoud Ahmed Fahmy MAHMOUD (EGY)
Mahmoud Farrag Mahmoud SAAD (EGY)
Pridon ABULADZE (GEO)
Gyanender GYANENDER (IND)
Yernar FIDAKHMETOV (KAZ)
Nursultan BAZARBAYEV (KAZ)
Aibek SABYRBEKOV (KAZ)
Nurmukhammet ABDULLAEV (KGZ)
Ismail ETTALIBI (MAR)
Razvan ARNAUT (ROU)
Aslamdzhon AZIZOV (TJK)
Kerem KAMAL (TUR)
63kg
Abdeldjebar DJEBBARI (ALG)
Aker SCHMID AL OBAIDI (AUT)
Adham Ayman Gharib Abdou ELSAYED (EGY)
Mostafa Mohamed Mostafa Mohamed ABOELALA (EGY)
Leri ABULADZE (GEO)
Sagar SAGAR (IND)
Meysam Karamali DALKHANI (IRI)
Mukhamedali MAMURBEK (KAZ)
Madiyar MALTEKBAYEV (KAZ)
Dastan ZARLYKHANOV (KAZ)
Syimyk Makhamadzhanovich MAKHMUDOV (KGZ)
Aleksandrs JURKJANS (LAT)
Victor CIOBANU (MDA)
67kg
Ishak GHAIOU (ALG)
Sailike WALIHAN (CHN)
Husiyuetu HUSIYUETU (CHN)
Lei LI (CHN)
Abdelrahman Ahmed Aly Mohamed OMAR (EGY)
Emad Mohamed Ibrahim Mohamed Elemam GHALY (EGY)
Moustafa Hussein Fathy ALAMELDIN (EGY)
Joni KHETSURIANI (GEO)
Singh KARANJIT (IND)
Ashu ASHU (IND)
Din Mukhamed KOSHKAR (KAZ)
Sultan ASSETULY (KAZ)
Merey BEKENOV (KAZ)
Razzak BEISHEKEEV (KGZ)
Mihai Radu MIHUT (ROU)
Niklas Jan Olov Pontus OEHLEN (SWE)
Firuz MIRZORAJABOV (TJK)
72kg
Jian TAN (CHN)
Mahmoud Khaled Abdelsatar ABDELRAHMAN (EGY)
Omar Essam Elsayed Abdelalim OKIL (EGY)
Ramaz ZOIDZE (GEO)
Otar ABULADZE (GEO)
Ankit GULIA (IND)
Mohammadreza Abdolhamid GERAEI (IRI)
Ibragim MAGOMADOV (KAZ)
Yerassyl NURBOSSYNOV (KAZ)
Daniyar KALENOV (KAZ)
Nurzhigit KENESHBEK UULU (KGZ)
Valentin PETIC (MDA)
Sheroz OCHILOV (TJK)
77kg
Francisco de Deus KADIMA (ANG)
Aik MNATSAKANIAN (BUL)
Halishan BAHEJIANG (CHN)
Rui LIU (CHN)
Wael Hamdy Mohamed ABDELRAHMAN (EGY)
Mohamed Ehab Mohamed Zahab KHALIL (EGY)
Iuri LOMADZE (GEO)
Sachino DAVITAIA (GEO)
Shmagi BOLKVADZE (GEO)
Zoltan LEVAI (HUN)
Sajan SAJAN (IND)
Demeu ZHADRAYEV (KAZ)
Kaharman KISSYMETOV (KAZ)
Azat SADYKOV (KAZ)
Yryskeldi MAKSATBEK UULU (KGZ)
Alexandrin GUTU (MDA)
Per Albin OLOFSSON (SWE)
Yunus Emre BASAR (TUR)
82kg
Abd Elkrim OUAKALI (ALG)
Michael WAGNER (AUT)
Mahmoud Walid Abdelfattah IBRAHIM (EGY)
Fares Mohamed Abdelsattar GHALY (EGY)
Gela BOLKVADZE (GEO)
Roland SCHWARZ (GER)
Rohit DAHIYA (IND)
Dias KALEN (KAZ)
Shamil BATYROV (KAZ)
Akylbek TALANTBEKOV (KGZ)
Kristoffer Zakarias BERG (SWE)
87kg
Bachir SID AZARA (ALG)
Chengwu WANG (CHN)
Maimaiti KAISAIER (CHN)
Noureldin Hany Mohamed Gomaa HASSAN (EGY)
Abdelrahman Ehab Mohamed ELSEFY (EGY)
Emad Ashraf Mohamed ABOUELATTA (EGY)
Gurami KHETSURIANI (GEO)
Lasha GOBADZE (GEO)
Ariel Andres ALFONSO RODRIGUEZ (HON)
Kumar SUNIL (IND)
Maksat SAILAU (KAZ)
Nursultan TURSYNOV (KAZ)
Baurzhan MUSSIN (KAZ)
Atabek AZISBEKOV (KGZ)
Saad AMANDAR (MAR)
Alex Michel BJURBERG KESSIDIS (SWE)
Ali CENGIZ (TUR)
97kg
Adem BOUDJEMLINE (ALG)
Markus RAGGINGER (AUT)
Daniel GASTL (AUT)
Yan LIU (CHN)
Yiming LI (CHN)
Artur OMAROV (CZE)
Sami Elsayed Ali Ibrahim SAMRA (EGY)
Mohamed Ali Elsayed GABR (EGY)
Roberti KOBLIASHVILI (GEO)
Giorgi MELIA (GEO)
Kevin MEJIA CASTILLO (HON)
Narinder CHEEMA (IND)
Mohammadhadi Abdollah SARAVI (IRI)
Olzhas SYRLYBAY (KAZ)
Islam UMAYEV (KAZ)
Yerulan ISKAKOV (KAZ)
Nurmanbet RAIMALY UULU (KGZ)
Aleksandar Georgije STJEPANETIC (SWE)
Metehan BASAR (TUR)
130kg
Lingzhe MENG (CHN)
Abdellatif Mohamed Ahmed MOHAMED (EGY)
Salaheldin Mohamed Salaheldin ABBAS (EGY)
Iakobi KAJAIA (GEO)
Zviadi PATARIDZE (GEO)
Jello KRAHMER (GER)
Gino Tanislado AVILA DILBERT (HON)
Naveen NAVEEN (IND)
Amin Mohammadzaman MIRZAZADEH (IRI)
Alimkhan SYZDYKOV (KAZ)
Anton SAVENKO (KAZ)
Mansur SHADUKAYEV (KAZ)
Roman KIM (KGZ)
Alin ALEXUC CIURARIU (ROU)
Riza KAYAALP (TUR)
Women's Wrestling
Patricia Alejandra BERMUDEZ (ARG)
Madison Bianca PARKS (CAN)
Meng FAN (CHN)
Jiang ZHU (CHN)
Ziqi FENG (CHN)
Nada Medani Ashour Abdalla MOHAMED (EGY)
Shivani PAWAR (IND)
Emilia Alina GRIGORE VUC (ROU)
Sarra HAMDI (TUN)
Evin DEMIRHAN YAVUZ (TUR)
Oksana LIVACH (UKR)
Alyssa Rae Nicole LAMPE (USA)
Aktenge KEUNIMJAEVA (UZB)
Jasmina IMMAEVA (UZB)
53kg
Yuhong ZHONG (CHN)
Li DENG (CHN)
Lucia Yamileth YEPEZ GUZMAN (ECU)
Shaimaa Khalifa Hussein ABDELZAHER (EGY)
Shaimaa Atef Barakat MOHAMED (EGY)
Marina RUEDA FLORES (ESP)
Tatiana DEBIEN (FRA)
Nina HEMMER (GER)
Annika WENDLE (GER)
Anastasia BLAYVAS (GER)
Stalvira ORSHUSH (HUN)
Iulia LEORDA (MDA)
Andreea Beatrice ANA (ROU)
Nethmi Ahinsa Fernando PORUTHOTAGE (SRI)
Emma Jonna Denise MALMGREN (SWE)
Dominique Olivia PARRISH (USA)
Shokhida AKHMEDOVA (UZB)
Dilshoda MATNAZAROVA (UZB)
55kg
Mengyu XIE (CHN)
Louji Walid Khalf YASSIN (EGY)
Sushma SHOKEEN (IND)
Marina SEDNEVA (KAZ)
Bediha GUN (TUR)
Alexandra Wray HEDRICK (USA)
Jacarra Gwenisha WINCHESTER (USA)
57kg
Giullia RODRIGUES PENALBER DE OLIVEIRA (BRA)
Evelina Georgieva NIKOLOVA (BUL)
Alexandria Rebekkah TOWN (CAN)
Ningning RONG (CHN)
Qi ZHANG (CHN)
Yongxin FENG (CHN)
Luisa Elizabeth VALVERDE MELENDRES (ECU)
Hana Ali Hamada Mohamed HUSSEIN (EGY)
Elena Heike BRUGGER (GER)
Sandra PARUSZEWSKI (GER)
Sito SITO (IND)
Esther Omolayo KOLAWOLE (NGR)
Elvira KAMALOGLU (TUR)
Alina HRUSHYNA AKOBIIA (UKR)
Amanda MARTINEZ (USA)
Laylokhon SOBIROVA (UZB)
59kg
Zhuomalaga ZHUOMALAGA (CHN)
Farah Ali Hamada Mohamed HUSSEIN (EGY)
Alaa Abdelhalim Said HARHASH (EGY)
Dawlat Mohamed Mahmoud FISAL (EGY)
Sarita SARITA (IND)
Diana KAYUMOVA (KAZ)
Anastasia NICHITA (MDA)
Yuliia TKACH OSTAPCHUK (UKR)
Lauren Nora LOUIVE (USA)
62kg
Lais NUNES DE OLIVEIRA (BRA)
Bilyana Zhivkova DUDOVA (BUL)
Taybe Mustafa YUSEIN (BUL)
Mimi Nikolova HRISTOVA (BUL)
Jia LONG (CHN)
Xiaojuan LUO (CHN)
Noura Khalil Hamed Khalil BAKR (EGY)
Gharam Mahmoud  Attia Moustafa ASKAR (EGY)
Ameline DOUARRE (FRA)
Luisa Helga Gerda NIEMESCH (GER)
Sangeeta SANGEETA (IND)
Irina KUZNETSOVA (KAZ)
Aisuluu TYNYBEKOVA (KGZ)
Mariana CHERDIVARA ESANU (MDA)
Grace Jacob BULLEN (NOR)
Kriszta Tunde INCZE (ROU)
Sara Johanna LINDBORG (SWE)
Iryna KOLIADENKO (UKR)
Ilona PROKOPEVNIUK (UKR)
Jennifer PAGE ROGERS (USA)
Kayla Colleen Kiyoko MIRACLE (USA)
Dilfuza AIMBETOVA (UZB)
Ariukhan JUMABAEVA (UZB)
65kg
Ayatalla Magdy Mohamed Sadek AHMED (EGY)
Bhateri BHATERI (IND)
Khadija JLASSI (TUN)
Tetiana SOVA RIZHKO (UKR)
Emma Patricia BRUNTIL (USA)
68kg
Yuliana Vasileva YANEVA (BUL)
Sofiya Hristova GEORGIEVA (BUL)
Adela HANZLICKOVA (CZE)
Menatalla Ahmed Osman Mostafa BADRAN (EGY)
Samah Abdellatif Mahmoud ABDELLATIF (EGY)
Koumba Selene Fanta LARROQUE (FRA)
Saidy Lorena CHAVEZ FIGUEROA (HON)
Radhika RADHIKA (IND)
Yelena SHALYGINA (KAZ)
Meerim ZHUMANAZAROVA (KGZ)
Alexandra Nicoleta ANGHEL (ROU)
Buse CAVUSOGLU TOSUN (TUR)
Alla BELINSKA (UKR)
Marilyn GARCIA (USA)
Alexandria Junis GLAUDE (USA)
Forrest Ann MOLINARI (USA)
Firuza ESENBAEVA (UZB)
72kg
Eman Hany Hefny MOHAMED (EGY)
Mona Reda Abdelkhalek AHMED (EGY)
Pauline Denise LECARPENTIER (FRA)
Lilly SCHNEIDER (GER)
Reetika REETIKA (IND)
Dalma CANEVA (ITA)
Alina RUDNYTSKA LEVYTSKA (UKR)
Liudmyla PAVLOVETS TYCHYNA (UKR)
Svetlana OKNAZAROVA (UZB)
76kg
Juan WANG (CHN)
Qian ZHOU (CHN)
Genesis Rosangela REASCO VALDEZ (ECU)
Samar Amer Ibrahim HAMZA (EGY)
Epp MAE (EST)
Cynthia Vanessa VESCAN (FRA)
Francy RAEDELT (GER)
Kiran KIRAN (IND)
Gulmaral YERKEBAYEVA (KAZ)
Elmira SYZDYKOVA (KAZ)
Aiperi MEDET KYZY (KGZ)
Anastasiia OSNIACH SHUSTOVA (UKR)
Kennedy Alexis BLADES (USA)
Skylar Allison Elizabeth GROTE (USA)
Ozoda ZARIPBOEVA (UZB)