Henri Deglane Grand Prix of France Preview
Tuesday, January 12, 2021 - 13:34 By Eric Olanowski
The 47th Annual Henri Deglane Grand Prix of France kicks off January 14-18. The star-studded entry list is headlined by four Olympic champions, five reigning world champions and will feature nearly 300 athletes from 23 different nations.
Potential Showdown of Olympic Champs Sharifov and Snyder
The most intriguing storyline coming into the competition is the potential showdown of Olympic champions Sharif SHARIFOV (AZE) and Kyle SNYDER (USA) at 97kg. If the pair of superstars meet, it'd be a rematch from the '19 world championship semifinasl, where the London Olympic champion and Rio Olympic bronze medalist defeated the American, 5-2, en route to his world silver-medal run.
Sharifov shut down all 19 of Snyder's attacks, while only surrendered an inactivity point and a step out in their Nur-Sultan meeting. In addition to earning a stepout point, he capitalized on a pair of Snyder's attacks by scoring a takedown off a high crotch and two exposure points. 
In my opinion, the key adjustment for Snyder to even the series: Get to the corner on his straight on attacks.
Gadzhiev Making '21 Debut Down at 65kg
Poland's Magomedmurad GADZHIEV will make his '21 debut down at the Olympic weight of 65kg and just his third appearance at the weight since '17. 
Gadzhiev, a two-time world medalist, is fresh off an undefeated '20 campaign up at 70kg. He claimed consecutive golds at the World Cup, European Championships, and Waclaw Ziolkowski Memorial.
For Gadzhiev to strike gold at his fourth consecutive competition, he'll have to get through a long list of tough competition – including Olympic champion Vladimir KHINCHEGASHVILI (GEO) and fellow two-time world medalist James GREEN (USA). Tokyo Olympian Agustin Alejandro DESTRIBATS (ARG) and rising star John DIAKOMIHALIS (USA) will also compete in the 65kg bracket.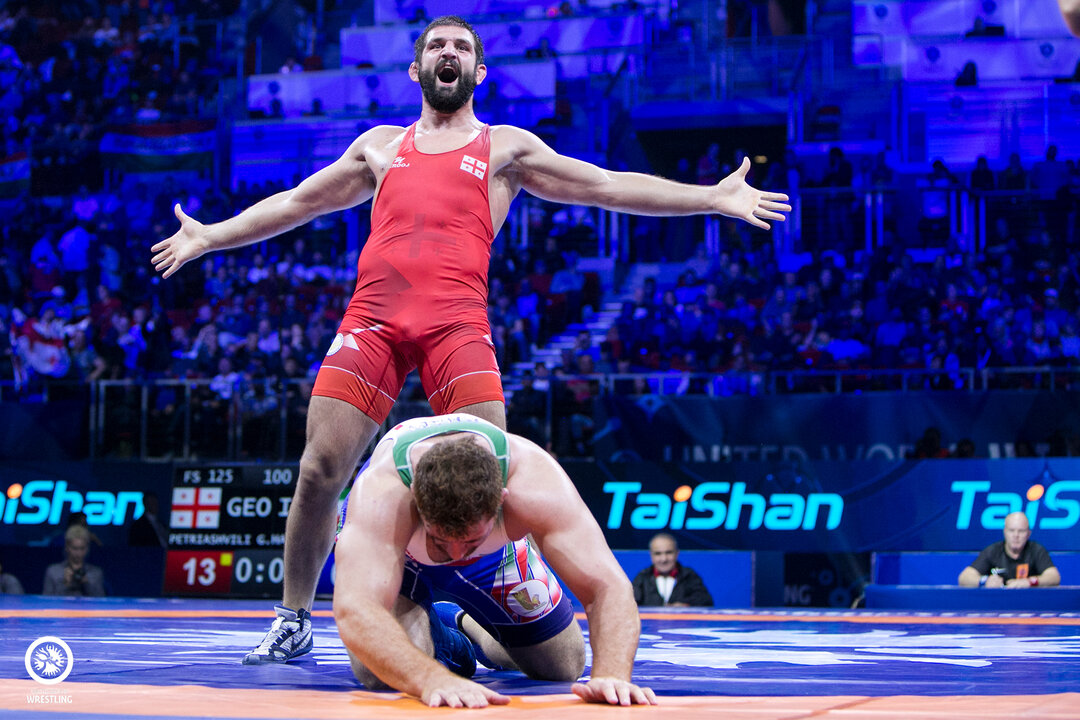 Reigning three-time world champion Geno PETRIASHVILI (GEO) will compete at 125kg. (Photo: Tony Rotundo)
Other Freestyle World Champs Entered 
Freestyle world champions Beka LOMTADZE (GEO), Kyle DAKE (USA), and Geno PETRIASHVILI (GEO) are the other must-watch wrestlers that'll be in action later this week.
The favorite to win gold at 61kg is reigning world champion Lomtadze. His biggest threat will be '18 world bronze medalist Joseph COLON (USA).
Dake, a two-time world champion at the non-Olympic weight of 79kg, is making his second appearance down at 74kg. In his first showing down at the Olympic weight, he claimed gold at the Matteo Pellicone. Dake dismantled Olympic bronze medalist Soener DEMIRTAS (TUR), 10-0,  is less than a minute to finish atop the Ranking Series podium.
Dake will have to navigate a 74kg field that includes '18 world silver medalist Avtandi lKENTCHADZE (GEO) and '18 junior world champion Khadzhimurad GADZHIYEV (AZE).
Petriashvili, the reigning three-time world champion, is entered at 125kg. His most credential competition will be two-time world bronze medalist Nicholas GWIAZDOWSKI (USA).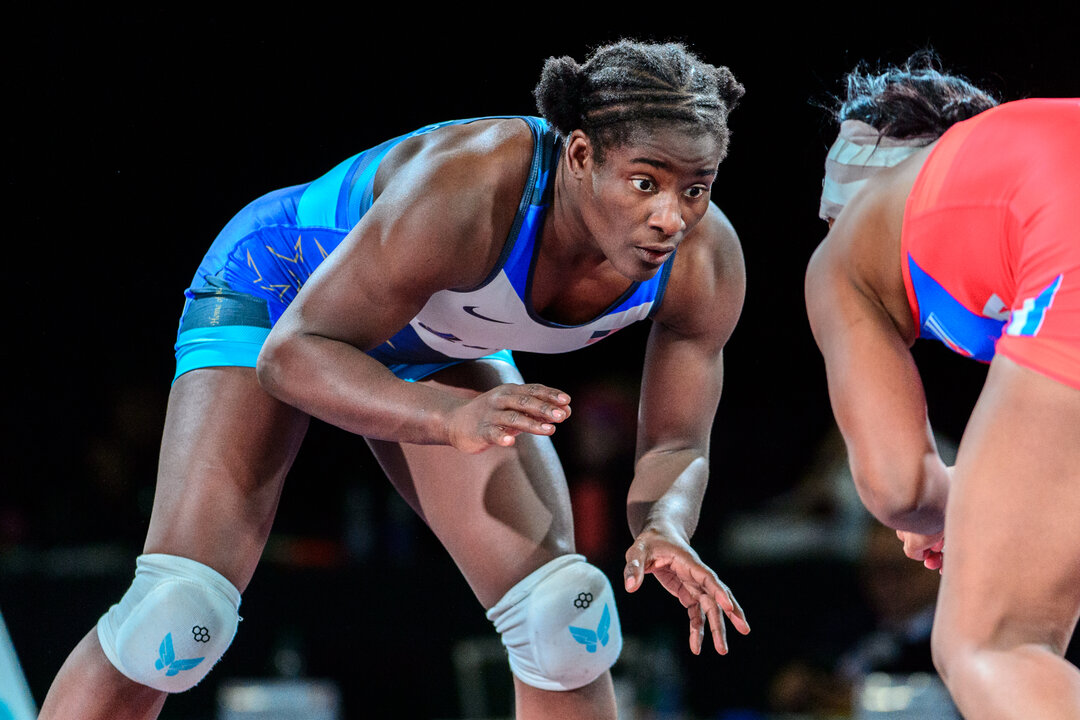 Tamyra MENSAH STOCK (USA) will take the mat at 68kg. (Photo: Tony Rotundo)
Mensah Back in Action After Downing Gray
Tamyra MENSAH STOCK (USA) will return to action at her normal weight, less than a week after upsetting five-time world champion Adeline GRAY (USA). The reigning 68kg world champion bumped up to 76kg and defeated Gray, 4-0, in the headlining bout of Flo Wrestling's 10-match card.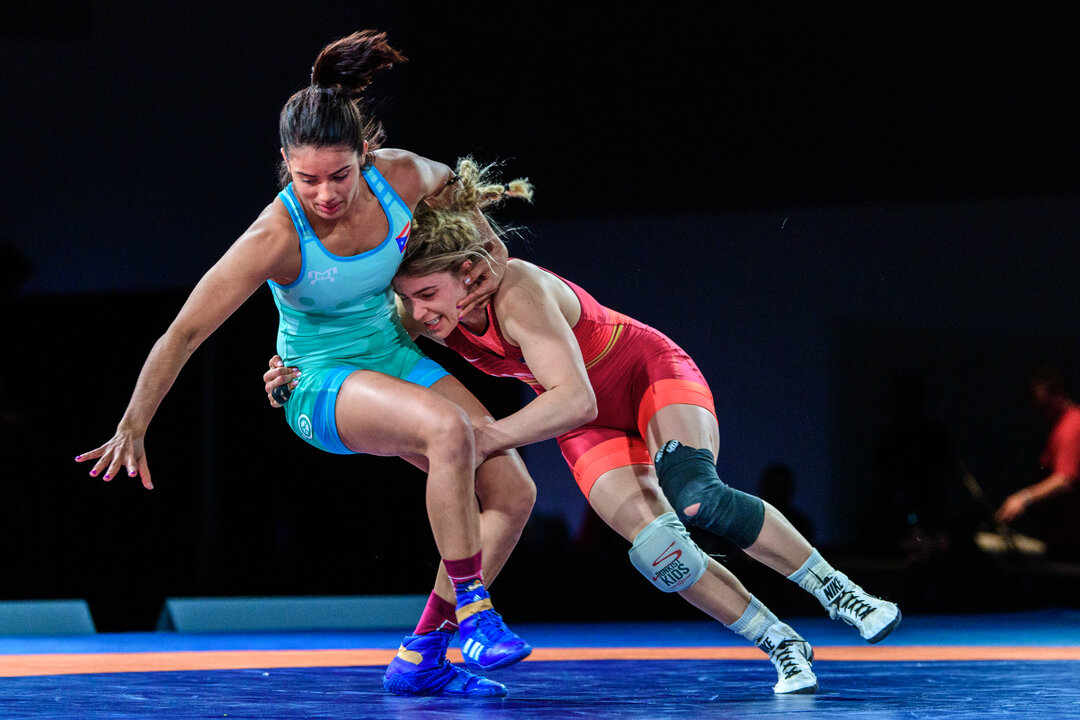 Olympic champion Helena MAROULIS (USA) will wrestle at 57kg. (Photo: Tony Rotundo)
Olympic Champ Maroulis Leads Shuffled Team USA
Rio Olympic gold medalist Helena MAROULIS (USA) leads a shuffled United States squad that'll see multiple world medalists moving down a weight in preparation for the Olympic Games.
Maroulis will compete at 57kg, while Sarah HILDEBRANDT (USA) and Jacarra WINCHESTER (USA) are dropping from their Nur-Sultan world championship weights of 53kg and 55kg, respectively. 
Hildebrandt, a '18 world silver medalist at 53kg, will make her third appearance at 50kg. Her first outing at 50kg came at the '20 Matteo Pellicone, where she upset top-ranked Alina VUC (ROU) with a last-second takedown to win her second Ranking Series title. Hildebrandt followed up that performance by qualifying the United States for the Olympic Games with a second-place finish at the '20 Pan-American Olympic Qualifier. 
Winchester, the reigning 55kg world champion, dropped to the Olympic weight of 53kg. She'll make her second appearance at the weight. Winchester's competed at 53kg for the first time at the '20 Pan-American Olympic Qualifier, where she earned the USA a berth to the Olympic Games through her runner-up finish.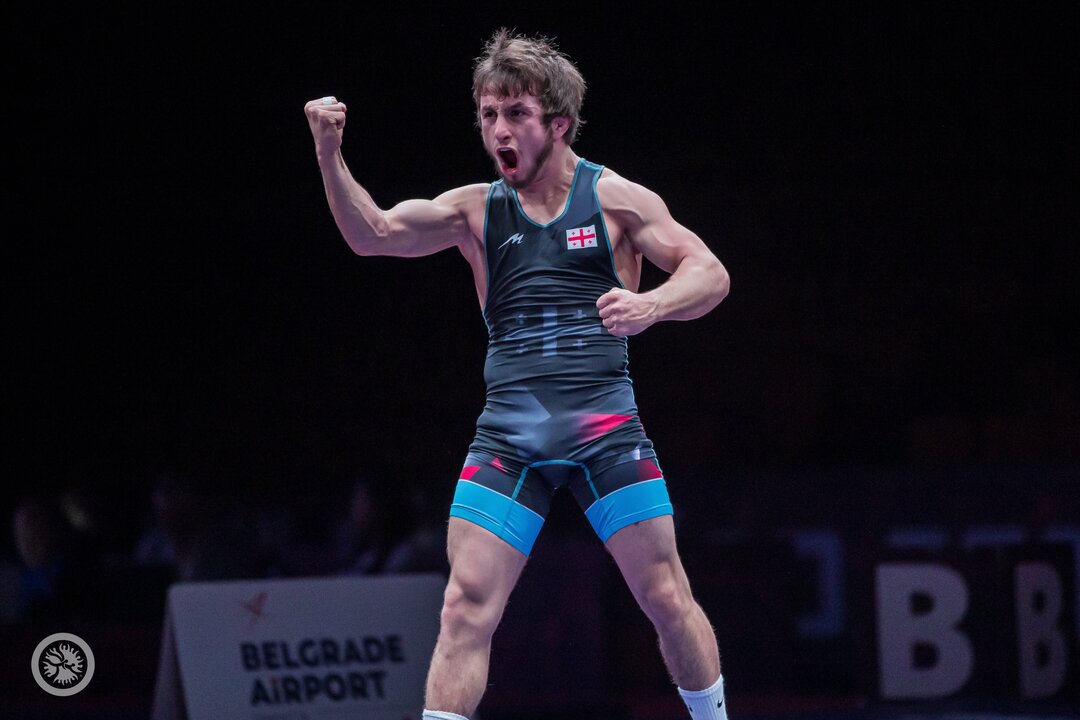 '19 world champion Nugzari TSURTSUMIA (GEO) is entered at 55kg. (Photo: Sachiko Hotaka)
Tsurtsumia Leads Greco-Roman Entries
Nugzari TSURTSUMIA (GEO) is the lone reigning world champion entered in Greco-Roman. He'll face a 55kg field that includes world bronze medalist Ekrem ÖZTÜRK (TUR) and Individual World Cup runner-up Serif KILIÇ (TUR).
The Henri Deglane Grand Prix of France, which will be streamed live on United World Wrestling, begins Friday at 10:30 local time, with women's wrestling qualification rounds at 50kg, 53kg, 57kg, 62kg, 68kg, and 76kg. 
SCHEDULE
Thursday
10:00-12:00: Final entries WW-50kg 53kg 57kg 62kg 68kg 76kg (+2kg)
18:00-19:00: Draw WW-50kg 53kg 57kg 62kg 68kg 76kg (+2kg)
Friday 
8:00: Medical control WW-50kg 53kg 57kg 62kg 68kg 76kg (+2kg)
8:30: Weigh-in WW-50kg 53kg 57kg 62kg 68kg 76kg (+2kg)
10:00: Final entries FS–57kg 61kg 65kg 70kg 74kg 79kg 86kg 92kg 97kg 125kg (+2kg)
10:30: Qualification rounds and finals
18:00: Draw Freestyle FS–57kg 61kg 65kg 70kg 74kg 79kg 86kg 92kg 97kg 125kg (+2kg)
20:30: Finals awards ceremony
Saturday 
8:00: Medical control FS–57kg 61kg 65kg 70kg 74kg 79kg 86kg 92kg 97kg 125kg (+2kg)
8:30: Weigh-in FS–57kg 61kg 65kg 70kg 74kg 79kg 86kg 92kg 97kg 125kg (+2kg)
10:00: Final entries GR–55kg 60kg 63kg 67kg 72kg 77kg 82kg 87kg 97kg 130kg (+2kg)
10:30:  Qualification rounds and finals
18:00: Draw GR–55kg 60kg 63kg 67kg 72kg 77kg 82kg 87kg 97kg 130kg (+2kg)
20:30: Finals awards ceremony
Sunday 
8:00: Medical control GR–55kg 60kg 63kg 67kg 72kg 77kg 82kg 87kg 97kg 130kg (+2kg)
8:30: Weigh-in GR–55kg 60kg 63kg 67kg 72kg 77kg 82kg 87kg 97kg 130kg (+2kg)
10:00: Qualification rounds and finals
10:30: Finals awards ceremony