Greco-Roman world championship preview
Monday, September 5, 2022 - 13:43 By Timmy Hands
BELGRADE, Serbia (September 5) --- Greco-Roman action has the honor of kicking off the 2022 World Championships this coming weekend in Belgrade, Serbia. Each weight category presents a wide variety of standout athletes, many of whom have already experienced what it's like to prevail on Greco-Roman's biggest stage. 
There is something for everyone. Different regions from around the globe demonstrate unique approaches to competition. Individual wrestling styles and scoring expressions are what helps separate the classical discipline from the rest. That is part of what makes the World Championships such an important event: diverse skill-sets in conjunction with the drive to succeed on the grandest platform available. The World Championships are as much about unity as they are competition. When it comes to Greco-Roman, that is never more evident. 
55kg
Two of this weight category's top competitors figure to be in the mix once again with Eldaniz AZIZLI (AZE) and Nugzari TSURTSUMIA (GEO) taking the No.1 and No.2 seeds, respectively. Azizli, a world champ in '18 and two-time bronze, has two victories of relevance over Tsurtsumia, including from the final round of this season's European Championships. But nothing is guaranteed should both athletes comprise the gold-medal match in Belgrade. Despite Azizli's success against him, Tsurtsumia remains one of the most offensively-expressive young lightweights on the planet and it feels like an eventuality that the tide could turn in his direction. 
Reigning world Champion Ken MATSUI is not in for Japan. Instead, it is Yu SHIOTANI, who by no means is a lesser athlete. Along with having earned gold at the past two Asian Championships, Shiotani has been a legitimate force. He is also creatively dangerous from a variety of positions. 
Iran's Poyo DAD MARZ – a former age-group dynamo – and Amangali BEKBOLATOV (KAZ) are expected to contend for podium spots, as well. But it is two-time world bronze medalist Ekrem OZTURK (TUR) who deserves the most attention outside of Azizli and Tsurtsumia. He has been close before; and between his arm drags and at-times vicious par terre prowess, Ozturk is as much of a threat for the crown in this weight as anyone else can possibly be.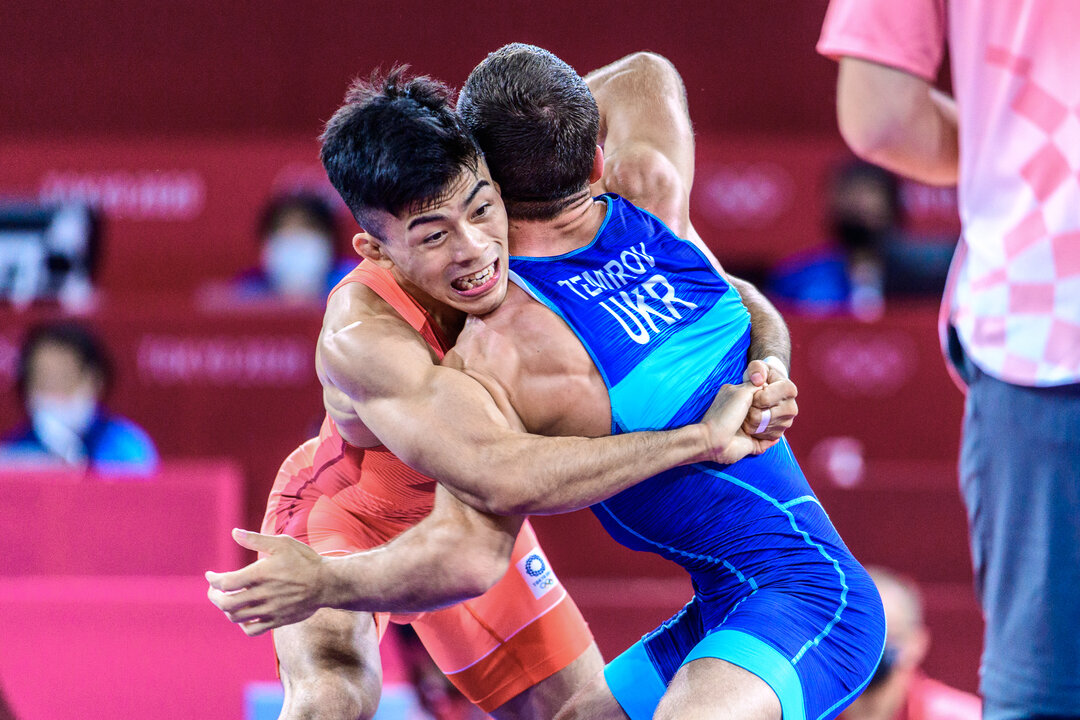 Kenichiro FUMITA (JPN) will return to the World Championships after sitting out last year following his Tokyo Olympic silver medal finish. (Photo: Tony Rotundo)
60kg
The talk of 60kg centers around the wonderful Kenichiro FUMITA (JPN), whose last major performance saw him finish with silver at the Tokyo Olympics. Fumita skipped the '21 World Championships and decided to spend most of this season regrouping and re-tooling in anticipation of making another run. He returned in June for his country's Meiji Cup, which he won; more impressively, perhaps, Fumita entered the Wladyslaw Pytlasinski Memorial one month later and in the final downed '21 world silver Zholaman SHARSHENBEKOV (KGZ), who is seeded first in Belgrade and stands as a significant medal candidate. 
Murad MAMMADOV (AZE) also made it to the podium in '21 (bronze), automatically making him someone to watch in Serbia. Mammadov this year has stayed on track and then some. The 27-year-old collected bronze at the European Championships, won the Matteo Pellicone Ranking Series event and came in second to Sharshenbekov at the Islamic Solidarity Games in August. Mammadov, he is solid.
But the biggest potential story at 60kg might be Kerim KAMAL (TUR). Once a superstar on the junior level, Kamal's senior career has now begun to hit a higher gear. '21 ushered in his first European final as well as an appearance in the Olympics. He parlayed those performances into a world bronze in Oslo – and this season's highlight so far was his gold at the Euros. Momentum sometimes matters at the World Championships, depending on the athlete in question. Kamal seems to fit that profile, someone who could go on a run and not look back. Even if the hill appears exceptionally steep.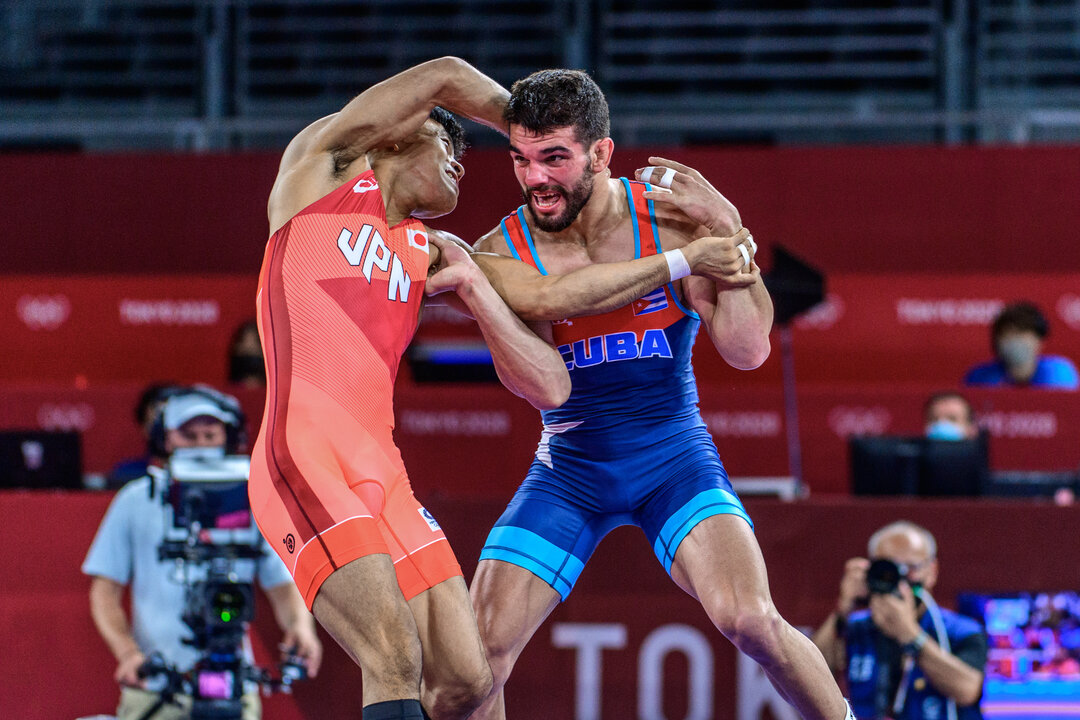 Luis ORTA SANCHEZ (CUB) will return to the mat for the first time since winning Olympic gold. He'll compete up at 63kg. (Photo: Tony Rotundo)
63kg
Olympic Champion Luis ORTA SANCHEZ (CUB) is making his 63kg debut in Belgrade, which does precisely nothing to the perception of his candidacy for gold. The only hitch involving Orta Sanchez is time. He has not competed since his electrifying run in Tokyo, but that could also be an advantage, provided conditioning ceases to be a factor. Orta Sanchez's layoff and climb in weight means that he is without a seed in this tournament. While that could play a role as the bracket unwinds, it should not detract from his chances. 
Unless of course he happens upon someone like '21 world champ Victor CIOBANU (MDA) early in the tournament. Orta Sanchez did overwhelm Ciobanu in their Tokyo semifinal contest, and it is hard to dismiss the one-sided nature of the outcome. For his part, Ciobanu's action at 63kg this year has been more than respectable with silvers from two Ranking Series tournaments (Vehbi Emre and Matteo Pellicone). He has had time on target in this weight class, and is a bulldozer the moment he seizes on something he likes. 
So has Taleh MAMMADOV (AZE). Mammadov barely missed out on a medal in Oslo and has altogether become a steady performer over the past two years. It also helps that he clipped Ciobanu in Rome less than three months ago. Age shouldn't be a factor. Although 33-year-old Mammadov has been at this game for a while, his consistent activity level and comfort with the landscape at 63kg fall in his favor. 
Right now, however, the hottest contender is Leri ABULADZE (GEO) and for good reason. Not only is the explosive Georgian the reigning runner-up at 63 (and champ on the U23 level), as well as a freshly-minted European gold, he also aces the "eye test". Abuladze is the rare kind of athlete who can win matches in nearly any manner he chooses. He can insist on hard contact and clashes as a means to open up offense on the feet; he can plod and play possum before turning on the jets; or he can tactically battle through rough pummeling and then rely on par terre to gash the scoreboard. Whoever Abuladze faces will be in for a fight.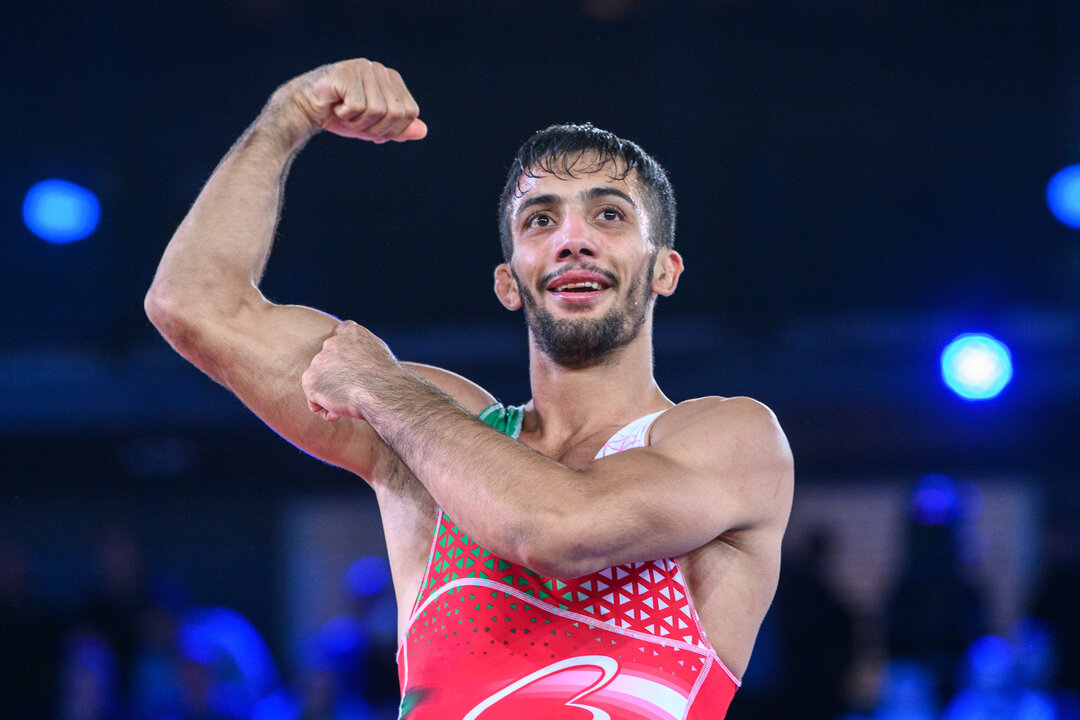 Reigning world and Olympic champion Mohammadreza GERAEI (IRI) headlines the 67kg field. (Photo: Kadir Caliskan)
67kg
There is a pleasant lack of pretense to be found at 67kg. '20 Olympic/'21 world Champion Mohammadreza GERAEI (IRI) is, probably, the best all-around Greco-Roman competitor in the sport. It is almost too easy to say such a thing about an athlete who has made every final of every meaningful tournament dating back to '18. Except, his results are mere window-dressing. Geraei is currently the total package. As a 26-year-old, he might not even be in his prime; he is equally the most intuitive on-the-feet scorer and counter-scorer on the planet; his lifts from par terre are crisp, and his defense is by and large uncompromisable. 
Most importantly, Geraei respects each opponent as a significant threat, which keeps his effort in-match at a constant. It will need to stay that way in Belgrade, because 67kg is jam-packed from top to bottom. 
If the seeds hold to form, Geraei would be challenged in the final by none other than Hasrat JAFAROV of Azerbaijan. The two are not entirely unlike one another stylistically; plus, Jafarov is beginning to put together the same brand of consistency, albeit on a level just below Geraei's. '21 was Jafarov's first full Senior campaign and it ended with 5th place in Oslo before he grabbed gold at the U23 Worlds. This season, he placed third at the European Championships and prevailed at both the Matteo Pellicone Ranking Series tournament and the recently-held Islamic Solidarity Games. 
Confirmed for Ukraine is Parviz NASIBOV, who fell to Geraei in the Olympic final via technical superiority. Nasibov this season earned gold at the Grand Prix Zagreb Open but finished out of the running at the European Championships. His ledger from '22 as of press time should not be over-analyzed given the obstacles athletes from Ukrinae have had to endure since the winter. 
Two-time world Champion RYU Han-Soo (KOR) is also back in the hunt, as are '21 Olympic bronze Mohamed ELSAYED (EGY), '17 world silver Mateusz BERNATEK (POL), '19 world bronze Mate NEMES (SRB), and another bronze from that same year, Slavik GALSTYAN (ARM). At 34, Ryu is more of a question mark and since his most recent title in '17 the results have been mixed. But that might not be age alone, for the depth in this weight category is among the most significant on a yearly basis. Elsayed, who still has not reached his apex, could be a fitful challenger if a semifinal with Geraei should occur. That is mainly because Elsayed is in his own way balanced in terms of discipline and creativity.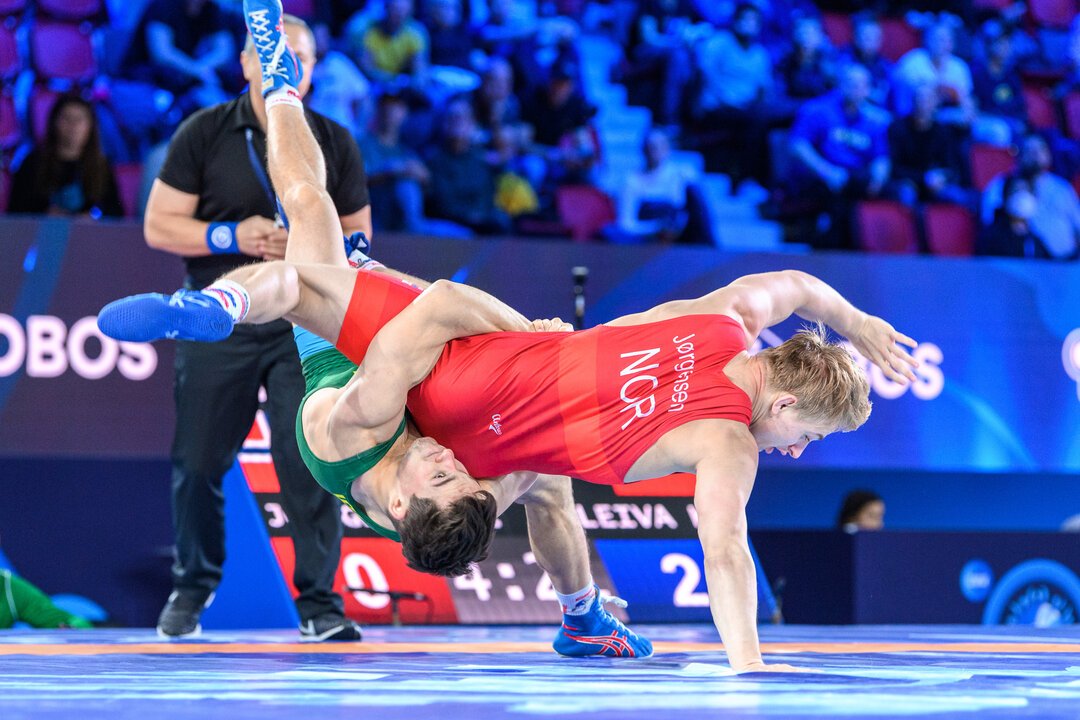 Kristupas SLEIVA (LTU) is the top-seeded wrestler at 72kg. (Photo: Kadir Caliskan)
72kg
Two world medalists from 2021, a rugged Hungarian who is coming off his first European title, and one more who was in an Oslo medal match, highlight the field at 72kg. 
Top-seeded Kristupas SLEIVA (LTU) and Gevorg SAHAKYAN (POL) are the two hardware winners from a year ago, when both came away with bronze. For Sahakyan, it was his second-career third-place effort. Sleiva, who is one more hard-charger from Lithuania, had not broken through before '21 but is now very much a legitimate world-level competitor as he has learned to stick more often to a pace-pushing style that keeps opponents on their heels. 
The European champ from '22 is Robert FRITSCH (HUN). As most might be aware, Fritsch's own methodology is similar to Sleiva's and the two have combined for some static-friendly time on the mat together. They could see each other rather early in the tournament, which could impact how the winner performs in the proceeding round. Their approaches are that physical. 
Mohammad Reza MOKHTARI (IRI) who was fifth in '21, and Selcuk CAN (TUR) are by comparison the more technical tandem. Both ease in and out of positions a little more freely but are capable of bombing from par terre. One more smart pick could be '23 U23 bronze Ulvu Ganizade (AZE). He is the No. 2 seed in Belgrade based primarily on his European bronze and silver from Pellicone. At Oslo '21, Ganizade started out with two nice wins, one of which over '16 Olympic bronze Shmagi BOLKVADZE (GEO). Mokhtari ended his run, but for a first-time world performance it was impressive.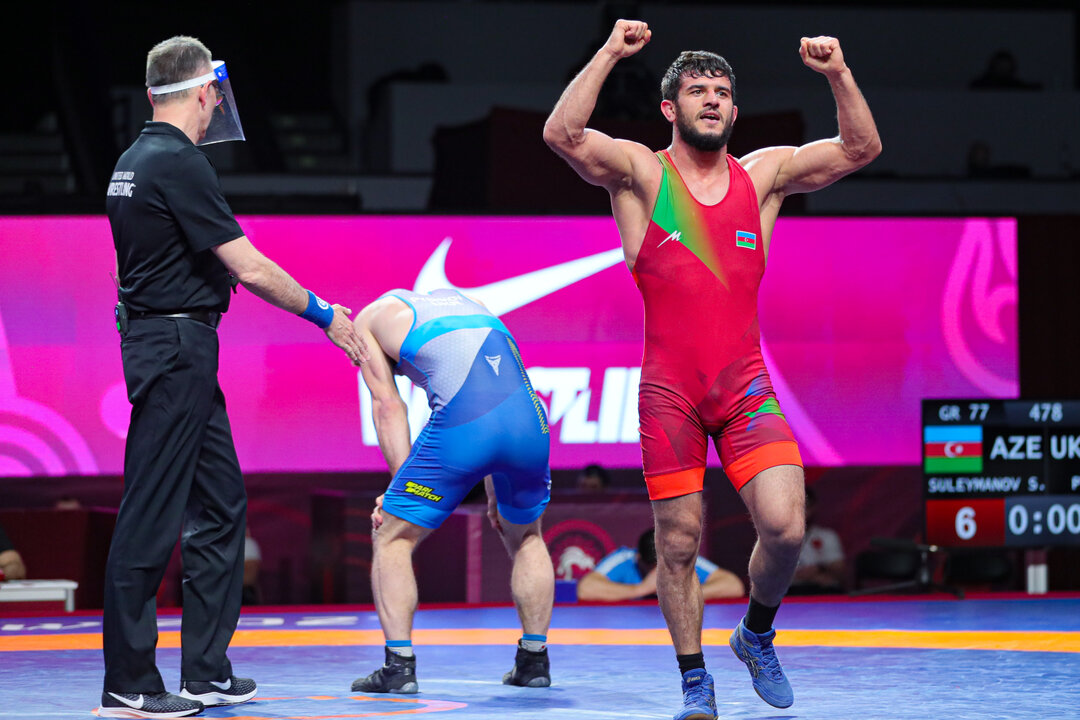 Sanan SULEYMANOV (AZE) will try to improve on his runner-up finish from last year's World Championships. (Photo: Gabor Martin)
77kg
No other weight category at a World Championships is observed under a brighter spotlight than 77kg – and it is very much business as usual in 2022. 
Two of the four medalists from last year are back: silver Sanan SULEYMANOV (AZE) and Mohammadali GERAEI (IRI). In addition, two of the four from the Tokyo Games are involved: silver Azkhol MAKHMUDOV (KGZ) and bronze Shohei YABIKU (JPN). That is a lot of firepower with which to start but there are others burning just as hot. 
Aik MNATSAKANIAN (BUL), a two-time bronze but at a weight class lower, has transitioned into the 77kg fray with ease. Mnatakanian is a workhorse. He dictates the tempo of bouts forcefully and is often looking to use his power to compel off-balances that lead to scoring chances. It would be wise to ignore his results from '20 Tokyo and '21 Oslo. Mnatsakanian has dropped only one match so far this season, which was a decision to eventual silver Yunus BASAR (TUR) at the European Championships. He has hardly been touched everywhere else with three tournament wins under his belt in '22.
But what happens at the European Championships often makes a difference, and Basar looked great at that event. Of course, so too did gold medalist Malkas AMOYAN (ARM) – who himself was a world champ last year. The European tournament was Amoyan's first at 77kg. He looked completely at-home with the jump in weight; and now with more than five months since then to continue his training, there is no choice but to think that a second-straight world gold in a different weight category is a distinct possibility. 
Zoltan LEVAI (HUN), '17 world champ Viktor NEMES (SRB), and Per Anders KURE (NOR) are naturally being discussed as potential medal-winners. They deserve it, particularly Levai given how solid his foundation. And although it has been a while and '22 will represent only his second Senior World appearance, Kamal BEY (USA) has to be thought of as in the argument. There is no wrestler in this bracket as capable of running up scores as fast, or as dynamically. Should Bey get the ball rolling early, he might be difficult to stop. 
Whatever he does, and with whomever he competes in Belgrade, the return of KIM Hyeon-Woo (KOR) should be cheered loudly. An Olympic/world champ and multi-time medalist throughout what has been an astounding career, Kim's calling card is exciting, innovative technique, laser arm throws, and booming scores from the mat. At 33 and with a long layoff behind him, his showing at the Asian Championships back in April (7th place) still surprised many. That is actually a compliment. Because everyone knows how dangerous and fun to watch Kim used to be. The question is if he still is. Should that be the case and enough reserves are in the tank, the popular Kim could make this weight category even more interesting in a hurry.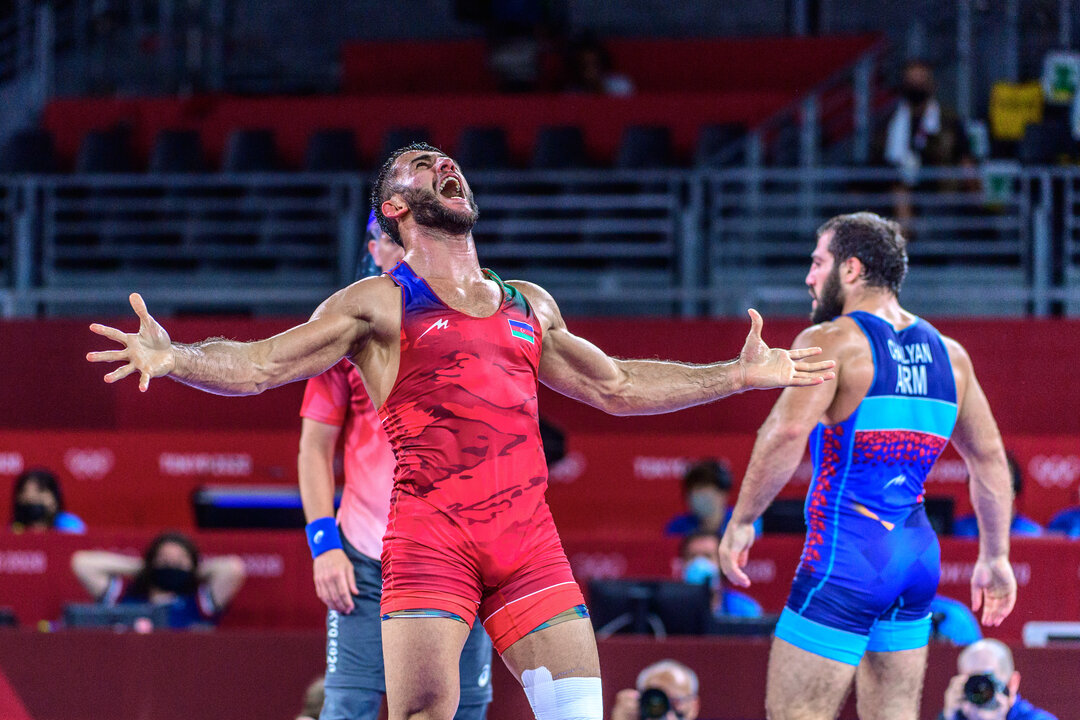 Reigning world champion and Olympic bronze medalist Rafik HUSEYNOV (AZE) is the favorite at 82kg. (Photo: Tony Rotundo)
82kg
The only reasonable conclusion one could draw from watching Rafiq HUSEYNOV (AZE) is that he will continue on as a verifiable world-beater for as long as he likes. Last year was the best of his career – and he had turned 33. In '21, Huseynov won his first world title (after finishing second in '19); earned Olympic bronze; and qualified 77kg for AZE even though he had not touched that weight range in six years. This year, he placed third at Vehbi Emre, and won both the European Championships and Islamic Solidarity Games. At 34, Huseynov may very well be wrestling better than he ever has at any other point in his career. 
Alas, he will still be challenged. Two from the Oslo podium are also entered, bronze Pejman POSHTAM (IRI) and Huseynov's Oslo runner-up, Burhan AKBUDAK (TUR). Poshtam is a "wrestler's wrestler" with sound technique, and he refrains from over-extending himself in tight spots when others might grow overzealous. Indeed, this is partly how he breezed through the Asian Championships. Akbudak, meanwhile, competes with plenty of intensity and tends to not wear down when bouts reach a fever pitch. He expends a lot of energy for an 82kg, but only because he is interested in piling up points. 
In this grouping is Gela BOLKVADZE (GEO), who was second to Huseynov in Budapest and a top U23 performer before that. Bolkvadze has scored victories against most of the heavy hitters in this bracket at one time or another but is still waiting for his signature moment at a Senior Worlds. That could happen in Belgrade. 
Tamas LEVAI (HUN), he's a podium contender, and ignoring the great good work of Pascal EISELE (GER) is always a mistake. This is a crowded allotment of premier competitors, but one that is ruled by an elite handful.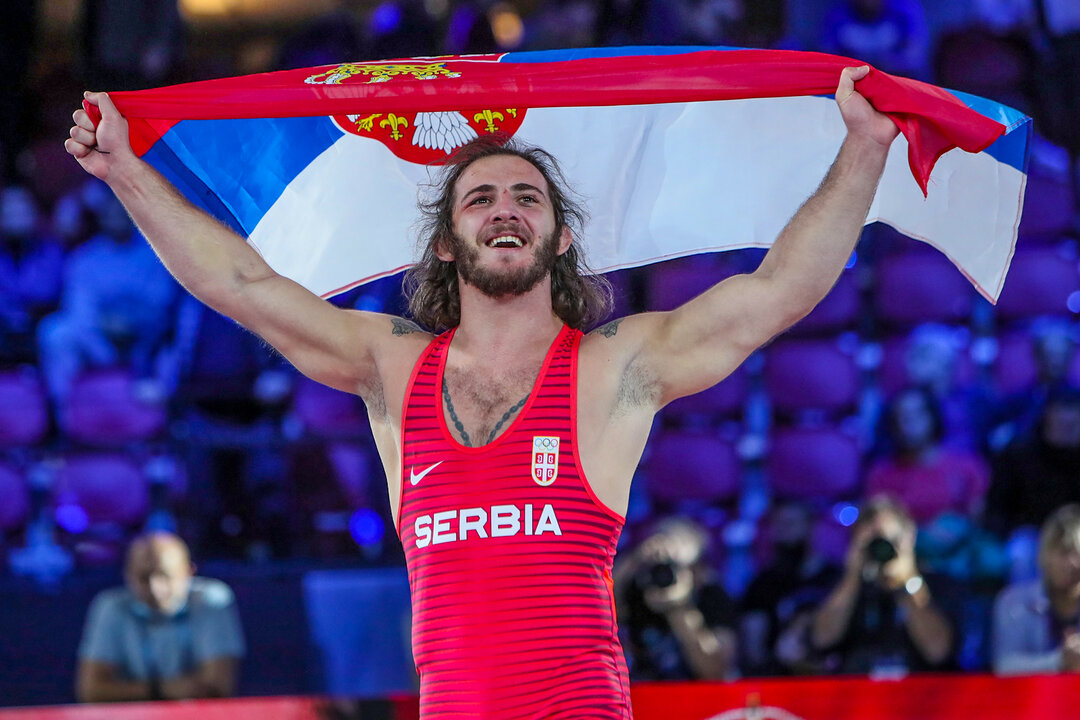 Zurabi DATUNASHVILI (SRB) will look to win a second consecutive world title. This year, he'll have to deal with the added pressure of the World Championships being on home soil. (Photo: Kadir Caliskan)
87kg
It is a transitional year for 87kg in some ways due to roster changes and downright turnover on the part of several nations. This does not mean that 87 is all of the sudden a narrow field. It isn't. If anything, the same brand of tension most associate with this weight category is even more immense. 
The main character is Serbia's Zurabi DATUNASHVILI, who has flourished since coming over from his native Georgia. Long a stout contender for European hardware, Datunashvili had previously not quite broken through at world-level events – until he found his groove in Tokyo. At the Olympics, the 31-year-old was decisioned in the qualification round by champ Zhan BELENIUK (UKR) but won his next two and finished with bronze. Just over two months later, Datunashvili put all doubts to rest by scorching his way to world gold in Oslo. He has only made three starts in '22, which includes an 8th from the European Championships; but that has all been part of his periodization plan, so he is anticipated to be in top form come this weekend. 
On the bottom side of the bracket is the No. 2 seed and a young man who right now is one of the sport's hottest competitors, Turpal BISULTANOV (DEN). The trail is easy to follow. Other than his 5th last year at the Worlds, Bisultanov has appeared in the final of every tournament he has entered since the '21 Nordic Championships. Among his recently-acquired credentials are a Senior European gold, a U23 European silver, and tournament wins from Zagreb and the German Grand Prix, respectively. All the more startling is that Bisultantov is not even 21 years of age just yet. 
Islam ABBASOV (AZE) has twice finished 5th at the worlds, has a few continental medals to his credit (counting a bronze from '22), and took a nice win against Datunashvili in the process. He will likely be in the argument, which wouldn't come as a surprise. But '19 world silver Alex KESSIDIS (SWE) at 87kg is newsworthy. Originally a 77kg, Kessidis did start to grow comfortable at 82kg, with the bump in weight likely more amenable to his frame. At one point this season, he hitch hiked up to 97kg for one tournament. That decision raised some eyebrows. Kessidis is rangy, choppy, and a diligent worker from par terre. He has yet to enjoy a big showing in what is presumably his new weight class going forward. In Belgrade, Kessidis does not have a seed, so where he lands via random draw might determine everything about his candidacy.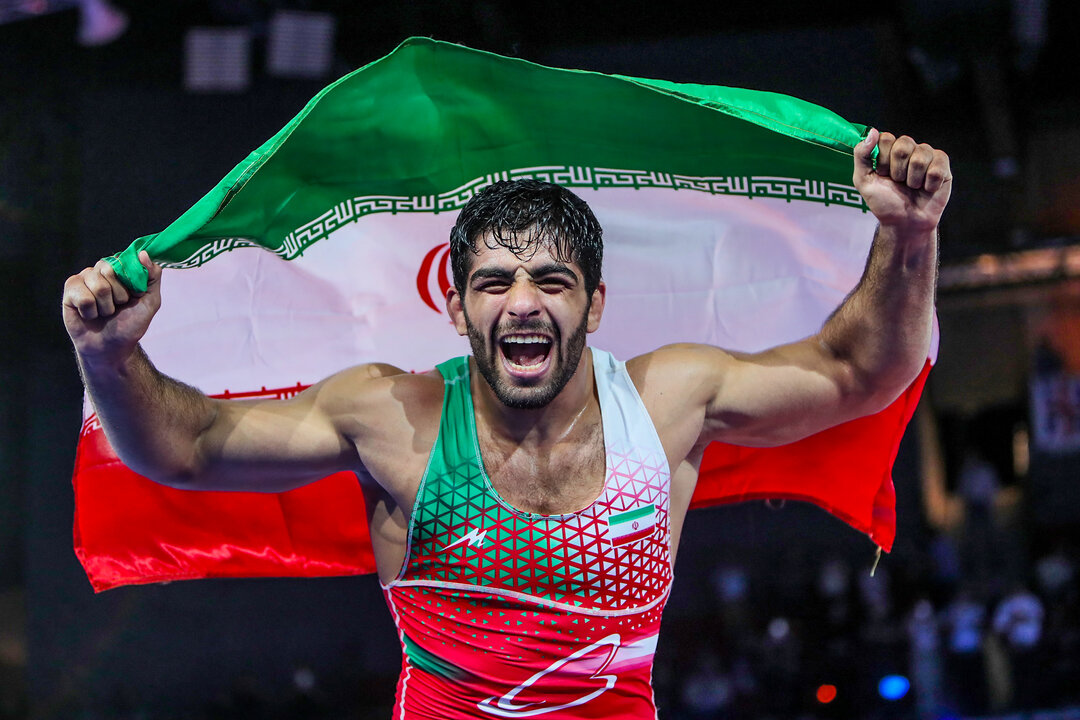 Mohammadhadi SARAVI (IRI) heads into the World Championships looking to win a second straight world gold. (Photo: Kadir Caliskan)
97kg
2022 brings to the fans one of the most competitive and potentially-thrilling 97kg brackets in quite some time. All of the most recent stout performers who call this hard-hitting division home will be vying for world glory. 
'21 world champion/'20 Olympic bronze Mohammadhadi SARAVI (IRI) stands tall as the No. 1 seed and it should prove quite the task for his challengers to remove him from the top spot. Saravi provides no quarter to the opposition, yet operates with fluidity in his movement and is patient to capitalize during the most opportune times in-match. He just isn't an athlete who makes many mistakes. Instead, he pounces upon the errors his opponents commit. That is a formula for success in any weight category. 
Behind Saravi is his runner-up from Oslo, Alex SZOEKE (HUN). Another person of interest. Szoeke required shoulder surgery following last season but did everything possible to get himself back to 100% during the winter. Mission accomplished. Szoeke is a hard pummeler, but with some smoothness in his style. He is also an adequate defender, which is ultimately why he should remain in the running. 
Olympic/multi-time world Champion Artur ALEKSANYAN (ARM) has not kept a very active profile, but that might be for the best. Now 30-years-old, the Armenian monster is keen to mind his body's needs a little more than in the past. Only one wrestler has had his number of late, and that man is not in the picture this year. Whether or not that opens up the bracket for the fourth-seeded Aleksanyan is questionable. What isn't? His knowledge and experience when it comes to revving up for this type of showcase. 
Olympic bronze Tadeusz MICHALIK (POL), two-time world bronze Mihail KAJAIA (SRB), '18 world silver Kiril MILOV (BUL), and two-time world champion Metehan BASAR (TUR) are all occupying seeds – and are therefore positioned as strong contenders to advance. There are three athletes without seeds worth a closer look, too: Giorgi MELIA (GEO), Daniel GASTL (AUT), and Artur OMAROV (CZE). Melia (once an age-group titan) and Omarov were Olympians in '20, though the former has experienced a bit more success over the past few years. Gastl, on the other hand, is a steadily improving wrestler in addition to owning an admirable power game on the feet that can give anyone problems. 
Too many potentially dramatic match-ups in one weight class makes 97 as can't-miss as it gets.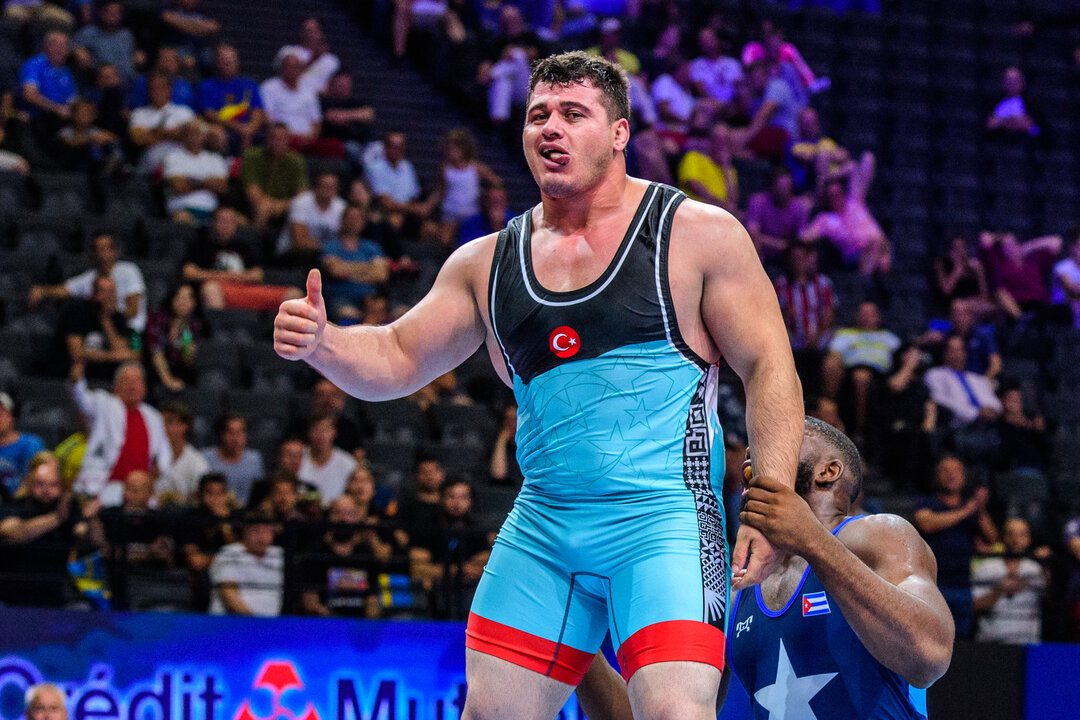 Riza KAYAALP (TUR) is on a quest to win his fifth world title. (Photo: Gabor Martin)
130kg
Tokyo elevated Iakobi KAJAIA (GEO) to newfound stardom despite his prior senior achievements and long list of age-group credentials. He was felled in that Olympic final by the greatest heavyweight to have ever breathed oxygen in four-time champ Mijain LOPEZ (CUB), but Kajaia's performance still resonated. That he rebounded in short order to end up with bronze in Oslo cemented his status as a fully-arrived heavyweight. His two starts this season were underwhelming, though they did not hurt his position as the top-seed for Belgrade. But after what was an exceptional conclusion to '21, it does feel like Kajai once again has something to prove. 
Which might not be easy. 
Four-time world champ Riza KAYAALP (TUR) has continued his career and, outside of a stunning defeat to Beka KANDELAKI (AZE) via fall, he has performed up to par this season. There has been on and off talk about Kayaalp soon walking towards the sunset; but at 32 and with such a dependable set of big-man skills, there is no reason to think that he is ready to take a step back. Kayaalp has never demonstrated an ounce of complacency once the whistle blows and that will not change in Belgrade. 
Returning world bronze Oskar MARVIK (NOR), '16 Olympic bronze Sabah SHARIATI (AZE) and '17 third-placer Yasmany ACOSTA FERNANDEZ (CHI) provide the name recognition heavyweight often brings to bear. Of all of the athletes in this field who have not medaled yet, the name fans might wish to lock onto is Mantas KNYSTAUTAS (LTU). It could be his time. If not, it's coming. Knystautas is long, limber, and a punishing sort in the trenches. He is growing in his understanding of how to leverage opponents in the ties and is not afraid to take a risk if the reward is too tough to ignore. Coming from behind is a skill that still needs development, but otherwise, Knystautas is inching closer to becoming a consistent world-level threat.