Gray Grabs U.S.-Record 5th Women's World Gold; Kawai Wins 57kg Showdown with Rong
Thursday, September 19, 2019 - 18:38 By Ken Marantz
NUR-SULTAN, Kazakhstan (Sept. 19)---By winning a fifth world title, Adeline GRAY (USA) became sole holder of the record for American women. It wasn't lost on her either that she did it with a victory over a Japanese in the run-up to the Tokyo 2020 Olympics.
"Number five," Gray said, as if she needed to remind herself of the accomplishment. "Heading into the Olympics in Tokyo, beating Japan---man, that country is so good at women's wrestling."
Gray scored all of her points late in the first period and held on for a 4-2 victory over Hiroe MINAGAWA (JPN) in the 76kg final, one of four golds decided on Day 6 of the Nur-Sultan World Championships.  
In defending the title she won a year ago in Budapest, Gray also broke a tie with Trish Saunders for most world golds by an American woman. 
"It's pretty awesome," Gray said. "Sara McMann, Kristie Davis, Trish Saunders, they reach out to me every once in a while just to let me know they're watching and excited about women's wrestling, and it's pretty special."
The 28-year-old Gray had beaten Minagawa 6-1 at the Women's World Cup in March 2018, but found the two-time bronze medalist more than a handful this time.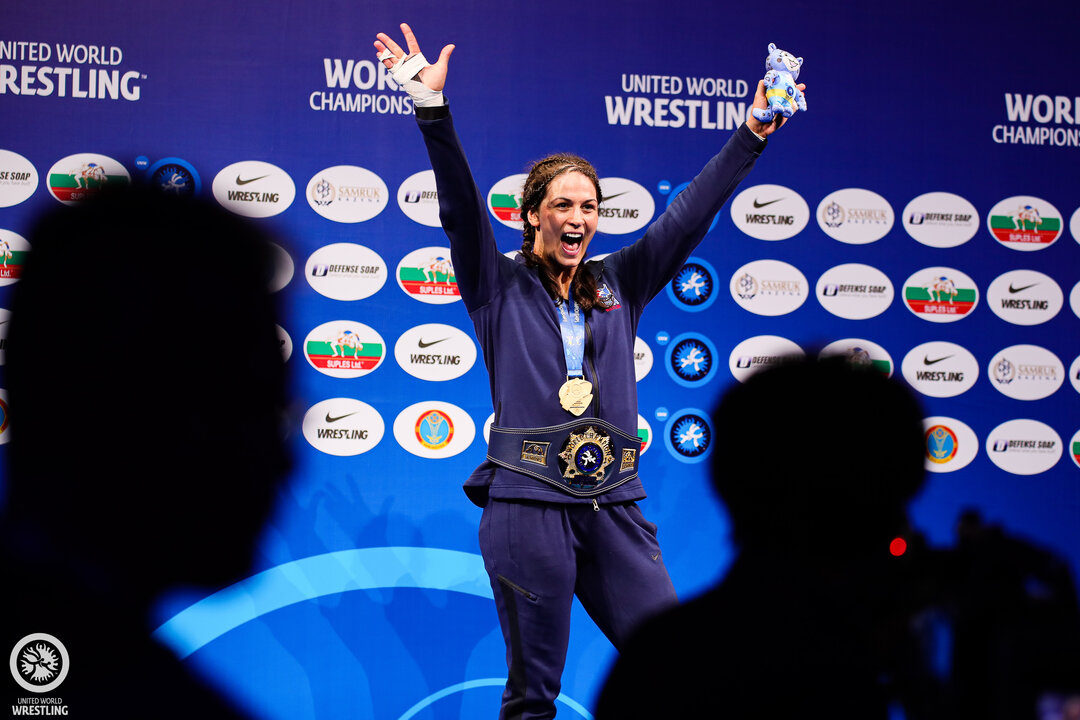 Adeline GRAY (USA) waves at photographers while standing on top of the world podium. (Kadir Caliskan)
"She was doing a great job," Gray said. "She frustrated me. I have an attack hand and she wouldn't let me tie up with it, and she's so low to the ground and able to keep her legs back that I wasn't able to get my reach. So I was having to adjust, and I finally made those adjustments."
Minagawa earned the first point with Gray on the activity clock, but the American went ahead 4-1 with a takedown and tilt late in the first period. Gray said that she recalled advice she overheard from USA development coach Kevin Jackson.
"I was listening to coach Jackson yesterday talk to the men's freestyle team and he said it's important for world champions to go out there and score points at the end of the periods," she said.
"I felt like I was really focused in that period, so I didn't really know it was the end. But I definitely felt like we had been hand-fighting for a while. So I took some drive from that speech last night."
In the second period, Gray held off the attacks of Minagawa, who scored a consolation stepout with :02 left. 
The two could face each other again at Tokyo 2020, as the top six finishers in each weight class secured berths for their country. Minagawa, by winning a medal, fulfilled the Japan federation criteria that allows her to automatically fill the spot without any further domestic qualifying process.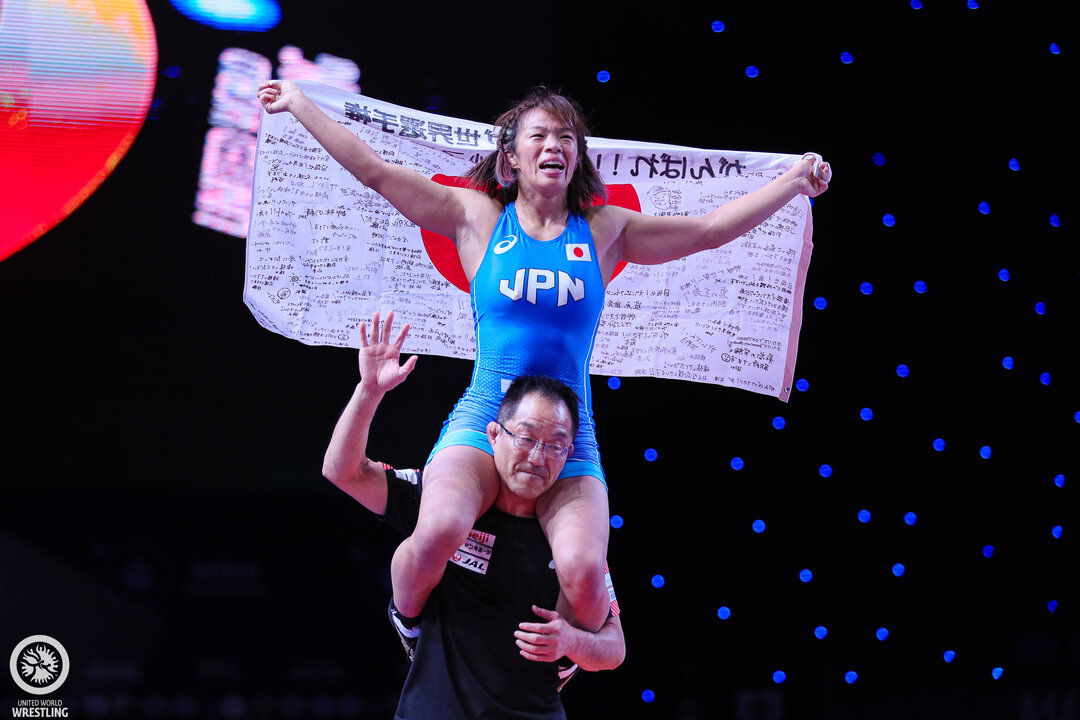 Risako KAWAI (JPN) is carried around the mat after winning the 57kg world title. (Kadir Caliskan)
Joining Minagawa on the Olympic team will be Rio 2016 Olympic gold medalist Risako KAWAI (JPN), who captured her third straight world gold in her first foray in the Olympic weight class of 57kg. 
Kawai, the 59kg champion in 2018, dominated defending champion RONG Ningning (CHN) for much of the 57kg final before surviving a late comeback and holding on for a 9-6 victory.
Kawai, who defeated four-time Olympic champion Kaori ICHO (JPN) in a playoff that drew national attention to make Japan's team to Nur-Sultan, took a 5-0 lead in the first period, than added a pair of takedowns in the second.
As Kawai pressed for the points to secure a technical fall, Rong used a headlock counter for 4 points, then rolled Kawai to cut the gap to 3 with a minute to go. But the Japanese remained out of danger the rest of the way to secure the gold.
"I got to 9 points and only needed one more to finish it off, but the Chinese wrestler is strong and I gave up 4 points," Kawai said. "Part of me thought I was going to turned over at the very end, and that I'm glad this wasn't [the] Tokyo [Olympics]."
Kawai broke down in tears after the win and was consoled by her coach at matside, a mixture of joy and relief for the long journey that she had taken to this moment. 
"It's a point along the way, one step up toward my objective, although it is not enough of a step," Kawai said.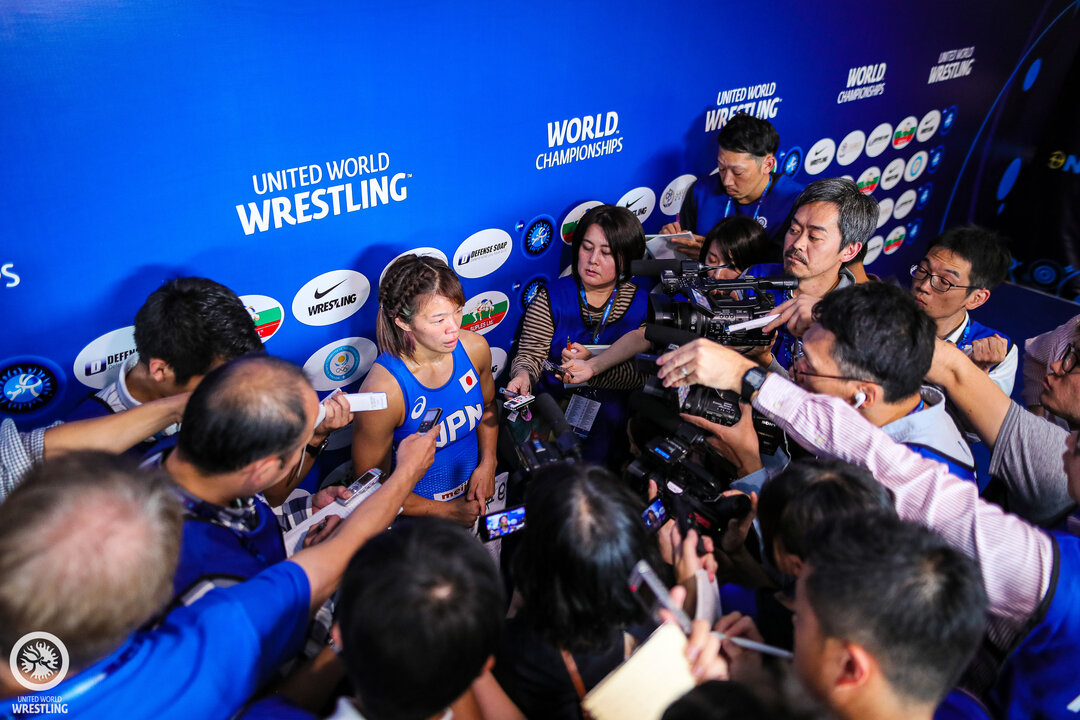 Risako KAWAI (JPN) surrounded by members of the media after winning her third world title. (Photo: Kadir Caliskan)
There were also mixed emotions, as earlier in the day, younger sister Yukako had lost in the quarterfinals at 62kg. The two are extremely close and have a joint dream of winning Olympic golds together. Yukako can still clinch a spot by making in through the repechage and winning a bronze on Friday.
Risako said she did not see Yukako's loss, and did not find about it until well later.
"I was back at the hotel until my final and had planned to watch it on TV, but they cut to another mat and I didn't see it," Kawai said. "Nobody contacted me, and I didn't hear from anyone when Yukako was supposed to wrestle [her next match]. 
"I called my mother to ask her what happened. I thought, perhaps she lost, and that broke my heart. But my mother came by and said, 'Risako, wrestle the way Risako knows how,' which encouraged me."
In the 59kg final, Linda MORAIS (CAN) snatched victory from the jaws of defeat when she used an underhook pancake to pin Luibov OVCHAROVA (RUS).
Ovcharova stormed out to a 6-1 lead, scoring a takedown and two rolls before Morais slipped out of the second hold for a reversal. When the Russian came in on tackle, Morais got an arm over Ovcharova's head and under an arm, then levered her to her back for a fall in 2:15.
The victory made Morais, a bronze medalist in 2016, the fifth Canadian woman in history to win a world gold.
In another final in a non-Olympic weight, 2018 European silver medalist Inna TRAZHUKOVA (RUS) made short work of Iryna KOLIADENKO (UKR) in the 65kg final, storming to a 13-0 technical fall in 4:12.
In the bronze medal matches, Odunayo ADEKUOROYE (NGR) earned her third world medal---each in an odd-numbered year---with a 10-0 technical fall of world junior silver medalist Anastasia NICHITA (MDA) at 57kg. 
The other bronze went to Iryna KURACHKINA (BLR), a 4-0 winner over Jowita WRZESIEN (POL).
China had wrestlers in each of the three other weight classes, and came out with two victories. 
PEI Xingru (CHN) denied Pooja DHANDA (IND) a second straight world bronze by beating her 5-3 at 59kg, while WANG Xiaoqian (CHN) rolled to a 10-0 technical fall over Forrest MOLINARI (USA) in just over a minute at 65kg.
Veteran Epp MAEE (EST) denied the Chinese trifecta by beating ZHOU Qian (CHN) 6-4 at 76kg for her third career world medal and first since 2015.
The other bronze medals went to Shoovdor BAATARJAV (MGL) at 59kg, Elis MANOLOVA (AZE) at 65kg and Elmira SYZDYKOVA (KAZ) at 76kg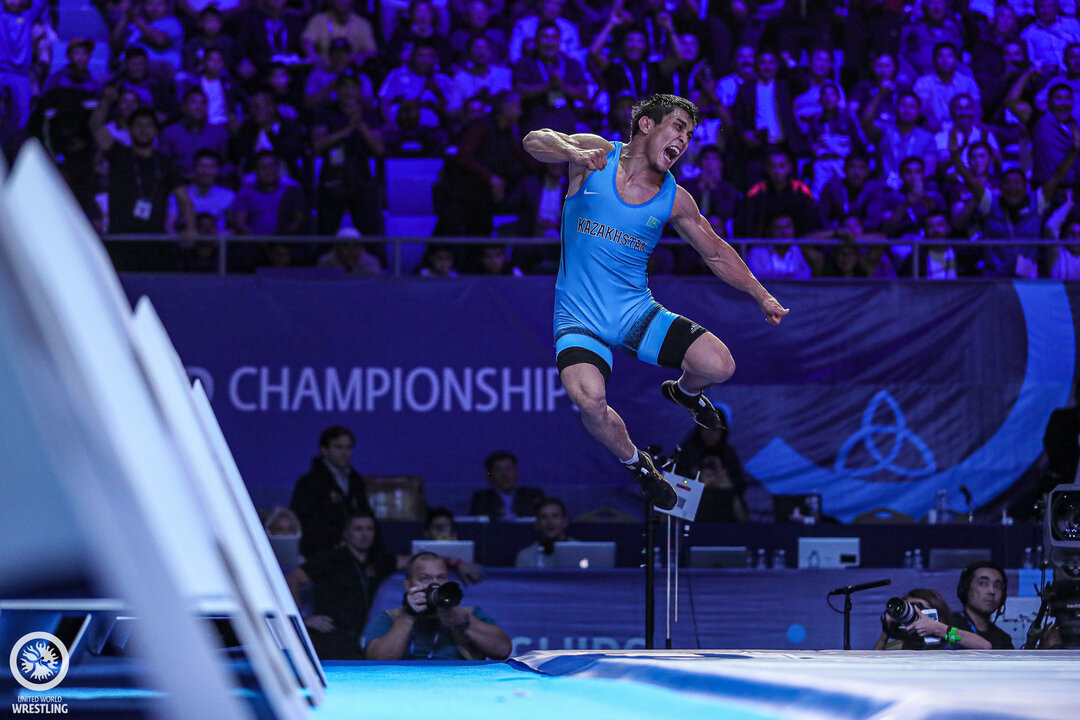 Daulet NIYAZBEKOV (KAZ) celebrates after defeating returning world silver medalist Bajrang PUNIA (IND), 9-9, in the semifinals. (Kadir Caliskan)
Niyazbekov ousts Punia to make 65kg final against Rashidov
In the semifinals in four weight classes held earlier in the session, Daulet NIYAZBEKOV (KAZ) pulled off biggest surprise when he knocked off 2018 world silver medalist Bajrang PUNIA (IND), 9-9 at freestyle 65kg.
With the score tied 2-2 in the second period, Niyazbekov chalked up 4 points on a counter to a throw by Punia that could have gone either way, and got another point from an unsuccessful challenge. He then scored a takedown to make it 9-2.
But Punia, the Asian champion, has made a name for himself for dramatic comebacks, and he started one with a pair of takedowns to make it 9-6 with just under a minute to go. With Niyazbekov clearly running out of gas, Punia got another takedown, a penalty point and then a final takedown.
That tied the score, but the 4-point play earlier in the period was the top criteria, giving the win to Niyazbekov, who acknowledged he had felt worn out from his 6-2 win over Tulga TUMUR OCHIR (MGL) in the previous round.
"Actually, I couldn't even imagine I would win in the semifinal," Niyazbekov said. "After my match with the Mongolian, I felt really tired." 
The victory put him into the final against Gadzhimurad RASHIDOV (RUS), who will aim for his first world gold after winning silvers at 61kg the past two years before moving up to the Olympic weight class.
He advanced with a touch-and-go 3-2 win over Iszmail MUSZUKAJEV (HUN), after knocking off Rio 2016 Olympic bronze medalist Haji ALIYEV (AZE) and defending champion Takuto OTOGURO (JPN) along the way.
"I have never wrestled him, but I know his style very well," Niyazbekov said of Rashidov. "He doesn't make any mistakes. I will try to wear him down."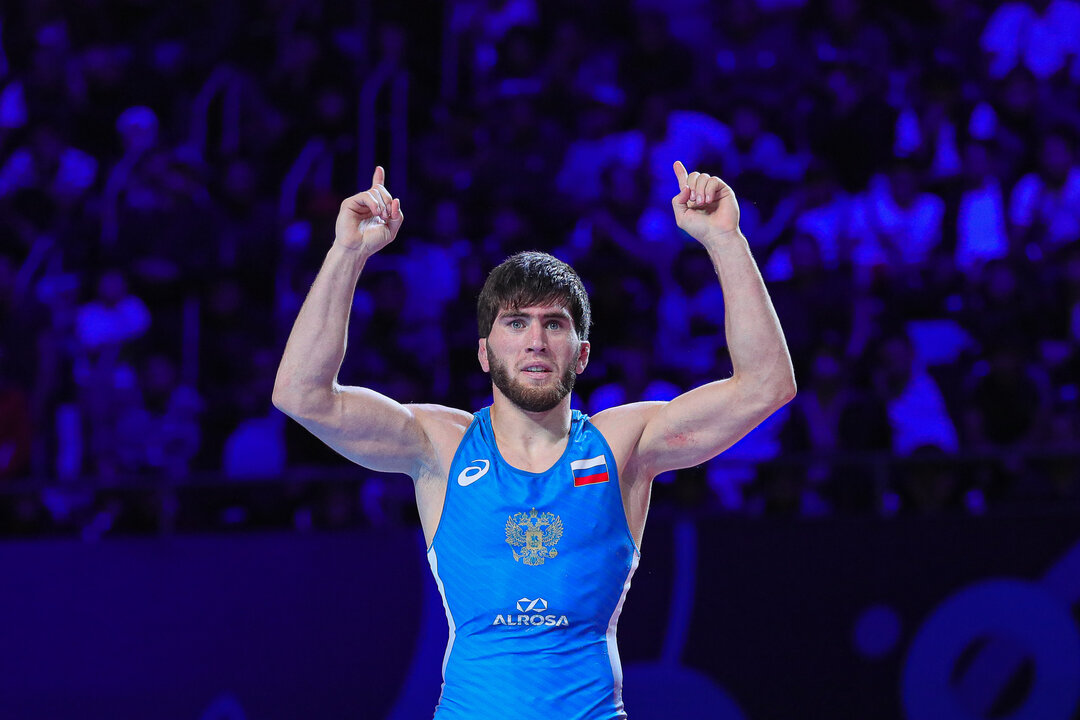 Zavur UGUEV (RUS) will try to defend his Budapest world title on Friday night when he wrestles Suleyman ATLI (TUR) in the 57kg finals.(Kadir Caliskan)
At 57kg, Zavur UGUEV (RUS) earned a shot at a second straight world title by advancing with a 6-4 win over a gutsy Kumar RAVI (IND), who fought back from a 6-0 deficit but just came up short.  
In the final, Uguev will take on Suleyman ATLI (TUR), who scored a 4-point move with :08 left to stun 2018 silver medalist Nurislam SANAYEV (KAZ) 5-3. That assures Atli of improving on his bronze medal from last year. 
In the women's 62kg class, defending champion Taybe YUSEIN (BUL) will face Asian champion Aisuluu TYNYBEKOVA (KGZ) after both won their semifinals with little trouble.
Yusein needed just :39 to chalk up a 10-0 technical fall over Marianna SASTIN (HUN), while Tynybekova eased to a 7-0 win over KIM Jong Sim (PRK).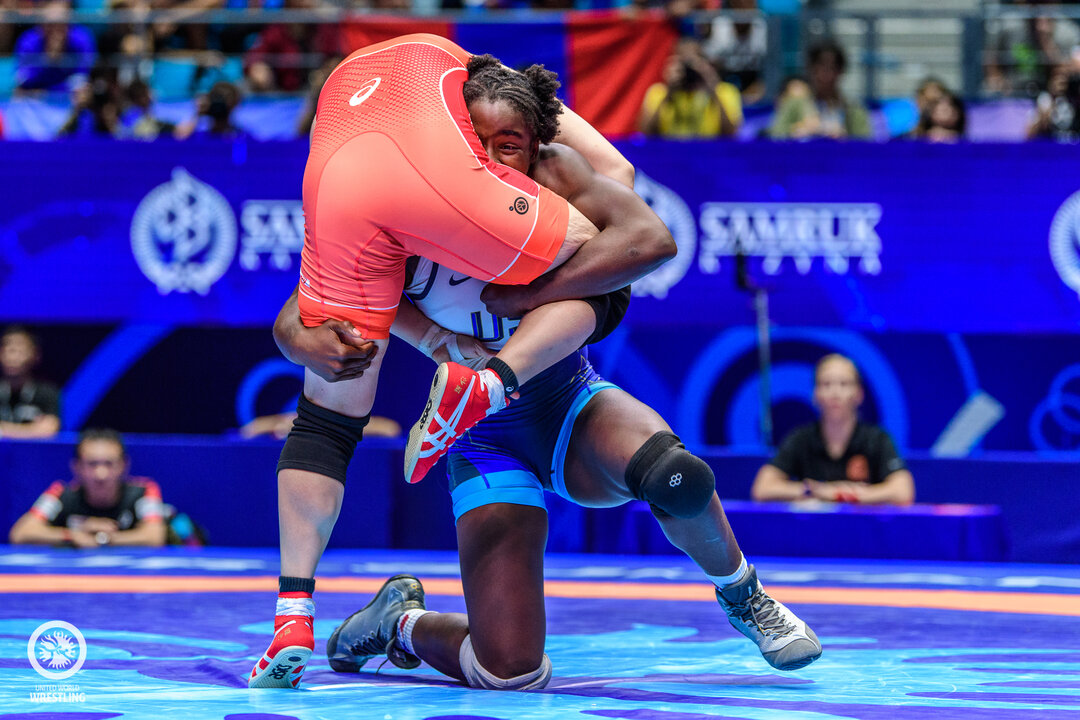 Tamyra MENSAH STOCK (USA) picked up a stunning 10-1 win over two-time world and Olympic champion Sara DOSHO (JPN). (Photo: Tony Rotundo)
At 68kg Tamyra MENSAH STOCK (USA) continued to have the tournament of her life, as the 2018 bronze medalist crushed Anna SCHELL (GER) by 10-0 technical fall. Her path to the final included a victory over Rio 2016 Olympic and two-time world champion Sara DOSHO (JPN).
Mensah Stock's opponent in the final, Rio 2016 bronze medalist Jenny FRANSSON (SWE), gets the never-say-die award, as her 9-7 victory over Alla CHERKASOVA (UKR) marked her second straight victory by scoring in the final seconds.
The Swedish veteran, 32, is looking to add to her lone world gold---won back in 2012.
The competition continues with Day 7 on Friday, in which the qualification rounds will be held in freestyle 70kg, 74kg, 92kg and 125kg, as well as the repechage rounds for four divisions started Thursday. 
Day 6 Results
Freestyle
57kg (34 entries)
Semifinal – Suleyman ATLI (TUR) df. Nurislam SANAYEV (KAZ), 5-3 
Semifinal – Zavur UGUEV (RUS) df. Kumar RAVI (IND), 6-4
65kg (44 entries)
Semifinal – Daulet NIYAZBEKOV (KAZ) df. Bajrang PUNIA (IND), 9-9
Semifinal – Gadzhimurad RASHIDOV (RUS) df. Iszmail MUSZUKAJEV (HUN), 3-2
Women's Wrestling 
57kg (31 entries)
Gold – Risako KAWAI (JPN) df. RONG Ningning (CHN), 9-6
Bronze – Iryna KURACHKINA (BLR) df. Jowita WRZESIEN (POL), 4-0
Bronze – Odunayo ADEKUOROYE (NGR) df. Anastasia NICHITA (MDA) by TF, 10-0, 1:56 
59kg (18 entries)
Gold – Linda MORAIS (CAN) df. Luibov OVCHAROVA (RUS) by Fall, 2:15 (3-6) 
Bronze – PEI Xingru (CHN) df. Pooja DHANDA (IND), 5-3
Bronze – Shoovdor BAATARJAV (MGL) df. Anhelina LYSAK (URK) by Fall, 3;38 (10-0) 
62kg (34 entries)
Semifinal – Taybe YUSEIN (BUL) df. Marianna SASTIN (HUN) by TF, 10-0, :39
Semifinal – Aisuluu TYNYBEKOVA (KGZ) df. KIM Jong Sim (PRK), 7-0 
65kg (17 entries)
Gold – Inna TRAZHUKOVA (RUS) df. Iryna KOLIADENKO (UKR) by TF, 13-0, 4:12  
Bronze – WANG Xiaoqian (CHN) df. Forrest MOLINARI (USA) by TF, 10-0, 1:07
Bronze – Elis MANOLOVA (AZE) df. Yuliana YANEVA (BUL), 3-1
68kg (32 entries)
Semifinal – Jenny FRANSSON (SWE) df. Alla CHERKASOVA (UKR), 9-7 
Semifinal – Tamyra MENSAH STOCK (USA) df. Anna SCHELL (GER) by TF, 10-0, 3:00 
76kg (31 entries)
Gold – Adeline GRAY (USA) df. Hiroe MINAGAWA (JPN), 4-2  
Bronze – Epp MAEE (EST) df. ZHOU Qian (CHN), 6-4 
Bronze – Elmira SYZDYKOVA (KAZ) vs Aline ROTTER FOCKEN (GER), 3-0