Fujinami displays dominance in winning return at Zagreb Open
Sunday, February 5, 2023 - 00:25 By Vinay Siwach

ZAGREB, Croatia (February 4) -- Among all the noise around new world champions last year in Belgrade and her absence from international competitions due to injury, Akari FUJINAMI (JPN)'s name got lost in the discussions regarding being a threat for gold at the 2024 Paris Olympics.
But the 19-year-old on Saturday reminded the world of her domination with a gold medal at the Zagreb Open Ranking Series. In her five bouts, she finished with a 51-0 record, including a 10-0 win over Tokyo Olympic bronze medalist Bolortuya BAT-OCHIR (MGL).
The five wins extended her winning streak to 111 bouts, dating back to junior high school in 2017.
"I am happy to be here. I am fully fit as well," Fujinami said.
Since the Asian Championships in April last year, Fujinami remained out of action internationally due to injuries. She pulled out of the U20 World Championships in August owing to cellulitis in her leg and was forced to sit out of the senior World Championships in September after suffering ligament damage in the left foot on the first day of the national camp.
The 2021 world champion returned to the mat at the Emperor's Cup in December and won the 53kg weight class albeit without facing Tokyo Olympic champion Mayu SHIDOCHI (JPN).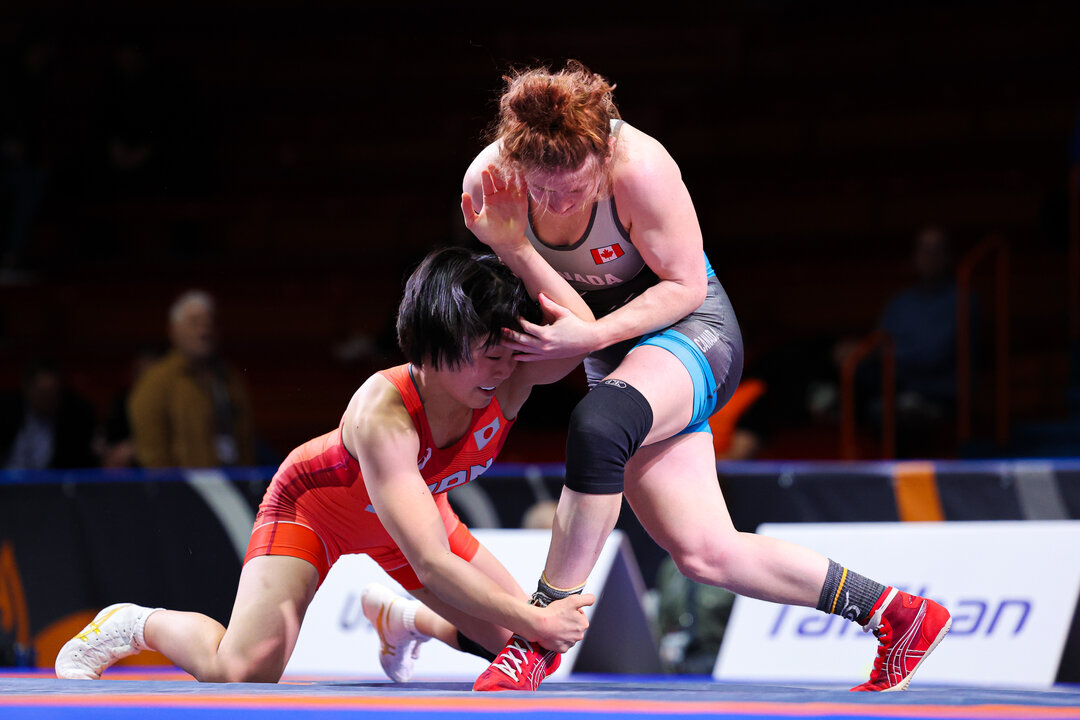 Akari FUJINAMI (JPN) outscored her opponents 51-0 in Zagreb. (Photo: UWW / Kostadin Andonov)
When that bout happens is to be seen but before that, Fujinami is making sure that no one takes her lightly.
Beginning with Katarzyna KRAWCZYK (POL), Fujinami worked with multiple takedowns instead of her favorite ankle pick to leg lace transition. She defeated the former U23 world champion Lucia YEPEZ GUZMAN (ECU) 10-0 before taking out two Canadian world medalists in succession. Karla GODINEZ (CAN) and Samantha STEWART (CAN) suffered 10-0 and 11-0 losses respectively.
One of the surprises she threw at her opponents was to not go for the leg lace and instead score more through takedowns. Fujinami explained that it was her conscious effort to try new techniques.
"Now my favorite technique is to go for single leg or ankle pick and it's working," Fujinami said. "But I cannot win using the same technique every time. So I need to change and improve my technique."
In the final against Bat-Ochir, Fujinami was aware of the threat that Mongolian wrestlers pose with their ability to pin. Dropping the idea of ankle pick which would need her to reach deep, Fujinami kept her distance and worked on takedowns.
"I felt that the Mongolian wanted me to do the ankle pick to her so I was very careful to transition into a lace," she said. "I wanted to try my new and small techniques which my coaches taught at Nippon Sports Science University. I am training for these things and I tried if they will work here."
Fujinami also regretted the fact that she failed to defend her world title in Belgrade but treats that time as motivation to work harder for Paris Olympics.
"I was very frustrated but I take that as a trial for the Paris Olympics," she said. "After I go back, I will watch the videos of this tournament with my coaches. This is the most important time for me. I have to struggle and train more."
Fujinami will now be preparing for the Asian Championships before the all-important Meiji Cup in June. Winning the gold medal in Meiji Cup will mean that she will wrestle at the World Championships in Belgrade. A medal in Belgrade will give her an automatic qualification for Paris Olympics.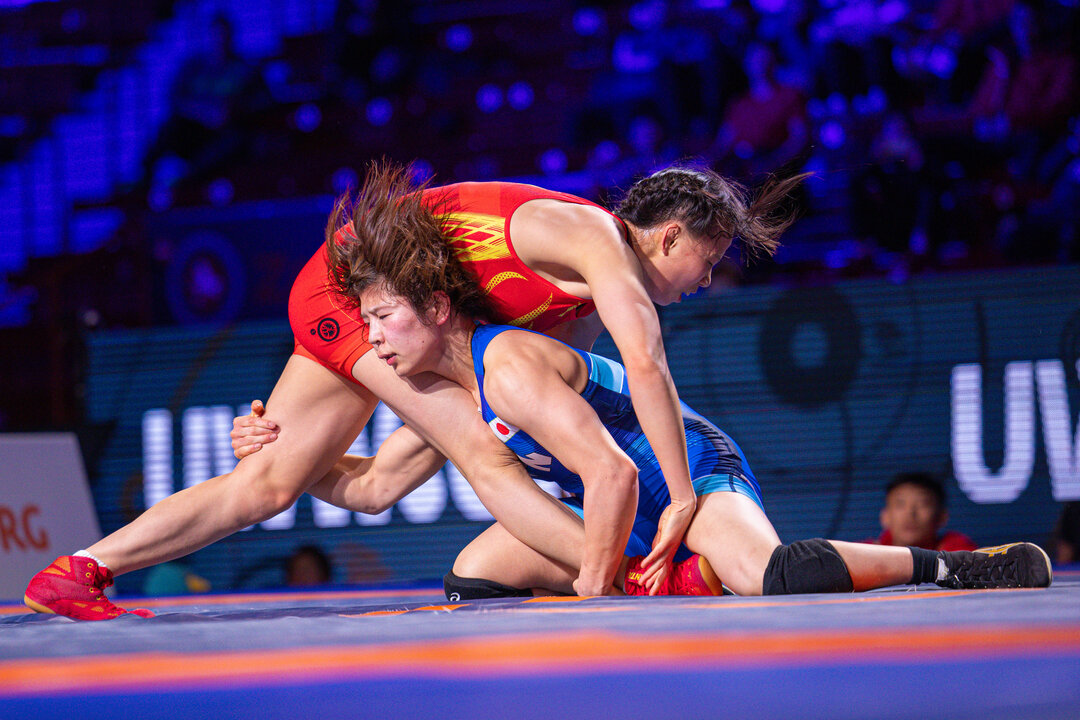 Sae NANJO (JPN) won the 57kg final against Yongxin FENG (CHN) 12-1. (Photo: UWW / Kadir Caliskan)
It will be a similar path for Sae NANJO (JPN) as she tries to reach her first Olympics. She won the 57kg gold medal in Zagreb after beating Yongxin FENG (CHN) 12-1 in the final.
Placed with the lower half of the bracket with Ningning RONG (CHN), Helen MAROULIS (USA), and Alexandria TOWN (CAN), it was a shock that Patrycja GIL (POL) reached the semifinal against Nanjo.
Gil defeated Rong 5-4 before shocking Maroulis 10-5 in the quarterfinals. But she failed to put up a fight against Nanjo who scored a technical superiority win over Gil.
In the final, Nanjo turned it up in the second period with tight defense and enough attacks to keep the lead. In the dying seconds, she got a takedown and roll.
Returning to senior-level competition for the first time since winning a bronze medal at the 2021 World Championships, Nanjo felt nervous.
"I was nervous about this competition because this was my first senior competition since the 2021 Oslo World Championships," Nanjo said. "But my teammates told me that I won against the world champion [Tsugumi SAKURA (JPN) at Emperor's Cup] so everything will be okay."
When asked if beating Sakurai gave her more confidence than before, Nanjo said it did not matter.
"Nothing changed much because I defeated Sakurai," she said. "I don't care who I wrestle against."
Japan finished women's wrestling with six gold, one silver and one bronze medal.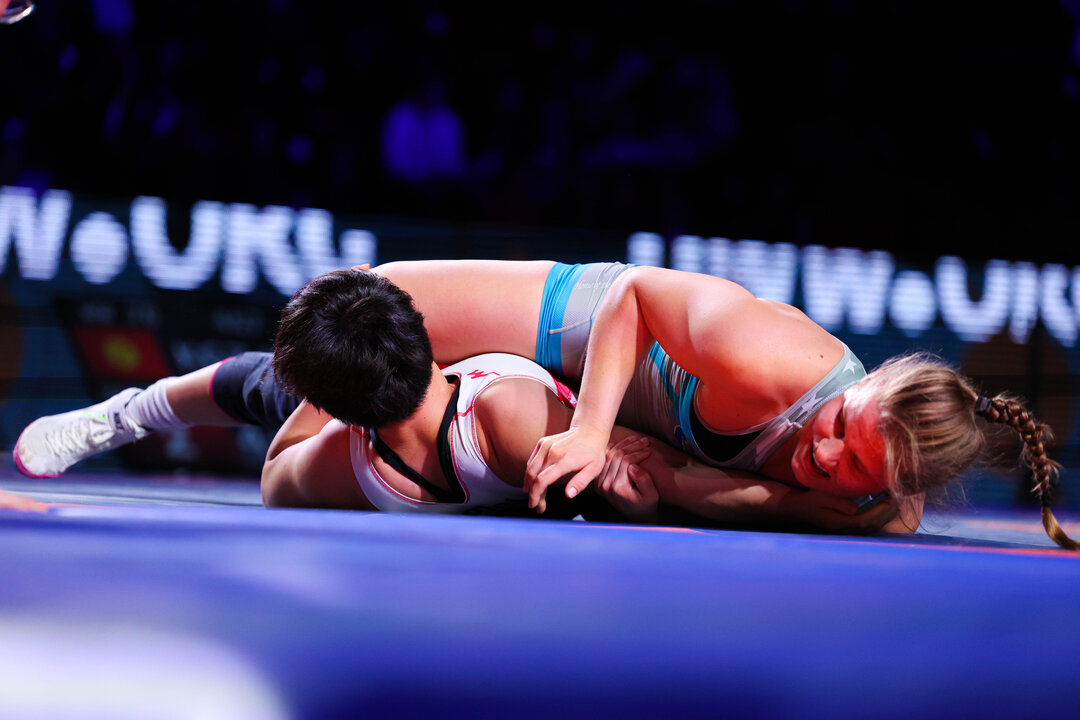 Yelena MAKOYED (USA) pins Aiperi MEDET KYZY (KGZ) in the 76kg final. (Photo: UWW / Kostadin Andonov)
Makoyed shines again
Yelena is quickly making a name for herself in the 76kg weight class as she ran through the field to win the gold medal. That was her third Ranking Series gold medal as she captured two last year.
In Zagreb, she pinned world bronze medalist Aiperi MEDET KYZY (KGZ) in the final using an arm-bar inside the first period.
In her previous three bouts, she won all three by technical superiority. In the semifinal, she defeated Dymond GUILFORD (USA) 12-2.
Skylar GROTE (USA) added the second gold for the USA on Saturday as she won the 72kg weight classes with some convincing wins throughout the day.
In the final, she defeated Dalma CAVENA (ITA) 3-1, capturing her second Ranking Series gold medal.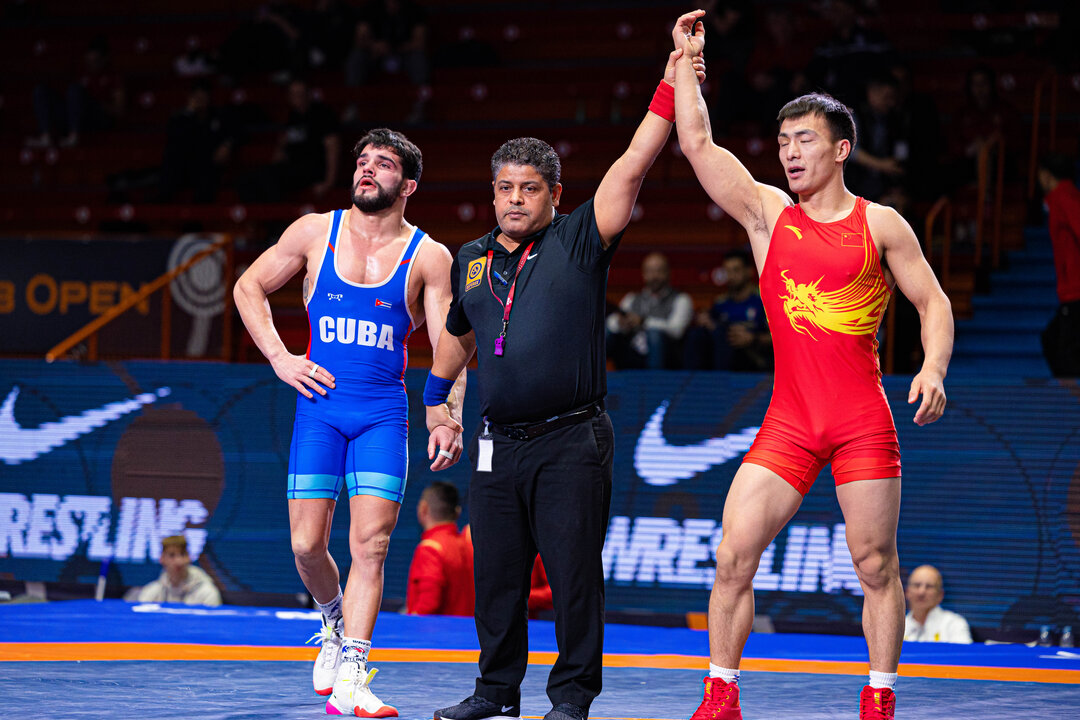 HUSIYUETU (CHN) stunned Olympic champion Luis ORTA (CUB) 13-4 in the semifinals. (Photo: UWW / Kadir Caliskan)
Husiyuetu stuns 67kg
HUSIYUETU (CHN), who finished ninth at the senior World Championships, stunned the 67kg field with the gold medal after being drawn in one of the toughest sides of the bracket.
He opened with a win over Elmer MATTILA (FIN) 3-1, Hasiyeutu survived a scare against Mihai MIHUT (ROU) who scored three points in the first half. But Hasiyeutu got the opportunity to be in par terre and he turned Mattila to win 4-3.
The semifinal against Olympic champion Luis ORTA (CUB) gave a peek into Hasiyeutu's strength. Despite trailing 4-0, Hasiyeutu scored 13 points and won 13-4, exposing Orta using an unconventional grip. 
"I am so happy with the wrestling," Hasiyeutu said. "The bout against Orta from Cuba was very hard for me."
In the final, he was up against Reza ABBASI (IRI) and waited for his turn to be on top. Once there, he used a similar grip and git two rolls to win 5-2.
The 63kg gold medal went to Taleh MAMADOV (AZE) who defeated Aref Hossein Khoun MOHAMMADI (IRI) 7-2 in the final.
RESULTS
53kg
GOLD: Akari FUJINAMI (JPN) df. Bolortuya BAT OCHIR (MGL), 10-0
BRONZE: Iulia LEORDA (MDA) df. Diana WEICKER (CAN), 10-0
BRONZE: Samantha STEWART (CAN) df. Karla GODINEZ (CAN), 6-1
57kg
GOLD: Sae NANJO (JPN) df. Yongxin FENG (CHN), 12-1
BRONZE: Qi ZHANG (CHN) df. Patrycja GIL (POL), 4-2
BRONZE: Jowita WRZESIEN (POL) df. Giullia PENALBER (BRA), 3-2
72kg
GOLD: Skylar GROTE (USA) df. Dalma CANEVA (ITA), 3-1
BRONZE: Sumire NIIKURA (JPN) df. Milla ANDELIC (CRO), 18-7
76kg
GOLD: Yelena MAKOYED (USA) df. Aiperi MEDET KYZY (KGZ), 4-2
BRONZE: Justina DI STASIO (CAN) df. Juan WANG (CHN), 6-3
BRONZE: Dymond GUILFORD (USA) df. Precious BELL (USA), 13-0
Greco-Roman
63kg
GOLD:  Taleh MAMMADOV (AZE) df. Aref Hossein Khoun MOHAMMADI (IRI), 7-2
BRONZE: Ivan LIZATOVIC (CRO) df. Aker AL OBAIDI (AUT), 3-1
BRONZE: Iman Hossein Khoon MOHAMMADI (IRI) df. Shermukhammad SHARIBJANOV (UZB), 10-0
67kg
GOLD: HUSIYUETU (CHN) df. Reza ABBASI (IRI), 5-2
BRONZE: ASHU (IND) df. Adomas GRIGALIUNAS (LTU), 5-0
BRONZE: Luis ORTA (CUB) df. Elmer MATTILA (FIN), 4-2