FS Preview: Iran and USA favored to clash for team title
Saturday, September 3, 2022 - 12:52 By Eric Olanowski
COSIER-VEVEY, Switzerland (August 30) --- The United States and Iran account for 11 returning world medalists – six of which were gold medalists in Oslo -- and are poised to go toe-to-toe for the freestyle team title at the 2022 World Championships in Belgrade, Serbia. 
The elite group of freestyle competitors will be led by defending world champions Thomas GILMAN (USA), Kyle DAKE (USA), Jordan BURROUGHS (USA), Hassan YAZDANI (IRI), Kamran GHASEMPOUR (IRI) and Amir ZARE (IRI).
The tournament gets underway September 10, but the freestyle portion of the competition will be on the tail end of 2022 World Championships. The world's most popular wrestling style starts Thursday, September 15.
Last year in Oslo, the United States (168 points) medaled in seven of ten weights and edged Iran (162 points) and their seven medalists by six points in the team race. Each squad returns a trio of world champions, setting up what's expected to be the closest team race since the 2017 World Championships, when Snyder beat Abdulrashid SADULAEV (RWF) in the final match of the event, helping America edge the Russians by one point.
What are placements worth?
Gold = 25 points
Silver = 20 points
Bronze = 15 points
Fifth = 10 points
Seventh = 8 points  
Eighth = 6 points
Ninth = 4 points
Tenth = 2 points
Without 125kg Tokyo Olympic champion Gable STEVESON (USA) in America's lineup and defending world champion Zare expected to finish with at least a bronze medal, the Stars and Stripes enter the World Championships in a 15-point hole.
There most critical weights where the USA can expunge that 15-point deficit are 57kg, 74kg and 97kg. These are the three weights where seeded American and Iranian wrestlers are on the same side of the bracket, setting up potential quarter or semifinal meetings.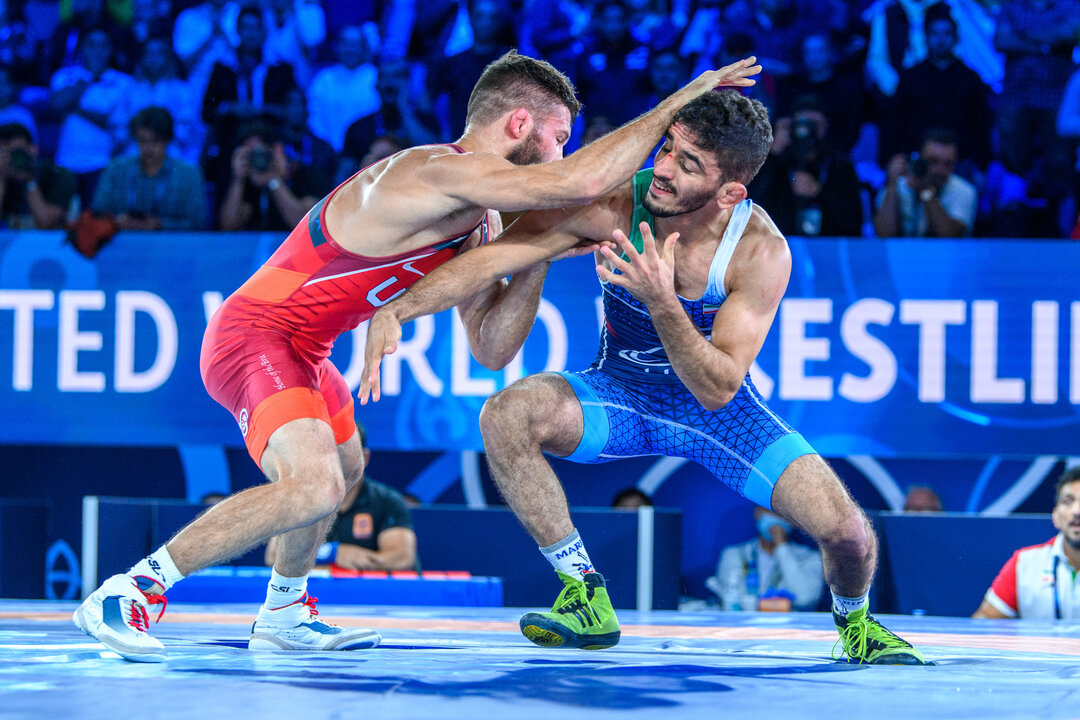 Alireza SARLAK (IRI) and Thomas GILMAN (USA) clash in the 2021 world finals. They are expected to meet in the semifinals in Belgrade. (Photo: Tony Rotundo)
At 57kg, reigning world champion and Olympic bronze medalist from Tokyo Gilman could see Alireza SARLAK (IRI) in the semifinals. The American is seeded No. 1 at the weight, while the Iranian is seeded fourth.
Gilman owns the two-match advantage against Sarlak, having picked up victories in the 2021 world finals and the semifinals at the '22 Zouhaier Sghaier Ranking Series event.
For that matchup to happen in the semifinals, Gilman must get through No. 8 Muhammet KARAVUS (TUR), and Sarlak must take out No. 5 Vladimir EGOROV (MKD).
At 74kg, Dake is the top-seeded wrestler. He'll share the top side of the chart with Iran's No. 5 Yones EMAMICHOGHAEI (IRI).
Dake will likely take on European bronze medalist No. 8 Mitchell FINESILVER (ISR) in the quarterfinals. They met at the '21 Henri Deglane, where Dake took out the Israeli wrestler 11-0 in the opening period.
If fifth-seeded Emamichoghaei wants to keep Iran's hopes of winning the freestyle team title alive and down Dake in the semifinals, he's going to have to get through No. 4 Turan BAYRAMOV (AZE) in the quarterfinals.
At 97kg, the biggest storyline is how the seeds played out.
Kyle SNYDER (USA) and Mohammadhossein MOHAMMADIAN (IRI) sit together on the top side of the chart. The reason it's significant is that the last time these two met – in the 2020 Matteo Pellicone semifinals – the Iranian pinned the two-time world champion.
Snyder is the top-seeded wrestler, while Mohammadian is seeded fifth.
For the Snyder and Mohammadian semifinal match to come to fruition, the American must beat No. 8 Mamed IBRAGIMOV (KAZ), while the Iranian must defeat No. 4 Mahamed ZAKARIIEV (UKR).
Outside of the weights where American and Iranian are positioned on the same side of the bracket, other key weights in the team race include 61kg, 65kg, 70kg, 79kg, 86kg and 92kg.
Iran holds a slight advantage at 61kg due to Reza ATRI's (IRI) world and Olympic experience. He'll be making his fourth appearance in Iran's senior world lineup. Last year, he finished in fifth place at the Tokyo Olympic Games and World Championships.
Seth GROSS (USA) will represent the USA at 61kg. He earned her first Worlds berth by beating 2021 world silver medalist Daton FIX (USA) in a three-match playoff.
The biggest unseeded dark horses in the 65kg bracket are Rahman AMOUZAD (IRI) and Yianni DIAKOMIHALIS (USA).
Both Amouzad and Diakomihalis underperformed at last year's World Championships. They both went 1-1 in Norway. Amouzad finished in 11th place, while Diakomihalis finished in 12th place.
But with another year of experience under their belt, they're poised to welcome the pressure that comes along with fighting for a team title.
The Belgrade Worlds will be Amouzad's second competition up at 65kg after continuing his four-year growth spurt. Since 2018, he's wrestled at 45kg, 48kg, 57kg, 61kg and seems to have settled in at 65kg. The lengthy Iranian competed at 61kg in his senior world debut a season ago but moved up to 65kg for April's Asian Championships.
Amouzad showed that he's a true 65kg guy by winning Asian gold in Ulan-Baatar earlier this year. In the gold-medal match, he scooped up a massive win over Tokyo Olympic bronze medalist Bajrang PUNIA (IND).
Diakomihalis will try to end America's 65kg non-world-medal curse that dates back to the '06 Guangzhou World Championships when USA's freestyle head coach Mike ZADDICK  won world gold and secured the Stars and Stripe's last 65kg/66kg world medal.
At 70kg, No. 5 Amirmohammad YAZDANICHERATI (IRI) and No. 6 Zain Allen RETHERFORD (USA) are on opposite sides of the chart and wouldn't wrestle until the finals.
Yazdanicheratri made his world team debut last year at 65kg, finishing with a silver medal. He's moved up to 70kg to ultimately prepare himself for a run at Iran's 74kg spot for the 2024 Paris Olympics.
Retherford will make his third appearance for the Red, White and Blue on the senior-level world stage. He finished in 11th place in Paris and 26th place in Nur-Sultan.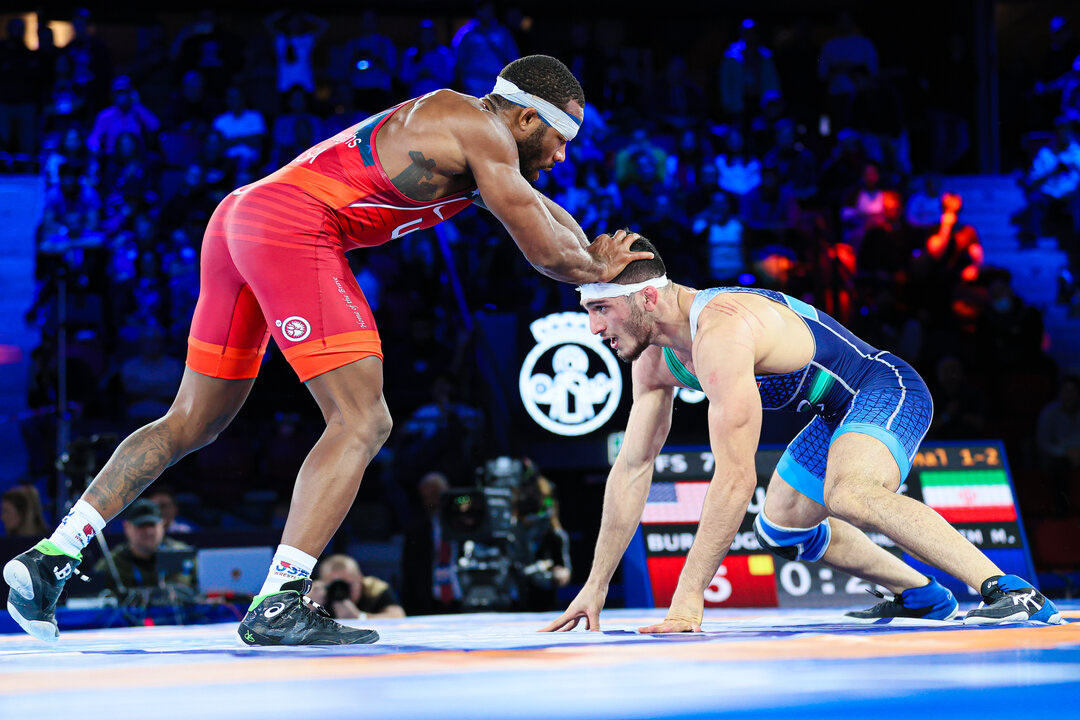 Jordan BURROUGHS (USA) and Mohammad NOKHODILARIMI (IRI) could meet in the 79kg world finals. They met for gold in Oslo, with the American picking up the victory. (Photo: Tony Rotundo)
Last year's world finals opponents Jordan BURROUGHS (USA) and Mohammad NOKHODILARIMI (IRI) are seeded first and second at 79kg, respectively, and wouldn't wrestle again until the finals.
Burroughs is heading to Belgrade looking to bag his sixth world title, which would be an American male record. His road to rewriting the history books will go through No. 8 Baliyan GOURAV (IND) in the semifinals before wrestling either No. 4 Arman AVAGYAN (ARM) or No. 5 Vladimeri GAMKRELIDZE (GEO) in the semifinals.
Nokhodilrimi has a tougher path to the gold-medal match. In the quarters, he'll compete against No. 7 Saifedine ALEKMA (FRA), who was last year's European runner-up. If he beats the French wrestler, he'll compete against reigning European champion No. 3 Georgios KOUGIOUMTSIDIS (GRE) or European bronze medal winner No. 6 Muhammet AKDENIZ (TUR).
Regarding the 86kg bracket, all eyes will be on two guys: Hassan YAZDANI (IRI) and David TAYLOR (USA). The pair of Olympic champions are in a league of their own and are expected to meet for the fifth time in their career.
Yazdani is the first-seeded wrestler, and Taylor is seeded second. Barring a catastrophic meltdown, the superstars would meet for a second consecutive year for a world title.
Heading into Belgrade, Taylor owns the 3-1 advantage, but Yazdani gained the momentum after beating his American rival in the 2021 world finals.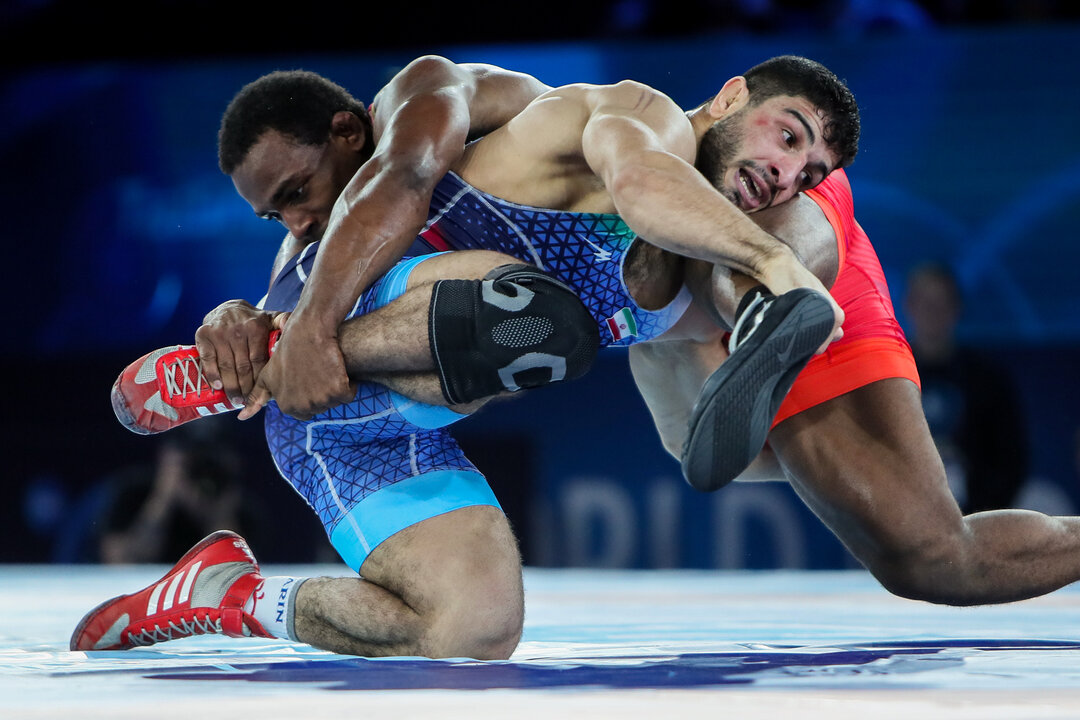 Kamran GHSEMPOUR (IRI) stopped J'den COX (USA) in the semifinals and stopped the American from winning a third world title. They are both entered at 92kg. (Photo: Kadir Caliskan)
There are two headliners entered in the 92kg field, but Kamran Ghasempour holds the upper hand on two-time world champion J'den COX (USA) after winning their Oslo semifinal meeting en route to winning world gold last year.
Ghasempour heads into Belgrade as the top seed in the 92kg chart after his world title run and gold-medal performance at the Bolat Turlykhanov Cup Ranking Series event.
Ghasempour is looking to win an 11th consecutive tournament. Since 2018, he's claimed gold at 10 straight events. Those events include the senior-level World Championships, two U23 World Championships, and a pair of Asian Championships, among others.
Ghasempour sits on opposite sides of the bracket from the Rio Olympic bronze medalist Cox. They'd have to remain unbeaten until the finals to clash for a second time.
But to get to Cox, Ghasempour must take out No. 8 Orgilokh DAGVADORJ (MGL) in the quarters and either No. 4 Andrii VLASOV (UKR) or No. 5 Viky VIKY (IND) in the semifinals.
Cox is seeded third and sits on the bottom of the bracket with his quarterfinals opponent No. 6 Adilet DAVLUMBAYEV (KAZ). The American must beat the Kazakh, then defeat either No. 2 Osman NURMAGOMEDOV (AZE) or No. 7 Miriani MAISURADZE (GEO) to reach the finals against Ghasempour.