Freestyle World Cup Rosters
Wednesday, March 13, 2019 - 13:30 By Eric Olanowski
YAKUTSK, Russia (March 13) - United World Wrestling has released the full rosters for the 2019 Freestyle World Cup, which begins Saturday, March 16, in Yakutsk, Russia. 
The host nation will compete this weekend in Group A. For Russia to earn top-billing in 2019, the home side will need to win a Group A side which includes a resurgent Cuban team, Japan, and Turkey. 
The United States heads up Group B but faces steep competition from a Georgia squad rife with former world and Olympic champions, including two-time defending heavyweight world champion Geno PETRIASHVILLI. A young Iranian team and ever-improving Mongolia squad fill out Group B. 
Groups
Group A - RUS (1), CUB (4), JPN (5), TUR (8)
Group B - USA (2), GEO (3), IRI (6), MGL (7)
Unofficial Schedule 
March 16 (Saturday) 
08:30 - Medical examination and weigh in 
11:00 - First round matches 
16:00 - Opening ceremony 
16:30 - Second round matches
March 17 (Sunday) 
08:30 - Medical examination and weigh in 
11:00 - Third round matches  
13:30 - Fifth - sixth, seventh-eighth place matches 
15:15 - Third-fourth place match 
17:00 - Final, award ceremony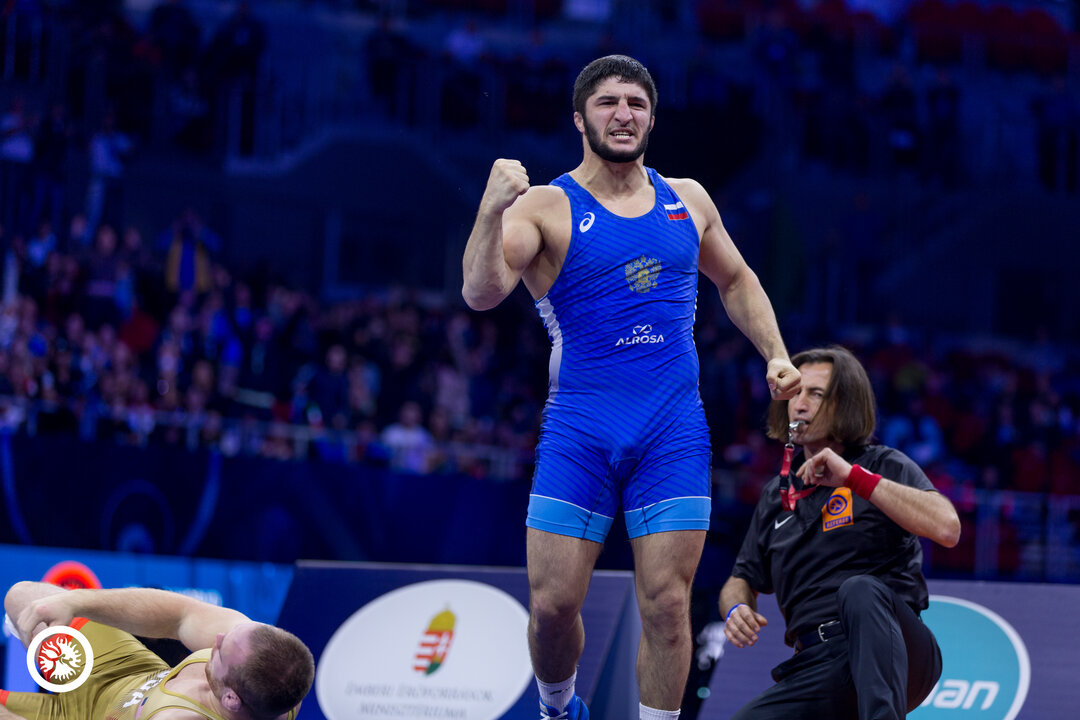 Russia's three-time world and Olympic champion Abdulrashid SADULAEV was added to the host nation's roster last weekend. He'll join Russia's other reigning world champion Zaurbek SIDAKOV as a team captain. (Photo: Max Rose-Fyne)
Group A 
Russia (2018 World Championships: 1st place) 
57kg - Muslim SADULAEV                   
57kg - Aryian TIUTRIN             
61kg - Zelimkhan ABAKAROV
61kg - Ramazan FERZALIEV                    
65kg - Gadshimurad RASHIDOV 
65kg - Viktor RASSADIN                        
70kg - David BAEV                  
70kg - Anzor ZAKUEV   
74kg - Zaurbek SIDAKOV                    
74kg - Timor BIZHOYEV        
79kg - Magomed RAMAZANOV          
79kg - Husej SUUNCEV
86kg - Vladislav VALIEV                      
86kg - Dauren KURUGLIEV                  
92kg - Magomed KURBANOV             
92kg - Alikhan ZHABRAILOV               
97kg - Abdulrashid SADULAEV                 
97kg - Vladislav BAITSAEV 
125kg - Zelimkhan KHIZRIYEV 
125kg - Pavel KRIVTSOV 
Cuba (2018 World Championships: 4th place) 
57kg - Reineri ANDREU ORTEGA
61kg- Yowlys BONNE RODRIGUEZ
65kg - Alejandro Enrique VALDES TOBIER
70kg - Franklin MAREN CASTILLO
74kg - Jeandry GARZON CABALLERO
79kg - Reinier PEREZ ABREU
86kg - Yurieski TORREBLANCA QUERALTA
92kg - Lazaro Daniel HERNANDEZ LUIS
97kg - Reineris SALAS PEREZ
125kg - Oscar PINO HINDS
Japan (2018 World Championships: 5th place) 
57kg - Yuki TAKAHASHI
61kg - Yudai FUJITA
65kg - Daichi TAKATANI
70kg - Kojiro SHIGA
74kg - Yuhi FUJINAMI
74kg - Yuto MIWA
79kg - Yuta ABE
86kg - Sohsuke TAKATANI
92kg - Atsushi MATSUMOTO
97kg - Naoya AKAGUMA
125kg - Nobuyoshi ARAKIDA
125kg - Katsutoshi KANAZAWA
Turkey (2018 World Championships: 8th place) 
57kg - Ali KARABOGA
61kg - Munir Recep AKTAS
65kg - Cengizhan ERDOGAN
70kg - Serhat ARSLAN
74kg - Nazim Selami KARA
79kg - Abdulkadir OZMEN
86kg - Fatih ERDIN
92kg - Suleyman KARADENIZ
97kg - Ali BONCEOGLU
125kg - Abdullah OMAC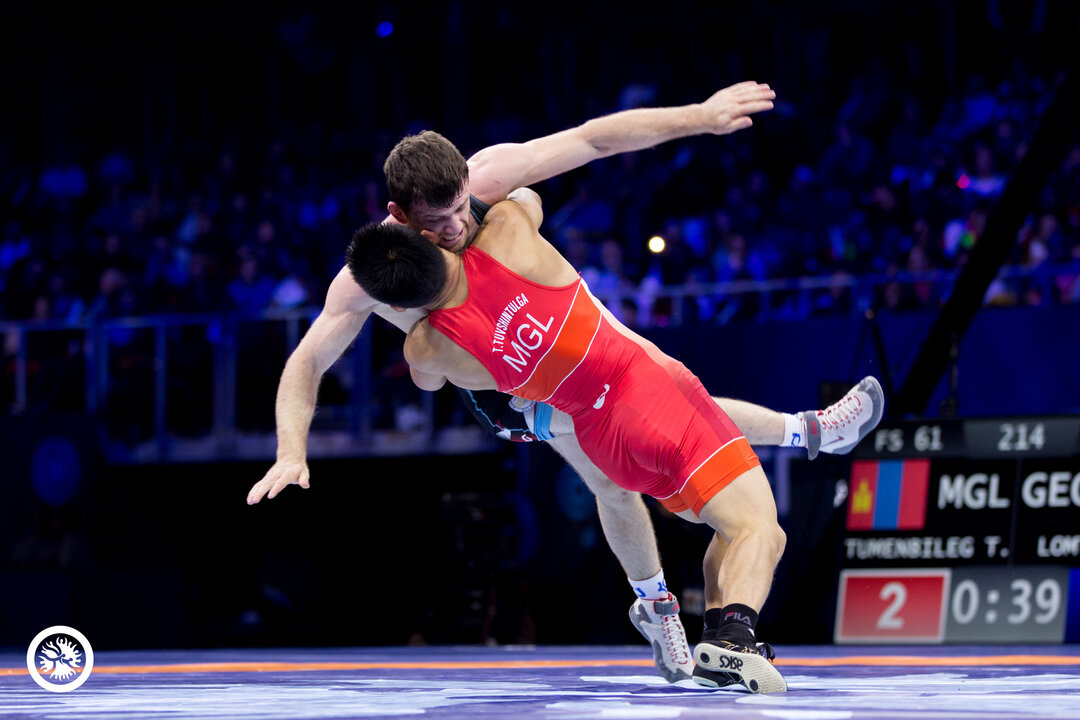 Reigning world bronze medalist TUMENBILEG Tuvshintulga (MGL) leads a Mongolian squad that's looking to improve on their sixth-place finish from the past four years. (Photo: Max Rose-Fyne) 
Group B
United States (2018 World Championships: 2nd place) 
57kg - Zane RICHARDS
57kg - Zachary SANDERS
61kg - Nicholas MEGALUDIS
65kg - Zain RETHERFORD
70kg - Jason CHAMBERLAIN
74kg - Isaiah MARTINEZ
79kg - Thomas GANTT JR
86kg - Samuel BROOKS
92kg - Hayden ZILLMER
97kg - Kyven GADSON
125kg - Anthony NELSON
Georgia (2018 World Championships: 3rd place) 
57kg - Lasha LOMTADZE
61kg - Tornike KATAMADZE
65kg - Amiran VAKHTANGASHVILI
70kg - Mirza SKHULUKHIA
74kg - Zurabi ERBOTSONASHVILI
79kg - Davit KHUTSISHVILI
86kg - Tarzan MAISURADZE
92kg - Dato MARSAGISHVILI
97kg - Mamuka KORDZAIA
125kg - Rolandi ANDRIADZE
Iran (2018 World Championships: 6th place) 
57kg - Alireza SARLAK
61kg - Iman SADEGHIKOUKANDEH
65kg - Morteza GHIASI CHEKA
70kg - Meisam NASIRI
74kg - Reza AFZALIPAEMAMI
79kg - Mojtaba ASGHARI OSMAVANDANI
86kg - Mersad MARGHZARI
92kg - Hossein SHAHBAZIGAZVAR
92kg - Mohammadjavad EBRAHIMIZIVLAEI
97kg - Alireza GOODARZI
97kg - Ali SHABANIBENGAR
125kg - Komeil GHASEMI
125kg - Amin TAHERI
Mongolia (2018 World Championships: 7th place) 
57kg - TUMENBILEG Tuvshintulga
61kg - GANSUKH Otgonbaatar
65kg - BATCHULUUN Batmagnai
70kg - GANZORIG Mandakhnaran
74kg - BAT ERDENE Byambadorj 
79kg - PUREVJAV Unurbat
86kg - ORGODOL Uitumen
92kg - BAASANTSOGT Ulziisaikhan 
97kg - ULZIISAIKHAN Batzul
125kg - DORJKHAND Khuderbulga