Four World Champions to be Featured in Friday's WW Finals
Thursday, February 13, 2020 - 20:23 By Eric Olanowski
ROME, Italy (February 13) --- Friday night's European finals will feature a loaded cast of four world champions who are looking to add a continental gold medal to their resumes. Vanesa KALADZINSKAYA (BLR), Yuliia TKACH OSTAPCHUK (UKR), Inna TRAZHUKOVA (RUS) and Natalia VOROBEVA (RUS) scored decisive semifinal wins and will compete in Friday night's European finals.
Trazhukova, the reigning 65kg world champion, will square off with 2014 world champion Tkach Ostapchuk in the 62kg finals.
In her first appearance down at 62kg, Trazhukova toppled Taybe YUSEIN (BUL) in a semifinal battle between fellow world champions. She scored six unanswered points in the second period and stole Yusein's shot at reaching the European finals for a fourth consecutive year.
Trazhukova will wrestle Tkach Ostapchuk in a second straight match against a former world champion.
Tkach Ostapchuk ousted Tetiana OMELCHENKO (AZE), 4-0, and inserted herself into the European finals for the sixth time. The reigning European Games champion owns a 3-2 European finals record heading into the Friday night gold-medal match.
Tkach Ostapchuk European Finals 
2011 – European Championship: Gold 
2012 – European Championship: Gold 
2015 – European Games: Silver 
2016 – European Championship: Silver
2019 – European Championship: Gold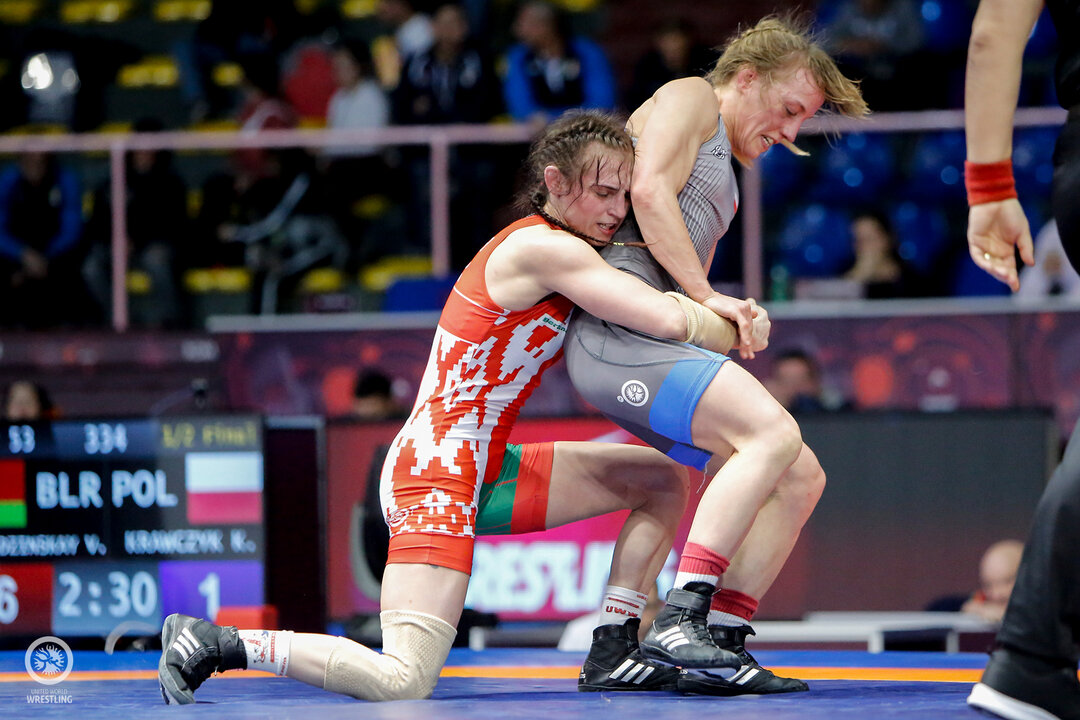 Vanesa KALADZINSKAYA (BLR) beat a pair of reigning European champions on her way to the 53kg finals. (Photo: Gabor Martin)
Vanesa Kaladzinskaya beat two reigning European champions and a European bronze medalist on her road to the finals. She'll square off with Jessica BLASZKA (NED) for the 53kg gold medal.
Kaladzinskaya avenged her 2019 European loss against eventual European champion, Stalvira ORSHUSH (RUS), in her opening match. She added a second win over a reigning European champion with a 2-2 criteria win over Iryna HUSYAK (UKR). 
In the semifinals, Kaladzinskaya cruised to an 8-3 win over 2019 European bronze medalist, Katarzyna KRAWCZYK (POL). 
Kaladzinskaya scored early in the opening period with an outside high crotch, then transitioned into a trapped arm gut. She stopped an arm throw attempt and picked up two exposure points and led 6-0. Kaladzinskaya grabbed her second takedown of the bout and commanded the 8-1 lead after conceding a stepout point. She surrendered a takedown (throw by), which cut her lead to five points, but closed out the match with an 8-3 victory and reached the European finals for the third time in her career. 
Kaladzinskaya will battle Jessica Bladzka with an opportunity to win her second European title and first since 2017. Blaszka defeated Annika WENDLE (GER), 2-1, in the semifinals and became the first women's wrestler from the Netherlands to reach the European gold medal match.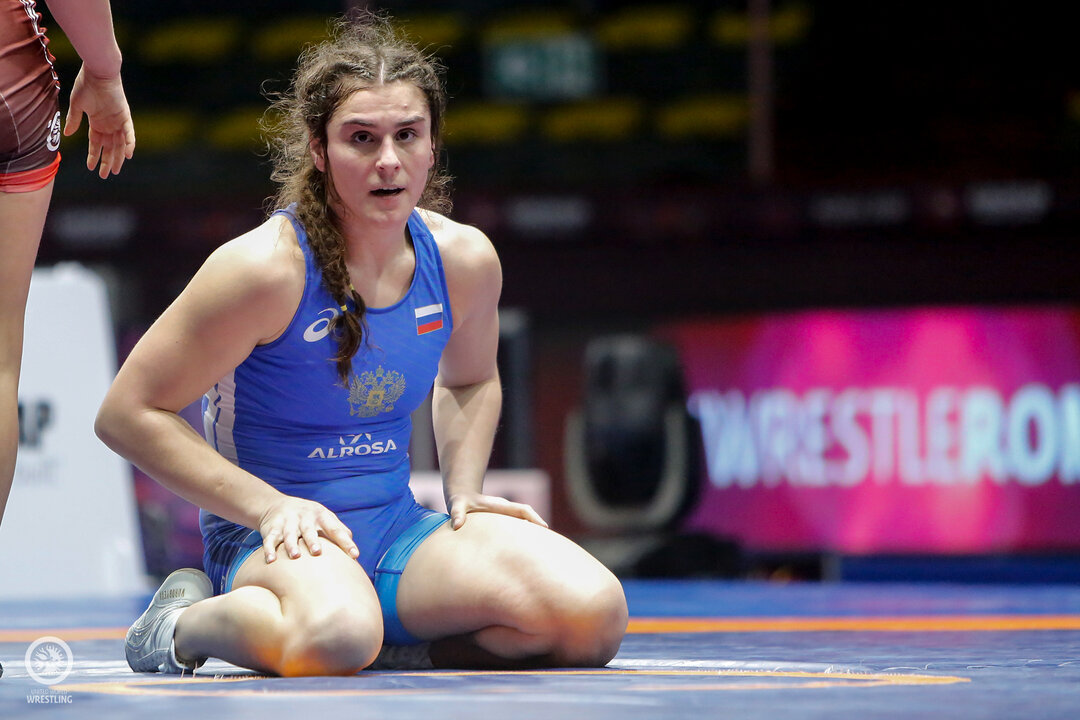 Natalia VOROBEVA (RUS), a London Olympic champion, will wrestle Maria SELMAIER (GER) in the 72kg European finals on Friday night. (Photo: Gabor Martin) 
Natalia Vorobeva is the fourth world champion that's featured in Friday's finals.
Vorobeva, the London Olympic champion, dumped Alina BEREZHNA STADNIK MAKHYNIA (UKR) to her back early in the first period and controlled the 4-0 lead. She gave up two points late in the second period and held on to reach the European finals for the third time with the 4-2 vicotry.
She'll meet Maria SELMAIER (GER) on Friday night in the 72kg gold-medal match. Selemair cruised to an 8-3 win over Catalina AXENTE (ROU) and will make her first appearance in the continental finals. 
Bullen Looking to Become Norway's First Two-Time European Champion
Grace BULLEN (NOR) shutout European Games champion Iryna KURACHKINA (BLR), 2-0, in the 57kg semifinals, and is one win away from becoming the first Norwegian woman to win two European titles. She won her first title at the 2017 European Championships in Novi Sad, Serbia.
Bullen, a 2018 U23 world champion, will wrestle Alina AKOBIIA (UKR) in the 57kg gold-medal match. 
Akobiia bulldozed Marina SIMONYAN (RUS) for the fall and locked up her finals spot against Bullen. The Ukranian trailed 3-0 but scored eight unanswered points against her Russian opponent before scoring the fall in the second period.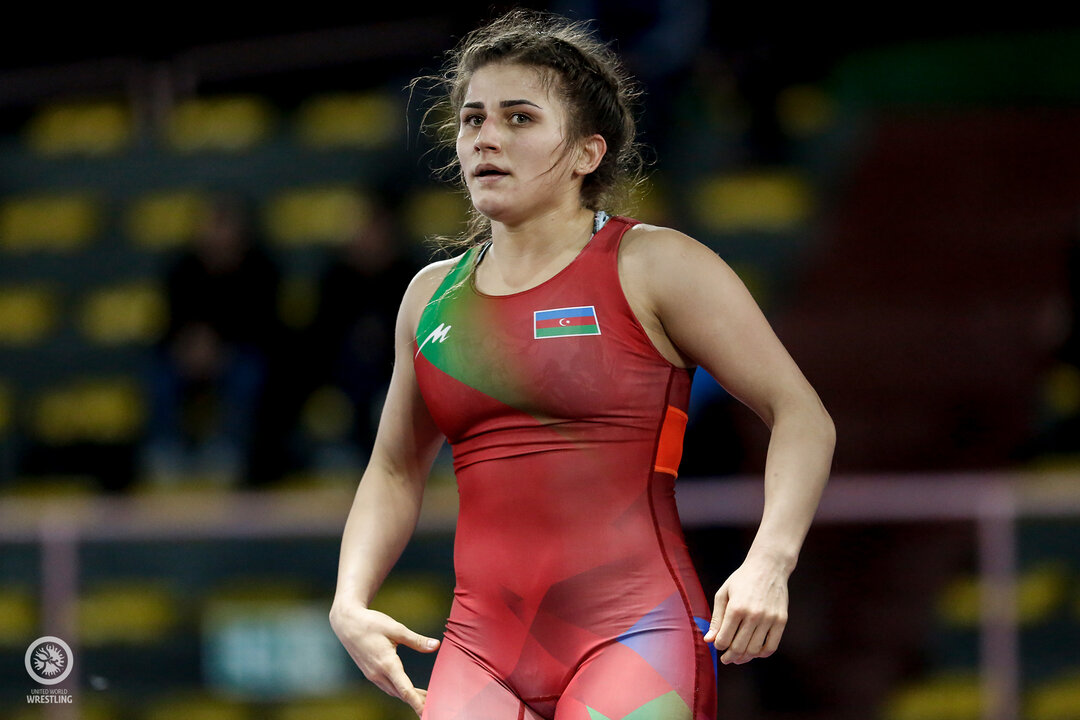 Elis MANOLOVA (AZE) will try to become the only 2019 European champion to repeat as a gold-medal winner. (Photo: Gabor Martin)
Manolova One Match Away from Defending European Title 
Elis MANOLOVA (AZE) will have a shot at doing what the other three reigning champions couldn't do on Thursday night – defend their 2019 European crowns. 
Manolova cruised to a 7-3 win over Mariia KUZNETSOVA (RUS), and with a win on Friday night, will be the first 2019 champion to defend her title.
She'll wrestle Mimi HRISTOVA (BUL) in the 65kg finals. Hristova, the two-time European finalist, handled Kriszta INCZE (ROU), 5-1, in their semifinals match. She'll try to claim her first continental title after dropping the 2019 and '18 gold-medal matches.
RESULTS 
53kg
GOLD - Vanesa KALADZINSKAYA (BLR) vs. - Jessica Cornelia BLASZKA (NED)
SEMIFINAL - Jessica Cornelia BLASZKA (NED) df. Annika WENDLE (GER), 2-1 
SEMIFINAL - Vanesa KALADZINSKAYA (BLR) df. Katarzyna KRAWCZYK (POL), 8-3 
57kg 
GOLD - Grace BULLEN (NOR) vs. Alina AKOBIIA (UKR)
SEMIFINAL - Grace BULLEN (NOR) df. Iryna KURACHKINA (BLR), 2-0 
SEMIFINAL - Alina AKOBIIA (UKR) df. Marina SIMONYAN (RUS), via fall
62kg
GOLD - Yuliia TKACH OSTAPCHUK (UKR) vs. Inna TRAZHUKOVA (RUS)
SEMIFINAL - Yuliia TKACH OSTAPCHUK (UKR) df. Tetiana OMELCHENKO (AZE), 4-0
SEMIFINAL - Inna TRAZHUKOVA (RUS) df. Taybe YUSEIN (BUL), 7-4
65kg
GOLD - Elis MANOLOVA (AZE) vs. Mimi Nikolova HRISTOVA (BUL)
SEMIFINAL - Elis MANOLOVA (AZE) df. Mariia KUZNETSOVA (RUS), 7-3
SEMIFINAL - Mimi HRISTOVA (BUL) df. Kriszta INCZE (ROU), 5-1
72kg
GOLD - Natalia VOROBEVA (RUS) vs. Maria SELMAIER (GER)
SEMIFINAL - Maria SELMAIER (GER) df. Catalina AXENTE (ROU), 8-3 
SEMIFINAL - Natalia VOROBEVA (RUS) df. Alina BEREZHNA STADNIK MAKHYNIA (UKR), 4-2